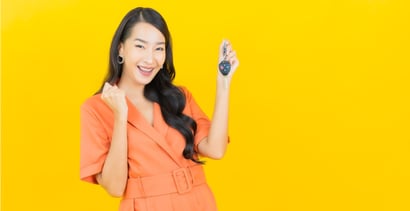 This guide for how to buy a car with $0 down and bad credit shows that you have options for obtaining a car loan, even in dire financial situations.
For most Americans, having reliable transportation is necessary to get to work and run errands. Thankfully, car dealers and auto lenders understand this and provide auto financing options even to people with credit problems.
Find Car Loans For Bad Credit With $0 Down
Here are some lending services for car buyers that offer some of the best subprime auto loans you can get with a bad credit score. These services partner with a network of dealers that can instantly preapprove you for one or more bad credit financing options to buy or refinance a new or used vehicle. 
Network of dealer partners has closed $1 billion in bad credit auto loans
Specializes in bad credit, no credit, bankruptcy and repossession
In business since 1999
Easy, 30-second pre-qualification form
Bad credit applicants must have $1500/month income to qualify
| Interest Rate | In Business Since | Application Length | Reputation Score |
| --- | --- | --- | --- |
| 3.99% – 29.99% | 1999 | 3 minutes | 9.5/10 |
This network of bad credit car dealers and lending partners has assisted people in securing an offer for a bad credit car loan since 1999. Auto Credit Express specializes in finding subprime lenders for those with a low credit score or no credit at all. If you are going through bankruptcy or have had your car repoed, Auto Credit Express can still help you secure a car loan. 
Applicants must earn $1,500 or more per month to qualify for a car loan. Simply fill out the prequalification form and get approved in minutes, after which you can begin the car-buying process.
Auto loans for purchase, refinance, and lease buyouts
Nationwide lender network
Get matched with up to 5 lenders that fit your financial profile
It only takes a few minutes and is free with no obligation
| Interest Rate | In Business Since | Application Length | Reputation Score |
| --- | --- | --- | --- |
| Varies | 1998 | 4 minutes | 9.5/10 |
LendingTree helps subprime buyers secure auto loans and reach their car-buying goals every single day. It offers same-day approval and a free no-obligation finance application that takes just minutes to fill out.
If you have gone through bankruptcy, have poor credit, or have no credit at all, you may still get a bad credit car loan with an affordable car payment and no credit application fees. 
Loans for new, used, and refinancing
Queries a national network of lenders
Bad credit OK
Get up to 4 offers in minutes
Receive online loan certificate or check within 24 hours
| Interest Rate | In Business Since | Application Length | Reputation Score |
| --- | --- | --- | --- |
| Varies | 2003 | 2 minutes | 7.5/10 |
This online auto loan service offers car financing for new and pre-owned vehicles. You are automatically connected to a network of subprime lenders across the nation that are willing to help you find a financing solution when you apply for a bad credit car loan through myAutoloan.com.
It only takes a few minutes to get up to four loan offers, and when you get approved, you can receive your loan certificate online in 24 hours or less. It offers monthly payment and financing term options to suit any financial situation. Take a look at the different auto financing options before deciding which may work for you.
3 Tips For Buying A Car With Bad Credit and 0% Down
Many people have not been able to generate the amount of income they need to pay off their debts or save up for a down payment relative to the total price of a car. There is a need for easier access to credit for those with bad credit and who don't have the cash for a down payment but need to buy the right car. Fortunately, more bad credit auto loan options are becoming available. 
1. Look Into Online Alternatives
Most lenders have operating costs that they must recoup, but online lenders don't have nearly as much overhead and can pass the savings onto consumers. 
The average interest rate for a used car from a traditional lender is 17% for those with a less-than-perfect credit history (subprime). An online lender may be able to offer you a lower rate, even with a bad credit rating and no money down.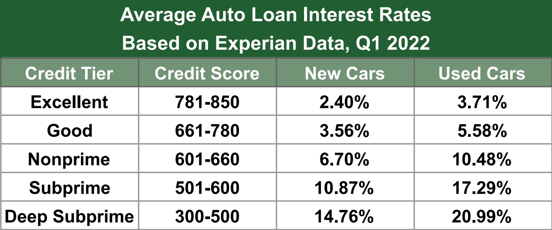 You will likely be required to submit to a credit check when applying for a car loan. But some online lenders do not require credit checks to secure a bad credit auto loan. They instead rely on your income and debt obligations (known as your DTI ratio) to determine loan eligibility. 
Unfortunately, these types of loans have significantly higher interest rates. But if you have bad credit and no down payment, it may be your best bet. 
Auto loans without a credit check are sometimes possible because the car is the collateral for the loan. If you stop making payments, the lender will repossess the car.
2. Use a Cosigner
One way to thwart high interest rates or any other kind of credit issue is to add a cosigner to your loan. A good cosigner is someone who has a better credit history than you. 
Adding them to your vehicle loan tells your lender that this person vouches for you and will take responsibility for the loan if you are unable to pay.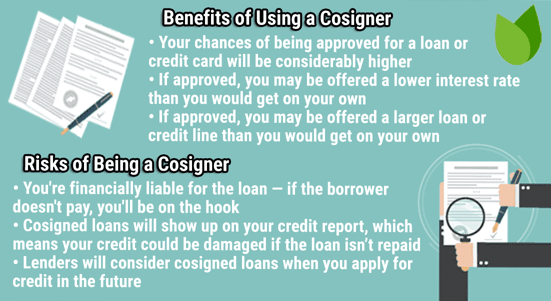 With a bad credit rating and no cosigner, you may be able to get a car loan with an interest rate of 13-18%. But if you can add a cosigner to your bad credit loan, you will reap the benefits of their good credit rating and will receive a much lower interest rate. 
3. Consider a Buy Here Pay Here (BHPH) Car Dealership
Buy-here-pay-here loans are known for charging higher-than-normal interest rates and usually require weekly or biweekly payments instead of the standard monthly payment.
Because they provide in-house financing programs, buy-here-pay-here car dealerships don't necessarily have to follow the routine car loan processes you would find at a brand-name car dealership, bank, credit union, or another traditional auto lender. 
Buying a car from a BHPH dealer may not help you build credit if you make your payments on time. It just depends on whether its finance department reports to the credit bureaus. This is something you should ask the dealer about before finalizing the loan.
BHPH lots are usually stocked with used cars in mediocre condition, but it is possible to find reliable, inexpensive cars. In addition to looking at a local car dealer, you can also search for a car online to help expand your options.

But, while the cars may be cheap, you will often be required to make frequent payments to pay off your loan term in two to four years.
Can You Get an Auto Loan With Bad Credit and No Money Down?
The short answer is yes, you can buy a car with bad credit and no money down. But if you have fair to very poor credit, you may be subject to a higher interest rate and a smaller selection of vehicles.
As a bad credit car buyer, you'll also need to seek alternative options, such as adding a cosigner or considering a BHPH dealer.
Take note that securing a car loan from a bad credit car dealership is always easier when you can put money down. This helps you avoid a negative equity situation. Most cars — especially new inventory — lose value as soon as they're driven off the lot. Putting money down helps prevent you from being upside down on the loan.
If I Have Poor Credit and Recently Changed Jobs, Can I Still Secure an Auto Loan?
Some dealerships and lenders may still offer you a car loan, but it may come with a higher interest rate. Auto lenders rely more on a stable income than they do on your credit report and score.

Have proper documentation ready from the time you worked at your previous job and any other income you may have, as this may help paint a better picture for potential lenders. A long track record with a previous employer can show that you don't regularly move from one job to another.
But if you can't show that you worked with a previous employer long term, wait at least 90 days with your current employer before applying for a new auto financing to increase your odds of approval.
How Can I Increase My Odds of Finding A Lender?
Shopping around and evaluating your car financing options is the best way to increase your odds of finding a lender. You can also pay off other debts you have to raise your credit score and have a better chance of being approved for a car loan. 
A good rule of thumb is to only buy a car with a bad credit history when it's absolutely necessary. Ask yourself whether you really need the car or if you can use other forms of transportation as a temporary solution. 
Use the funds you would have spent on a car payment to pay down your debt instead and keep close tabs on your credit report. You should see your low credit score steadily increase if debt is what's causing it to be low in the first place.
But as we've discussed, you still have bad credit loan options, even if you have credit problems. The right financing option for you is out there, as long as you have the income to repay the loan.
Do I Have To Buy A Car From a BHPH Dealer?
No. If you have bad credit and no down payment, buying from a BHPH dealer is not your only option. You can also buy a car from a traditional dealer, or you can secure a car loan at a better rate with a cosigner. 
Most lenders are willing to work with applicants with all credit histories because they recognize the inherent need for transportation. Most people can't perform daily tasks, including getting to work or the grocery store, without a vehicle.

Consider looking for special car deals at a used car lot. Set a maximum purchase price, and don't let the finance team talk you into buying a vehicle for more than you can afford. Aim to get the most reliable car you can at the lowest possible price.
Can I Get A Car Loan If I Am Going Through Bankruptcy?
In the case of bankruptcy, consider whether you absolutely need to buy a car or if you can wait until your credit has recovered. You want to avoid repossession of the vehicle if you can't make the payments. 
Many lenders won't allow you to take out a new car loan for fear of the loan being discharged in bankruptcy court. But if you must buy a vehicle before you can fix your credit, then make sure you get permission from the court to make the car purchase. Follow any directives from the judge to avoid having the car seized. 
What Are The Best Strategies to Quickly Improve My Credit?
One way to quickly improve your credit is to use Experian Boost. This free program lets you add recurring payments, including your monthly phone bill, to your credit report, which can immediately improve your Experian FICO Score.

You can also start paying off your smaller debts and dispute any errors on your credit report. If you have a significant number of negative marks on your credit history, consider hiring a credit repair company for assistance.
Once you've secured bad credit auto financing, be sure to make your monthly payment on time every month, which will help your credit scores over time.
Compare The Best Auto Loans With $0 Money Down
It will be much easier to secure future auto loans when you have the ability to save money for a downpayment and improve your credit. But if you need a car now, know that it is possible to secure a car loan without a downpayment, even with less-than-perfect credit.
The right financing programs are out there, you just have to find them. And by using the lending networks mentioned above, you can see whether you prequalify for a loan without affecting your credit scores. 
Advertiser Disclosure
BadCredit.org is a free online resource that offers valuable content and comparison services to users. To keep this resource 100% free for users, we receive advertising compensation from the financial products listed on this page. Along with key review factors, this compensation may impact how and where products appear on the page (including, for example, the order in which they appear). BadCredit.org does not include listings for all financial products.
Our Editorial Review Policy
Our site is committed to publishing independent, accurate content guided by strict editorial guidelines. Before articles and reviews are published on our site, they undergo a thorough review process performed by a team of independent editors and subject-matter experts to ensure the content's accuracy, timeliness, and impartiality. Our editorial team is separate and independent of our site's advertisers, and the opinions they express on our site are their own. To read more about our team members and their editorial backgrounds, please visit our site's About page.