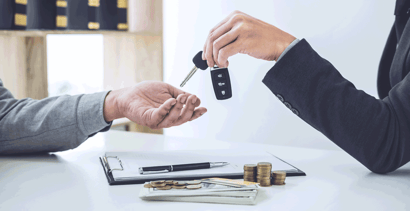 Getting a car loan if you have bad credit is difficult by itself. And if you don't earn much money, it can be especially difficult. While bad credit and low income don't always go together, having either can make affording the average car, which costs about $29,000 seem impossible.
The good news is that if you have bad credit or earn a low income, there are auto lenders that specialize in helping you buy a car. Let's dive into our list of some of the best car loans for low-income earners and explore some common questions, including how much car you can afford and the minimum payments for an auto loan.
The Best Car Loans for Low-Income Earners
Here are five companies that specialize in subprime auto loans by connecting consumers with lenders. We'll explain how the qualification process works and how much money you'll need to earn to qualify for a loan. Keep in mind, however, that the interest rates on these loans are higher than what people with higher credit scores will likely receive.
Network of dealer partners has closed $1 billion in bad credit auto loans
Specializes in bad credit, no credit, bankruptcy and repossession
In business since 1999
Easy, 30-second pre-qualification form
Bad credit applicants must have $1500/month income to qualify
| Interest Rate | In Business Since | Application Length | Reputation Score |
| --- | --- | --- | --- |
| 3.99% - 29.99% | 1999 | 3 minutes | 9.5/10 |
Auto Credit Express specializes in bad credit auto loans with fast financing for people with a history of bad credit, no credit, bankruptcy, or repossession. The online approval process is quick and easy — just provide your credit score, monthly income before taxes are deducted, and the monthly recurring debt you have.
This debt can be your rent or mortgage, minimum credit card payments, wage garnishments, and other loan payments. It then gives you an estimated approval amount that you can borrow to buy a used or new car within 24 hours.
The company also asks for an auto loan request form to be filled out online. It will search for lenders and dealers in your area and provide you with financing options.
If you have a low credit score, Auto Credit Express has a resource center to help people learn how to fix their credit. It also has information about auto insurance, down payment loans, warranties for used cars, and how to sell your old car.
Auto loans for purchase, refinance, and lease buyouts
Nationwide lender network
Get matched with up to 5 lenders that fit your financial profile
It only takes a few minutes and is free with no obligation
| Interest Rate | In Business Since | Application Length | Reputation Score |
| --- | --- | --- | --- |
| Varies | 1998 | 4 minutes | 9.5/10 |
LendingTree doesn't specify minimum income requirements on its site. That's because its partner lenders determine their minimum income thresholds.
But when you submit the prequalifying application, you can state your income and be matched directly with dealers, banks, credit unions, and other lenders that are willing to work with you based on the income you stated.
LendingTree can match you with up to five loan offers, and there's no obligation to accept any of them. But it's a good way to see what you may qualify for, even with minimal income.
RefiJet helps people lower their monthly auto payment by an average of $150 a month*
Pre-qualifying for a refinance auto loan does not impact your credit score
Nationwide network of lenders
We present you with options from lenders that fit your situation
| Interest Rate | In Business Since | Application Length | Reputation Score |
| --- | --- | --- | --- |
| Varies | 2016 | 5 minutes | 9.0/10 |
RefiJet specializes in auto refinance loans and lease buyouts. Its minimum credit score requirement is 550. Nerdwallet states that its lenders' minimum income requirement is $30,000 per year, but we cannot confirm that on RefiJet's website.
You must not have any open or discharged bankruptcies in the past 12 months and a maximum debt-to-income ratio of 60% to qualify.
The prequalification offers you receive are good for 30 days, and there's never any obligation to accept a loan offer. Checking your offers does not affect your credit score.
Free, no-obligation application
Specializes in auto loans for bankruptcy, bad credit, first-time buyer, and subprime
Affordable payments and no application fees
Connects thousands of car buyers with auto financing daily
| Interest Rate | In Business Since | Application Length | Reputation Score |
| --- | --- | --- | --- |
| Varies | 1994 | 3 minutes | 9.0/10 |
Like other companies that help low-income earners get approved for auto loans, Car.Loan.com is a free service that finds loans for consumers.
The company says it has teamed up with the nation's largest network of auto dealers, meaning it will find a local dealership in your area that knows what you're up against and can give you a better chance at getting an auto loan. The service can even set up your meeting with a finance manager if you want.
It has an online loan estimator and a payment calculator to help you estimate how much money you qualify for and how much car you can afford.
Loans for new, used, and refinancing
Queries a national network of lenders
Bad credit OK
Get up to 4 offers in minutes
Receive online loan certificate or check within 24 hours
| Interest Rate | In Business Since | Application Length | Reputation Score |
| --- | --- | --- | --- |
| Varies | 2003 | 2 minutes | 7.5/10 |
MyAutoLoan.Com works the same way as the other auto lenders for low-income earners by providing a short and secure online form that can be filled out in a few minutes. It then matches borrowers with offers from up to four lenders. You select the lender that works best for you, and you can receive the money within 24 hours to buy the car you want, refinance your current auto loan, or buy out the lease of the car you're already driving.
In addition to an auto loan interest rate estimator and payment calculator, it also has an interest rate chart with the latest rates at varying term lengths and types of purchases. Getting a loan to buy a car from a private party, for example, is usually more expensive than an auto refinance loan.
The site also has a lot of information about how auto financing works, such as the different types of financing, and a glossary of auto loan terms that can make the car-buying process easier to understand.
What is the Minimum Income Required for a Car Loan?
While income requirements vary by lender, subprime lenders set a minimum monthly income of $1,500 for consumers with poor credit to qualify for an auto loan. That's the minimum set by Auto Credit Express, and is typical of subprime auto loans, according to the site's blog.
Some lenders may allow a lower monthly income to qualify for a car loan, but you may need some compensating factors to make up for it. For example, you may need a high credit score or a low debt-to-income ratio, or DTI. If you don't meet the requirement of one lender, you can shop around for another.
The monthly income required, however, may not be what you see in your paycheck. The lenders are looking for $1,500 per month in gross wages, which is the amount earned before taxes are taken out.
Lenders get to that figure through a few easy ratio calculations that borrowers should make on their own before applying for such a loan: debt-to-income ratio, or DTI, and payment-to-income ratio, or PTI.
Before we explain what those are in the car payment section below, remember that a subprime lender takes on a bigger risk with people with bad credit. Having too low of an income is also a potential problem because the lender wants the borrower to be able to afford the auto loan.
They also prefer that a good, reliable used or new car be purchased with the loan, because paying back a loan for a clunker car that stops working during the loan term can lead to not making auto loan payments.
How Do I Qualify For a Low-Income Car Loan?
If you don't earn at least $1,500 per month before taxes are subtracted from your pay, then you probably won't qualify for a low-income car loan.
You'll have to search the website or call the lender directly to know what its income requirements are. This may require filling out an online application before the lender gets to the step of telling you how much monthly income you need. Shop around for lenders to find out how to qualify for a loan.
Your credit score is another important factor in qualifying for an auto loan if you have a low income. Subprime and traditional lenders check credit scores of potential borrowers. Traditional lenders require higher scores than subprime lenders. The lower a credit score, the higher the interest rate and perceived risk on a loan.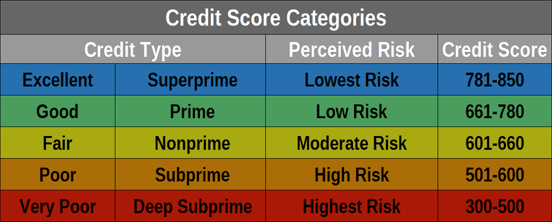 Knowing your credit score before you shop for a car loan can save you time and hassle. While there isn't a designated minimum credit score required to qualify for an auto loan, knowing if you have a poor credit score can give you an idea of what type of loan you'll likely qualify for.
Some online lending networks may have no minimum credit score requirements, but the partners they work with may set their own requirements. The lending networks we've recommended aren't lenders and don't handle the actual financing.
You shouldn't let a low credit score convince you that you won't be approved for a car loan. You will likely be approved if you earn enough income. Just know that you'll probably pay a much higher interest rate than you would if you had a good credit score.
Can I Afford a Car Payment?
Having too high of a debt-to-income ratio is a sign you don't earn enough money to pay your debts — or have too many debts, however you want to look at it. The debt-to-income ratio is the percentage of your gross monthly income that goes to paying your monthly debt payments.
Lenders want to ensure you can afford your car payment, so a DTI of 50% is considered by most non-prime lenders as the highest it can go. Some want it to be lower, at 40% or less.
To calculate your DTI, follow these two steps:
Add up your monthly bills. These should include rent, support payments, loans, and minimum credit card payments. Expenses that are not generally included are groceries, utilities, gas, and taxes.
Divide your total debt by your gross monthly income, which is your income before taxes. The total is your DTI, which will be in the form of a percentage. The lower the DTI, the less risky you are to lenders.
Next, figure out your PTI, which is a ratio comparing your potential car payment to your gross monthly income (income before taxes). The higher the rate, the more likely you are to be turned down for loans.
Mortgage loans, for example, often have a maximum PTI of 29%, meaning no more than about one-third of your income can go toward paying the monthly mortgage.
Subprime auto lenders may not want the car payment — which includes insurance — to exceed 20% of a borrower's income. Some may want it as low as 15% of your monthly income. Lenders will factor $100 for car insurance and at least $300 for rent or a mortgage, according to Auto Credit Express.
After you've done those calculations, you can do a simple third one that will show you how much of a car payment you can afford. Credit Donkey offers this equation:
Transportation expenses = (36% X Monthly Income) – Monthly Debts
In other words, multiply your gross monthly income to determine how much of a car payment you're likely to be approved for. It gives this example for a monthly income of $2,000, with a monthly rent payment of $300 and a monthly credit card payment of $25:
36% of $2,000 = $720
Your rent = $300
Your credit card payment = $25
$720-$325 = $395
Can I Get a Car with No Money Down?
In general, a down payment isn't needed to get a car loan, even with bad credit. Some bad credit lenders, however, may require at least $1,000 down or 10% of the car's price as a down payment.
A larger down payment will increase your chance of approval, and any down payment amount will lower your loan-to-value ratio, or LTV. The vehicle is the collateral for the loan, and your loan terms may be affected by the LTV. A bigger down payment equates to a smaller loan required, making it less likely that the amount you owe will be more than the vehicle's worth.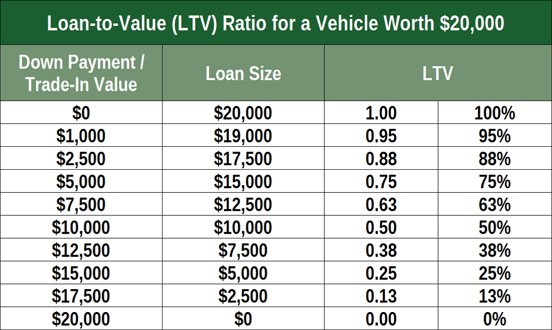 The higher the LTV, and thus the size of the loan, the more risk the lender is taking on. Since the auto loan is a secured loan where the bank can repossess your vehicle if you don't make the payments, the lender prefers a higher down payment to lessen some of its risk.
Lowering your LTV with a down payment or trading in a vehicle for credit toward your purchase reduces the risk to the lender and improves your ability to get approved for the loan. So, yes, you can buy a car with no money down — if you can find the right dealer or lender — but you'll likely get better loan terms or have a better chance for approval if you make a down payment.
Talk to Your Lender or Dealer For More Financing Details
Whatever your credit or income, there's probably an auto loan out there for you somewhere. Shop around and don't accept the first loan you're offered.
Nearby dealerships, banks, credit unions, and online lenders are among the options. If possible, save up so you can make at least a 20% down payment, which should help your chances of approval for an auto loan.
Just walking into your bank or credit union, where you may have been a customer for years, may be enough to get you a car loan. Lenders you already work with want to keep your business and may offer a better deal than the ones you've found while shopping around elsewhere.
A car dealership with direct financing may also be able to offer you a better loan than a bank, but make sure it's not inflating the cost of the car to make up the difference.
Compare interest rates, the length of the loan, any down payment required, and what your monthly loan payments will be. Some car loans can last seven years to make them affordable, but you'll pay more interest with longer loan terms.
If you can wait a few months, it may be worthwhile to work on improving your credit score by paying bills on time and not using your credit cards for a while. A higher credit score should get you better auto loan terms, which will save you plenty of money over the life of a loan.
Advertiser Disclosure
BadCredit.org is a free online resource that offers valuable content and comparison services to users. To keep this resource 100% free for users, we receive advertising compensation from the financial products listed on this page. Along with key review factors, this compensation may impact how and where products appear on the page (including, for example, the order in which they appear). BadCredit.org does not include listings for all financial products.
Our Editorial Review Policy
Our site is committed to publishing independent, accurate content guided by strict editorial guidelines. Before articles and reviews are published on our site, they undergo a thorough review process performed by a team of independent editors and subject-matter experts to ensure the content's accuracy, timeliness, and impartiality. Our editorial team is separate and independent of our site's advertisers, and the opinions they express on our site are their own. To read more about our team members and their editorial backgrounds, please visit our site's About page.