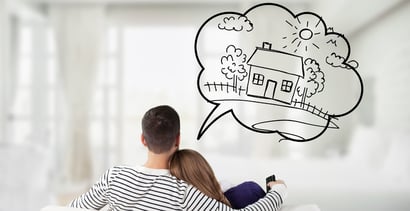 Trying to get a mortgage can open your credit up to all kinds of scrutiny from lenders. If your credit score is lower than average, then shopping for a home is a good time to fix your credit to buy a house.
Lenders view lower scores as a sign that you're less likely to repay the loan, though that risk can be lowered by improving your credit. Here are seven ways to fix your credit to buy a house.
1. Improve Your Payment History
Payment history makes up the largest percentage — 35% — of a credit score. Paying all your bills on time is the best thing you can do to fix your credit to buy a house.
Late payments can lead to all kinds of problems that can hurt a credit score, including:
Repossessions
Foreclosure
Bankruptcy
You can't erase past late payments from your credit reports, but you can start making timely payments now so they never appear on your reports again. The longer a late payment is listed on your credit report, the less impact it will have on your credit score.
Eventually, late payments of 30 days or more will fall off a credit report, but that takes seven years, and that's a long time to wait to buy a house. Set alerts for payment due dates and make it a habit to review your bills weekly to make sure you're not paying one late.
These rules don't just apply to credit card bills or when the rent's due. Don't pay any of your bills late. These include power, phone, water, garbage, internet, auto loans, personal loans, student loans, and medical bills.
If you can't afford to make a payment, call the lender whose payment you're considering missing and ask if the minimum payment can be reduced or put off for a month.
2.  Enlist the Help of a Credit Repair Service
If you've faced enough headaches trying to fix your credit score yourself, you can hire a credit repair service to do the work for you. A credit repair service can address errors and negative items on your credit reports by disputing inaccurate or expired information and can help fix identity theft problems. Below are our top-recommended agencies:
Most results of any credit repair law firm
Lexington Law Firm clients have seen more than 81 million removals from their credit reports since 2004
Get started today with a free online credit report consultation
Cancel anytime
| Better Business Bureau | In Business Since | Monthly Cost | Reputation Score |
| --- | --- | --- | --- |
| See BBB Listing | 2004 | $99.95+ | 8/10 |
Best-in-class support
In business since 1989
Rapid 35-day dispute cycle, tailored to your situation
90-day 100% money-back guarantee
Low $79 cost to get started, cancel or pause membership anytime
| Better Business Bureau | In Business Since | Monthly Cost | Reputation Score |
| --- | --- | --- | --- |
| A+ | 1989 | $79 | 9.5/10 |
Free online consultation
CreditRepair.com members saw more than 8.6 million removals from their credit reports since 2012
Free access to your credit report summary
Three-step plan for checking, challenging and changing your credit report
Online tools to help clients track results
| Better Business Bureau | In Business Since | Monthly Cost | Reputation Score |
| --- | --- | --- | --- |
| See BBB Listing | 2012 | $69.95+ | 8/10 |
Credit repair agencies generally charge $79 to $99 per month for their services. Complicated cases with a lot of errors to dispute may be on the high end, while having fewer items to fix will be less expensive.
Having an accurate credit report without errors or outdated information is a good idea, whether you do it yourself or hire a company to do it for you. Removing some wrong information, however, won't improve a credit score if it wasn't hurting it in the first place.
Many variables are considered when calculating credit scores, and there's no guarantee that credit repair will improve a score at all. No credit repair service can remove legitimate items from your credit reports.
If you've missed payments, defaulted on loans, or are using too much of your available credit, you'll either have to fix those issues by paying off debts or wait for the negative items to age off your credit report.
That's why it's important to take some of the credit repair steps yourself if you want to see the biggest improvements in your credit score.
3. Pay Off Credit Card Debt
Credit utilization makes up the second-highest percentage of credit scores at 30%. Credit utilization is how much credit you're using compared to your available limits. Using less of it is a sign to creditors that you're managing your debt well.
Using 20-30% of your credit limit is generally considered to be okay. For a credit card with a $10,000 credit limit, this means not having a balance of more than $2,000 to $3,000. Using more can be a sign that you're not going to be able to repay the bill and that your finances may be in disorder.
Below is an example of credit utilization across three card accounts:


Improving your credit utilization rate is simple to solve: just pay off, or at least pay down, your credit card balances.
Easy, right? Of course it isn't, but at least this step is not a complicated one. And, by having no balances on your credit cards, it's one that can improve your credit score by up to 30% in a few months.
If you can keep your credit balances low while you're shopping for a house, it will show lenders that you're not relying on credit cards to get by each month. One way to do this is by not using your credit cards much, if at all, while shopping for a home loan. Then use whatever extra money you have to pay the balances off.
4. Check and Fix Your Credit Reports
Checking your credit reports is something you can do yourself for free, or you can hire a credit repair service, as we discussed above, to do it for you.
The main thing you're looking for are errors. Check your three credit reports with Equifax, TransUnion, and Experian once a year and look for:
Incorrect accounts
Duplicate accounts
Fraudulent accounts, such as from identity theft
Name misspellings
Incorrect payment statuses
Information or accounts from an ex-spouse
Outdated information, such as negative accounts more than seven years old
Incorrect date of first delinquency on a collection account
The Fair Credit Reporting Act, or FCRA, allows consumers access to a free copy of all three credit reports from annualcreditreport.com every 12 months. Space them out every four months to get updated information regularly.
If you find any errors, the next step is to file a formal dispute with the credit reporting bureau. You can do this for free on each of the bureau's websites or by writing a letter where you specify each dispute on your report, describe the facts as you see them, request a correction, and include copies of any evidence or documentation.
A sample letter from the Federal Trade Commission shows how simple it is.
The error will likely be on all three of your credit reports, so send a dispute letter to each credit reporting agency or file individual claims on each website:
The bureau has 30 days to investigate your claim and will send you a letter of its results. You can also check the status of pending claims online.
If it issues a correction, you can ask it to send the updated report to all past creditors who received the report within the past six months.
5. Request Rapid Rescoring
Some mortgage lenders can help clients raise their credit scores quickly by doing what's called a rapid rescore. This is where accurate information is reported to credit agencies to replace inaccurate information within five business days instead of a month or so.
It can only be done by a lender or company that specializes in rapid rescoring and has access to credit reporting company data that's pulled from credit bureaus. It is most commonly performed by mortgage lenders.
Only errors can be fixed. If you legitimately made late payments, those entries won't be removed. But if your credit card payment was sent on time and the creditor reported it as late — and you have documentation showing it was paid on time — then rapid rescoring can help. Doing this yourself can take 30 days or more to resolve.


Most of the solutions suggested above require dealing with bad credit problems months before buying a house. Rapid rescoring can help if you're in the middle of trying to get a mortgage and didn't think to check your credit report and score before getting this far.
Rapid rescoring can clear negative information from a credit profile in a few days and help raise a credit score by 100 points or more, depending on the severity of the error.
Along with fixing errors, it can also be used to update a credit score quickly. You may need rapid rescoring if you've just paid off your credit card balance — or most of it — and the lesser balance is not yet showing in your credit file. Using less of your available credit could raise your credit score enough to push you into a range where a lower interest rate on a home loan is offered.
6. Don't Open Any New Accounts
It's not a good idea to apply for new credit accounts before trying to get approved for a home loan. A credit card or loan application can lead to an inquiry on your credit, which can hurt a credit score if too many inquiries are made at one time.
Having six or so inquiries on a credit report in a short period can make you look desperate for money and make lenders suspicious of your creditworthiness. Even if the inquiries are stretched out over time, it can look like you're in need of extra credit.
The one bit of good news here is that if you're shopping for the best interest rate for a car loan or a home loan, the credit reporting agencies will consider inquiries made within 14 days of each other as only one inquiry. FICO ignores inquiries made within 30 days of scoring.
7. Prequalify Online and Compare Rates
Prequalifying online for a mortgage is a great way to learn how much of a loan you qualify for before you even start shopping for a house. It will help you learn how to best qualify for a home loan and what areas of your finances can be improved to help you get a bigger loan.
Mortgage prequalification forms online evaluate your creditworthiness based on your credit, debt, income, and assets. Some of the things an online calculator will tell you may include:
Total mortgage amount
Monthly mortgage payment
The highest mortgage amount you may qualify for
The highest monthly mortgage payment you may qualify for
The information you provide isn't verified by a lender and your credit report isn't checked at this stage, so it only helps if you're honest in the numbers you provide.
Prequalification isn't the same as preapproval. To get preapproved for a home loan, you'll have to submit pay stubs, tax records, and other documented proof to the lender, who will check your credit report. If you qualify for a home loan, a preapproval letter will be given to you to show sellers that you're already approved for a loan and serious about buying.
Prequalifying with a lender doesn't mean you'll be preapproved for a home loan. If your financial documents don't support the numbers you submitted, then you may not qualify.
As part of this process, it's important to shop for the best mortgage rates. You can do this online, call a lender or walk into their office, or through a mortgage broker.
Online lenders can offer the lowest rates and fees because they have lower overhead than traditional lenders, though you may have to deal with them online only. Here are a few mortgage lenders we recommended:
America's largest mortgage lender
The entire process is completed online
Options for new mortgages and refinancing existing mortgages
Award-winning customer service and cutting-edge digital platforms
More than 90% of clients would recommend us
| Interest Rate | In Business Since | Application Length | Reputation Score |
| --- | --- | --- | --- |
| Varies | 1985 | 5 minutes | 9.5/10 |
Best for cash-out refinance
Utilize your home equity with America's #1 lender
eClosing allows customers to close electronically, greatly speeding the process
A+ rating with the BBB
Receive cash for home improvements, college tuition, or paying off debt
24/7 access to your loan through the Rocket Mortgage app
| Interest Rate | In Business Since | Application Length | Reputation Score |
| --- | --- | --- | --- |
| Varies | 1985 | 5 minutes | 9.5/10 |
Get today's mortgage rates from the top mortgage lenders and banks
Easily compare and choose mortgage lenders with no obligations or fees
Review current mortgage rates side by side
Pick mortgage lenders that meet your specific needs
Compare rates from pre-qualified and approved mortgage lenders — 100% online, 100% free
| Interest Rate | In Business Since | Application Length | Reputation Score |
| --- | --- | --- | --- |
| Varies | 1979 | 4 minutes | 8.5/10 |
If you've improved your credit score by using some of the tips above, you'll have a better chance of being offered the best mortgage rates. When comparing rates, make sure you're comparing apples to apples. Variables to consider include:
Fixed-rate vs. adjustable-rate mortgage
Fees from lenders
Points paid to lower an interest rate
Closing costs
Get the proposed terms in writing through a three-page loan estimate, called an LE for short, that lenders are legally required to provide applicants within three business days of receiving a loan application. It details your total costs for the loan.
From these estimates, you can negotiate better terms. For example, you could make a bigger down payment and get a lower interest rate. Already having an account with the lender may get you better loan terms.
Is it Possible to Buy a Home with Bad Credit?
Having bad credit doesn't mean you're locked out of the housing market. While having good credit will make it easier to be approved for a home loan, bad credit doesn't make it impossible to buy a home.
Sticking to a budget while shopping for a home is a good idea. After determining how much of a home you can afford, only look for homes within your price range. This will make it easier to afford the mortgage payments, property taxes, insurance, and upkeep costs that are all part of buying a home.
Make sure your real estate agent understands your budget and needs. First-time homebuyers often don't have enough money to buy the home they ultimately want to live in, and many people begin with starter homes and then "buy up" as home prices appreciate.
If you want to seem less risky to a lender, make a down payment of at least 20%. The bigger the down payment, the smaller the loan you'll have to repay.
Affording a 20% down payment is difficult for many people. You can get around that and make a much lower down payment, or no down payment at all, by working with lenders that specialize in helping people with bad credit buy homes.
You should still shop around for the best rate with subprime lenders, whose interest rates will likely be higher than those of traditional lenders.
Some types of home loans backed by the federal government can also help people with bad credit buy a home. A loan backed by the Federal Housing Administration (FHA) can require only a 3.5% down payment.
The loans are insured by the FHA, meaning the FHA rather than the lender takes on the risk of making a loan to a subprime borrower. This can make an FHA loan easier to qualify for if you have bad credit, or a credit score as low as 580.
The Veteran's Administration (VA) provides home loans for veterans with low credit scores. Even a bankruptcy can be overcome to get a VA home loan.
What Credit Score Do You Need to Buy a House?
Credit score requirements vary by lender, so consider yours a moving target that lenders will evaluate among other factors to determine your loan rate.
If you're a first-time homebuyer with bad credit, a loan backed by the FHA is probably your best option. We discussed FHA loans above, but it's worth explaining more what kind of credit score is required for an FHA loan.
FICO credit scores range from 300-850. Here's a breakdown of the scores, according to Experian, a credit reporting agency:
800-850: Exceptional
740-799: Very good
670-739: Good
580-669: Fair
300-579: Very poor
People with fair credit scores of 580 to 669 are considered subprime borrowers and will likely face higher interest rates than borrowers with better scores. An FHA loan, however, may help people with fair credit scores get loans that offer better than subprime rates. The FHA rules are pretty simple:
580 or higher FICO score = 3.5% down payment
Lower than 580 = 10% down
FHA loans are easier to qualify for than most loans that exclude applicants with low credit scores and questionable credit history. FHA loans also have low, competitive interest rates and fees, and will consider applicants who have a past bankruptcy or foreclosure.
A downside to FHA loans is that if the down payment isn't too high, you will be required to pay mortgage insurance. It costs the same no matter what your credit score, with only a slight increase in price for down payments less than 5%, according to the Consumer Financial Protection Bureau.
Other government home loan programs also consider borrowers with lower credit scores than a conventional loan would. Some VA loans allow a credit score as low as 580, though most require at least a 620 score. USDA home loans that help people buy homes in rural areas don't have a set minimum credit score, but a score of at least 640 is recommended.
Can I Buy a House with No Money Down?
It used to be that a 20% down payment was a prerequisite to buying a house, but not anymore. Conventional mortgages with a 30-year fixed rate usually require at least 5% down. Even FHA loans require at least 3.5% down.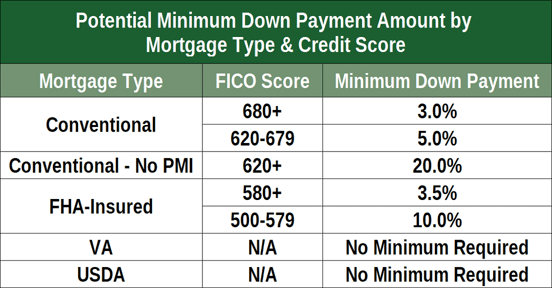 But there are ways to buy a house with no money down. Most of those loans require the borrower to be in a loan program backed by the government. Here are some of them:
FHA loans: Some sort of down payment is required, but that doesn't mean you have to come up with the money. The down payment can come from someone else as a gift. Gift funds can be used for 100% of the down payment amount.
The gift can come from a friend, relative, your employer, or anyone else who may want to give you money for a down payment.
FHA home renovation loan: Gift funds can also be used to buy a home through the FHA 203(k) mortgage, also called a home renovation loan. The loan includes up to $35,000 cash to make repairs or renovations to the home being bought.
VA loans: If you're a veteran or active military member, VA home loans offer 100% financing with no money down. And, unlike FHA loans that require borrowers to buy mortgage insurance, VA loans don't require mortgage insurance.
Instead, they have a VA funding fee, which is a one-time fee set at 2.15% of the loan amount to help the program be self-sufficient. The fee can be financed into the loan.
Navy Federal Credit Union: Members who are buying their first home may qualify for a no down payment home loan and no private mortgage insurance.
USDA loans: No down payment is required for low- to moderate-income families for this loan from the U.S. Department of Agriculture (USDA) to help rural development.
You Have Several Options for Buying a House with Bad Credit
You definitely have ways to buy a house if you have bad credit. But, better yet, you have ways to improve your credit that can lead to lower interest rates on a home mortgage.
If you're willing to do the work yourself, you can fix your credit to buy a house by:
paying your bills on time
enlisting the help of a credit repair service
paying off credit card debt
fixing errors on your credit reports
requesting rapid rescoring
avoiding new credit accounts
prequalifying for a home loan online
Whether your credit is good or not, it's always worthwhile to shop around for the best rate.
Advertiser Disclosure
BadCredit.org is a free online resource that offers valuable content and comparison services to users. To keep this resource 100% free for users, we receive advertising compensation from the financial products listed on this page. Along with key review factors, this compensation may impact how and where products appear on the page (including, for example, the order in which they appear). BadCredit.org does not include listings for all financial products.
Our Editorial Review Policy
Our site is committed to publishing independent, accurate content guided by strict editorial guidelines. Before articles and reviews are published on our site, they undergo a thorough review process performed by a team of independent editors and subject-matter experts to ensure the content's accuracy, timeliness, and impartiality. Our editorial team is separate and independent of our site's advertisers, and the opinions they express on our site are their own. To read more about our team members and their editorial backgrounds, please visit our site's About page.