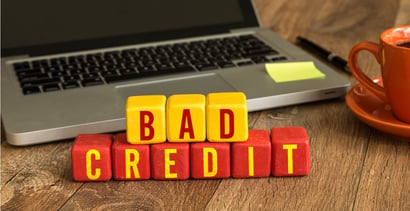 The internet has turned really bad credit loans into a real possibility. A decade ago, someone who had really bad credit had few options to get a quick loan. They had to either visit a high-interest bad credit payday loan center, get a risky vehicle title loan, or pawn their valuables to get money on the spot.
Today, online lending networks partner with dozens of U.S. lenders that specialize in bad credit personal loan offers with a competitive interest rate and an affordable monthly payment. Loan options are available that let you pay your debt off over months or years or in one lump sum.
Online Loans For Really Bad Credit
You can submit your loan application to an online lending network in a matter of minutes and possibly receive multiple unsecured loan offers to your email box within seconds. And, unlike a secured loan, you don't need collateral to qualify for a bad credit loan.
Your credit history shouldn't keep you from getting the loan you need. Each online lender may extend a loan offer with varying interest rates, loan amounts, and loan terms. Once you settle on which loan option you prefer, you may have money in your account by the next business day.
MoneyMutual maintains a massive online lender network that provides quick loan approval for small loan amounts. Each personal loan lender that partners with this network specializes in poor credit loans, so you don't have to worry about wasting your time with lenders that don't want to work with you.
Your initial loan request will only require a soft credit check that won't cause further harm to your bad credit score. This means you can gauge your chances of loan approval without leaving a hard inquiry on your credit history.
CashUSA.com offers larger online loan offers with no minimum credit score requirement. Even if you have a very poor credit score, you may still qualify for a short-term loan with a favorable repayment term.
This network offers secured loan and unsecured personal loan options. Make certain that you understand the terms and requirements of your online loan before you accept any offer.
Although BillsHappen sounds like a loan center for catching up on your monthly bills, you can use the proceeds you receive from a personal loan lender in the BillsHappen network for any purpose you choose.
Every day, thousands of consumers apply with this network for loans they can use for different purposes. This direct lender group has your back whether you need a debt consolidation loan, a business loan, or an emergency loan.
Your loan provider with CreditLoan.com can offer a host of lending options that pay out within one business day and require only a short loan application for approval. Each lender must pass several qualifications to partner with this network to weed out a potential predatory lender.
CreditLoan does this to give the borrower peace of mind when applying for a low credit score loan. This takes some stress out of an already strenuous process and helps build trust for any loan offer you receive. 
BadCreditLoans.com does exactly what its name implies. In fact, this network claims that its direct lender partners can often find loans for consumers who have trouble getting loan approvals elsewhere.
Just be aware that any loan offer you receive will have different terms and conditions. This means you may receive offers for a secured or unsecured personal loan. You may also have to pay an origination fee and receive a different loan term in every offer. And this network partners with cash advance loan lenders that may require full repayment within 30 days.
PersonalLoans.com offers bad credit loan options that look at more than a credit report from a credit bureau. Instead, these loans look at your total financial picture — including your income and current monthly payment obligations — to determine your creditworthiness.
If you find a loan provider that you like, you can complete the loan request process in a matter of hours and have money in your account by the next business day. Some personal loan lenders may offer expedited funding options for an additional fee.
CashAdvance.com specializes in cash advance loans (payday loans), which are a form of no credit check loan that only requires a borrower to provide proof of sufficient income to qualify. Although this is convenient, your payday lender will likely charge a very high interest rate that makes these loans incredibly expensive.
These loans also require repayment in full — including interest — usually by your next payday. With such a short-term loan and high fees, a bad credit payday loan may not be your best option.
What Is a Loan For Really Bad Credit?
Several types of lenders will consider an application from someone who has a poor credit score. Although these loans may provide necessary funding for an emergency loan, they will typically come with a high cost and potential risky terms.
This may include a secured loan that will require collateral for approval. Typical forms of secured personal loans include pawnshop loans or vehicle title loans. You will forfeit your collateral with a secured loan if you fail to repay the debt.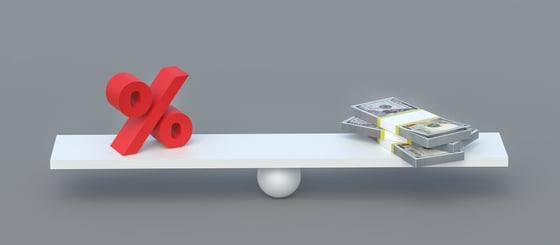 Since a bad credit loan — especially a really bad credit loan — comes with an inherent risk to the lender, you can expect higher fees and costs to offset the risk. It's the risk that keeps most banks or credit unions from offering these loans, which means that specialty lenders may be your only option.
Lenders that specialize in poor credit score loans will often charge a higher interest rate and other charges, such as an origination fee or an application fee, to make them more profitable. 
Despite secured and unsecured loans, several loan providers consider bad credit applicants. We'll get into those in the next question.
What Kind of Loan Accepts Really Bad Credit?
Since we covered what a bad credit loan is in the previous question, we'll use this space to tackle what types of loans you can consider if you have a very poor credit score.
While these loans certainly aren't the only options you have at your disposal, they are the most commonly sought-after types of loans for consumers who typically don't qualify for a traditional bank loan. 
Online personal loan: This is the most common type of loan and provides the most flexibility. With a personal loan — also known as an installment loan — you can use your borrowed funds for any purpose you choose. You can also repay your debt over time through a series of monthly payments. The lenders listed above all offer bad credit loans to qualified applicants.

Payday loans: You can apply for a payday loan online or at a local cash advance center. These loans may allow you to skip the credit check process if you can show proof of sufficient income. Just be aware that these loans require repayment in full within 15 to 30 days and often have incredibly high interest rates and fees.

Pawnshop loans: A pawnbroker may offer you a secured loan as long as you provide something of value to use as security. Your lender will likely only lend you around 25% or less of the item's value, and you'll lose your pawned item(s) if you fail to repay your debt on time.

Vehicle title loan: This is another risky secured loan that requires you to use your vehicle's title as collateral. If you don't repay your debt on time (including the substantial interest charge), the lender can repossess your vehicle.

Home equity loan: If you own a home and your mortgage debt is less than the property's value, you can tap into that equity with a loan. Many lenders will approve bad credit borrowers for a home mortgage loan because you'll use the property as collateral to back the loan.

PAL: PAL is short for Payday Alternative Loan, which was designed by the National Credit Union Administration (NCUA) to help consumers avoid potentially costly cash advance loans. A PAL will require you to open an account with a credit union and may limit how much you can borrow, but you'll find that they have relaxed approval standards for consumers who have bad credit.
If you have bad credit and want a more traditional loan, you can consider asking a family member or a loved one to cosign for you on your loan. A cosigner is someone who has better credit than you and is willing to sign on to your loan to guarantee its repayment.
This is a big risk, as any late payments or defaults will also affect your cosigner's credit score. That's why you should only seek a cosigner if you're confident you can make your monthly payment on time and satisfy your debt when it's due.
How Much Money Can You Borrow With Bad Credit?
Every lender has different qualifications for loan approval, which affects how much you can borrow. While one lender may offer you a $5,000 loan, another may offer you $500.
Your loan type will also significantly impact how much you can borrow. For example, a secured loan that requires collateral will generally offer you larger loan amounts than an unsecured loan that only requires your signature on a legally binding loan agreement.
The collateral you offer reduces the lender's risk and makes it easier for you to be approved for larger loan amounts.
In terms of online lending networks, you'll find that each network has different minimum and maximum loan amounts. Our top-rated network, MoneyMutual, provides short-term loan options of up to $5,000. CashUSA.com, on the other hand, may approve you for a $10,000 loan.
PersonalLoans.com advertises loans of up to $35,000 but typically caps bad credit loans to no more than $10,000. It offers the largest possible loan amount available from our reviewed lending networks.
While these maximums act as guideposts for lending networks, they aren't guaranteed. The loan amounts offered will depend on your credit history, current income, and monthly debt obligations. 
You can increase your chances of acquiring a larger loan if you add collateral or a cosigner to your application. This lowers your lender's exposure to risk and shows that you're serious about repaying your debt.
What Credit Score Do You Need to Get a Loan?
Not all lenders have a minimum credit score requirement for loan approval. That's because more than just your credit score is used to determine your loan eligibility. Lenders also rely heavily on your income — otherwise known as your capacity to repay the loan. 
Before you apply for a loan, consider all the factors that may help you improve your chances of approval. This includes reviewing your current monthly debts, your recent credit history (no late payments, collections, or defaults), and your income.
Remember that most lenders will allow you to include multiple income sources on your loan application. This means you can add your wages from employment and any government benefits, child support, alimony, or retirement income. Also considered income are investment gains, rental property returns, annuity, or structured settlement payments you receive. 
By including all of your regularly occurring income, you show the lender that you have enough income to afford your loan payment.
Your lender will also look at other data such as the amount of time you've spent at your current job or the length of residency in your current home. Lenders like stability. Someone who regularly moves and changes jobs may seem like too high of a risk for a larger loan.
How Long Does It Take To Get a Loan?
The time it takes to complete your loan will depend on the type of loan you apply for and your loan amount. Larger loans typically take longer to complete, as the lender will inspect your financial standing more closely. 
You can complete an application for a small personal loan from the online lending networks listed above in as little as two hours. The application process takes less than five minutes to complete, and you may receive multiple loan offers to choose from within minutes of submitting your loan application.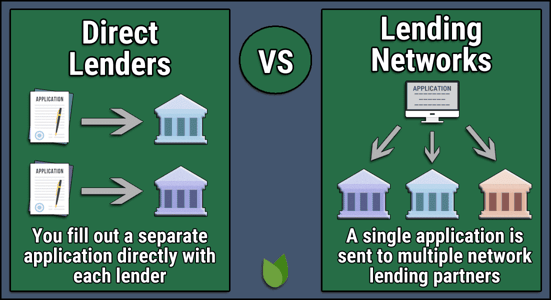 Once you choose a loan offer and complete your loan agreement paperwork — which typically takes around two hours or less — the lender will transfer your money to your linked checking or savings account. You'll have access to this money by the next business day.
You can also typically complete applications for same-day auto loans as well as payday loans. It takes only a few hours to finish the application process for these financial products.
Larger loans, such as a mortgage, may take 30 days or longer to complete. These loans regularly stretch into the six figures and require up to 30 years of payments to satisfy the debt. With such a significant and long commitment, lenders will spend a lot of time inspecting a potential borrower's income and financial background. There's no way to get around this or shorten the process.
To shorten the loan approval process, time your application early on a business day — preferably not on a Friday to avoid rolling over to Monday. If you apply for a loan online after business hours, you may have to wait until the start of the next business day to start your loan agreement.
The same goes if you apply during a weekend or holiday. Lenders traditionally close on these days and do not process loans until the business reopens.
Do Banks Give Bad Credit Loans?
Banks rarely consider applications for large bad credit loans. But you may be able to convince a bank to offer you a small loan, despite a bad credit score, especially if you have a long-standing relationship with the bank. 
Most banks are publicly traded companies. This means that they have shareholders and boards of trustees to please, which means the bank must be profitable.
To maintain and increase profits, banks have to avoid risk as much as possible. Bad credit loans are risky propositions. If a borrower defaults on an unsecured loan, the bank loses all of the money it lent out. 
To avoid this, banks typically only lend money to consumers who have good credit or better.
Credit Unions, on the other hand, are member-owned and don't have investors to answer to. These federally-backed institutions return profits to their members in the form of lower interest rates.
You may have better luck obtaining a loan from a credit union if you have an account with the institution and no recent defaults or collection accounts. Your credit union may offer a Payday Alternative Loan (PAL) designed for consumers who have bad credit and want to avoid cash advance and payday loans.
What Interest Rate Can I Expect If I Have Bad Credit?
Interest rates vary by loan type. Smaller loans often have higher interest rates than do large loans. But bad credit loans of any type will have higher-than-average interest rates.
According to a study conducted by ValuePenguin, consumers who have a credit score below 589 can expect interest rates of around:
Auto Loans: 15.24% on a 60-month loan
Mortgage Loans: 6% or greater on a 30-year loan
Student Loans: 5.05% and 7.60%, depending on your enrollment status (graduate or undergraduate)
Small Business Loans: 5.14% from a large national bank to as high as 66.57% from alternative lenders
Personal Loans: As high as 30.25%, based on your loan amount and repayment term
While your interest rate may seem like it's nothing more than some numbers on a piece of paper, a slight increase in your rate can cost you thousands of dollars over the life of your loan.
The same goes for any loan you extend to lower your monthly payment. While you may lower your monthly expenses by adding more payments to your loan, those additional payments will include interest — which increases the total cost of your loan.
Can You Get a Loan With No Credit Check?
Most lenders require a credit check before considering your loan application, but there are exceptions. Your credit history, proof of income, current debt obligations are three main factors that a lender wants to evaluate when determining how much risk you carry. 
Larger loans, such as mortgage or auto loans, will always require a credit check for approval. Smaller loans, such as a personal loan or some form of a secured loan, may skip the credit check process.
Most payday loans, for example, will skip the credit check process as long as you provide proof of income that shows that you can repay the debt on your next payday. The same goes for pawnshop loans that require collateral — in the form of pawned valuables — for approval.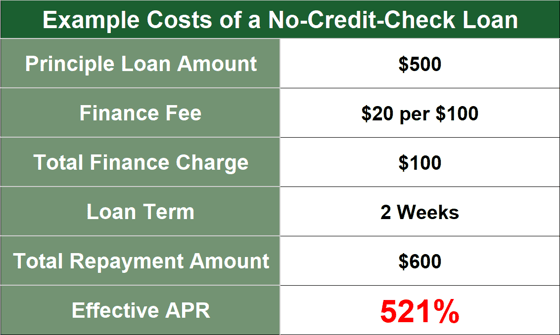 Instead of worrying about your credit, a pawnbroker will instead assess the value of your pawned items to determine how much they will lend to you.
But some personal loan lenders will consider your application without a credit check. You can expect these loans to come with a higher interest rate or an origination fee or an application fee to make the loan more profitable for the lender.
In short, a no-credit-check loan will force you to assume more risk and pay more in fees. Even if you have really bad credit, you may still qualify for a personal loan that includes a credit check. 
You can prequalify for a loan through the networks above without harming your credit score. This will give you an idea of how much of a loan you can expect and how long you'll have to repay your debt. It only takes a few minutes to prequalify, and completing the loan application will give you peace of mind.
What Happens If I'm Denied a Loan?
Having your loan application be rejected by a lender can hurt both your pride and your credit score — but it doesn't have to.
You'll add a hard inquiry to your credit report if you submit an official application for a loan — one that asks you for your Social Security number and that requires you to allow the lender to run a credit check. Too many of these inquiries in a short period can harm your credit score. 
If you're denied a loan and continue to apply for loans elsewhere, you can rack up inquiries quickly.
If you choose to work with an online lending network that provides a prequalifying form before you formally apply, you can avoid the inquiry and still get a good idea of your chances for loan approval. This won't harm your credit score and could result in more than one loan offer to choose from.
Aside from the inquiry and credit score ramifications, lenders will not report rejected applications to any credit bureau. A rejected application does not show up on a credit check. If a lender charges an application fee, you may have to pay that charge even if you're not accepted.
Lenders are required by law to mail you an adverse action notice if they reject your application. This letter details the reasons why the lender did not accept your application. In some cases, the letter may share tips on how you can improve your odds of being approved for a loan in the future.
What Happens If I Don't Repay a Loan?
Lenders rely on every borrower repaying their debt with on-time payments. That's how lenders can extend more loans and keep their business going.
But not every borrower repays their loan. Whether it's intentional or the product of circumstances beyond their control, there are times when a borrower can no longer afford the monthly payment on a loan. 
When this happens, a lender will often give you leeway before taking any corrective action. Every month, your lender will report your balance and payment history to at least one credit bureau. This data determines your credit score.

A lender will not report a late payment until at least 30 days after the due date. A late payment reported to the credit bureaus can cause your credit score to drop by as much as 100 points.
The lender will update your late payment after it is 60 days past due, which will harm your credit score even further. After that, a payment that is 90 or more days late typically starts the collection process.
Once you've gone at least 90 days without making a payment, your lender can take action to either seize any collateral (such as repossessing a vehicle or foreclosing on a home) or write your debt off and sell it to a collection agency.
At this stage, your account is no longer considered active and is reported as a bad debt to the credit bureaus. This will remain on your credit report for between seven and 10 years and can cause substantial harm to your credit score.
If the lender transfers or sells your debt to a collection agency, that company can now contact you in several ways to collect on the debt. This can continue for years until the debt ages off your credit report or until you pay it.
Just remember that paying off the debt does not necessarily remove the negative items from your credit report. In some cases, you can negotiate a pay for delete deal that allows the lender or collection agency to remove the reporting to each credit bureau in exchange for full repayment. But this is solely at the lender's discretion and is not guaranteed.
Find the Best Really Bad Credit Loans Online
The internet isn't only for watching funny cat videos or mimicking the latest dance craze. If you know where to look, you can find great options for getting the loan you need.
You may qualify for really bad credit loans that come with a competitive interest rate and repayment term. These loans will provide you with the funding you need and can help you improve your credit score with on-time payments.
Your online loan application takes only minutes to complete, and, if approved, you can have your loan proceeds in your bank account by the next business day. 
Advertiser Disclosure
BadCredit.org is a free online resource that offers valuable content and comparison services to users. To keep this resource 100% free for users, we receive advertising compensation from the financial products listed on this page. Along with key review factors, this compensation may impact how and where products appear on the page (including, for example, the order in which they appear). BadCredit.org does not include listings for all financial products.
Our Editorial Review Policy
Our site is committed to publishing independent, accurate content guided by strict editorial guidelines. Before articles and reviews are published on our site, they undergo a thorough review process performed by a team of independent editors and subject-matter experts to ensure the content's accuracy, timeliness, and impartiality. Our editorial team is separate and independent of our site's advertisers, and the opinions they express on our site are their own. To read more about our team members and their editorial backgrounds, please visit our site's About page.