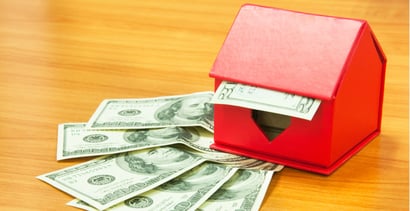 Subprime home equity loans are available to homeowners who happen to have bad credit. We've reviewed and ranked four lenders that specialize in home equity loans for folks with less-than-perfect credit.
These lenders prioritize a home's value above the homeowner's low credit score and are willing to assume the risk of subprime lending. After all, your home serves as collateral for a home equity loan, whether you have excellent credit for a conventional loan or poor credit for a subprime loan.
Equity Loans For Homeowners With Bad Credit
Subprime lending serves consumers who can't qualify for a conventional loan but who've built up their home equity and can afford to repay the loan. You may have to pay a higher interest rate because you have bad credit, but in the end, your property and income may overcome the deficiencies in your credit history.
Our top-ranked provider of subprime home equity loans is eMortgage®. The company works with a network of home lenders to find you the most suitable loans.
By filling out the online request form, you can receive several competitive quotes for a second mortgage loan from the comfort of your home. eMortgage® preserves the security and privacy of your data by using 256-bit encryption.
Rocket Mortgage serves all credit types, including consumers with a low credit score (i.e., below 620). You may qualify for a cash-out refinance via an equity loan or a home equity line of credit (HELOC) if the current value of your home exceeds your existing mortgage balance.
We're impressed by how easy Rocket Mortgage makes it to get one of its loans online.
Quicken Loans is a part of Rocket Mortgage and helps borrowers secure loans. It says that "you'll have to meet some minimum qualifications and do a little planning, budgeting, and research," to get a HELOC.
Qualifications include 15% to 20% equity in your home, a 45% or lower debt-to-income ratio, and a minimum credit score of 620.
Your military service may qualify you for the VA-Guaranteed Home Loan Program from the Department of Veterans Affairs. All you have to do is produce a Certificate of Eligibility to apply for a guaranteed subprime home loan from an approved lender.
You can get 100% refinancing through a VA-guaranteed loan if you meet the lender's requirements and live in the home you wish to refinance.
What Is a Subprime Home Equity Loan?
Let's tackle the term subprime first. It's a synonym for bad credit, which translates into a FICO credit score below 620. If your score is higher, you can get a prime loan.
Subprime consumers often find it hard to access credit, especially at a favorable rate.
Unlike the prime loan market, subprime home equity loans represent one of the limited number of ways a consumer with bad credit can borrow money. It is a loan based on the equity in your home, which is the current value of your home minus the mortgage balance.
You can use the proceeds as a home improvement loan to repair your home, build an addition, or make your home more energy-efficient. In fact, you can simply redecorate your home with a home improvement loan.
You can acquire home equity in a few ways:
Every monthly mortgage payment slightly reduces your loan balance.
The selling price of your home may increase through improvements to your home and/or through a general rise in home prices in your area.
You can prepay part or all of your mortgage.
You can't typically borrow 100% of your equity. Most lenders limit these loans to 85% of your equity, reserving the remainder as a contingency in case they have to foreclose on a defaulted loan.
You can access your equity either through a lump sum home equity loan or via a home equity line of credit, or HELOC, which is a revolving credit account much like a credit card.

A home equity loan is really a second mortgage. Unlike a personal loan, you borrow a fixed amount collateralized by the equity in your home. You repay it in monthly installments, just as you would with a personal loan.
If the loan has a fixed rate, your monthly payments won't change throughout the loan term. Conversely, your payments may go up or down if you have a variable interest rate.
A HELOC charges only variable interest and only on your account balance. Typically, a HELOC loan is convenient because you can draw on it when you need money and repay it in flexible amounts.
Homeowners with average or better credit usually have no problem getting a home loan, but a typical subprime borrower is served by only a handful of lenders, including a national mortgage banker or two.
Your loan repayments are recorded on your credit reports, giving you the opportunity to raise your credit score by always paying your subprime home loan on time.
Am I Eligible For a Home Equity Loan?
As with any loan, there are certain requirements for getting a home equity loan, including:
You must own the home, and a mortgage banker may require you to live in the home.
You must have equity in your home. A typical mortgage broker may require you to have at least 20% equity in your home.
Your payments must be up to date on your primary mortgage.
You must be able to repay the home equity loan.
You may have to make a down payment and/or pay closing fees.
You may have to buy mortgage insurance.
Of course, each subprime lender sets its own rules for home loans. For instance, you or your family member must have served in the armed forces to be eligible for the VA-Guaranteed Home Loan Program.
If you are interested in an FHA loan, you'll have to meet the very exacting requirements for FHA mortgages. An FHA loan can save you money, but it can take a long time to prepare the loan documents for FHA mortgages.
Is a Home Equity Loan a Reverse Mortgage?
A reverse mortgage is a loan that you repay when you eventually leave your home. As with a home equity loan, it is based on the equity you've accumulated in your home.
However, the two loans are different in many ways. A reverse mortgage is available to homeowners who are 62 or older. You can take a reverse mortgage as a lump sum or as a monthly payout from the lender.
With a reverse mortgage, you slowly increase your debt and decrease your equity. Sooner or later, the mortgage lender recoups the money it paid out through the sale of the home. Any excess equity is distributed to you or your beneficiaries.
A reverse mortgage is repaid after one of the following events:
You move out of your home for more than one year.
You sell your home.
You die.
You become delinquent on your homeowner insurance or property taxes.
Your home falls into disrepair.
Be aware of certain reverse mortgage drawbacks, including the likelihood of high closing costs and the possibility that your heirs will not inherit your home.
While early reverse mortgages received criticism as being a form of predatory lending that provided a way for the mortgage broker to steal the home from a subprime borrower, the market has matured and is now (mostly) reputable.
How Much Can I Borrow?
You can borrow the equity you've accumulated in your home. Some lenders will lend you up to 100% of your equity, while others will set a limit of 85%. In some cases, the closing costs and other fees will be rolled into the loan, but they may be charged separately.

You can use a home equity loan calculator to see how much you may qualify to borrow.
You may need to have a certain minimum amount of equity in your home, often 20%, to get a home equity loan. The loan amount depends on your credit rating, your income, and your home's market value.
Do I Need an Appraisal?
While appraisals are fairly standard for home equity loans, some lenders will use alternative methods to price your home. These include drive-by observations, public records, and data analysis.
Other reasons why an appraisal may not be needed include:
The availability of a recent appraisal.
The loan amount is only a small percentage of the home's value.
The mortgage lender already holds the first subprime mortgage on your home.
Use of an alternative method such as an automated valuation model, comparable sales, or tax-equalized value.
You may have to pay for the cost of an appraisal, or the cost may be rolled into the loan.
What Are the Downsides of a Home Equity Loan?
While home equity loans can be very useful, they are not perfect. Downsides include:
Your home is at risk: If you fail to make the loan payments, the subprime lender can initiate foreclosure on your home.
Your home's value goes underwater: Your home may lose value after you take out a home equity loan. In that case, you would owe more than the home's value, a condition called "going underwater." This was a prevalent problem during the 2008 subprime mortgage meltdown.
High costs: Closing costs and other fees can mount when you take a home equity loan. These costs usually range between 2% and 5% of the loan amount, but you may have to pay more if you have a subprime credit rating.
Going into debt: The interest rates may be low, but a home equity loan is still cash out refinance debt. If you already have debt, this may destabilize your finances. However, you can improve your financial situation through debt consolidation if you use the loan proceeds to pay off your other debts.
Know the consequences of a home equity subprime loan before accepting one. Prepare a budget to ensure you can afford to repay your loan, so your home isn't taken from you.
Compare Subprime Home Equity Loans For Bad Credit
If you qualify for them, subprime home equity loans can solve many problems. You can review the offerings of the four recommended sources by clicking on the START NOW links in each summary box without cost or obligation.
Never sign a subprime loan agreement without reading and understanding the loan terms. With so much at stake, it's well worth the time you invest verifying the loan documents and terms to guard against predatory lending and unpleasant surprises.
Advertiser Disclosure
BadCredit.org is a free online resource that offers valuable content and comparison services to users. To keep this resource 100% free for users, we receive advertising compensation from the financial products listed on this page. Along with key review factors, this compensation may impact how and where products appear on the page (including, for example, the order in which they appear). BadCredit.org does not include listings for all financial products.
Our Editorial Review Policy
Our site is committed to publishing independent, accurate content guided by strict editorial guidelines. Before articles and reviews are published on our site, they undergo a thorough review process performed by a team of independent editors and subject-matter experts to ensure the content's accuracy, timeliness, and impartiality. Our editorial team is separate and independent of our site's advertisers, and the opinions they express on our site are their own. To read more about our team members and their editorial backgrounds, please visit our site's About page.