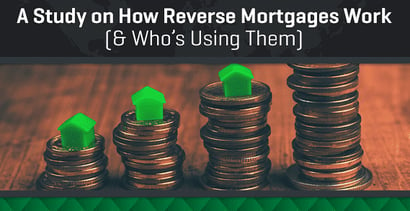 As with the 8-track players and parachute pants popular during their heyday, the company pension is mostly history. As a result, many modern workers will need to fund their own retirement (with, perhaps, a little help from Social Security).
But given that 38% of workers have less than $10,000 in retirement savings, and a full 54% have no idea how much they'll need, it's likely safe to say that many Americans will find themselves running short in their golden years.
For retirees who own their own home, a reverse mortgage can provide a much-needed source of income when other options are running out. But the question is, how does a reverse mortgage work — and is it worth using?
What is a Reverse Mortgage?
Essentially, a reverse mortgage is a loan that allows homeowners over the age of 62 to borrow against the equity in their home.
The technical name for the most common type of reverse mortgage is a home equity conversion mortgage, or HECM. The HECM program is run by the Federal Housing Administration (FHA), a subsidiary of the Department of Housing and Urban Development (HUD).
HECM loans are often called "reverse mortgages" — as opposed to traditional ("forward") mortgages — because you don't make monthly payments to the mortgage lender as you would in a regular home loan. Instead, you receive funds to be repaid in a lump sum when you vacate the property.
While reverse mortgages were designed with the intention of helping retirees pay for everyday necessities and healthcare, you can use the proceeds from a reverse mortgage any way you like.
Watch on
Perhaps the most important thing to understand about a reverse mortgage is that it is not free money.
If you stop living in the property for most of the year, the reverse mortgage will need to be repaid in full. If you pass away, your heirs or estate will be responsible for repaying the loan or selling the property to settle the debt.
Repayment of the loan will include the total amount of cash payments made, the accumulated interest, and any other HECM finance charges. Any proceeds above and beyond what is owed for the loan will belong to the borrower (or the estate).
In the event that the HECM reverse mortgage loan amount exceeds what the home is worth, the borrower will not be responsible for the difference.
An FHA-insured HECM loan is a non-recourse loan. This means that when your home is sold to repay the loan, neither you nor your family will be required to pay more than the sales price of the home. The insurance will pay for any shortfall, so long as your home sells for at least 95 percent of the current appraised value. — CFPB
Another very important thing to note about reverse mortgages is that you'll need to keep up with property taxes, homeowners insurance, and general home maintenance. If you fail to pay property taxes and/or insurance or fail to maintain the property, your home could end up in foreclosure.
To qualify for a reverse mortgage, the homeowner needs to be 62 or older with no current mortgage on the property (or one that is nearly paid off). The borrower cannot be delinquent on any federal debt and must have the resources to maintain the home and continue to pay property taxes, insurance, and other fees.
Additionally, borrowers will be required to participate in a consumer information session given by a HUD-approved HECM counselor to ensure they understand what they're agreeing to and what to expect from the process.
The property itself must be occupied as the borrower's primary residence. This can include a single-family home, a 2- to 4-unit home in which you occupy at least one unit, a HUD-approved condominium project, or a manufactured home that meets FHA requirements.
If approved for a reverse mortgage loan, you can typically choose the type of payment plan you'd like. The options include:
Tenure: The borrower(s) will receive equal monthly payments as long as at least one borrower lives and continues to occupy the property as a principal residence.
Term: The borrower(s) will receive equal monthly payments for a fixed period of months selected.
Line of Credit: The borrower(s) will receive unscheduled payments or installments, at times and in an amount of their choosing until the line of credit is exhausted.
Modified Tenure: A combination of line of credit and scheduled monthly payments for as long as the borrower remains in the home.
Modified Term: A combination of line of credit plus monthly payments for a fixed period of months selected by the borrower.
The total amount you can receive through a reverse mortgage will depend on the age of the youngest borrower (or eligible non-borrowing spouse) and on the current interest rate, as well as on the value of the home as determined by the lesser of the appraised value or the HECM limit of $679,650.
Reverse mortgages come with several associated costs, though these can be financed through your loan amount (thus reducing the amount you can receive). These costs include mandatory FHA mortgage insurance, any third-party charges, the loan origination fee, and any servicing fees.
Who Uses a Reverse Mortgage?
If a reverse mortgage sounds like a great solution to you, it may come as a surprise to find that most homeowners haven't participated in the HECM program. In fact, only around 1.1 million HECMs have been made since 1990.
One study that analyzed Health and Retirement Survey data showed that, of the 5,548 respondents between the ages of 62 and 74 not currently in nursing homes, only 36 reported having a reverse mortgage on their property. The same study concluded that less than 2% of retired households had a reverse mortgage.
The current penetration rate is less than 2% of all retired households, which is quite small given that nearly 80% of retired households own a home, compared to only about 50% with retirement assets, and given that retirement security for many households is considered to be quite precarious. — Mark J. Warshawsky
Within the population of HECM borrowers is a fairly broad demographic of ages, educational backgrounds, and general income levels — though specifics depend on the study you read.
For example, another study of HRS data found that larger numbers of reserve mortgages were obtained by consumers in lower-income areas, as one might expect of a program designed to supplement insufficient retirement income.
Consistent with greater demand among those with low wealth, HECM loans are more common, more responsive to price appreciation, and more intensively used in neighborhoods where large fractions of homeowners are black and Hispanic, and where incomes and property values are below metropolitan averages. — Thomas Davidoff
In contrast, a later study found that it was nearly the opposite side of the financial spectrum, determining that married couples with higher net worth were more likely to obtain a reverse mortgage than their counterparts.
Previous studies suggest that reverse mortgages could be useful financial products for people with modest savings, people with poor health, and unmarried people. However, the results of this study indicate that households with a greater stock of human capital—higher net worth, better educational attainment, and higher income—were more likely to have reverse mortgages. — Swarn Chatterjee
The study's author attributed the apparent trend toward more affluent reverse mortgage borrowers to a lack of information available to lower-income seniors. The author concluded that more could be done to educate lower-income seniors about the HECM program and the possibilities of obtaining a reverse mortgage.
Reasons for obtaining a reverse mortgage are as varied as the demographics of those who obtained them, though one study of Aging in Place Survey data found that paying off an existing mortgage to be the number one reason.
Paying off non-mortgage debt was the second-most-likely reason, with health or disability expenses, home improvements, and everyday expenses all factoring into the decision.
Do Reverse Mortgages Work?
The question of the effectiveness of reverse mortgages is one that can be looked at in a few ways. For instance, are consumers with a reverse mortgage happy with the decision?
Overall, the answer seems to be yes, according to the Aging in Place data. The survey found that borrowers were generally satisfied with the decision to obtain a reverse mortgage.
Reverse mortgage borrowers in this survey expressed satisfaction with their decision to obtain a reverse mortgage. On a scale from 1=very dissatisfied to 5=very satisfied, respondents who retained their reverse mortgage scored 4.2 and those who terminated their reverse mortgage scored 4.0. Respondents who decided against obtaining a reverse mortgage scored 3.6 on this satisfaction measure. — Stephanie Moulton, et al
According to the survey, of the 1,294 respondents who obtained a HECM reverse mortgage, around 92% retained their reverse mortgage. Of the 8% who terminated their reverse mortgage, an equal number of borrowers either sold their home or refinanced their reverse mortgage with another loan.
Additionally, approximately 58% reported the funds from their reverse mortgage lasted longer than or about as long as expected, while only 21% reported the money not lasting long enough.
Another way to analyze the success of the HECM program is to look at it from a financial point of view, namely how many people have been foreclosed upon or defaulted on their reverse mortgage loans.
And that picture is less pretty. While the Aging in Place data found that only seven of the 1,294 respondents' reverse mortgages ended in foreclosure, that data may be more optimistic than some more recent sources.
For example, a 2016 study of HUD data obtained by consumer and legal advocacy groups found that the US averaged 3,664 foreclosures per month in 2016, more than six times as many monthly foreclosures than in the years leading to 2016.
The new data from HUD show that in a mere nine-month time period (April 2016 to December 2016), there were 32,976 foreclosures on federally insured reverse mortgages. In comparison, HUD disclosed in an earlier FOIA response that from April 2009 until April 2016 (a seven-year period), there were 41,237 total reverse mortgage foreclosures in the HECM program. — California Reinvestment Coalition
But while those numbers may be alarming, one article states that HUD disagrees, contending that only 170 of the 74,200 reverse mortgage foreclosures made from April 2009 through December 2016 resulted from a borrower's failure to pay property taxes and hazard insurance.
If those numbers are correct, then approximately 99% of the 74,200 reverse mortgage foreclosures were the result of either the death of the last HECM borrower or the borrower moving out of the property.
The Future of Reverse Mortgages
Although millennials have since outgrown the baby boomers as the largest generation, there are still millions of boomers — and they're all getting ready to retire. One estimate found that a full 18% of the US population will be 65 and older by 2030.
Unfortunately, the majority of soon-to-be-retirees are way behind in their retirement savings, meaning millions of Americans will need to find ways to supplement their retirement income.
In the end, it's hard to say whether reverse mortgage loans are the answer to the impending retirement crisis. There's little question that HECM loans can be a valuable tool — but not a risk-free one.
While many HECM borrowers were shown to be happy with their decision, reverse mortgage loans can also apparently be disastrous for the thousands of borrowers who wind up in foreclosure, either due to needing to relocate or problems with paying taxes and insurance.
One thing does seem to be clear from all the data: we need better reverse mortgage education. Not only are many consumers who could potentially benefit from HECMs unaware of the resource, but many questions about taxes, foreclosure, and repayment are still abundant despite mandatory pre-HECM counseling.
Advertiser Disclosure
BadCredit.org is a free online resource that offers valuable content and comparison services to users. To keep this resource 100% free for users, we receive advertising compensation from the financial products listed on this page. Along with key review factors, this compensation may impact how and where products appear on the page (including, for example, the order in which they appear). BadCredit.org does not include listings for all financial products.
Our Editorial Review Policy
Our site is committed to publishing independent, accurate content guided by strict editorial guidelines. Before articles and reviews are published on our site, they undergo a thorough review process performed by a team of independent editors and subject-matter experts to ensure the content's accuracy, timeliness, and impartiality. Our editorial team is separate and independent of our site's advertisers, and the opinions they express on our site are their own. To read more about our team members and their editorial backgrounds, please visit our site's About page.