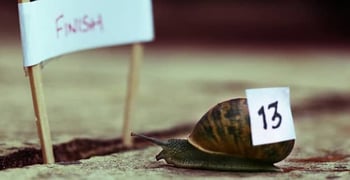 BadCredit.org publishes personal finance studies on the latest trends in the subprime marketplace. Our articles follow strict
editorial guidelines
.
In recent years, the rate of interest charged for home mortgages has been at historic lows. While this has led to a boom in home purchases, the party is not expected to last much longer.
According to a new study released by the National Association of Federal Credit Unions, mortgage loan growth is expected to be slower in 2014 than in the previous two years.
The NAFCU survey showed expectations for increases in credit union membership and in overall loan growth. However, the rate of growth for home loans was expected to lag.
Credit card loans and new car loans are projected to grow at between 9 and 10 percent. By comparison, loans for home purchases are expected to come in at around 4.1 percent.
"Mortgage loan growth is expected to be

slower than the previous two years."
Part of the reason for the relative underperformance can be attributed to new mortgage regulations, but part may also be due to expected rises in mortgage rates.
As the economy continues to gradually improve, the interest rates on treasury notes and bonds will increase. This puts upward pressure on the rates banks charge for home loans.
Another casualty of higher interest rates is refinancing activity.
For the past two years, refinancing was around 80 percent of loan activity. This past summer, it fell to around 60 percent. The NAFCU expects the refinance rate to fall to around 40 percent this year.
Of course, the expectation for mortgage growth varies in different parts of the country.
In places like Texas, the new oil and gas exploration boom has made for a robust real estate market that is expected to slow only slightly.
In other areas like California and Florida, home prices have increased dramatically in the past few years, making homes less affordable.
However, one thing is certain. The view into the economy from the NAFCU survey bears watching.
With home ownership one of the leading indicators of consumer confidence, we can only hope the study is overly cautious.
Source: southerndailypress.com. Photo source: cultofmac.com