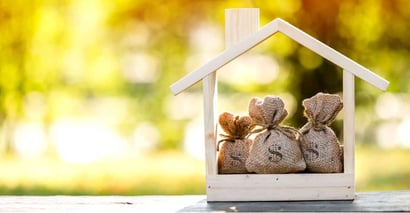 Bankruptcy isn't the end of the world — it's a new beginning. If you choose to use it constructively, it marks the start of your journey back to a sound financial footing. 
Homeownership can be part of the recovery process. This article reviews several ways to get a mortgage after you emerge from bankruptcy proceedings. It offers the help you need to obtain a mortgage loan despite your roiled credit history. 
Best Conventional Home Loans After Filing Bankruptcy
These home loans don't have federal loan guarantees, so mortgage lenders assume the risk of default without the benefit of government insurance. The loans can have flexible terms because federal strings aren't attached.
Rocket Mortgage and its partners offer conventional and other types of mortgages. Its conventional mortgages need not conform to Federal Housing Administration (FHA) rules. Nonconforming conventional mortgages (i.e., ones that don't meet the guidelines for sale to Fannie Mae or Freddie Mac) cost more.
Still, you may be able to get one despite having a credit score lower than that required for a conforming mortgage.
Quicken Loans is a Rocket Mortgage lender. Its website contains a helpful article entitled "Buying A House After Bankruptcy: A How-To Guide" that covers Chapter 7 and Chapter 13 bankruptcy. You can apply for a home loan from Rocket Mortgage from the Quicken Loans website.
HSH.com LLC, doing business as eMortgage, doesn't make loans — it finds them. It is an independent, advertising-supported publisher, mortgage advertiser, and comparison service. It helps prospective homeowners find various types of mortgages (including post-bankruptcy home loans) using an extensive lender network. The company's loan-finding service is free.
CitiMortgage makes direct home loans to consumers. To qualify, you must have two years of employment, a FICO credit score of 620 or higher, and no history of filing for bankruptcy in the past two years.
You must provide proof of your bankruptcy discharge and a schedule of creditors, among other documents. CitiMortgage offers loan discounts to help borrowers obtain lower interest rates or save on closing costs.
Best Government-Backed Home Loans After Bankruptcy
The following federal agencies provided guarantees for conforming mortgages after a borrower emerges from bankruptcy. The waiting periods and other requirements vary by agency. 
5. Federal Housing Administration (FHA) Loan
You can qualify for an FHA loan one to two years after exiting bankruptcy. The eligibility requirements following Chapter 7 and Chapter 13 bankruptcies differ, but both require the borrower to re-establish good credit and avoid new credit obligations during the waiting period. You can shorten the regular two-year wait if the bankruptcy resulted from extenuating circumstances beyond your control. 
6. US Department of Agriculture (USDA) Home Loan
You can get a USDA-guaranteed home loan three years after Chapter 7 bankruptcy or one year after Chapter 13. As with FHA loans, you can shorten the USDA's three-year wait to just one year if the Chapter 7 bankruptcy was due to circumstances beyond your control. Getting a USDA loan after Chapter 13 bankruptcy requires the approval of the court-appointed bankruptcy trustee.
7. Veterans Affairs (VA) Loan
A VA loan has a two-year waiting period following a Chapter 7 bankruptcy and one year following Chapter 13. Unlike other mortgages, a VA loan does not require a minimum credit score, although the originating lender may. You don't need a down payment or mortgage insurance to get a VA home loan, but you must be an eligible veteran.
How Does Bankruptcy Chapter Affect Mortgage Access?
Chapter 7 and Chapter 13 bankruptcies differ significantly, notably in the required waiting time (or "seasoning period") following discharge. These differences impact your access to a post-bankruptcy mortgage.
Understanding the distinction between bankruptcy discharge and dismissal is essential:
Discharge: The court accepts your bankruptcy filing and, after the case ends, wipes out your remaining unsecured debts. A Chapter 7 discharge occurs immediately after the proceeding finish, whereas discharge from Chapter 13 occurs at the end of a reorganization period (typically lasting three to five years).

Dismissal: The court may dismiss your attempt to file for bankruptcy because you fail to meet the legal eligibility requirements. You can file a Motion to Reinstate after you correct the deficiency or error that resulted in dismissal. If the court doesn't set aside the dismissal order, you cannot delay attacks from your creditors.
The waiting periods for post-bankruptcy mortgages depend on how the court disposes of the case, the bankruptcy chapter, and the lending source.
Chapter 7 Bankruptcy
Chapter 7 is a liquidation bankruptcy that wipes out most of your unsecured debt. But you will likely lose your house through foreclosure, even if you file for Chapter 7. At most, the court may delay foreclosure while the Chapter 7 case is pending.
You may be able to avoid foreclosure during and after Chapter 7 bankruptcy by continuing to make your monthly payments.
You will have to wait two to four years after a Chapter 7 bankruptcy to get a mortgage, assuming you didn't own or keep a home during the proceedings. The waiting period after the court discharges or dismisses your Chapter 7 bankruptcy depends on the type of mortgage you seek:
Conventional mortgages: You typically must wait at least four years to get a conventional mortgage loan (i.e., a home loan not guaranteed by a federal agency). The waiting period lets you sort out your finances and rebuild your credit.

Government-backed mortgages: As described above, the waiting period for a government-backed home loan is two or three years, depending on the federal agency issuing the insurance. Showing extenuating circumstances beyond your control can reduce the waiting period to one year.

Non-qualified mortgages (non-QMs): These mortgages do not adhere to federal guidelines and are available immediately after bankruptcy discharge. Non-QMs are risky and expensive because they may involve interest-only payments that don't build equity, a large balloon payment after a set period, and/or a term longer than 30 years.
Among the reviewed lenders, eMortgage is the only one that can get you a non-qualified mortgage.
Chapter 13 Bankruptcy
Chapter 13 is a reorganizing bankruptcy that allows you to keep your assets. The court imposes a three-to-five-year repayment plan and dismisses any debt remaining once the plan expires. The seasoning periods for post-Chapter 13 mortgages are:
Conventional mortgages: The waiting period for a conventional mortgage is four years from the dismissal date or two years from the discharge date. Remember that discharge occurs after you complete the three-to-five-year repayment plan, so the total delay may last seven years. After a dismissal, you can cut the waiting period from four years to two if you can prove extenuating circumstances beyond your control. You must show you've resolved the problem and that it's unlikely to reoccur.

Government-backed mortgages: For an FHA loan, you must be at least 12 months into your repayment plan and up to date on your payments. Once you complete your program, you may ask the FHA for a manual review, which, if successful, will allow you to apply for a loan immediately. But many mortgage lenders won't participate unless you get approval from the FHA's computerized underwriting system. You must wait two years after discharge if you choose automated approval.
After Chapter 13, a VA or USDA loan also requires at least 12 months of timely payments to your repayment plan. You can then ask for written court approval for a new loan without any waiting period.
Non-qualified mortgages have no waiting period, regardless of which bankruptcy chapter you used.
Is a Non-Qualified Mortgage Available Immediately After Bankruptcy?
Yes, you can get a non-qualified mortgage immediately after completing your bankruptcy proceedings. A non-QM does not conform to the standards set by the Consumer Financial Protection Bureau (CFPB).
Non-QMs usually have flexible underwriting standards, making them easier for subprime and non-traditional (i.e., self-employed and freelance) consumers to obtain. These mortgages, available in standard and jumbo sizes, typically allow borrowers to have relatively high DTI ratios. 

You can arrange an interest-only option to minimize your loan payments, but this doesn't build any equity in your home. After a set period, you'll face a large balloon payment for most or all of the original mortgage amount.
The typical non-QM loan charges a high interest rate, requires a sizable down payment, and provides limited consumer protections. They often carry pre-payment penalties that make them expensive to refinance. 
Depending on market conditions, finding a lender making non-QM loans may be challenging. Always check out a non-QM lender to ensure it isn't a predator or worse.
Which Impedes Future Mortgages More: Foreclosure or Bankruptcy?
A foreclosure occurs when a mortgage lender repossesses a home because the owner failed to repay the loan on time. Bankruptcy is a legal proceeding that gives borrowers time to resolve unpaid debts. Many homeowners file for bankruptcy to delay foreclosure, but ultimately, the lender will seize and auction the property unless the borrower becomes and remains current on the amount owed. 
There is some value in responding to foreclosure by filing for bankruptcy. You will owe the lender money if:
You undergo foreclosure without a bankruptcy filing, and 
The lender can't recover the entire amount owed 
But if you file for bankruptcy, the court will discharge your debts after it closes the case — you won't have to reimburse the lender for any shortfall.
Moreover, you can maintain control of your property during foreclosure by filing for bankruptcy. Otherwise, the lender will take control of your home. 
Bankruptcy buys you time to pursue your options. The court issues an Order of Relief granting you typically a three- to four-month delay before you lose your home to foreclosure. But if the lender files a foreclosure notice before you file for bankruptcy, it may foreshorten the delay period. 
You will likely need the assistance of a state-licensed attorney to help you navigate through foreclosure and bankruptcy, as these are complex legal topics requiring expertise and experience.
How Do I Rebuild Credit After Bankruptcy?
You can begin rebuilding your credit immediately after the court discharges your bankruptcy by observing these steps:
Get a secured credit card: You can get a secured credit card immediately after the court discharges your bankruptcy, whereas unsecured cards usually require a waiting period. Make the largest deposit you can afford, use the card regularly, and pay most or all the balance due each month. Most importantly, always pay your bills on time and keep your credit utilization ratio as low as possible.
Avoid credit mistakes: Bankruptcy and the events leading up to it have taken their toll on your already bad credit score. Now, the only place for your score to go is up, but you must avoid new credit mistakes to make progress. Those mistakes include missing credit payments, carrying large debt balances, applying for too many credit cards at once, and closing old credit accounts.
Review your credit report and score: After emerging from bankruptcy, request your credit report and score from a major credit bureau. You'll quickly discover the amount of damage to your credit and any reporting errors that are needlessly depressing your score. Recheck your score at least twice a year to ensure your credit is improving over time.
Work with your bank or credit union: See if you can arrange a credit-builder loan, which is a proven way to raise your credit score. Your financial institution may be able to provide or refer you to a credit counselor. You and the counselor can formulate a realistic budget for you to follow. Staying on a budget will help you avoid new debts and make paying your monthly credit card bills easier.
Bankruptcy happens, but you can definitely recover from your bad credit standing. Stay alert to your finances, use credit wisely, and keep your chin up. 
You Can Get a Mortgage After Bankruptcy
You now know several options for landing a mortgage after emerging from bankruptcy. Your choice of loan type dictates how long you'll have to wait before applying for a new mortgage. You may need to cool your heels for only one day if you can get a non-qualified mortgage. But proceed cautiously —  non-QMs can be dangerous if mishandled, so seek advice from a trusted source.
Rocket Mortgage & Other Resources
We hope you've found our guide "7 Best Post-Bankruptcy Home Loans (Sep. 2023)" to be helpful in meeting your financial needs. To learn more about Rocket Mortgage, our top recommendation in this guide, be sure to visit the Rocket Mortgage website for full details about the offer.
Our experts rate Rocket Mortgage as one of the best options in home loans for those with bad credit, giving it a 4.8/5.0 rating overall. Among its features:
America's largest mortgage lender
The entire process is completed online
Options for new mortgages and refinancing existing mortgages
Award-winning customer service and cutting-edge digital platforms
More than 90% of clients would recommend us
For more resources similar to this "7 Best Post-Bankruptcy Home Loans (Sep. 2023)" guide, see our other popular picks for those with bad credit:
Whether you choose Rocket Mortgage or any other option in our home loans category, be sure to read and understand the terms before signing up. You'll find that taking the time to fully understand home loans is one of the smartest financial decisions you can make.
Advertiser Disclosure
BadCredit.org is a free online resource that offers valuable content and comparison services to users. To keep this resource 100% free for users, we receive advertising compensation from the financial products listed on this page. Along with key review factors, this compensation may impact how and where products appear on the page (including, for example, the order in which they appear). BadCredit.org does not include listings for all financial products.
Our Editorial Review Policy
Our site is committed to publishing independent, accurate content guided by strict editorial guidelines. Before articles and reviews are published on our site, they undergo a thorough review process performed by a team of independent editors and subject-matter experts to ensure the content's accuracy, timeliness, and impartiality. Our editorial team is separate and independent of our site's advertisers, and the opinions they express on our site are their own. To read more about our team members and their editorial backgrounds, please visit our site's About page.