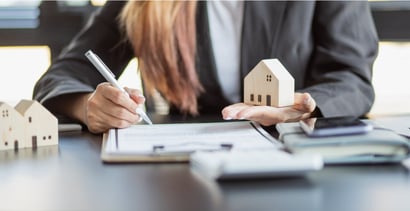 If your credit is bad but you want to become a homeowner with the help of a loan, don't abandon your dream. Credit scores range from 300 to 850, with most conventional lenders requiring a credit score of at least 620, though scores in the mid-700s and higher are ideal.
Still, there are ways to secure a mortgage when your credit scores are considered poor — between 300 and 579. Some strategies require effort, others time, and a few require both. But if you really want to buy your own home, you'll be grateful you took the steps to make it happen.
1. Pursue the Right Mortgage
You may not qualify for a conventional mortgage with a credit score under 580. Here are some alternatives worth looking into:
Federal Housing Authority (FHA) loan: FHA loans are backed by the federal government and have much lower credit requirements than most conventional loans. The minimum credit score required is 500 if you put 10% down and 580 if you put 3.5% down.
Non-qualified mortgage: If you don't qualify for a conventional or government-backed loan, a Non-QM loan may be available to you, which requires credit scores of between 500 and 580. It doesn't use the QM Rule. However, the interest rates and fees may be higher, and it can be tough to find a lender that will issue this type of mortgage.
If your credit scores are a little better but still not great, other options exist:
VA loan: Depending on the lender, a minimum credit score can be 580 to 620. If you're a veteran, service member, or an eligible spouse, you may be able to get a loan backed by the Department of Veterans Affairs. No down payment is required, and most lenders will accept scores starting at 620.
USDA home loan: These loans for homes in rural communities are backed by the U.S. Department of Agriculture Minimum and require credit scores of 640 and above, with no down payment.
Freddie Mac Home Possible® loan: If you're a first-time home buyer, the Home Possible program allows scores of 620 and down payments of 3%.
But don't discount conventional mortgages! Those offered by credit unions can be more forgiving for applicants with lower credit scores than mortgages from big banks, as can nontraditional lenders and those with an online presence.
Get today's mortgage rates from the top mortgage lenders and banks
Easily compare and choose mortgage lenders with no obligations or fees
Review current mortgage rates side by side
Pick mortgage lenders that meet your specific needs
Compare rates from pre-qualified and approved mortgage lenders — 100% online, 100% free
| Interest Rate | In Business Since | Form Length | Loan Example |
| --- | --- | --- | --- |
| Varies | 1979 | 4 minutes | See representative example |
Check around for rates and eligibility. You may be surprised by what you find. Just be sure to mind the interest rates, as mortgages that don't require high scores often have high rates, which will make the loan more expensive.
2. Understand Why Your Credit Is Bad
The most commonly used credit scores are FICO Scores and VantageScores. They are based on the information listed on your consumer credit reports from TransUnion, Equifax, and Experian. Since that data changes with your credit activity, so do your scores.
Therefore, your first step is to pull all three copies of your credit reports from annualcreditreport.com.

Read your reports carefully, making notes of every derogatory mark, since that's the data lowering your credit scores. It could be late payments, defaulted loans, collection accounts, bankruptcy, or an overabundance of debt compared with the amount of money you can borrow (called your credit utilization).
3. Increase Your Credit Score With a Special Program
One of the credit reporting agencies — Experian — has a free program called Boost. With it, you can elect to have your utilities and cellphone bills added to your credit report.
Those payments will be factored into your credit scores, and you'll see an increase in them without having to take out a new loan or credit card. All you need to do is pay those bills on time, and you'll get the credit scoring advantage.
Visit Experian's website and sign up for free. Experian Boost users saw an average increase of 13 points in their FICO Score, according to Experian.
4. Dispute Credit Report Errors
Contact the credit reporting agencies with anything you see on your credit reports that isn't correct (such as an account you paid off ages ago that's still showing up as a debt) or is problematic but past the length of time it can remain on your credit report.
In most cases, negative information can only remain on a credit report for seven years. That includes delinquencies, charge-offs, and accounts that were sent to collections. A Chapter 7 bankruptcy will stay on a credit report for 10 years from the date of filing.

After filing a dispute, the credit reporting agency has 30 days to conduct an investigation. If it can't verify the information, it will be removed from your file.
Your credit scores should be higher when they are recalculated because your reports don't include the negative information — and may be high enough to meet the requirements of the mortgage you're after.
5. Offer a Larger Down Payment
The typical down payment on a home is 20% of the purchase price, but you can offer more to make up for a bad credit score.
If you don't have the extra cash on hand, consider your options. For example, you may be able to use some of the money you've saved and invested in a 401(k) plan. Depending on your employer and whether you meet the conditions, you may be able to borrow against the account or make an early withdrawal.
Be careful, though, since there are fees and taxes to deal with, as well as reducing the money you have set aside for your retirement. You may also liquidate other assets, ask a parent for an early inheritance, or just skimp and save for the additional funds.
6. Make On-Time Payments For At Least 6 Months
Of course, there may be information on your credit reports that is unattractive but also correct and timely, and that includes evidence of missed loan and credit card payments.
Credit scores rank payment history as the most important factor, so if your report indicates that you've fallen behind, those late payments are causing major damage.

If you are a billing cycle behind (making your payment 30 days late), call the creditor and ask them if they'll change your payment status to current if you send the full payment immediately. They are under no obligation to say yes but there's no harm in trying.
In lieu of that, start to establish a perfect payment history from this point forward. Six months' worth of timely payments on multiple accounts can make a big difference in your credit score. One year of consistent payments is even better, but you may not want to wait that long for your homeownership goals.
7. Use Credit Responsibly
All lenders want to know how you have borrowed money, especially over the past 12 to 24 months. If you haven't used credit cards or repaid any loans during this time, it will be very difficult for them to assess an accurate level of risk.
So, while you may not have done anything bad, you haven't shown that you've done anything good either. Now is the time to start adding positive activity to your credit reports to improve your credit scores.
One way to do that is to take out a credit builder loan from a credit union. These products allow you to borrow against money that you set aside. Since the credit union will report the account's activity to the credit reporting agencies, repaying the loan on time and in full will increase your scores.
Another idea is to get a credit card or two. A secured credit card or an unsecured card developed for people with bad credit may be your best bet. Only charge what you can and will repay in full by the due date. You should see an improvement in your credit scores in six months.
8. Consider a Cosigner
In the event that you can't improve your credit score but are eager to start the homebuying process, look into bringing on a cosigner who has a good credit history. If that person will put his or her name on the loan, it may satisfy the lender's credit requirements.
Just be very cautious with this method. The cosigner will be liable for the mortgage payments if you don't make them. Delinquencies will show up on all signers' credit reports and affect everyone's credit scores.

Only use this option if you are certain you can manage the payments, not just now, but over the long term.
9. Increase Your Income and Lower Your Expenses
Your credit rating and down payment aren't the only considerations mortgage lenders assess. They also evaluate the amount, source, and stability of your income to determine whether it's enough to meet your current and future expenses.
Most lenders use the Ability-to-Repay and Qualified Mortgage Rule (ATR/QM Rule) to understand whether you can cover the loan payments without financial stress. That means that they will dive into your cash flow.
You can offset some of the negative effects bad credit can have on a lender's perception of you by earning more income and lowering your expenses. If you pay off old debts, you'll not just have more money to use for a mortgage payment, but it may also bump up your credit scores.
10. Downsize Your Homeownership Goals
Maybe you can't qualify for a mortgage for the house of your dreams right now. But you may qualify for a smaller home, one that needs work or is not in your most desired neighborhood.
A less expensive home will have a smaller mortgage. This way you can provide a larger down payment and the loan will have lower monthly payments — and may not require an excellent credit score to qualify.
Broaden your home horizons. If you buy a home that's not exactly what you want at this time, you can upgrade later when you are in a better credit and financial position.
Pay Your Mortgage On Time to Increase Credit Scores
As you can see, there are plenty of ways to overcome the issues associated with low credit scores. If you really want to buy a home, you'll make it happen. And when you do, be sure to meet your loan's due dates.
Your regular monthly mortgage payments can increase your credit scores, which will benefit you when you want to upgrade to another property — and you won't face as many hurdles.
Advertiser Disclosure
BadCredit.org is a free online resource that offers valuable content and comparison services to users. To keep this resource 100% free for users, we receive advertising compensation from the financial products listed on this page. Along with key review factors, this compensation may impact how and where products appear on the page (including, for example, the order in which they appear). BadCredit.org does not include listings for all financial products.
Our Editorial Review Policy
Our site is committed to publishing independent, accurate content guided by strict editorial guidelines. Before articles and reviews are published on our site, they undergo a thorough review process performed by a team of independent editors and subject-matter experts to ensure the content's accuracy, timeliness, and impartiality. Our editorial team is separate and independent of our site's advertisers, and the opinions they express on our site are their own. To read more about our team members and their editorial backgrounds, please visit our site's About page.