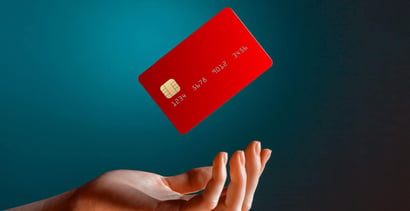 No matter what situation led to your bankruptcy, there's no doubt it complicates your access to high-limit credit cards. That's why we identified post-bankruptcy credit cards with spending limits of at least $700. 
While $700 may not seem like much of a credit line, even this modest amount can help you pay for groceries, gas, and other necessities. Several cards may offer you a four-digit credit limit despite your recent Chapter 13 or Chapter 7 bankruptcy. Keep reading to find the card that best meets your requirements.
Post-Bankruptcy Unsecured Cards with $700+ Credit Limits
It's unusual for an unsecured card to approve recently bankrupt applicants. But the following cards will welcome you as a cardmember despite your past financial challenges.
The Surge® Platinum Mastercard® may offer an initial credit limit of up to $1,000 and double it after a period of timely payments. Continental Finance Company (which has an A+ rating from the Better Business Bureau) services this card. 
The card offers all the features of a standard Mastercard, including zero liability protection. It can also help you rebuild your credit by reporting your on-time payments to all three major credit bureaus.
The Milestone® Mastercard® explicitly welcomes post-bankruptcy applicants and offers credit limits of up to $700. Genesis FS Card Services manages the card, and the Bank of Missouri issues it.
You can prequalify for this card without affecting your credit score, and it provides Mastercard ID Theft Protection. Your new card typically arrives within 14 business days of approval.
Post-Bankruptcy Secured Cards with $700+ Credit Limits
Secured cards offer easy acceptance regardless of credit history because a refundable security deposit establishes your credit limit. These cards all allow you to set your limit with a matching deposit.
The First Progress Platinum Select Mastercard® Secured Credit Card is one of three related cards from Synovus Bank. None of the three require a minimum credit history or score. That's why we rank it the best secured credit card for post-bankruptcy consumers.
Your previous credit issues, including bankruptcy, shouldn't prevent you from getting any of these credit cards. Of the three, the First Progress Platinum Select Mastercard® Secured Credit Card offers an intermediate APR and annual fee.
The Secured Chime Credit Builder Visa® Credit Card doesn't check your credit when you apply, and it is unique in accepting security deposits as high as $10,000. Your credit limit equals the amount you transfer from your linked Chime® Checking Account. 
This secured card is for consumers who want to avoid interest rates and annual fees. On-time payments can positively impact your credit score, but overdue payments may harm your score. 
The First Progress Platinum Prestige Mastercard® Secured Credit Card offers the highest annual fee and lowest interest rate of the issuer's three cards. It's the best choice for consumers who want to stretch their payments over multiple billing periods.
As with its siblings, the card doesn't take past bankruptcies into account (although these cards don't approve applicants with pending bankruptcies prior to discharge). Because the card reports to all three major credit bureaus, timely payments should also mean your credit score rises over time.
The First Latitude Platinum Mastercard® Secured Credit Card from Synovus Bank accepts initial deposits as low as $100. But it allows deposits up to $2,000 to establish your credit line.
When you open a card account, the issuer requires your name, address, date of birth, and may also ask for your driver's license for identification purposes.
Applying for the OpenSky® Secured Visa® Credit Card doesn't include a credit check and guarantees an instant decision when you apply. This secured card from Capital Bank permits deposits of up to $3,000. Making timely payments may also prompt the issuer to increase your credit limit without an additional deposit or offer you an unsecured credit card.
The card charges a modest annual fee, and Capital Bank is one of the few issuers that doesn't require a linked checking account to apply.
The First Progress Platinum Elite Mastercard® Secured Credit Card has the lowest annual fee and highest APR of the First Progress offerings. You'll benefit most from this card if you pay off your entire balance monthly.
The card accepts initial deposits as high as $2,000. A discharged bankruptcy won't prevent you from getting this card, although the issuer must verify your contact information, income, employment, and housing costs. 
Which Types of Credit Cards Can I Get After Bankruptcy?
You can choose between secured and unsecured credit cards after you emerge from bankruptcy. We explore both types to help you decide which requirements you meet. 
Secured Credit Cards
A secured credit card requires you to deposit a sum of cash equal to your credit line. Deposits to the cards we identified range from $100 to $10,000. Your deposit acts as collateral for the card's credit line. That means if you submit a $700 deposit, you receive a $700 credit limit.
Secured card issuers are typically willing to approve consumers with troubled credit histories because cash deposits protect against defaults. If you fail to pay the minimum amount due on time, the credit card issuer will take the money from your deposit and reduce your credit line.
Some may allow you to restore your credit line by submitting a payment. But, credit card issuers typically cancel cards when cardmembers repeatedly miss payment dates. If the issuer cancels your card, it will seize your deposit, pay off your balance (including interest and fees), and refund the remainder. 

In most other respects, secured credit cards operate the same as unsecured versions. Secured cards may increase your credit line or refund your deposit if you consistently pay your bill on time.
Some secured cards offer cash back rewards on eligible purchases, but many do not. The typical cash back reward from a secured card has a flat rate of 1% to 2% on all eligible purchases. 
Cash rewards typically don't expire while you keep the account open. In most cases, you can redeem your cash rewards anytime, in any amount. Depending on the card, you may receive your cash back as an electronic deposit, statement credit, check, or gift card.
The application process for a secured credit card is the same as most any other credit card. The easiest way is to apply online, but some cards also accept applications over the phone or through the mail. To apply, submit an application containing information about your identity, income, employment, housing costs, and debts.
Most credit card issuers try to immediately approve or deny your application, although it may take longer if the issuer has trouble verifying your information. Reading the cardmember agreement is essential to understanding the approval criteria.

A secured card issuer will also require you to submit the security deposit before it sends your card. Failure to remit the deposit within a set period will force the issuer to cancel your application.
Some cards require a minimum deposit at first but allow you to increase the amount once you receive the card. Others allow you to make an initial deposit in any amount up to the card's overall limit. Each issuer decides its own deposit policy.
Unsecured Credit Cards
Unlike secured cards, unsecured credit cards don't require a cash deposit to collateralize a line of credit. If your financial history has saddled you with poor credit, your eligibility for unsecured cards will be limited.
Unsecured cards for consumers with poor credit charge high interest rates and impose additional fees. For example, many subprime unsecured cards charge fees for signup and monthly maintenance. Secured costs rarely charge these fees. You should expect subprime unsecured cards to charge an annual fee as high as $100. 
The main difference between secured and unsecured credit is that a secured credit card requires the applicant to make a deposit. The minimum amount typically varies between $100 and $300 and is usually equal to the card's credit limit.
Secured cards are best suited for those with poor, limited, or no credit. But unsecured credit cards provide better rewards and benefits for those who have good credit.

An unsecured card's lack of collateral makes it harder to get than a secured card. After bankruptcy, you will probably save time and money by applying for a secured card. After a suitable period, you (or the issuer) can replace your card with an unsecured version.
How Soon After Filing Bankruptcy Can I Get A Credit Card?
After filing for bankruptcy, a state court hears your case and renders a judgment. The process may take months, or years, depending on the bankruptcy chapter and the complexity of your debts. 
For Chapter 7 bankruptcy, the court may discharge your unsecured debt (such as unsecured credit card debt) in a few months. But in a Chapter 13 bankruptcy, you must restructure your debt payments and agree to a repayment plan. It takes two to four years to finish the process, after which the court will discharge any remaining unsecured debt, including credit card debt.
You can begin rebuilding your credit after you receive a discharge. About half of bankruptcy filers apply for new credit and receive approval within one year of discharge. The right time to apply for credit is when you can assume the responsibility of credit card ownership. That's when you should find the right credit card to help you build credit.
Which Banks Accept People With Prior Bankruptcies?
Banks that offer second-chance accounts accept depositors with prior bankruptcies and other credit mistakes. A low credit score shouldn't prevent you from opening a second-chance checking, savings, or business bank account because these banks don't check your credit or banking history.
Many online banks provide only essential services. 

A second-chance account lets you rebuild checking history when used responsibly. You must follow the bank's rules and avoid overdrafts and bounced checks.
The best second-chance accounts for consumers with imperfect credit include:
Second-chance banks may offer special products or incentives to new customers. These may include reduced or waived fees, cash back or points rewards, and high-interest savings accounts.
How Do I Select the Best Credit Card After Bankruptcy?
Finding the right credit card can help you build credit if you've recently gone through bankruptcy. Consider these factors when looking for the best credit card after bankruptcy.
Basic Eligibility
Look for cards that cater to consumers with poor credit. Many of these cards have flexible approval criteria. 
Secured credit cards are easier to get because they require a deposit that collateralizes your credit line. Unsecured cards don't need a deposit but typically have higher fees and interest rates.
Cost Factors
Many cards for post-bankruptcy consumers charge high annual fees. You must decide whether the benefits of the card outweigh the yearly charge.
Credit card interest rates will be high after a bankruptcy but vary significantly. You'll save money by getting a card with a lower APR if you expect to carry a balance across multiple billing cycles. You'll always have a 0% APR if you pay your entire bill each month.
Reporting to Credit Bureaus
Ensure the credit card company reports your payments to all three major credit bureaus. Comprehensive reporting of on-time payments is the most efficient way to rebuild credit. 
Most cards report monthly but check the reporting frequency in the cardmember agreement. Remember that your balance at the end of the billing period updates your credit utilization ratio (i.e., the amount you owe compared to your total available credit).
A high balance on the reporting date will increase your CUR and may hurt your credit score. Avoid this problem by making a payment just before your billing cycle ends. Your monthly account statement lists the billing cycle start and end dates and your available credit.
Additional Considerations
While not a top priority when rebuilding credit, some post-bankruptcy cards provide cash back or other perks.
Virtually all credit cards provide a grace period that gives you extra time to repay your balance without incurring interest. The grace period, if present, must last at least 21 days and extend from the cycle end date to the payment due date. Verify your credit card's grace period, as cards that omit it charge interest starting on the date of purchase.
Be aware of additional costs, including late fees, cash advance fees, and foreign transaction fees. All fees appear in the Schumer Box within the cardmember agreement.

Online account management features can help you track spending, pay bills, and manage your account more efficiently. Look for a credit card company with a reputation for good customer service, especially if you're new to credit cards.
Some cards offer automatic credit limit increases after a period of on-time payments. The higher limit can boost your credit score by reducing your credit utilization ratio. Moreover, many secured cards automatically upgrade you to an unsecured card if you consistently pay your bill on time. 
Always read an issuer's terms and conditions to ensure you make an informed decision on a card that fits your situation.
How Can I Rebuild Credit After Bankruptcy?
While a bankruptcy remains on your credit report for seven or 10 years, you can immediately take steps to improve your credit. Follow these five tips to help raise your credit score after bankruptcy.
Monitor Your Credit Reports
Your credit reports from the three major credit bureaus may have inaccurate, obsolete, or unverifiable data. Fair or not, it's your responsibility to ensure your credit report is correct. 
After you file for bankruptcy, check your credit report to verify that the credit bureau assigns bankruptcy status only to the correct accounts (typically, unsecured accounts). Contact the credit bureau immediately and ask it to correct any misinformation.

You also want to verify that the credit bureaus have removed the bankruptcy from your credit reports after the expiration date (which is seven or 10 years after discharge). 
Get a Credit Card
It's important to reestablish a good credit history after you emerge from bankruptcy. One of the best ways to do this is to get a credit card and use it responsibly. The cards reviewed above accept post-bankruptcy applicants and offer reasonably high credit limits.
Secured cards require an upfront deposit as collateral, but they are easier to qualify for. They can help you build your credit and eventually qualify for an unsecured card.
Pay Your Bills on Time
You must pay your bills on time to rebuild your credit. Timely payments establish a positive repayment history, eventually boosting your credit score and increasing your chances of qualifying for a traditional credit card.
Paying your other bills on time, such as your utilities or loans, is also essential. After 30 days, late or missed payments may appear on your credit report and drag down your score.
Work With Your Creditors
Don't skip a payment on your secured credit card or any other bill if you are having trouble making ends meet in the wake of your bankruptcy, 
If you can't pay on time, contact your creditor to negotiate an arrangement that won't hurt your credit. Some creditors are willing to create payment plans, extend due dates, or make other accommodations so they can still get paid.
Create a Realistic Budget
Creating a realistic budget is crucial. The key is to live within your means and not spend more than you earn monthly. You can contact a nonprofit credit counseling agency to help you organize your spending.
A budget should list all of your monthly income and expenses. It can help you identify how much income you have left after your monthly bills and expenses, including entertainment and shopping.
If your expenses exceed your earnings, you need to decrease your spending or increase your income. Otherwise, you will have to drain your savings or rely on credit, which may land you in trouble again.
Creating and sticking to a budget after bankruptcy makes it easier to pay your bills on time and improve your credit.
Check Out High Limit Credit Cards After Bankruptcy
Our review of post-bankruptcy credit cards shows that you can qualify for a card with a high credit limit. A secured card is your best bet, as you can control your credit limit through your security deposit. Start your financial recovery by using your credit cards wisely. Remember to avoid overspending and pay your bills on time — that's the ticket to a better credit score.
Advertiser Disclosure
BadCredit.org is a free online resource that offers valuable content and comparison services to users. To keep this resource 100% free for users, we receive advertising compensation from the financial products listed on this page. Along with key review factors, this compensation may impact how and where products appear on the page (including, for example, the order in which they appear). BadCredit.org does not include listings for all financial products.
Our Editorial Review Policy
Our site is committed to publishing independent, accurate content guided by strict editorial guidelines. Before articles and reviews are published on our site, they undergo a thorough review process performed by a team of independent editors and subject-matter experts to ensure the content's accuracy, timeliness, and impartiality. Our editorial team is separate and independent of our site's advertisers, and the opinions they express on our site are their own. To read more about our team members and their editorial backgrounds, please visit our site's About page.