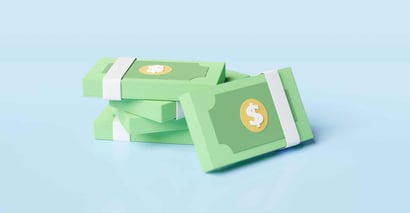 Borrowing $10,000 is a serious undertaking. It's especially challenging for folks with bad credit to find a willing lender for loans that size. Challenging, but not impossible. We review five of the best personal loan networks that specialize in helping consumers with poor credit find online loans of up to $10,000 or more. 
In just a few minutes, they may be able to connect you to one or more direct lenders that will evaluate your loan application and give you a quick answer. 
Subprime Personal Loans For $10,000 or More
These five companies don't make loans. Instead, they work with networks of lenders that offer online loans to consumers with all types of credit. The loan-finding services are free, without obligation, and won't affect your credit score. You may be offered a loan for a lesser amount, depending on your creditworthiness.
Even if you have bad credit, 24/7 Lending Group can help you secure an installment loan with years to repay. Its vast personal loan lender network may allow you to receive multiple reliable offers, making it one of the best bad credit loan services in the group. Credit scores are not necessarily decisive, but applicants must prove they can afford the loan payments. 
24/7 Lending Group has connected consumers with lenders for more than 15 years. There are no prepayment penalties if you want to pay your loan off early.
CashUSA.com finds bad credit loans of up to $10,000 for qualified bad credit borrowers. This network also works with lenders that offer payday loans and revolving lines of credit. A credit line for bad credit works similarly to a credit card but may provide access to a larger amount of cash. You can use some or all of your available credit once the online lender approves your application. 
If CashUSA.com can't find you a loan offer, it may pass some limited information about you to marketing partners so you can receive offers for credit repair, debt relief, or similar services that fit your financial profile.
BadCreditLoans.com provides a quick and straightforward application process. To start the process, you'll fill out a loan request form with the required information, including the bank account in which you will receive the loan proceeds.
Although no lending service can guarantee approval, this network works with direct lenders that provide subprime personal and payday loans every day. BadCreditLoans.com doesn't limit itself to personal loans for poor credit. You can also apply for an auto, business, or student loan, as well as selected credit cards.
PersonalLoans.com offers bad credit loans of $10,000 and beyond, although it reserves the maximum amount, $35,000, for consumers with good credit. Multiple lenders will consider your application for a $10,000 unsecured loan even if you have damaged credit.
PersonalLoans.com arranges installment loans, meaning you'll make monthly payments to your direct lender until you've satisfied your agreement. Depending on the amount you borrow and the lender's terms, you may have between three and 72 months to repay your loan.
SmartAdvances.com is an intelligent loan option when you want to connect with one or more direct lenders. You must earn at least $1,000 a month to prequalify for a personal loan. You can use the website's loan calculator to determine which repayment term best fits your budget. 
As a member of the Online Lenders Alliance, SmartAdvances.com advocates for a fair credit policy that complies with federal law. 
What Is Bad Credit?
A score below 600 means you have poor credit and should be actively working to repair it. Lenders view bad credit as a questionable ability to repay borrowed money.
The major credit bureaus (Experian, Equifax, and Transunion) maintain your credit reports, where your borrowing history is detailed. This history is what your credit scores are based on. 
FICO, VantageScore, and other credit scoring models use this information to calculate your credit scores, but FICO and VantageScore are the two predominant scoring systems. Although both systems use models with credit scores that range from 300 to 850, some details vary. Nonetheless, each system bases its score mainly on whether you pay your bills on time and how much debt you owe.
You will damage your credit history if you experience collections, repossessions, account write-offs, settlements, foreclosures, bankruptcies, or other negative events. If you fail to pay your bills, expect a low credit score that will make getting a loan or credit card more difficult and expensive.
How Do I Get a $10,000 Personal Loan?
A bad credit loan for $10,000 works the same as a traditional unsecured loan — if a lender approves your loan application, you'll receive the funds and make regular payments until you've repaid the loan. The differences lie in access and cost: A bad credit loan isn't as easy to find, and its APRs are relatively high, though not nearly as high as those for a payday loan.
Bad credit lending networks fill a gap that banks create due to their tight lending standards. The loan-finding networks partner with dozens of independent lenders that compete for your business, which makes accessing a subprime loan easier. 
The networks provide another benefit: They prequalify your loan request without harming your credit score. To achieve this, they require applicants to:
Be 18 or older
Be a US citizen or permanent resident
Have a reliable monthly income of at least a set minimum amount
Provide data about where you live and your monthly housing costs
Have an active checking account in your own name
Have a working email address and phone number
The loan-finding services may perform a soft credit check to verify your information. Unlike a hard check, the soft credit check does not affect your credit score; only you can see them on your credit reports. 
Assuming you prequalify, the service distributes your loan request to the lending network. You can expect one or more responses from lenders willing to take your application and perhaps offer you a loan. 
The advantage of using these networks is that multiple lenders review your application leading to competition for your business. This method can result in lower interest rates and more favorable loan terms.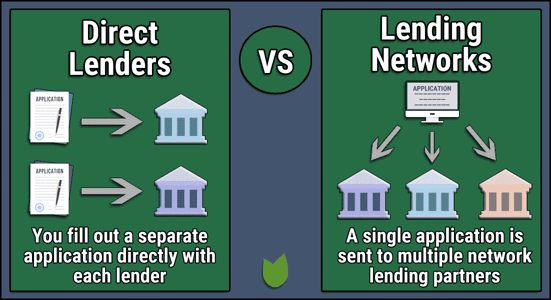 But remember that every loan offer you receive will have varying terms and conditions. You are not obligated to accept an offer and should always read the loan contract before agreeing. 
Before you accept any loan, you should understand the total cost. Sometimes, a loan can look very attractive because it has a lower monthly payment, but the overall cost may be quite high due to a stout APR.
Instead of repaying the money in three years, a poor credit loan with lower monthly payments may extend the term to five or six years. This long repayment period means you'll pay far more interest over the loan's lifetime.
If you're OK with the terms, you can e-sign the loan agreement and receive your funds as soon as the next business day. The lender will deposit the proceeds in your online banking account, automatically drawing the monthly payments.
What Is the Monthly Payment On a $10,000 Loan?
The amount you'll pay each month depends on the loan amount, the interest rate, and the loan term. You can use a loan calculator to compute your monthly payments. 
The following table gives some examples of how much you'll pay on a $10,000 personal loan for bad credit :
| | | | |
| --- | --- | --- | --- |
| Years | APR | Monthly Payment | Total Interest |
| 5 | 20% | $265 | $5.996.33 |
| 5 | 28% | $311 | $8,681.49 |
| 5 | 35.99% | $361 | $11,675.90 |
| 6 | 20% | $240 | $7,246.03 |
| 6 | 28% | $288 | $10,740,89 |
| 6 | 35.99% | $340 | $14,514.03 |
Example loan costs
Given these figures, you should strive to get the shortest loan to fit into your monthly budget. Also, remember that these numbers can change for a few reasons:
You'll save considerable interest if you repay the loan before the term ends. Beware of any loans that extract a prepayment penalty – although rarely invoked, it may wipe out any savings from early repayment.
You'll also save money if you consistently pay more than the monthly amount. Doing so will reduce the loan term and your total interest cost.
You may be able to refinance your debt at a lower APR if interest rates fall or your credit score rises. Your original lender may be willing to redo the loan, or you can apply elsewhere. Watch out for any origination fees or other upfront costs that reduce the savings from refinancing.
On the other hand, missing one or more payments will add to your costs due to late fees and additional interest charges. In addition, the lender may send your loan to a collection agency or sue you in court (which will only add to the overall expense). 
The only bright spot is that most personal loans are unsecured. This doesn't mean the lender can't confiscate some of your property, but it will require a court judgment first. It's much easier for a lender to repo the collateral on a secured loan, such as an auto loan or mortgage. 
If you cannot make timely payments on your personal loan, contact the lender and explain your situation. Many unsecured lenders will attempt to work out an accommodation rather than suffer the extra costs of collections or legal actions. 
You may be able to arrange a longer repayment term, a temporary payment holiday, or a reduced interest rate. Seldom will a lender agree to forgive some of your debt, but you can use a debt settlement company to force the issue. If successful, a settlement will result in some level of loan forgiveness, but think twice before proceeding:
The attempt to settle may fail and leave you in worse shape than before.
If you succeed, you'll have to pay the settlement company a substantial portion of the forgiven amount.
You must include any forgiven amounts as ordinary income on your tax return.
Whether you succeed or not, your credit score will take a significant hit, and the item will remain on your credit report for seven years.
If you fail, you may have to declare bankruptcy. This will do even more damage to your credit and remain on your report for up to 10 years.
Given the stakes, it's worthwhile using a personal loan network that can find you multiple offers. You may save significantly by choosing the one with the best terms. While the total cost is important, the affordability of the monthly payments must be your primary concern.
How Can I Increase My Odds of Loan Approval?
The most reliable way to boost your loan approval odds is to enlist a cosigner with good credit. You and the cosigner are equally responsible for the monthly payments, and both of you may suffer credit damage by missing one or more payments. 
Knowing the stakes, the cosigner will be highly motivated to ensure payment. Ethically, you should do whatever is possible to avoid forcing the cosigner to intervene, a circumstance that may damage your mutual relationship.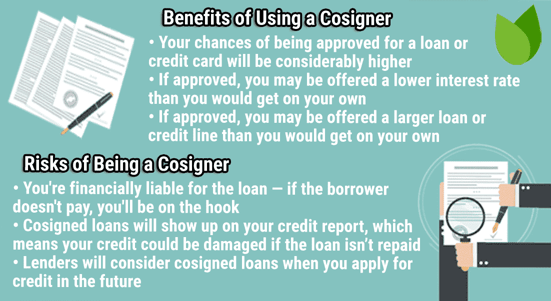 Another way to almost ensure approval is to offer collateral, especially if its value exceeds the loan amount. Secured loans are much easier to get and usually have lower interest rates. The lender can afford a reduced APR because collateral shifts the default risk to you, and loan rates depend mainly on risk — you will lose your collateral if you fail to repay on time.
Naturally, you will improve your chances of approval by boosting your credit score before applying for a loan. Unfortunately, it may take a year or more of timely payments to significantly increase your score, which is useless if you need a loan now. 
If you can postpone the loan by two or three months, you can try some faster ways to raise your score:
Pay off your credit cards: If you have any credit card balances, pay them off. That's easier said than done when you actually need to borrow money. One possible solution is to obtain a debt consolidation loan. You can set the loan amount high enough to repay your credit cards with enough left over after debt consolidation for your other needs. This way, you'll get your loan and improve your credit score, a nice parlay.
Correct your credit reports: Mistakes and unverifiable information on your credit reports can hurt your credit score. You can obtain the fastest results by hiring a reputable credit repair company. Expect to pay a few hundred dollars for this service, and results aren't guaranteed. But if successful, you may see a higher score within two months.
Broaden your credit reporting: Products such as Experian Boost and RentReporters provide additional credit reporting on items such as utilities, streaming services, and rent. You may receive a small but significant boost almost immediately with one of these products.
Can I Get a $10,000 Loan Without a Credit Check?
Credit checks are the last thing bad credit borrowers need. A few options exist that can provide a large loan without subjecting you to a hard credit inquiry.
Some lenders offer no-credit-check personal loans, which depend more on your income than your credit score. The lender will use alternative methods to verify your income, ways that don't involve a hard credit inquiry and won't impact your credit score. A $10,000 loan is large, so you'll have to show a significant amount of disposable income and/or liquid assets to qualify for a no-credit-check loan. 
One such site is 60 Month Loans, which uses your last three bank statements to verify your cash flow. Underwriting takes about a day, plus another business day to fund your loan. The process has no impact on your credit score.
Other options include:
Auto title loans: If you've paid off the loan on your car, you can get a title loan without a credit check. Though easy to get, these loans are expensive (i.e., triple-digit APRs), and you can lose your vehicle if you miss a payment.
Home equity loans: Homeowners can cash out some of their equity with a home equity loan or line of credit. These second mortgages allow you to tap into the difference between your home's current value and the balance on your first mortgage. A home equity line of credit provides a convenient revolving borrowing facility. You can use it when needed and repay on your own schedule (as long as you make the minimum monthly payments).
Pawnshop loans: It's difficult, but not impossible, to raise a $10,000 loan from a pawnshop. You usually get no more than 50% of your property's value when you pawn it, which means you'd have to hock $20,000 or more in jewels, collectibles, furs, or other high-value items to borrow $10,000. You'll forfeit your property if you fail to redeem your pawn ticket by the due date. 
Friends and family: You may be able to get a large loan on favorable terms from a family member or friend. If you take this route, it's best for all concerned to use a written agreement specifying all the loan's terms. Failure to repay may cause serious damage to your relationship with the lender.
Unfortunately, many folks can't access these loan options, perhaps due to a lack of collateral or suitable lenders. The lending networks are readily available and may be able to find you a loan despite your poor credit.
Can I Get a $10,000 Loan From a Credit Union?
Credit unions, although friendlier than banks, must be able to justify the risk of lending $10,000 to a member with bad credit. Typically, they perform credit checks and apply underwriting standards such as debt-to-income (DTI) ratios. This ratio is the percentage of your gross monthly income you must use to make your minimum debt payments. 


Each financial institution has its own DTI ceiling, but few will approve loans for ratios higher than 36%. Mortgage lenders, including credit unions, usually allow DTI ratios as high as 45% for home loans.
How Will a $10,000 Loan Affect My Credit?
A loan's effect on your credit depends on your ability to repay on time. Customarily, lenders and creditors report payments more than 30 days overdue to one or more major credit bureaus. 
The dominant credit scoring systems do not include personal loans in their credit utilization ratio (CUR) calculations, limiting it to the balances on credit and store cards. Therefore, your personal loan balances are neutral with respect to this credit factor. In contrast, CURs on credit card balances higher than 1% (for FICO) or 30% (for VantageScore) will reduce your credit score.
The bottom line: To increase your credit score, you have no option other than to pay your bills on time. Be patient — it may take six to 12 months to see the change.
Only Take On Debt You Can Afford to Repay
Even the best bad credit loan may substantially dent your budget. If you haven't already done so, creating a monthly budget is prudent before applying for $10,000 limit loans for bad credit. This will ensure you know how much you can afford to borrow and how much time you will need to repay the entire amount. 
If you need help, ask a nonprofit credit counselor to assist in drafting a budget and suggesting ways to rationalize your finances. 
Advertiser Disclosure
BadCredit.org is a free online resource that offers valuable content and comparison services to users. To keep this resource 100% free for users, we receive advertising compensation from the financial products listed on this page. Along with key review factors, this compensation may impact how and where products appear on the page (including, for example, the order in which they appear). BadCredit.org does not include listings for all financial products.
Our Editorial Review Policy
Our site is committed to publishing independent, accurate content guided by strict editorial guidelines. Before articles and reviews are published on our site, they undergo a thorough review process performed by a team of independent editors and subject-matter experts to ensure the content's accuracy, timeliness, and impartiality. Our editorial team is separate and independent of our site's advertisers, and the opinions they express on our site are their own. To read more about our team members and their editorial backgrounds, please visit our site's About page.