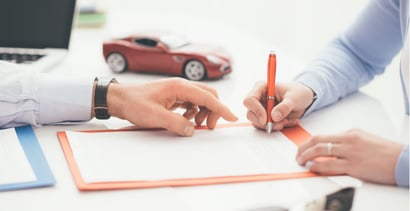 Bad credit auto loans that don't require a cosigner are one option that can make vehicle financing possible if you have poor credit and don't know anyone who will vouch for you as a cosigner.
Bad credit auto financing offers can be available within minutes through a national network of lenders from the companies we've reviewed. Loan offers can be made for new and used cars or to refinance your current car loan.
Best Auto Loans For Bad Credit
Here are five of the best online lending networks that can help a car buyer with bad credit get an auto loan without a cosigner. They specialize in working with people who have a low credit score or even no credit history. You don't need a high income or a good credit score to qualify for an auto loan.
Network of dealer partners has closed $1 billion in bad credit auto loans
Specializes in bad credit, no credit, bankruptcy and repossession
In business since 1999
Easy, 30-second pre-qualification form
Bad credit applicants must have $1500/month income to qualify
| Interest Rate | In Business Since | Application Length | Reputation Score |
| --- | --- | --- | --- |
| 3.99% - 29.99% | 1999 | 3 minutes | 9.5/10 |
Auto Credit Express is our top recommendation for several reasons. You can fill out the online application in a few minutes, and your loan application may be approved in as little as 10 minutes after being reviewed by car dealerships and lenders in its network. You can even pick up your car the same day it's financed.
Borrowers must earn at least $1,500 per month to qualify for a loan. Having a cosigner isn't required, but having one won't lower that monthly income requirement either.
LendingTree is a lender network that can help you find an auto loan without a cosigner. Its website says you can improve your chances of being approved by making a large downpayment.
This site can help you secure a new auto loan, used car loan, private party car loan, refinance loan, or lease buyout. So whatever it is you're after, LendingTree can probably help you.
RefiJet is a network that specializes in refinancing existing auto loans. So if you'd like to take an existing loan and roll it into better terms without the help of a cosigner, RefiJet fits the bill.
Once presented with a loan offer you like, RefiJet will submit your paperwork to the lender to finish the process. There's no credit check required to see what types of refinancing offers you may qualify for.
Car.Loan.com also has an income requirement for a car loan if you have poor credit. It also requires applicants have a valid driver's license and a stable residence. Both can be signs that you have some stability in your life and may be more likely to repay a bad credit car loan.
The website has a few good resources, such as its Loan Estimator and Payment Calculator, to help car buyers determine how much of a car loan they may qualify for.
MyAutoloan also offers a lot of help on its website for applicants to learn how to make a car loan payment affordable. It does an excellent job explaining how interest rates work on car loans and has interactive charts to help users estimate how much they'll pay.
The lending network doesn't finance vehicles that are expensive to repair and insure or that have a high potential to break down. It also doesn't finance loans for high-end sports cars, utility vans, salvaged title, and auctioned or repossessed cars.
How Do I Get a Car Loan With Bad Credit and No Cosigner?
The first step we recommend is to fill out a free application with one of the lending networks we've reviewed.
You're under no obligation to accept a loan offer after filling out a loan application online, and it only takes a few minutes to enter some basic information about yourself.
If you are preapproved for bad credit financing, you may get a phone call from an auto dealer or lender to provide more information or to meet in person. A loan from subprime lenders may be available within one day of applying.
Having bad credit is defined by a FICO credit score of 579 or lower. This is based on a range between 300 and 850, with a score of 670 to 739 considered a good credit score.
A poor credit score of 400 or lower can make it especially difficult to qualify for a car loan. But a bad credit car loan can still be obtained.
A common way to improve the approval odds of a loan application is to get a cosigner on the loan. This is someone with better credit than you who will sign on the loan documents to guarantee the debt will be repaid. If you miss a loan payment or don't pay at all, the cosigner must pay, and their credit score will likely drop if the missed payment is reported to a credit bureau.
Cosigned loans will show up on your credit report. If the loan isn't repaid — by you or the cosigner — then the credit reports and scores of both parties may be affected.
The good news is that specialized lending networks can help you get a car loan, even if you have a poor credit history and can't find a cosigner to help you. These lenders have lower overhead than traditional auto lenders, such as a credit union, which is why they can cost less, and can help a young car buyer or anyone else find a car loan that's right for them.
But bad credit auto financing comes at a price. One advantage of having a cosigner is that their good credit will help you get approved for a lower interest rate on the loan. Without their good credit, you may need to find car financing on your own.
With a loan on your own, especially if you have bad credit and are going to a lender that specializes in helping people find a bad credit car loan, you'll likely be charged a much higher interest rate.
Even at a high interest rate, getting a new loan will help you establish a positive credit history by making your payments on time. Once you've improved your credit score, you can refinance the loan to a new loan with a better interest rate and loan term.
How Much of a Down Payment Do You Need to Buy a Car?
A down payment can benefit you in a few ways. It shows that you're taking some of the risk up front in a car purchase, whereas not having a down payment, or much of one, can signal you're in financial trouble and may not handle the debt too well.
A down payment shows you're taking on some of the risk of a bad credit auto loan. Not having one may signal that you have less incentive to pay down the debt if you have financial problems.
A down payment also decreases the amount you have to borrow. The more money put down on the loan will lower the monthly payment and can lead to a lower interest rate. A big down payment can also make it easier to qualify for a loan if you have bad credit.
Several factors can influence the down payment amount. If you want to buy a new or expensive vehicle, putting more money down can increase the likelihood that the lender will approve a larger loan amount.
Paying half of the car's price upfront, for example, can improve your chances of loan approval because it lowers the loan-to-value ratio or LTV. Lenders prefer a low LTV ratio because it helps put the car at a higher value than the loan.

A car is its own collateral, meaning the lender can repossess the car if you don't make loan payments. But vehicles lose value as soon as they're driven off the lot, so a car can quickly be worth less than the loan amount. That can leave a lender to lose money in a repossession.
Buying a $20,000 car with a $10,000 down payment takes a lot of that potential loss out of the picture and increases the chance that the lender can recoup the money it lent you if you default on the loan. A low LTV ratio can help you get a bigger loan or can make approval easier.
Most lenders won't lend 100% of a new car's price to someone with a bad credit report. With the average price of a new car between $20,000 and $55,000, a borrower will need at least 20% down for such a large loan. That equates to $4,000 to $11,000.
What Credit Score is Needed to Buy a Car Without a Cosigner?
Unlike a personal loan, a student loan, or an unsecured credit card that usually doesn't require something pledged as security, the collateral for a car loan is the vehicle, which can be sold if the borrower defaults on the loan. This can make it easier for a subprime borrower to get a car loan.
A financial institution may allow a low credit rating without a cosigner, though a minimum credit score range may be required.
As we mentioned earlier, a bad credit score is listed as 579 or lower in the FICO credit score range of 300 to 850. Sometimes a score as low as 400, or even lower, can still lead to loan approval from subprime lenders.
If you have a credit score that low, you can improve your loan application approval odds by trading in a vehicle, making a bigger down payment, or finding a cosigner. Raising your credit score is the biggest step you can take before a lender does a credit check.

At the very least, check with each credit bureau for errors on your credit reports and have them fixed.
An applicant with a poor credit history can apply for a loan for free through the lending networks we've recommended. And loan offers may come in from several lenders. In a few minutes, you can find out whether your low credit score is holding you back from getting a car loan.
What Should I Look Out For in a Bad Credit Car Loan?
When comparing loans, look for the lowest interest rate, lowest monthly payment, and shortest loan term you can afford. Ask how much total interest you'll pay over the life of the loan.
A longer loan term will lower the monthly payment, but you may be charged a higher interest rate, and will likely pay much more in interest because the loan will last longer. However, a longer loan term can make the vehicle more affordable each month by allowing you to pay no more than you can afford each month.
A second chance auto loan, as a bad credit auto loan is sometimes called, may be financed directly through the auto dealer. The interest rate it charges may include the dealer's fee for handling the financing. This is why it's important to shop around for the best loan even if you have bad credit and don't feel you have too many financing choices.

Ask the lender if the loan charges precomputed interest or simple interest. Precomputed interest is interest charged on the original length of the loan, no matter how fast you pay it off. Paying off a six-year loan in four years won't save you any money.
A simple interest loan allows extra payments toward the principal to pay off the loan early and avoid interest charges. Be sure to ask if there's a prepayment penalty.
Your Best Options For Finding Bad Credit Auto Loans Without a Cosigner
We've reviewed five lending networks where you can get bad credit auto loans without a cosigner. These loans may require you to pay a higher interest rate or come up with a bigger down payment than you would if you had a cosigner, but you should still be able to find a loan despite having a low credit score.
You can buy a new or used car or refinance your existing car loan. And by making the car payment on time each month, you can improve your credit score and eventually refinance the loan into a better one.
Advertiser Disclosure
BadCredit.org is a free online resource that offers valuable content and comparison services to users. To keep this resource 100% free for users, we receive advertising compensation from the financial products listed on this page. Along with key review factors, this compensation may impact how and where products appear on the page (including, for example, the order in which they appear). BadCredit.org does not include listings for all financial products.
Our Editorial Review Policy
Our site is committed to publishing independent, accurate content guided by strict editorial guidelines. Before articles and reviews are published on our site, they undergo a thorough review process performed by a team of independent editors and subject-matter experts to ensure the content's accuracy, timeliness, and impartiality. Our editorial team is separate and independent of our site's advertisers, and the opinions they express on our site are their own. To read more about our team members and their editorial backgrounds, please visit our site's About page.