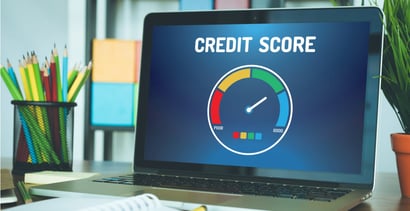 Establishing good credit is important for most people. Doors swing open when you prove that you have a long history of responsibly borrowing and repaying money. 
You may be eligible for loans with the lowest interest rates, credit cards with the best rewards programs and valuable perks, rental opportunities, and preferable rates on car and home insurance. Employers may pull your credit reports, too, and see that you know how to handle money and credit accounts. 
But what happens when you don't have a credit report filled with positive data? Those doors begin to close. 
There can be some confusion about the difference between having no credit and having bad credit. Although used synonymously, they are not the same. Here's what you need to know and how to approach the issue in either circumstance.
What Is No Credit?
Having no credit means you have not done business with a lender that furnishes the three national credit reporting agencies (CRAs), TransUnion, Equifax, and Experian, with information. 

A CRAs' job is to compile the information it receives from lenders to create credit reports about you. A credit report includes the date you applied for and opened an account, your credit limit or how much you originally borrowed, your current balance, and your payment history.
Credit reports exist to help other businesses make objective judgments about you as a potential customer. They show a long stream of data about how you have used credit products in the past. With that knowledge, businesses can make informed decisions. 
The past is a predictor of the future, in this scenario. You will appear to be a financially stable and responsible person if your credit reports show that you have used several credit products and have made all of your payments on time while not getting too deep into debt. 
However, if you have never borrowed money from a lender that reports to the CRAs, you won't have a credit file at all. That means that you are a mystery to a business. You could be a great credit risk or a poor credit risk. It's impossible to tell.
How to Fix No Credit
When you have no credit, you are at the starting line. It's time to jump into action. Start using credit products or loans — and manage them well — so your transactions will appear on your credit report. As soon as you begin to use credit products and loans, you will launch your credit history. 
There is a slight conundrum, though. How do you start borrowing when a lender can't determine your credit risk? 
Not to worry. Although you won't be eligible for every credit product, you can begin by doing the following: 
Apply for a starter credit card. A few credit cards do not require an established credit rating. With a secured credit card, your cash deposit guarantees the credit line. The issuer takes very little risk in allowing you to charge because it can claim the funds held in deposit if you fall behind and don't pay. Unsecured credit cards with very small credit limits are also available. As you make your payments on time and keep the card's balance low, the lender may increase the credit limit automatically. If you're in college, consider a student credit card designed for new borrowers. Those cards do not require an established credit history if you're in college.
Take out a credit builder loan. These loans are often offered at credit unions, but some community banks and online lenders offer them too. They exist to help people start or rebuild credit history. You borrow a certain amount of money that is deposited into a savings account, and then you repay it over a set term. The lender sends your account information to the CRAs. Your credit history and savings will grow as the money is returned to you when you have satisfied the terms of your loan.
Ask a friend who has good credit to help. There are a couple of ways to piggyback on another person's established credit history. One is by having somebody with good credit cosign on a new loan. You will both be responsible for the account. Another option is to become an authorized user on someone's credit card. You won't be responsible for payments or any resulting debt. In either case, the account activity will appear on your credit reports.
A FICO Score will be generated in three to six months after opening your first account. VantageScores are developed after only a month or two. 
These credit scores range from 300 to 850, the higher the number, the better the score. Your scores will start out somewhere in the middle, but they will increase as time passes and you add credit accounts. Just keep the accounts in good standing by making your payments on time and keeping revolving debt balances low.
What Is Bad Credit? 
If you have bad credit, information indicating you've had a troubled history with credit accounts or debt already appears on your credit file. So you are already behind instead of being poised at the starting line as you would be with no credit.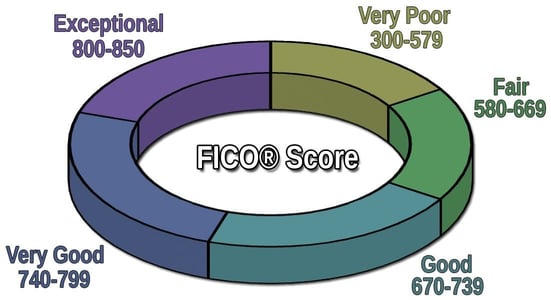 Bad credit means that you may have made late payments on loans and credit cards or defaulted on the debt entirely. Collection agencies also show up on credit reports, and they are a clear sign that you did not pay a debt as agreed. 
Perhaps you used bankruptcy protection to deal with unmanageable bills. While filing for bankruptcy relieves you of your debt obligations, your bankruptcy appears on your credit reports in the public records section and is considered a serious negative mark.  
How to Fix Bad Credit
The great news is that bad credit doesn't follow you forever. As per the Fair Credit Reporting Act, negative notations, including late payments, collection activity, defaults, and Chapter 13 bankruptcy, can only stay on your credit file for seven years. A Chapter 7 bankruptcy can remain on your credit reports for 10 years. 
Credit scoring models give greater weight to recent activity than they do older activity. Therefore, as the negative items age, they lose some of their impact on your credit score.
In addition to letting time work its magic, you will also want to take an active role in repairing the damage. 
Use credit again. It is up to you to feed your credit reports positive data. You can't do that if you don't borrow and repay what you owe. If you no longer have an open credit card, apply for a credit card for low credit scores and start charging again. , Or consider taking out a loan for bad credit to finance an expensive purchase, such as a laptop or furniture. Whether it's a credit card or loan, start on the right foot by making payments on time. If it's a credit card, only charge what you can afford to pay in full each month.
Make all payments on time. If you have existing accounts but have faltered on your payments, get back on track immediately. Payment history is the most important factor in credit score calculations. You want to have 24 months of on-time payments recorded on your credit file, but you can make an extraordinary difference on your credit scores with one year's worth of on-time payments. 
Delete revolving debt. Unlike credit cards, installment loans, including car financing, student loans, personal loans, and mortgages, are not factored into your credit scores as part of your credit utilization, which is the second most important credit scoring criteria. Credit bureaus like to see a debt-to-credit ratio of less than 30%. So, if your balances are at or close to the limit, reduce your credit utilization ratio by paying down the debt so it falls below 30%. This should be both per card and in aggregate. For example, if one of your credit cards has a limit of $1,000, you should owe no more than $300. If the combined credit card limit on multiple cards is $10,000, your total debt should not exceed $3,000. 
Add alternative information. One of the more frustrating aspects of credit reports is that you are forced to use credit products when you may not want to. What you may have, though, is a positive history with paying your rent, cellphone, or utilities. In that case, consider using Experian's Boost program, which allows you to add those bills to your credit report. It's free, and your timely payments will be reported to your file and factored into your credit score. The extra points it gives to your score can make a difference, especially if you have bad credit. 
No credit and bad credit can result in financial hardships, but the problems can be overcome. Manage your credit accounts and loans according to the terms of the agreement, and maintain low or no credit card balances as you charge the things you want and need. 
No Credit and Bad Credit are Different, But They Share Similar Outcomes and Solutions 
Track your progress as you work toward your goal of establishing or re-establishing your credit history. Pull your credit reports and scores quarterly. You'll want to make sure everything is positive and correct and that your numbers are escalating. 
When your credit scores reach 670, they are officially in the good range — and the doors to opportunity will begin to open. 
Advertiser Disclosure
BadCredit.org is a free online resource that offers valuable content and comparison services to users. To keep this resource 100% free for users, we receive advertising compensation from the financial products listed on this page. Along with key review factors, this compensation may impact how and where products appear on the page (including, for example, the order in which they appear). BadCredit.org does not include listings for all financial products.
Our Editorial Review Policy
Our site is committed to publishing independent, accurate content guided by strict editorial guidelines. Before articles and reviews are published on our site, they undergo a thorough review process performed by a team of independent editors and subject-matter experts to ensure the content's accuracy, timeliness, and impartiality. Our editorial team is separate and independent of our site's advertisers, and the opinions they express on our site are their own. To read more about our team members and their editorial backgrounds, please visit our site's About page.