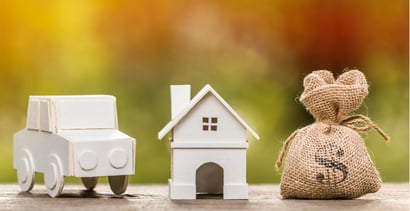 The best loans for bad credit should have an easy loan application process, offer a reasonable chance of approval, and provide quick funding. The four loan categories reviewed below all contain lenders that support these criteria, albeit in different ways. They all share a commitment to help consumers borrow money whatever their credit score.
The reviewed companies are either direct lenders or services that put borrowers in touch with direct lenders that will process your loan application. All operate online and quickly, often funding loans as soon as the next business day.
Your choice of loan type will depend on how much you want to borrow, how you wish to repay the loan, and whether you will provide collateral to improve your chances of approval.
Cash Loans | Personal Loans | Auto Loans | Home Loans
FAQs
Cash Loans For Bad Credit
A cash loan is a way to get money quickly and repay it in one lump sum, often on your next payday. The APRs on these cash loans are high, so you will want to use them sparingly and repay them in full and on time. Think of these loans as a lifeline to get you through to your next paycheck.
Short-term loans up to $5,000
Online marketplace of lenders
Funds available in as few as 24 hours
Simple online form takes less than 5 minutes
Trusted by more than 2 million customers
| Loan Amount | Interest Rate | Loan Term | Loan Example |
| --- | --- | --- | --- |
| Up to $5,000 | Varies | Varies | See representative example |
MoneyMutual isn't a direct cash loan provider, but rather a service that matches you to one of the lenders on its network. The company is flexible since it can arrange both cash advances and personal loans. This allows you to obtain a cash loan that you quickly repay in a single lump sum (a good choice if your credit is quite poor) or to spread your bad credit personal loan repayments over multiple monthly installments.
BillsHappen can help you get a short-term cash advance loan through its network of payday and small personal loan providers. Loan proceeds will be wired directly to your financial institution as quickly as the next business day. The company ensures the privacy and security of your information by encrypting all transmitted data.
Tampa-based CreditLoan can use its network to find you a small cash loan with an annual percentage rate that may be capped by state law. The company website generously offers an array of online tools and resources, including an unsecured loan calculator, that has helped more than 33 million visitors. The website displays the TRUSTe® seal, a guarantee of data security and privacy.
Utah-based CashAdvance has been providing loan services since 1997. It can find you a lender willing to extend a cash loan tied to your next paycheck. You can prequalify for a cash loan if you are a U.S. citizen, at least 18 years old, earning a monthly after-tax income of at least $1,000 per month, and have an active checking account, valid phone number, and working email address.
Personal Loans For Bad Credit
The following loan networks can help you obtain a bad credit personal loan that you repay in monthly installments. These loans do not require collateral, just your signature — indeed, they are often referred to as signature loans.
Personal loans are frequently used for debt consolidation and can sometimes substitute for a small business loan. Using a bad credit personal loan for debt consolidation or small business loan purposes is often the best alternative available. They are also useful when you need an emergency loan.
CashUSA.com works with lenders that offer fixed-rate loans in a variety of loan amounts and repayment periods. You can prequalify if you are a U.S. citizen or permanent resident, age 18 or older, receiving at least $1,000/month in after-tax income, with a valid phone number, email address, and active checking account in your name. Once you prequalify, CashUSA.com will link you to a direct loan provider for a quick decision and likely next-day funding.
The name says it all — Bad Credit Loans helps folks with poor credit obtain personal loans to use as they see fit. To prequalify, you must be a U.S. citizen, at least 18 years old, and have verifiable monthly income, a checking account, and a valid email address. If you are matched to a lender that approves your loan, expect your money to appear in your bank or credit union account within one or two business days.
PersonalLoans.com is a top choice for consumers who need larger personal installment loans of up to $35,000. You can prequalify if are a U.S. citizen or resident, at least 18 years old, and have a Social Security number, a dependable monthly income, and an active bank account. Loans are available with a repayment term as long as six years, allowing for monthly payment installments that fit into the budgets of many borrowers.
Auto Loans For Bad Credit
The following three loan matching networks can find you a bad credit car dealer willing to offer you an installment loan to buy or refinance a car. If you have equity in your car, you may be able to arrange a cash-out refinance loan, in which a new loan puts money in your pocket and repays your existing car loan.
Naturally, the APRs on these secured loans are lower than those for unsecured cash loans.
Network of dealer partners has closed $1 billion in bad credit auto loans
Specializes in bad credit, no credit, bankruptcy and repossession
In business since 1999
Easy, 30-second pre-qualification form
Bad credit applicants must have $1500/month income to qualify
| Interest Rate | In Business Since | Application Length | Reputation Score |
| --- | --- | --- | --- |
| 3.99% - 29.99% | 1999 | 3 minutes | 9.5/10 |
Auto Credit Express operates through a nationwide network of dealers that can help consumers with less than good credit find an affordable auto loan. It takes less than a minute to fill out the short loan request form to prequalify for a loan. Expect to be contacted shortly thereafter by a nearby bad credit car dealer to complete your transaction as quickly as later in the same day.
Car.Loan.com uses a network of lenders that are comfortable working with bad credit consumers, even ones that have experienced a bankruptcy. It takes a few minutes to get pre-approved using the online loan request form that guides the Car.Loan.com matching service as it finds you the best offer available on its nationwide lender network. You can receive a loan to purchase a new or used car, but you may also qualify for cash-out auto refinancing if you have equity in your current vehicle.
MyAutoLoan.com facilitates multiple car loan offers via its network of dealerships and other lenders. Its website provides valuable online tools, including an interest rate estimator that requires no credit check, current car loan rates, and a payment calculator tied to car loan interest rates. You may be able to arrange a cash-out refinancing loan to provide quick access to borrowed funds.
Home Loans For Bad Credit
The following three companies can be of great use whether you want to buy a home or arrange an equity loan on a home you already own. A home equity loan is collateralized by the excess of your home's value above your mortgage balance, and you may choose to set the loan up as a revolving home equity line of credit (HELOC) in which you pay interest only on the loan amounts actually borrowed.
Options for home purchase or refinance
Get 4 free refinance quotes in 30 seconds
Network of lenders compete for your loan
Trusted by 2 million+ home loan borrowers to date
Interest rates are near all-time lows
| Interest Rate | In Business Since | Application Length | Reputation Score |
| --- | --- | --- | --- |
| Varies | 2004 | 4 minutes | 8.5/10 |
FHA Rate Guide is an information service rather than a loan provider. You can use the website to learn about many types of loans guaranteed by the Federal Housing Administration (FHA). It takes a minute or less to receive up to four FHA loan quotes without impacting your credit score, but it's up to you to link to any of the quoted FHA loan offers.
Veterans who want a VA loan can separately apply for a VA loan via the VA-Guaranteed Home Loan Program.
Wells Fargo Home Mortgage is a direct lender offering loans to buy or refinance homes. The bank helps keep down payments low by working with the Federal Housing Administration, the Veterans Administration, and the Easy to OwnSM Guaranteed Rural Housing programs. Using these programs, you may be able to avoid mortgage insurance, even if you have a thin credit history or little upfront cash.
The huge Bank of America Mortgage operation is one of the largest providers of mortgages and home equity loans. If you are currently a BOA customer, you can request a home loan quickly, as most of the required information is already on file. If you arrange a HELOC through Bank of America, expect to pay little or no closing costs.
What is a Bad Credit Loan?
Credit is judged to be good, average, or bad based on your personal credit score calculated by each major credit bureau (Experian, Equifax, and TransUnion). The king of the personal credit score systems is FICO, created by the Fair Isaac Company and is based on scores ranging from 300 to 850.
Your credit is considered to be bad if your FICO score is below 580.

The problem with bad credit is that it limits your access to loans and credit cards, and the interest rates and fees on the money you borrow will be relatively high.
To make a bad credit loan affordable, you may have to settle for a smaller loan amount and a longer repayment period. You may even have to pledge collateral to get approved for a loan.
How Do I Get a Loan With Bad Credit?
Perhaps it's best to start with the fact that most banks will not offer you an unsecured loan if you have bad credit. In addition, even if you have property you can put up as collateral, many banks will not bother with small, secured loans — they are usually not worth the bank's effort.
If you insist on first trying to borrow from a bank, you may have more luck with a small local bank rather than one of the larger regional or national banks. Credit unions are also good bank alternatives since they usually try to accommodate their members.
If banks, credit unions, and similar financial institutions won't lend to you, keep your chin up — plenty of alternative lenders, including the 13 reviewed in this article, specialize in helping consumers with bad credit.
Consider the following sources when you need a loan despite a poor credit rating:
Online cash loans: These are short-term loans, including payday loan offers, to be repaid in a single lump sum to the payday lender. Our top payday lender matching service is MoneyMutual. It can connect you to a short loan term direct lender on its network.
Personal loans: Unlike cash loans, personal loans from an online lender are repaid over longer periods of time, usually in three to 72 monthly payment installments. We gave the top ranking to CashUSA.com, an online lender matching service with an extensive network of direct lenders.
Auto loans: You can refinance your existing car for more than the current amount owed, taking the difference in cash. Our top choice for cash-out refinancing is the Auto Credit Express nationwide network of car dealerships and lenders.
Home loans: If you own a home, you can extract some of the equity you've built up (i.e., the home's current value minus the mortgage balance) through a lump-sum home loan or a revolving home equity line of credit. FHA Rate Guide is our choice for information regarding the availability of FHA-guaranteed home loans.
Credit card cash advances: Most credit cards (including secured credit card types) allow you to take some portion of your unused credit line as a cash advance. Interest accrues daily on these loans, typically at an annual percentage rate well above 20%, making them best suited for short-term emergency loans.
Friends and family: Many folks borrow from friends and family on an informal basis. The loans may charge below-market interest rates or no interest at all. Remember that you could jeopardize your relationship with the lender if you fail to repay the loan.
Pawnshop loans: In a pinch, you can hock personal property, such as watches, cameras, jewelry, guitars, etc., at a pawnshop. You are usually advanced a small percentage of the item's worth, and the pawnbroker may sell the item if you fail to reclaim it before a set date.
Pawnshop and payday loan offers are the most expensive types of borrowing, and we recommend that you consider other sources first. If you must take a high-interest loan, it's best to repay as soon as possible and to refrain from repeatedly extending a loan — a risky strategy that can end in a debt spiral and even bankruptcy.
How Do I Compare Bad Credit Loan Offers?
Loans must all use a standard metric, APR, to express the interest rate you'll be charged. Because APRs (and their close relatives, annual percentage yields, or APYs) are standardized, you can directly compare them across all loan offers.
Consider the loan term when comparing APRs, as a high APR over a very short term can be less expensive than a lower APR over a longer term.

If you have bad credit, you need to compare the minimum requirements to qualify for a loan offer. For example, an unsecured personal loan requires you to show monthly income, but the minimum amount required varies from one offer to another. Many loans also require you to be a U.S. citizen or resident, with your own checking account, phone number, and email address.
Another important basis for comparison is whether a loan is secured or unsecured. Secured loans are collateralized by cash or personal property (such as your home or car). They are easier to obtain and have lower interest rates than their unsecured counterparts, but you may forfeit the collateral if you fail to repay a secured loan.
Other factors to compare are the loans' repayment periods, fees (including an origination fee), prepayment penalties, and any restrictions on how the proceeds can be used. For example, the proceeds from a new car loan go to the seller — you can't redirect them elsewhere. On the other hand, you can spend the money from a small personal loan any way you want.
A loan offer may be sweetened by rewards or benefits you receive if you accept the offer. For example, the lender may include a life insurance policy with itself as the beneficiary to relieve your family's burden should you die before repaying an emergency loan.
Conversely, a loan may require additional obligations. For example, when you put less than 20% down on a home purchase, you usually will have to pay mortgage insurance to protect the lender.
Can You Get a Personal Loan With a Credit Score of 550?
A bad credit score of 550 certainly makes it harder to get an unsecured personal loan, but we've reviewed several lenders that will lend despite such a minimum credit score. These lenders often look beyond a bad credit score to qualify applicants based on their income and employment.
A secured personal loan option is doubtlessly easier to obtain once you find a lender that will accept collateral — not necessarily an easy thing to do.
Because you repay personal loans in monthly installments, lenders may be most concerned about your ability to afford the payments each month. While that can make a small loan option more affordable, longer terms translate into a higher total amount of interest charges over the life of the loan.
Where Can I Borrow $2,000 With Bad Credit?
Almost all the reviewed lenders in this article can provide loans of $2,000 to consumers with bad credit. The one exception is CashAdvance, which has a top loan limit of $1,000. However, if your credit is really awful, you may not be able to borrow any amount of money unless you secure the loan with collateral.
The matching services reviewed above for cash loans and personal loans will prequalify you without a hard credit check. Bear in mind that prequalification or preapproval do not constitute a guarantee of loan acceptance, but they do improve the odds. Our top-recommended loan network is MoneyMutual, which can facilitate loans of up to $2,500.
Short-term loans up to $5,000
Online marketplace of lenders
Funds available in as few as 24 hours
Simple online form takes less than 5 minutes
Trusted by more than 2 million customers
| Loan Amount | Interest Rate | Loan Term | Loan Example |
| --- | --- | --- | --- |
| Up to $5,000 | Varies | Varies | See representative example |
You can further improve your odds of approval by boosting your credit score. A credit score above 650 is much more likely to qualify you for a loan (at least a small loan) and should also carry a lower interest rate.
You can improve your score by paying your bills on time and paying down your existing debts, including your credit card debt. For example, you will want to get your debt-to-income (DTI) ratio below 28% and your credit utilization ratio (CUR, equal to the percentage of your total credit card debt in relation to your overall credit limits) well below 30%.
Removing mistakes and incomplete information from your credit reports can quickly improve your credit scores at each major credit bureau. While you can do it yourself, many consumers choose to hire a credit repair company to fix their credit reports. Monthly charges typically run between $50 and $150, and the usual subscription period is six months (although you can cancel at any time).
What is the Easiest Loan to Get Approved For?
Without a doubt, a secured loan is the easiest to get, but it does presuppose you have acceptable collateral you can post. For auto loans and home equity loans, the collateral is your equity in your car and home, respectively. You can also hock a variety of personal items at a pawn shop, although we don't recommend pawn loans due to their inefficiency and high costs.
While secured loans are easier to get, they can really bite you if you default, as you will forfeit your collateral and decimate your credit score. If you aren't a responsible borrower, your car can be repossessed and your home is subject to foreclosure.
Nevertheless, if you are focused on getting a loan approved, you can't beat collateral as a path to success.
Among the unsecured loans, a credit card advance requires no approval as long as your card allows them. However, credit cards (including a secured credit card) usually restrict the size of an advance to a fraction of your total credit limit. The APRs for credit card advances and personal loans are similar.
A short-term cash advance is easier to get than a bad credit personal loan as long as you have the income to repay the loan in the next two to four weeks. With a payday cash advance, you must demonstrate a reliable paycheck rather than a good credit score.
How Can I Identify a Predatory Lender?
A predatory lender, often called a loan shark, charges a ridiculously high interest rate to desperate borrowers. Typically, these are short-term loans that carry heavy penalties if your payment is late. In the worst case, the penalty is physical retribution — clearly, this is as illegal as it is dangerous.
You can recognize predatory loans by the financial penalties for late repayment. These can include astronomical origination fee levels and even higher interest rates. Also, predatory lenders often hide or misrepresent the loan terms, and frequently approve loans they know you will have trouble repaying.
If you feel you've been victimized by a predatory lender, you can file a complaint with one or more state and federal agencies.
The Best Loans For Bad Credit Depend on Several Factors
You can qualify for the best loans for bad credit if you meet certain criteria that help to neutralize your low credit score. Collateral is a major factor, as it is much easier to get a secured loan. Another important factor is your ability to repay the loan, which may not correspond to your bad credit profile.
Our review of consumer loans in this article does not include federal and private student loans nor title loans or bad credit business loan transactions. However, BadCredit.org occasionally publishes articles on how to get a bad credit business loan, a title loan, or a student loan, among other subjects that provide critical insights for borrowers and potential borrowers. If you are in the market for private student loans or a federal student loan, consider a federal student loan first since it will usually have superior terms.
Any of the lenders in this review will try to get you a loan despite your bad credit score. Loan prequalification requires no fees or obligation, but it will give you a good indication of your chances of getting the loan you want.
Advertiser Disclosure
BadCredit.org is a free online resource that offers valuable content and comparison services to users. To keep this resource 100% free for users, we receive advertising compensation from the financial products listed on this page. Along with key review factors, this compensation may impact how and where products appear on the page (including, for example, the order in which they appear). BadCredit.org does not include listings for all financial products.
Our Editorial Review Policy
Our site is committed to publishing independent, accurate content guided by strict editorial guidelines. Before articles and reviews are published on our site, they undergo a thorough review process performed by a team of independent editors and subject-matter experts to ensure the content's accuracy, timeliness, and impartiality. Our editorial team is separate and independent of our site's advertisers, and the opinions they express on our site are their own. To read more about our team members and their editorial backgrounds, please visit our site's About page.