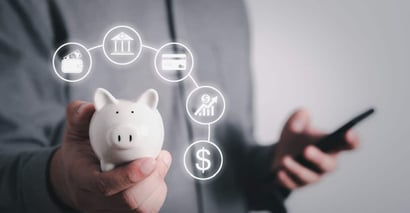 The Dave app, a source for cash advances linked to your bank account, is one of a new breed of applications that can spot you up to $500 until your next payday. 
Dave competes with other cash loan apps and a slew of online network lenders offering small payroll and personal loans to consumers of all credit scores. If you have a low credit score (or none at all), it's never been easier to borrow small sums from the comfort of your home for deposit on the same day or the next. 
This article examines the Dave app and its fiercest competitors. The good news is that you have plenty of options for quick cash, even if you have bad credit.
Best Loans Like Dave
The following companies can arrange short-term payday and personal loans through their networks of subprime lenders. They offer alternative funding sources for those who don't qualify to use a cash advance app or need more flexible terms than Dave and its competitors can provide. 
Many of these websites can find you a payday loan, typically as high as $1,000, that you repay on your next pay date. These have high interest rates, but their modest size and short duration help constrain their overall costs. They're available without a credit check, which suits millions of American workers (and people receiving government benefits).
Most of these loan-matching networks can provide personal loans too. While personal loans require a credit check, they are much less expensive than payday loans (i.e., less than 36% APR), offer larger loan amounts, and let you repay in three or more monthly installments. 
MoneyMutual works with one of the largest networks of online lenders specializing in bad credit loans. You benefit from competition among many lenders, improving your loan approval odds.
This network provides small to moderate loan amounts with flexible repayment terms. You may receive multiple loan offers soon after submitting your request. Each offer will have a unique interest rate, loan amount, and monthly payment, allowing you to choose the best fit for your needs.
24/7 Lending Group is a lender network that can find loans ranging in size from small to large. The company is an excellent choice for consumers seeking an installment loan they can repay over several months. 
Prequalification from 24/7 Lending Group doesn't require a credit check. You must have a job or receive government benefits to qualify for a loan from this network.
CashUSA is a lender network that offers large installment loans ranging from $500 to $10,000. In most cases, the network lenders won't deny your loan request because of a bad credit history.
The CashUSA network offers a wide variety of subprime borrowing options, including short-term loans, cash advance loans, personal loans, and even debt consolidation loans.
The online lenders in the BillsHappen network offer borrowers multiple loan options. These may include a secured loan or an unsecured loan from a reputable lender. You may qualify for a lower interest rate by enlisting a cosigner with good credit.
After submitting the online loan request form, it takes only minutes to receive a loan preapproval. If a direct lender OKs the loan, it will deposit your money into a linked checking or savings account as soon as the next business day.
CreditLoan.com is an excellent short-term loan option because it offers fast preapproval and funding from a network lender in as little as 24 hours.
After you submit your information, CreditLoan.com tries to match you with a lender in its network. If successful, it will forward you to an electronic signature page to complete the process. Some lenders on this network may qualify you for a loan without a credit check.
As its name proclaims, every direct lender on the Bad Credit Loans network offers subprime financing options. This means you may find a loan quickly, even if a bank or credit union has previously denied your application. 
The Bad Credit Loans network offers personal loans, which typically have a lower annual percentage rate of interest and a longer repayment term than payday loans. It also can arrange various other loans and credit products for students, businesses, drivers, and homeowners.
PersonalLoans.com maintains two distinct lending networks, including one specializing only in bad credit loans. It will forward your loan request to lenders interested in working with you.
These loans give you plenty of time to repay your debt while staying within your monthly budget. To prequalify for a personal loan, you must have a valid ID, a regular income, and a checking account.
SmartAdvances.com can match you to fast cash loan offers as low as $100 from one or more direct lenders on its network. You must collect at least $1,000 monthly to prequalify for a personal unsecured loan.
The website's loan calculator helps you work out a repayment schedule that won't bust your budget. SmartAdvances.com belongs to the Online Lenders Alliance (OLA), obliging it to observe a fair credit policy complying with federal law. 
Best Apps Like Dave
Dave is a good loan app but hardly unique. It must compete with several similar cash advance apps that have more or less the same functionality. Some competitors charge interest, while others are interest-free, like Dave.
9. EarnIn

EarnIn is a cash advance app that links to your checking account and work time sheet to receive quick advances you repay on your next pay date.
Payments for this service take the form of tips and are optional. You initially get access to pay period advances of up to $100. Over time, that limit can increase to $500.
10. Possible


The Possible cash advance app can set up your account and process your loan request within minutes. From the start, qualified applicants can borrow up to $500 and automatically repay it on their next payday.
Possible doesn't perform a credit check to determine eligibility. Instead, the lender reviews pay schedules and work histories to qualify new applicants.
11. Even


The Even app claims its members have saved more than $100 million by eliminating overdraft fee exposure and loan interest.
Even's Instapay feature allows employees to access fast cash advances from their earned wages and repay on their next pay date. App users can access Instapay for free but Even may charge fees for cash advance loans.
12. Brigit


The Brigit mobile app lets you link the checking account regularly receiving your direct deposit paychecks. Once set up, you can obtain up to $250 in payday advance funds at no charge.
The app uses your paycheck history to determine how much you earn regularly. Your earnings record influences how much you can borrow before your next payday.
13. Cash App

Cash App can lend eligible users $20 to $200 with a 5% flat fee and a four-week repayment term. There are no hidden fees.
Cash App loans require a hard credit pull from a major credit bureau and will appear on your credit report. 
14. MoneyLion

MoneyLion is a comprehensive service providing members with credit builder loans, mobile banking accounts, credit score tracking, and investing products.
You can set up a RoarMoney bank account to receive your loan proceeds at no cost in one to four days. Alternatively, you can link an existing bank or credit union account to the app for deposits that arrive in three to five days. For a small fee, you can arrange instant deposits. 
15. PayActiv

PayActiv gives American workers early access to their earned wages via partnerships with employers throughout the United States. This app directly links to your work time sheet and allows you to request payday advance loans. 
You repay your advance automatically on your next pay date. You can use this service for free, but your employer must partner with PayActiv before you can qualify for an advance. 
What Is Dave?
Dave is a mobile app that provides workers with small payday cash advances and other services. Three friends started the company when they became fed up with overdraft fee practices and the opaque view of their remaining balances. They understood consumer frustrations with big banks and their high fees.
Their innovation was to launch a money-borrowing app that relieves some common banking pain points by providing automated budgeting and overdraft protection. Dave charges no interest for cash advances, and payments from its Spending Account never bounce. It claims to have lowered its members' total overdraft fees by 29% within a year of joining, and Spending Account holders reduced theirs by 69%.

You can join Dave by providing your name, email address, and phone number. You can then download the Dave app to your iOS or Android device. This money-borrowing app offers several services, including deposit accounts, cash advances, and credit monitoring, among others.
ExtraCash Account
App users can set up an ExtraCash™ demand deposit account to get cash advances of up to $500 without interest, credit checks, or late fees. But express delivery fees apply for instant funding. 
The average approved advance is $120. Dave charges $1 a month for an ExtraCash Account.
Evolve Bank & Trust, a Federal Deposit Insurance Corporation member, provides the ExtraCash Account for Dave. The account, which does not pay interest, holds your deposits and allows payments and transfers between accounts you may have at other banks. 
You can access your ExtraCash account through the Dave mobile app. You'll receive a Dave Debit Card when you open an ExtraCash Account.
Your ExtraCash account helps you establish a cash reserve for emergencies and other unexpected expenses. Eligibility requirements include the following:
You must be a US citizen or lawful permanent resident
You must be 18 or older
You must have a Social Security Number or Tax Identification Number
You may have to provide identifying documents, such as a driver's license
You must agree to go paperless, which requires an email address and your agreement to accept electronic delivery of communications
You must link a bank or credit union account that has a positive balance, is at least 60 days old, and receives at least two recurring deposits monthly
The ExtraCash Account is only available to individuals for personal, family, or household purposes. Businesses can't open an ExtraCash Account in any form, and students cannot use it to finance education. 

Dave may decline your account application if you have had or currently have any other relationships or accounts with Evolve Bank or Dave that you did not maintain satisfactorily. The ExtraCash Account does not accept deposits via mail, cash, wire transfer, paper check, or foreign currency.
Dave offers two ways to get a cash advance:
The Advance Service allows you to draw from your Extra Cash Account to help cover expenses that may cause an overdraft in your bank account and trigger overdraft fees. 
Balance Settlement is an automated electronic fund transfer service that allows you to maintain a specific balance in your ExtraCash Account to access funds for emergencies and unexpected expenses. You designate a minimum balance; when your balance falls below this minimum, the account automatically triggers a transfer from a linked account.
You can pay a voluntary tip when you request an advance. Dave will donate a portion of your gratuity to charity. You can get paid up to two days early with eligible direct.
Credit Builder Account
You can designate your ExtraCash Account as a Credit Builder that reports your cash advance repayments to Equifax monthly. Credit Builder allows you to build credit through timely payments. Conversely, late payments may harm your credit score.
Dave also works with Level Credit to boost your credit score by sending rent and utility payments to the three credit bureaus.
Spending Account
The Dave Spending Account is a basic online checking account and debit card available through the mobile app. The account lets you add, spend, and withdraw your funds. 
You can add features to your Spending Account, including the following: 
Budget tracks your income and transactions to help you plan for upcoming bills and expenses. It also monitors your Dave Spending Account to warn you if you have insufficient funds to cover upcoming expenses.
Side Hustle informs you of income opportunities in your area and allows you to apply directly for those opportunities.
Advance Service allows you to receive free advances to your ExtraCash Account to help you cover upcoming expenses. Dave may offer you a small cash advance through the mobile money app if Budget predicts you may need more funds to cover an upcoming expense or payment. You may also request an advance through the mobile app. Advances are free, but you can add a tip if you like. You can expedite an advance for a fee.
Round Up automatically rounds up your debit purchases to the nearest dollar and saves the change in your Goal Account. You can pause it whenever you like.
You can transfer funds to your Spending Account from a bank account at another financial institution through the mobile app using an Apple Pay or Google Pay account connected to a debit card associated with that bank account. Also, you can deposit cash at a GreenDot reload location.
Goals Account
You can use a Goals Account to establish one or more savings goals that you can fund with one-time and recurring deposits. The maximum deposit amount is $5,000 total across all goals. You set the timeline and target amount for each goal.
How Much Can I Borrow From the Dave App?
No minimum deposit is required to open an ExtraCash Account, and no minimum to maintain the account. You may keep a maximum balance of up to $500.

The account goes negative when you take a cash advance. If you exceed the maximum balance at any time, Dave reserves the right to transfer the excess to a linked bank account.
Dave allows up to five monthly transfers of up to $500 each from the ExtraCash Account. Intrabank transfers to other Dave accounts are unlimited. 
You will pay a fee to transfer money from your ExtraCash Account to your Spending Account. Transfer fees range from $1.99 to $9.99, depending on the transaction amount. Prices for transfers to an external linked account may reach $13.99 for transactions of $500 or more.
What Credit Score Do I Need to Use Dave?
Dave does not check your credit score before you enroll. But your score may influence how much cash Dave will advance you. 
Indeed, most cash loan apps do not perform credit checks. Neither do the reviewed lending networks when you want to prequalify for a loan.
How Quickly Can I Get a Loan From Dave?
Once you set up an ExtraCash Account or a Spending Account with Advance Service, you can obtain your loan money in two to three days. 
But if you want the funds in an hour, you can pay a fee of $1.99 to $13.99 (depending on the amount) to expedite the process.
Get a Loan From a Lender You Can Trust
The Dave app can be helpful to folks who receive a regular paycheck they can use to repay small cash advances. It and the other cash advance apps offer small, short-term loans at relatively low costs. But the reviewed lending networks may be better if you need larger loan amounts or more flexible terms. 
Whichever lender you choose, please take a few minutes to check its BBB rating, Trustpilot score, and online reviews to ensure it is trustworthy. You can also search online to determine whether anyone has ever disciplined, fined, or sued it.
MoneyMutual & Other Resources
We hope you've found our guide "15 Best Loans Like Dave (Sep. 2023)" to be helpful in meeting your financial needs. To learn more about MoneyMutual, our top recommendation in this guide, be sure to visit the MoneyMutual website for full details about the offer.
Our experts rate MoneyMutual as one of the best options in personal loans for those with bad credit, giving it a 4.8/5.0 rating overall. Among its features:
Short-term loans up to $5,000
Online marketplace of lenders
Funds available in as few as 24 hours
Simple online form takes less than 5 minutes
Trusted by more than 2 million customers
For more resources similar to this "15 Best Loans Like Dave (Sep. 2023)" guide, see our other popular picks for those with bad credit:
Whether you choose MoneyMutual or any other option in our personal loans category, be sure to read and understand the terms before signing up. You'll find that taking the time to fully understand personal loans is one of the smartest financial decisions you can make.
Advertiser Disclosure
BadCredit.org is a free online resource that offers valuable content and comparison services to users. To keep this resource 100% free for users, we receive advertising compensation from the financial products listed on this page. Along with key review factors, this compensation may impact how and where products appear on the page (including, for example, the order in which they appear). BadCredit.org does not include listings for all financial products.
Our Editorial Review Policy
Our site is committed to publishing independent, accurate content guided by strict editorial guidelines. Before articles and reviews are published on our site, they undergo a thorough review process performed by a team of independent editors and subject-matter experts to ensure the content's accuracy, timeliness, and impartiality. Our editorial team is separate and independent of our site's advertisers, and the opinions they express on our site are their own. To read more about our team members and their editorial backgrounds, please visit our site's About page.