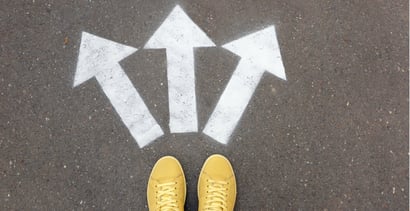 When researching Lexington Law alternatives, you should first consider the overall state of your credit report and what you hope to accomplish on your credit repair mission. We've listed Lexington Law as our top-rated credit repair service for quite some time, but just because the firm is rated highly doesn't mean it's the right service for you.
You may be able to save time and money by hiring a different credit repair company — or even doing the job yourself — based on the number of negative items you need to dispute with each credit bureau.
If you're ready to get your credit score trending in the right direction, keep reading for our list of the best Lexington Law alternatives.
Alternatives | DIY Credit Repair | FAQs
Top Alternatives to Lexington Law Credit Repair
People tend to look at best-of lists and focus on number 1, missing the other great options available to them. In this case, we recommend our next-best credit repair companies that equally specialize in helping consumers dispute and remove unwarranted negative items from their credit reports.
And, unless you're a recent victim of an identity theft scam and have lots of items to dispute, you may not need to pay the higher cost of Lexington Law to get the same results. Consider these three credit repair service providers to help you achieve a better credit score:
Best-in-class support
In business since 1989
Rapid 35-day dispute cycle, tailored to your situation
90-day 100% money-back guarantee
Low $79 cost to get started, cancel or pause membership anytime
| Better Business Bureau | In Business Since | Monthly Cost | Reputation Score |
| --- | --- | --- | --- |
| A+ | 1989 | $79 | 9.5/10 |
Sky Blue Credit Repair offers only one tier of service, which guarantees that every client will get the same attention to detail and excellent service. If you want to make credit repair a family affair, the credit repair agency offers a special couple's pricing that cuts the cost of your partner's service in half.
The credit repair agency claims to offer the most satisfying experience in the credit repair business — even allowing clients to take a break and pause their account with the click of a button.
And with its customary Pro Analysis service, Sky Blue can help you pinpoint the exact disputable items that can get every possible point out of your credit repair journey.
Free online consultation
CreditRepair.com members saw over 8.6 million removals on their credit reports since 2012
Free access to your credit report summary
Three-step plan for checking, challenging and changing your credit report
Online tools to help clients track results
| Better Business Bureau | In Business Since | Monthly Cost | Reputation Score |
| --- | --- | --- | --- |
| See BBB Listing | 2012 | $69.95+ | 8/10 |
CreditRepair.com offers a no-obligation, free consultation that provides a comprehensive rundown of your current financial health. This includes a personalized credit consultation, a credit report summary, a credit score evaluation, and a game plan to improve your credit rating.
You'll also receive a negative items summary that shows what is holding your credit score down and provides a path to get it out of your way. The service works and has helped consumers remove more than 1.8 million negative items from their credit reports since 2012.
The credit repair agency offers three tiers of service to meet the varying needs of its clients. Each requires a monthly payment that allows cancelation at any time. All clients receive access to a dedicated portal that allows them to check their repair progress any time of day or night.
Free online evaluation
One-on-one action plan with a certified FICO professional
Unlimited disputes of any questionable items on your credit reports
24/7 Access to your online client portal
90-Day Money-Back Guarantee
| Better Business Bureau | In Business Since | Monthly Cost | Reputation Score |
| --- | --- | --- | --- |
| A+ | 2009 | $69+ | 7.5/10 |
The Credit Pros offers free consultations and promises fast and effective results. Its customers also appreciate its 90-day money-back guarantee.
After you receive the results of your disputes — which typically takes between 30 and 45 days — TCP will send new disputes on your behalf. The process continues until you've cleared your credit history of inaccuracies and unverifiable items.
This service works best if you have several items to dispute because the higher-than-average monthly cost reflects the network's efforts to send a lot of dispute letters on your behalf.
You Can Also Repair Your Credit Yourself
If a monthly fee doesn't appeal to you — or you have the ingenuity and do-it-yourself spirit — you can consider repairing your credit history on your own.
Keep in mind this process does take a little know-how and a lot of patience. But if you only have a few items to dispute, you can likely fly solo on this mission. If you don't get the results you desire, you can always try again with a professional credit repair service.
How to Dispute Items with Each Bureau
You can only dispute items on your credit report that shouldn't be there. That means any negative item that should have aged off of your credit history, an account that you don't recognize, an incorrect debt amount listed on one of your accounts, or any information linked to identity theft or fraud.
Legitimate items on your credit report — such as a late payment or default you're responsible for — cannot be disputed. There's nothing you can do other than wait for its impact on your credit score to lessen with time, which begins to happen about a year or later after it is reported to the bureaus.
But if you have items on your reports that need immediate attention and you're ready to start the process on your own, you'll need to file a separate dispute with each credit bureau.
Each credit bureau accepts disputes online, over the phone, and by mail. Here's the rundown for each credit bureau:
Experian
Experian provides an online dispute portal that allows you to file an online dispute, check up on a previously filed dispute, or access any information you need to file a hard-copy dispute through the mail.
After you obtain your Experian credit report, you can pinpoint the items you wish to dispute. You can either create an online dispute and upload the necessary supporting documentation (bills, receipts, letters from the lender) or you can fill out and mail Experian's dispute form to:
Experian
P.O. Box 4500
Allen, TX, 75013
Experian does not openly publish its dedicated contact number for filing disputes over the phone. Instead, it instructs consumers to contact the number printed on their paid Experian credit report summary.
But if you call the credit bureau through its main customer service line at 1 (888) 397-3742, an agent can transfer you to the dispute department directly.
There's no charge for disputing an item on your own. You'll typically receive a response within 30 to 45 days. Do not send your original forms and documentation. Keep those for your personal records and only send legible copies.
When filing a dispute, also include:
Your full name including middle initial, and generation (e.g. JR, SR, II, III)
Your date of birth
Your Social Security number (if you have never been issued a Social Security number, please note that in your request)
Addresses of where you have lived for the past two years
One copy of a government-issued identification card, such as a driver's license or state ID card, etc.
One copy of a utility bill, bank or insurance statement, etc.
List each item on your report that you believe is inaccurate, the account number, and the specific reason you feel the information is incorrect.
Equifax
Like Experian, Equifax offers an online portal where you can file a digital dispute for inaccurate credit report information. The credit bureau guarantees a result within 30 days. If Equifax rules in your favor, it will update your credit report and Equifax credit score automatically.
You can expedite the process of filling out your dispute form by signing up for a free MyEquifax account. You can then automatically fill in some of the necessary details, such as your address, Social Security number, and other important details. You can also initiate a credit freeze and sign up for fraud alerts.
If you'd rather send a hard copy of a dispute letter, you should address it as follows:
Equifax
PO Box 740256
Atlanta, GA, 30374-0256
Equifax requires a host of documents to prove your identity before filing a dispute.
These documents include either a copy of your driver's license, passport, court documents of a legal name change, birth certificate (with current name), marriage certificate (with current name), or a military ID.
You'll also need to provide your Social Security number with a copy of a valid Social Security card, a W-2 form with your full Social Security number, or a copy of a pay stub that shows your full Social Security number. You may need even more documentation pertaining to the items you're disputing.
To dispute an Equifax item over the phone, you can call 866-349-5191 from 9:00 A.M. to 5:00 P.M. EST, Monday through Friday.
TransUnion
TransUnion's dispute portal contains many educational resources to get your documentation ready. You can also utilize the portal to file a dispute or check the status of a previously filed dispute.
The credit bureau currently does not support online disputes or document uploads for updates to personal information, such as Social Security number, date of birth, name, and address.
To file a formal dispute for any inaccuracies related to the items above, you can send a hard copy of a dispute letter to:
TransUnion
P.O. Box 2000
Chester, PA 19016
Be sure to include all details related to your personal information — including your name, date of birth, address, and Social Security number. You should also include the name of the company that reported the item you're disputing and the partial account number (from your credit report). Be sure to add the reason for your dispute and any corrections to your personal information (address, phone number, etc.).
You can also file a dispute with TransUnion over the phone by calling a dispute expert at (833)-395-6941. Experts are available from Monday to Friday, from 8:00 A.M. to 11:00 P.M. EST.
What Can and Cannot Be Disputed
You can only dispute inaccurate information that's listed on your credit report. Many consumers think that means anything related to loans or other financial accounts, but you may also find inaccuracies with your name, current mailing address, Social Security number, or other important identifying information. Some consumers even find that their credit report states they're deceased.
The key is that you can't dispute negatives that are your responsibility and haven't aged off your reports yet. If you missed a payment a few months ago and want to have its negative effects erased from your credit history, the only thing that might help is a pay-for-delete letter.
Examples of legitimately disputable inaccuracies include:
Identity errors that place another person's credit activity on your reports. This happens more often than you think.
Incorrectly reported accounts, such as a closed account that is still reported as being open or an account that is wrongly reported as being delinquent or defaulted.
Account balance and credit limit errors, such as your credit card or loan balance showing it to be greater than it actually is, or your credit limit is lower than it is, can cost you several dozen points on your credit score.
Old items that haven't fallen off your reports. Most negative items can live on your credit report for up to seven years. This includes late payments, foreclosures, bankruptcies, or defaults. Thankfully, these items lose their impact as they get older and are replaced by new (and hopefully positive) items. If an item on your report is older than seven years, you can request it be removed.
Remember to include all of the required documentation detailed above when filing your dispute, and you'll need to file each dispute with each bureau that has the information on its report. This means you may need to make up to three separate disputes for the same item, which leads us nicely to our next section.
Drawbacks of DIY Credit Repair
If your financial well-being hangs in the balance, you may find it beneficial to hire a professional to handle the credit repair process for you. That's because getting your credit file in order isn't always just a matter of sending off a few dispute letters and waiting for your credit score to rebound.
What happens if the credit bureau denies your request? Are you ready to escalate your dispute to a higher authority and possibly involve a legal issue and litigation to fight for your changes?
Credit reports aren't the easiest to read and you may struggle to identify which items you can dispute and which are legitimate entries. The process takes time and may include some back and forth with each credit bureau as it investigates your dispute and potentially requires extra documentation.
They say time is money, and you could find yourself wasting a lot of money filing your own disputes. And since most people go at it alone in an effort to save money, this may not be the best option.
Lexington Law works with many attorneys throughout the U.S. who have vast experience challenging each credit bureau for their clients. While an attorney is a great ally to have, the attorney-client relationship typically comes with a steep price — in the case of Lexington Law, that price is upwards of $100 a month.
The alternatives above have a track record of success and a history of great customer service. In most cases, the person handling your case will have just as much experience in the field as a trained lawyer — but at a less-inflated cost.
You can eliminate some stress from your life and free up some time to do what you want to do by hiring a credit repair agency to improve your poor credit score.
The credit repair industry consists of many players with differing levels of experience, cost, and dedication to your cause. If you're going to spend your hard-earned money on credit repair or credit counseling, you should get exactly what you pay for.
Each service we recommend offers a free consultation and credit score analysis so you'll know if you have a valid dispute before you spend any money.
What is the Best Alternative to Lexington Law?
The Lexington Law firm connects every client with a law office that can work on their behalf to dispute inaccurately reported negative items on their credit report. While having an attorney on your side is a great advantage, it may not be necessary.
The credit repair process doesn't always require litigation or the presence of an attorney. Instead, you'll need someone who has experience in wording a dispute letter so that each credit bureau takes notice.
Any of the Lexington Law alternatives listed above can give you that advantage. But when you're looking for a credit repair company that can rival Lexington Law's massive volume of successful disputes, consider CreditRepair.com.
Free online consultation
CreditRepair.com members saw over 8.6 million removals on their credit reports since 2012
Free access to your credit report summary
Three-step plan for checking, challenging and changing your credit report
Online tools to help clients track results
| Better Business Bureau | In Business Since | Monthly Cost | Reputation Score |
| --- | --- | --- | --- |
| See BBB Listing | 2012 | $69.95+ | 8/10 |
Not only has CreditRepair.com removed more than 1.8 million negative items since 2012, but the credit repair agency also sends off more than 1 million intervention letters every year.
Intervention letters, also referred to as good faith letters, attempt to leverage your previously good payment history with a lender to remove a single ding from your credit report. These are common for late payments.
Say you have an otherwise good credit score, but a single late payment causes your credit rating to dip low enough to where you can't get the loan you need. Some lenders may consider removing that late payment from your report as a gesture of goodwill because you've made on-time payments in the past. This isn't guaranteed to work, but it is a good idea to at least try.
You can attempt to write an intervention letter yourself, but you may want to consider leaning on a credit repair company that files more than 1 million such letters each year. You can send good faith letters for other negative items as well, though you likely won't find much success in pleading with a lender to remove a bankruptcy, foreclosure, or charge offs.
In some instances, a debt collection agency may work with you to remove a charge off from your reports if you pay the debt in full. That's because most debt collectors purchase charged-off debt for pennies on the dollar because the chances of recouping the money are very small.
That's why you should always attempt to negotiate a goodwill adjustment before paying off a debt that's in collection. It may not work, but you never know until you try, and removing one negative can recoup more than 100 points on your credit score.
Which is Better, CreditRepair.com or Lexington Law Firm?
This depends on the state of your credit report. If you've recently struck out while trying to repair your credit file yourself, or you're dealing with a stubborn creditor that is ignoring your disputes, you may want to consider Lexington Law credit repair. Basic credit repair will work just fine with the more affordable CreditRepair.com
Lexington Law gets the nod in more severe situations because you'll have a lawyer on your side. Most creditors tend to pay attention when they receive a letter from an attorney. But keep in mind that this type of intervention only comes with the firm's top package — the Concord PremierPlus — which, at the time of publishing, costs consumers $139.95 per month.
The basic package with Lexington Law — the Concord Standard — is the same price as CreditRepair.com's basic service.
The Concord Standard includes a limited number of disputes and intervention letters each month. Since most clients can take up to six months to get all of their negative items removed, you should budget for a minimum total cost of $600 or so with Lexington Law, though it may not take that long (or that much).
For $49.95 per month, plus a $14.95 initial fee to pull your credit report, CreditRepair.com offers a vast number of features that not only work to remove inaccurate negative items from your credit file but also lets you track your case progress at any time. Those features include:
A personal online dashboard that allows you to view your account and credit repair progress 24 hours a day.
Dedicated member advisors to help you navigate through the credit repair process.
A monthly online credit score analysis that provides you with the tools and information necessary to continually improve your credit.
Identity theft insurance to protect you in case your credit information is stolen.
Updated credit reports on a monthly basis
An updated credit score every 90 days
Mobile apps and customizable text alerts that allow you to take your credit repair journey with you and receive updates wherever you go.
Lexington Law provides similar features with its Concord Premier package that costs $119.95 per month.
Both CreditRepair.com and Lexington Law have an extensive history of successful alternative dispute resolution — be it from traditional dispute letters, more advanced escalation, or good faith letters.
What may separate the two is the customer service experience. As you'd expect from any successful online business, both have a mix of good and bad reviews.
A single snapshot of ConsumerAffairs.com shows Lexington Law with a 2.3 out of 5 rating after 139 reviews. CreditRepair.com, on the other hand, boasts a more respectable 3.1 out of 5 rating after 29 reviews.
The biggest complaint with Lexington Law seems to be its customer service. While many reviewers seem thrilled with the results, most of the 1-star reviews are centered around a bad experience with a member of the Lexington Law team.
"They will continue to bill you after you cancel even if they don't do any further work. Just FYI. They make it really hard to cancel. Then tell you you never canceled. Then continue to bill you. They told me that because my husband and I both signed up, the payments would be cheaper. But was charged double what I was quoted." — Shanna of Clarence, MO, Consumer Affairs Reviewer
Some of CreditRepair.com's reviews touch more on the level of service than the customer support.
"From the get-go, everything took forever to on-board. It took them two months to set up my account, even after badgering them about it (daily) for a month, via chat. In the 6 months that I used them, they removed but a single negative remark off of my credit. 1 out of the 20 (across the three major credit bureaus)." — Lauren of Cranberry Twp, PA, Consumer Affairs Reviewer
This doesn't mean that both businesses receive only negative reviews from current and former clients. At the time of publishing, CreditRepair.com boasts more 5-star reviews than 1-star reviews in the past year, whereas Lexington Law shows nearly three times as many 1-star reviews as 5-star reviews during that same time.
But despite the imbalance, it's hard to ignore Lexington Law's success stories, which vary from clients who saw their credit score rise from the 400s to the 700s in less than a year or others who managed to secure their first mortgage loan and purchase real estate because of an improved credit score.
How Expensive is Lexington Law?
At the time of publishing, Lexington Law offers three distinct service tiers. These vary from the Concord Standard for $99.95 per month, the more interactive Concord Premier plan for $119.95 per month, and the all-inclusive Premier Plus plan for $139.95 per month.
With Concord Standard, you'll receive up to four Equifax and TransUnion disputes and up to three Experian disputes per dispute cycle.
With a step up to the Concord Premier, you'll receive two additional Equifax and TransUnion disputes, plus a credit report analysis and Report Watch alerts.
The top-tier package through Lexington Law is Premier Plus. With this service, you'll receive everything from the two tiers above, plus:
Cease and desist letters
FICO Score tracker and credit monitoring
Personal finance tools
The biggie here is the cease and desist letters, as they come directly from an attorney on your behalf and work to stop creditors from reporting false information under your name. Most other services cannot provide this service as they don't employ a lawyer who is versed in the terminology necessary to craft a proper order.
The other trackers and tools aren't as important in this package, as you can find personal finance calculators and tools for free online and almost every modern credit card provides some sort of credit score tracker.
Your total cost will depend on how many items you need to dispute. In most cases, a dispute can take up to 60 days. That's because every credit bureau has between 30 and 45 days to investigate every dispute it receives.
After Lexington Law crafts and sends your dispute letter, you have to wait while the credit bureau processes the request. The more requests you have, the longer it takes.
How Long Does the Credit Repair Process Take?
There's no such thing as a quick credit fix. Some reviewers of various services in the credit repair industry report seeing results from their dispute letters within 45 days. Others took as long as a year to get to their credit score goal.
The amount of time your case will take will depend on the type and number of items you're disputing. According to Lexington Law, its clients typically see an average of 10.2 items — or 24% of their representing negatives — removed within four months. But that's an average, not a guarantee.
Every case is different. Time frames can shorten or lengthen based on your participation, the creditor's response time, and how busy the credit bureau is.
If the credit bureau requires more paperwork, your credit repair agency will contact you to collect the documentation. The faster you put the files together, the sooner you'll get to the finish line. Alternatively, if you take your time to respond, you could lose most of your progress.
When a credit repair firm files a dispute on your behalf, the credit bureau has between 30 and 45 days to investigate and rule on the matter. During lighter times, your response could come sooner or at the early end of that time frame. If many disputes are pending, it may trend closer to 45 days than 30.
During the investigation, the credit bureau will contact the lender or debt holder to request more information from their end. If the creditor responds quickly, it could make the process smoother. If not, you could have to wait a while.
The general rule of thumb — although it seems like a really wide window — is that you can see results from your credit repair mission anywhere between 30 days and six months. You can likely expedite the process by employing a credit repair agency that knows the law and can work quickly to get the results you want.
Is Credit Repair the Same as Credit Counseling?
No. A credit counselor can help you go over your finances and devise a budget and/or plan to get out of debt, whereas a credit repair agency can dispute errors on your credit reports in effort to improve your credit score.
A credit repair company will offer a free consultation where you will go over your credit score and determine what, if anything, you can dispute.
A credit counselor is similar to a credit monitoring program. The program will keep an eye on things and alert you to changes, but it can't fix any errors that have occurred.
If you decide to sign up with a credit repair firm, it will start working on your case and doing the work on your behalf. Think of this as hiring someone to work for you instead of hiring an advisor to give you guidance. Most services allow you to cancel your account at any time.
Sky Blue Credit Repair has a novel option that allows you to simply pause your account if you want to postpone monthly payments. You can do this by clicking one button to pause and another to reinstate when you're ready.
In all, which service works best for you will depend on how much hands-on control you want over the situation. If you have the time, patience, and know-how to tackle your credit repair mission on your own, you may want to consider scheduling a session or two with a credit counseling service to understand your best actions to reach your goals.
A little guidance never hurts — whether you're in high school or well into adulthood. If you'd rather hire a professional to do it right the first time, you can consider one of the Lexington Law alternatives above.
These Lexington Law Alternatives May Be Able to Help
Don't let a bad credit score keep you from living the life you deserve — especially if your score is the product of wrong information.
On average, 1 in 5 Americans have inaccuracies on their credit reports that affect their credit situation. Those errors can be small — like the wrong mailing address — or they can be big mistakes that have catastrophic effects on your score and leave you with unmerited bad credit.
You can correct these errors on your own or you can hire one of the Lexington Law alternatives above. Either way, you'll find yourself on your way to the credit score you deserve.
Advertiser Disclosure
BadCredit.org is a free online resource that offers valuable content and comparison services to users. To keep this resource 100% free for users, we receive advertising compensation from the financial products listed on this page. Along with key review factors, this compensation may impact how and where products appear on the page (including, for example, the order in which they appear). BadCredit.org does not include listings for all financial products.
Our Editorial Review Policy
Our site is committed to publishing independent, accurate content guided by strict editorial guidelines. Before articles and reviews are published on our site, they undergo a thorough review process performed by a team of independent editors and subject-matter experts to ensure the content's accuracy, timeliness, and impartiality. Our editorial team is separate and independent of our site's advertisers, and the opinions they express on our site are their own. To read more about our team members and their editorial backgrounds, please visit our site's About page.