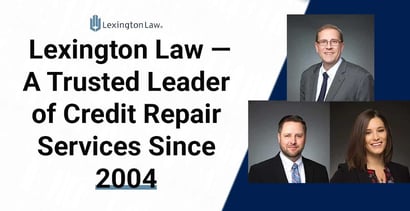 In a Nutshell: Lexington Law Firm has been advocating credit repair for individuals for many years, and has represented hundreds of thousands of clients. As trusted leaders in the credit repair industry, Lexington has established relationships with the credit bureaus through years of working together that allow them to achieve higher success rates. More than 430,000 consumers have chosen to work with Lexington Law since 2018.
Many important financial commitments in life require good credit, including owning a home, being approved for a loan, and buying a car. So what are you to do when your credit history prohibits you from attaining life's necessities because of mistakes and errors in your reports?
The obvious solution is to improve your credit, but that could take years if done on your own, and some of us can't wait that long. And credit is a fickle beast. There are several ever-changing laws and regulations surrounding the credit industry, and for the average person, understanding all of them is insuperable.
Lexington Law, based in North Salt Lake City, Utah, has been advocating for individuals who have mistakes on their credit reports for a number of years. Lexington's team of lawyers and paralegals understand these laws and regulations, and they have represented hundreds of thousands of clients who have worked to correct their credit reports and improve their scores.
"Lexington enacts change for our people," said John C. Heath, the firm's Directing Attorney. "We leverage our experience and give people a chance at better credit and a better life."
Higher Success Rates Through Personalized Approaches
When there are inaccuracies present on your credit report that need to be resolved, choosing who to represent you in your fight for a fair and accurate credit report can feel like a gamble. There are countless credit repair companies, and all claim to produce the same results.
"We differentiate ourselves a lot in terms of our actual efficacy because it is a personalized approach rather than just somebody signing up and having work done, and that work not necessarily matching the person or their situation," said John.
"We personalize our clients' cases as much as possible. We have focus tracks for people who are divorced or in the military that have certain student loan debt problems or have gone through a bankruptcy. We have escalation processes that remove items off certain reports and challenge those items differently based on our history of understanding those items," he further explained.
Past Clients Saw an Average of 6 Removals from Their Credit Reports in 2022
When someone decides they want Lexington to work on their behalf, there's an onboarding educational process that takes place. This process covers the services provided as well as the costs involved, which are not exorbitant attorney's fees – Lexington strives to provide its clients with an affordable platform so more people can access credit repair.
Clients will be assisted by welcome agents who will pull credit reports from each bureau and walk through the negative items in order to explain how Lexington will begin challenges and interventions, ensuring the expectations are fair. Lexington's paralegal team is the driving force behind client satisfaction and loyalty, and they can be reached via chat, email or phone six days a week.
"I always have a fantastic experience when I call.  Paralegals are extremely professional, courteous, and knowledgeable.  They are always willing to help me and educate me on topics I don't understand.  Lexington Law Firm has helped boost my credit score in the past year, which is a huge value to me. Thank you so much!" – Michael L., Beulah, N.D.
Lexington's past clients have seen an average removal of 10.2 items, or 24 percent of their presenting negatives, from their credit reports within four months.
Lexington's Clients Saw 4 Million Credit Report Removals in 2022
In 2022, Lexington Law had more than 700,000 clients with a successful removal from their credit reports. Removed items include:
Collections
Late Payments
Charge Offs
Bankruptcies
Repossessions
Foreclosures
"We have years of experience in identifying strategies that have been successful for many clients. Our practices have become very refined," John assured us.
"There are a lot of cases where we're able to assist in the elimination of questionable items from client credit reports because of the way that we're able to intervene through the letters and the communications that we send on our client's behalf," he added.
Item Removal Process: Specialized Categories Determine How to Proceed
The Lexington removal process categorizes items into three areas:
Not Mine: Unrecognized items that clients can state for a fact were never theirs.
Never Late: Items clients know were never late.
Item Verify: Items clients are unsure of. This could mean an item from a few years back that they can't recall or one they don't feel they were in the wrong for. Item Verify also includes items clients know they were responsible for and wish to verify the information with the creditor or the bureaus.
Outside of these three categories are specialty items such as bankruptcies and foreclosures, which are identified differently and require special action.
Lexington Complies With Each State's Credit Repair Regulations
In addition to all the rules and regulations surrounding the credit industry, several states also have their own regulations regarding credit and credit repair, further complicating matters. Lexington Law works directly with regulators in the states that have individual licensing requirements to ensure that they are appropriately licensed and undergo regular audits to ensure full compliance.
Most credit repair cases are handled under the direction and supervision of Lexington's in-house attorneys, located in Salt Lake City and Phoenix. This is possible because many of their attorneys hold bar licenses in multiple states, permitting them to practice in those jurisdictions.
For states where a Lexington lawyer does not hold a license to practice law, they work with independent Counsel attorneys who have been trained to assist with this work.
Three Levels of Credit Repair Service Available
Lexington offers three service levels – Concord Standard, Concord Premier, and Premier Plus – for its clients to choose from based on their individual needs. All levels of service include:
Credit Bureau Attention
Creditor: Goodwill Interventions
Creditor: Escalated Requests
Creditor: Debt Validation
Free Support
Cancel Anytime
No Hidden Fees
Same-Day Consultation
All consultations are free, and Lexington never bills in advance, only for work completed — your case will begin within five days of that initial consultation unless you cancel beforehand with no obligation.
"You deserve advocacy. You deserve to have that chance in your life to be better," said John. "We stop taking chances because we're told that it's not going to happen or it's not going to get better. The only way to change outcomes in your life is to make a commitment to something, and we believe that the best commitment people can make who are trying to change the outcomes because of their credit is to engage Lexington's services."
There are numerous laws protecting your rights for fair and accurate credit reporting, and these consumer protection statutes serve as the foundation of Lexington's services.
Concord Standard — $99.95/Month
All consultations are no obligation. You can review your credit report summary and score for free with Lexington and discuss your options going forth, as well as help you decide the right service level for you.
"We believe in our services and the effect these services have had on our clients' respective lives. Our services could help you change your financial life. To me, that's worth pursuing," said John.
Concord Premier — $119.95/Month
Lexington's second level of service, Concord Premier, offers additional protections such as Report Analysis and Report Watch Alerts. It comes with the same $25,000 ID theft insurance as the Standard package.
John added that "at the end of the day, the majority of the people who work with Lexington leave in better shape than they came."
Premier Plus — $139.95/Month
In addition to the services mentioned above, Premier Plus also comes with a TransUnion FICO Score, Lost Wallet Protection, up to $1 million in ID theft insurance, and financial tools, including DebtHandler, Junk Mail Reducer, and a Personal Finance Manager.
You Deserve to Invest in Your Future
Lexington's website states that "Credit is a necessity. Whether it's a mortgage, a car loan, or a credit card, good credit creates opportunities. Bad credit doesn't."
John believes that life circumstances many times lead us to believe that "this is as good as it's going to get," and that credit conditions can lead people to think the same way; People can believe that they're not going to access the benefits that other people have because their credit score confines them. Every time they try to get out of a bad credit situation on their own, they can be declined or denied. "Over time, I think it can lead to a place of hopelessness," said John.
The professionals at Lexington Law want to assist you in asserting your right to a fair and accurate credit report and help you end the hopelessness and restrictiveness of bad credit.
"You deserve advocacy. You deserve to have that chance in your life to be better," said John. "We stop taking chances because we're told that it's not going to happen or it's not going to get better. The only way to change outcomes in your life is to make a commitment to something, and we believe that the best commitment people can make who are trying to change the outcomes because of their credit is to engage Lexington's services."
Advertiser Disclosure
BadCredit.org is a free online resource that offers valuable content and comparison services to users. To keep this resource 100% free for users, we receive advertising compensation from the financial products listed on this page. Along with key review factors, this compensation may impact how and where products appear on the page (including, for example, the order in which they appear). BadCredit.org does not include listings for all financial products.
Our Editorial Review Policy
Our site is committed to publishing independent, accurate content guided by strict editorial guidelines. Before articles and reviews are published on our site, they undergo a thorough review process performed by a team of independent editors and subject-matter experts to ensure the content's accuracy, timeliness, and impartiality. Our editorial team is separate and independent of our site's advertisers, and the opinions they express on our site are their own. To read more about our team members and their editorial backgrounds, please visit our site's About page.