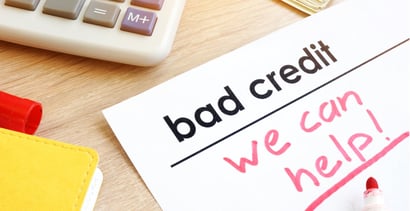 If you like to purchase locally, but your credit is in the ditch, you may ask, "Can I hire a company performing credit repair near me?" Well, we've identified three credit repair services that operate in all 50 states and are no further away than your internet connection.
These services aggressively act to remedy your less-than-good credit profile right away and possibly raise your credit score. Use the links below to learn more or keep reading to see our top-rated provider.
Services | How it Works | Cost | More FAQs
Best Credit Repair Companies Near Me
The shared mission of these three credit repair companies is to challenge inaccurate and questionable derogatory items on your credit report. The lawyers, paralegals, and other experts at these companies focus their expertise on helping you attain a higher credit score.
This can, in turn, increase your access to credit and lower your interest rate costs.
Since 2004, Lexington Law Firm clients saw over 81 million items removed from their credit reports
Get started today with a free online credit report consultation
Cancel anytime
| Better Business Bureau | In Business Since | Monthly Cost | Reputation Score |
| --- | --- | --- | --- |
| See BBB Listing | 2004 | $99.95+ | 8/10 |
Since its founding 16 years ago, Lexington Law has become our top-rated credit repair service by employing experts who have mastered how to successfully challenge negative items on your credit report. They know that even one mistake can drop your score by more than 100 points, which may be enough to deny you access to a loan.
The company offers three credit repair service levels starting at $99.95 per month. All services intervene with the credit reporting bureaus and your creditors to challenge items that can be erroneously hurting your credit score.
Beyond these basic services, higher-level Lexington Law packages include disputing hard inquiries, analyzing your credit score, continuously monitoring your credit reports, and alerting you to new negative items on your TransUnion credit report.
The top package, Premier Plus ($139.95/month), adds support for cease-and-desist orders, FICO score tracking, and access to valuable financial tools. The average client uses Lexington Law's services for six months. That's usually enough time to see meaningful improvements in your less-than-good credit profile.
Best-in-class support
In business since 1989
Rapid 35-day dispute cycle, tailored to your situation
90-day 100% money-back guarantee
Low $79 cost to get started, cancel or pause membership anytime
| Better Business Bureau | In Business Since | Monthly Cost | Reputation Score |
| --- | --- | --- | --- |
| A+ | 1989 | $79 | 9.5/10 |
SkyBlue Credit Repair has been fixing credit reports for more than three decades. Unlike the other credit repair services, Sky Blue has a single monthly price tier — $79 for individuals and $119 for couples.
The company challenges 15 items every 35 days, faster than its competitors' average of 45 days.
With your subscription, you get a professional analysis of your credit reports in which Sky Blue helps customers identify dispute candidates, files disputes quickly, provides personalized score guidance, and helps you open a new credit card. Extra, no-cost services include goodwill letters, debt validation, cease-and-desist letters, and debt settlement/negotiation consultations.
Free online consultation
CreditRepair.com members saw over 8.6 million removals on their credit reports since 2012
Free access to your credit report summary
Three-step plan for checking, challenging and changing your credit report
Online tools to help clients track results
| Better Business Bureau | In Business Since | Monthly Cost | Reputation Score |
| --- | --- | --- | --- |
| See BBB Listing | 2012 | $69.95+ | 8/10 |
CreditRepair.com has a long, successful record, having logged more than 19 million challenges and disputes since its inception and removing more than 1.8 million negative items since 2012. It has racked up more than 1 million interventions with credit reporting bureaus and creditors since 2019 alone.
You can subscribe to CreditRepair.com starting at $69.95/month plus a one-time charge of $14.99. This buys you a thorough analysis of your three credit reports coupled with report alerts and up to 15 targeted challenges and three disputes per month.
In addition, you receive a credit score tracker, TransUnion credit monitoring, and timely text/email alerts. Higher fees (up to $119.95/month) provide additional services, including more challenges/disputes, identity protection, insurance, and financial tools.
CreditRepair.com files 28 disputes per client, on average, over the initial four-month period. The average subscription at this company is six months. When you subscribe, you'll get access to a personal online dashboard where you can monitor your credit repair activity at a glance.
How Does Credit Repair Work?
The aim of credit repair is to remove questionable negative items from your credit reports. By doing so, you eliminate information that hurts your credit score. The result can be a higher score and better access to credit.
The process starts with your credit history as compiled and maintained by the three credit reporting bureaus (Experian, TransUnion, and Equifax). The information on these reports guides the actions of creditors, lenders, employers, landlords, and others who interact with you.
The Fair Credit Reporting Act gives you the right to review and correct your credit reports. At the very least, you want to ensure that nothing on the report is erroneous, lest you suffer needlessly from an artificially low credit score.
When you hire a credit repair company, you retain a credit pro who helps you identify questionable and inaccurate negative information on your credit reports. This information includes credit inquiries, late payment, defaults, debt collectors, foreclosure events, and bankruptcies.
The impact and duration of negative information like a foreclosure or late payment varies. For example, too many hard credit inquiries (i.e., inquiries stemming from your applications for a new credit account or loan) within a specified period can lower your score by five to 10 points for a year.
At the other extreme, a Chapter 7 bankruptcy can drop your score by more than 100 points and remain on your report for 10 years, although the impact begins to dissipate after a couple of years.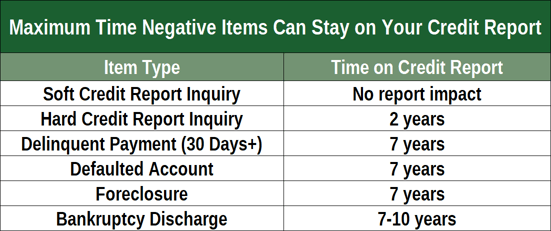 Your credit repair agency should help you identify both obvious and subtle credit issues with your credit history. These may include hard inquiries that you did not authorize, transactions and accounts you do not recognize, and incorrect information about your Social Security number, employment or residence history.
Once it has identified questionable information, the credit repair company opens disputes with the credit bureaus to have the information corrected or removed. Lodging and managing disputes are a bit of an art form, in that you must know how to phrase each dispute, what evidence to include, and how to follow up if your initial claim is denied.
The repair service can also intervene with the sources of inaccurate information, such as creditors and merchants, and ask them to request removal of derogatory errors you believe to be unwarranted or factual errors such as an incorrect Social Security number.
Interestingly, a credit repair service must also know when not to dispute a derogatory item. For instance, if you dispute delinquent accounts that haven't aged beyond the state's statute of limitations, you may trigger new activity from debt collectors.
That doesn't mean you cannot dispute credit card debt and other debt accounts, only that you should do so for legitimate reasons. When you dispute every negative item regardless of merit, a credit reporting bureau may treat you as a nuisance and disregard your complaints.
We should note that the Fair Credit Reporting Act allows you to do your own credit repair. You can start by ordering your three credit reports from AnnualCreditReport.com.
The task of identifying and disputing report items should not be taken lightly. You'll have to register each dispute by letter or by entering information on a credit bureau's dispute page. You'll also have to track each dispute and handle appeals for those you lose.
If you do choose to hire a credit repair agency, make sure you understand exactly the services you are getting and in what volume. Different plans may impose various limits on the number of challenges and disputes the company will issue over a given time period. That time period may also vary among different companies.
Many credit repair companies recommend you subscribe for at least six months to get the maximum benefit from their services. Make sure you have the right to terminate or suspend your subscription at will.
Finally, a repair service may suggest a credit management plan to increase your credit scores. A credit repair program may have you reduce the amount of credit you use, find ways to avoid a late payment, and manage credit cards that you no longer use. A credit repair program can help you boost your scores when the removal of negative items may not be enough to do the job.
How Much Does Credit Repair Cost?
Credit repair companies usually charge a monthly fee for their various service plans. The monthly fees for the three reviewed repair companies range from $69.95 to $139.95.
Lexington Law and CreditRepair.com each offer multiple plans, from basic to aggressive. Sky Blue Credit Repair has just one plan, costing $79/month, which provides many of the services as the top plans of its competitors.
It's important for you to choose a plan you can afford and that gives you the services that you need. If you just want to tackle questionable items on your credit reports, a basic plan may do the trick for the least money. Always check to see the credit issue quota the plan will address each period, as that also can vary.
Some of the higher-cost plans offer services, such as identity theft protection, that don't fit strictly into the definition of fast credit repair. Nonetheless, you may find these extra services to be valuable given your personal circumstances.
As noted earlier, you can embark upon a DIY credit repair project for essentially no cost except your time and attention. This may make sense if you have both and can manage a project that requires multiple complex activities and follow-ups.
You will have to track and file all your interactions with the credit bureaus and your creditors, including when to send reminders if you don't receive an answer within the required time limit. Credit bureaus normally have 30 days to investigate your dispute once they receive it.
Even if you lose a dispute, you have the right to append a short explanation to any derogatory item on your credit report. This gives you the opportunity to present any mitigating circumstances. It won't help your credit score, but it will inform any report readers about your side of the story.
Can a Credit Repair Company Really Help?
The ultimate goal of using a fast credit repair service is to improve your credit score. However, none of the reviewed companies promise to do that.
What they do promise is to aggressively work to remove questionable and inaccurate items from your credit report. Thus, a repair company's helpfulness in boosting your credit score is directly tied to the correlation between mistakes on your credit report and your score.
If you have a scant credit history or one with few questionable items, then a credit repair business may not be your most helpful option. Unless several items can be removed from your credit report, the impact on your score may be negligible. In that case, you may do better with a credit counseling agency that works directly to increase your creditworthiness.
On the other hand, if you have a long or complex credit report, a credit repair business may be able to remove dozens of questionable items, which almost surely should improve your credit score. Moving up from poor to fair credit can provide you access to lower interest rate loans and more rewarding credit cards.
In other words, when credit repair companies are effective, your lifestyle can improve.
Can a Credit Repair Service Help with Debt Consolidation or Debt Settlement?
Debt consolidation and debt settlement (collectively called debt reduction) are usually services offered by credit counseling agencies and debt relief companies.
The goal of debt reduction isn't to improve your credit score. Rather, the mission is to make it easier to repay your debt, including credit card debt, by reducing your monthly payment amount and/or your total debt. Credit repair services do not typically offer debt reduction services.
Debt Consolidation
You can work with a credit counseling organization to develop a debt management program that consolidates your monthly debt payments. Instead of sending each lender/creditor a monthly payment, you instead make a single monthly payment to your credit counselor.
The counselor then divvies up the money to your various creditors. In the process, the counselor may be able to have some of your debts or minimum payments reduced.
Debt consolidation creates somewhat conflicting factors affecting your credit score. A debt management program calls for you to close a credit card account once you've paid it off.
This has the negative effect of increasing your credit utilization ratio because you've reduced the amount of credit available. However, paying down debt is a good thing, as it improves your creditworthiness.
By paying down your debt, you decrease the number of missed payments, which means that your payment history will improve over time. Since payment history is the dominant factor (35%) impacting your credit score, debt consolidation can have the biggest effect on your credit score by helping you pay your debts on time.
Closing accounts can hurt your credit score if it increases your credit utilization ratio. It can also damage your score if it reduces the mix of different credit account types you own.
Debt Settlement
Like debt consolidation, debt settlement (or debt relief) involves a counselor who is responsible for dividing up your monthly payments to your various creditors. However, in a debt settlement, your creditors agree to write off part of your debts.
Debt settlement is also part of the bankruptcy process. In a Chapter 7 bankruptcy, your eligible assets are liquidated, and the money is divided among your unsecured creditors.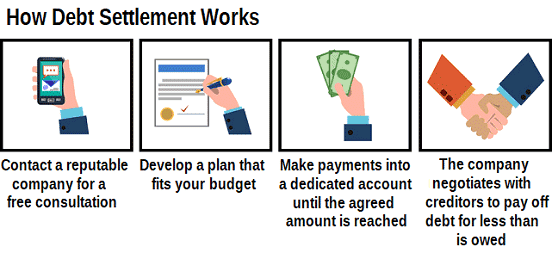 Since the assets seldom are sufficient to repay your debts in full, the creditors write off your unpaid balances and you emerge debt-free. A Chapter 7 bankruptcy remains on your credit report for 10 years.
However, in a Chapter 13 bankruptcy, you and your creditors agree on a court-managed debt repayment plan in which you pay off some of your unsecured debts and the remainder is forgiven. A court-appointed counselor administers the repayment process by collecting money monthly from the borrower and repaying creditors according to the plan. A Chapter 13 bankruptcy remains on your credit report for seven years.
Write-downs and write-offs appear as derogatory items on your credit reports and remain there for seven years. However, the damage to your credit score occurs primarily in the first couple of years.
Notwithstanding the decreasing impact over time, potential lenders and others will be able to plainly see your loan forgiveness and may draw negative inferences regarding your creditworthiness.
How Do I Know if I'm Working with a Legitimate Credit Repair Company?
You can never prove a credit repair organization is legitimate, but you can look at the evidence supporting its legitimacy.
Does the company receive relatively high ratings from industry sources and consumer feedback? Has it participated in a credit repair scam? Has the company been around for 10 years or more? Does the company have a high percentage of satisfied customers?
We only recommend companies we regard as legitimate. Online rating services, in general, can give you a good feel for how well you can trust a credit repair organization. You can also do internet searches to see whether a company has been involved in a credit repair scam.
Credit Repair Near Me: Find the Best Services Online
We started this article with a question: "Can I find credit repair near me?" In response, we've identified three national credit repair companies that operate in all 50 states.
These are not brick-and-mortar companies — they exist only on the web. You can obtain their services from the comfort of your own home. And if your credit history fits a certain pattern, the three credit repair companies may be able to clean up your credit reports and perhaps improve your credit scores.
Using a credit repair company is only one of the tools available to you to improve your credit score. Follow the advice from the makers of the FICO credit scoring system to boost your score, and consider using the free Experian Boost product.
Whether you use a repair company or do it yourself, you deserve to have a clean credit report that allows you to stay on top of your credit profile.
This article content applies to the following states: Alabama, Alaska, Arizona, Arkansas, California, Colorado, Connecticut, Delaware, Florida, Georgia, Hawaii, Idaho, Illinois, Indiana, Iowa, Kansas, Kentucky, Louisiana, Maine, Maryland, Massachusetts, Michigan, Minnesota, Mississippi, Missouri, Montana, Nebraska, Nevada, New Hampshire, New Jersey, New Mexico, New York, North Carolina, North Dakota, Ohio, Oklahoma, Oregon, Pennsylvania, Rhode Island, South Carolina, South Dakota, Tennessee, Texas, Utah, Vermont, Virginia, Washington, West Virginia, Wisconsin, and Wyoming.
Advertiser Disclosure
BadCredit.org is a free online resource that offers valuable content and comparison services to users. To keep this resource 100% free for users, we receive advertising compensation from the financial products listed on this page. Along with key review factors, this compensation may impact how and where products appear on the page (including, for example, the order in which they appear). BadCredit.org does not include listings for all financial products.
Our Editorial Review Policy
Our site is committed to publishing independent, accurate content guided by strict editorial guidelines. Before articles and reviews are published on our site, they undergo a thorough review process performed by a team of independent editors and subject-matter experts to ensure the content's accuracy, timeliness, and impartiality. Our editorial team is separate and independent of our site's advertisers, and the opinions they express on our site are their own. To read more about our team members and their editorial backgrounds, please visit our site's About page.