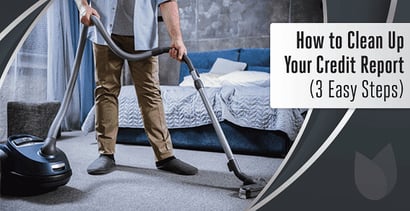 After the last batch of renters moved out of the house next door, the flora making up its unattended backyard began to flourish. In a matter of months, the plants had staged an apparent coup, turning the once-pristine sod into a jungle of weeds and limbs.
As with an unattended yard, a credit report that isn't given regular attention can potentially go wild, its once clean pages sprouting errors, outdated information, or unsubstantiated accounts. And since your credit score is based on the information in your reports, a good score depends on a clean credit report.
The bright side is, like a backyard gone wild, a little credit clean-up can go a long way. It may require some hard work, but thankfully, a lot less sweat. In three easy steps, you can restore your credit report to its former glory. Let's dive into what it takes to get your credit back into top shape with these three key tips. We'll also explore some of our favorite credit repair companies, should you need to enlist professional help.
1. Examine Your Credit Reports & Organize Paperwork
The very first step to cleaning up your credit reports is to actually pull your reports so you can see what kind of shape they're in. Think of it this way: you wouldn't simply dive into an overgrown yard with a weed whacker and hope for the best. You need to get the lay of the land before you start hacking away willy-nilly.
To get the lay of the credit land, you'll need to pull all of your credit reports, one each from the three major credit reporting bureaus, Equifax, Experian, and TransUnion. You can do this for free once a year through AnnualCreditReport.com. A variety of credit tracking and budgeting sites and apps will also provide you with free credit reports and scores, though you may need to sign up with more than one free service to obtain all three reports.
It's important that you check all three of your credit reports on a regular basis. Credit bureaus rely on creditors and lenders to provide the information that winds up in your reports, and may not always provide information to each bureau. In other words, you may end up with accounts or items that show up on one or two reports, but not the others.
Additionally, when you fill out a credit application, the creditor will perform a hard credit inquiry to check your credit. A creditor may check your credit with any — or all — of the three credit bureaus, meaning you could have a hard credit inquiry on one credit report that isn't on the others (or vice versa).
You may also want to find and organize the associated paperwork — physical or digital — that you'll need to verify the items on your credit reports. This includes financial information, such as bills and receipts related to your debts, as well as correspondence with creditors or collection agencies.
With all of your paperwork at hand, you can begin a thorough examination of your credit history. You'll want to go through each item and account on your reports and check for accuracy. This means verifying that all accounts look familiar, but it also entails checking for accurate amounts, dates, and even spelling. Something as seemingly innocent as a misspelled name could result in a misreported debt or other problem.
As you examine your reports, make a list of any issues you need to further investigate or errors that need to be disputed with the credit bureaus and/or information furnishers. This is also a good time to ensure you have any necessary paperwork that you may need to address these issues.
2. Fix Any Wrong, Outdated, or Unsubstantiated Items
After taking a complete inventory of all the potential errors, expired information, or unsubstantiated negative accounts on your credit reports, it's time to start your metaphorical weed whacker and get to cleaning. The way you clear items from your credit report that don't belong there is by filing a dispute with the credit bureau that is reporting the information.
You'll need to file a separate dispute for each individual item, with each bureau. For errors that show up on all three credit reports, this means filing a separate dispute with each bureau for the same item. While this can be done yourself by mailing a dispute or filing one online, many consumers have had success hiring an experienced credit repair company, such as our top-rated picks below.
Most results of any credit repair law firm
Lexington Law Firm clients have seen more than 81 million removals from their credit reports since 2004
Get started today with a free online credit report consultation
Cancel anytime
| Better Business Bureau | In Business Since | Monthly Cost | Reputation Score |
| --- | --- | --- | --- |
| See BBB Listing | 2004 | $99.95+ | 8/10 |
Best-in-class support
In business since 1989
Rapid 35-day dispute cycle, tailored to your situation
90-day 100% money-back guarantee
Low $79 cost to get started, cancel or pause membership anytime
| Better Business Bureau | In Business Since | Monthly Cost | Reputation Score |
| --- | --- | --- | --- |
| A+ | 1989 | $79 | 9.5/10 |
Free online consultation
CreditRepair.com members saw more than 8.6 million removals from their credit reports since 2012
Free access to your credit report summary
Three-step plan for checking, challenging and changing your credit report
Online tools to help clients track results
| Better Business Bureau | In Business Since | Monthly Cost | Reputation Score |
| --- | --- | --- | --- |
| See BBB Listing | 2012 | $69.95+ | 8/10 |
+See More Credit Repair Companies
Although credit repair can be a great way to clean up your credit report, you'll receive the best results if you go into the process knowing what to expect. In particular, you should understand the limitations of credit repair, particularly in what can — and can't — be removed from your credit report through either DIY disputes or a credit repair company.
In general, credit repair is most effective at removing errors, outdated information, fraudulent accounts, or unsubstantiated items. While the credit bureaus are not currently required to verify information reported by creditors before publishing it on your reports, they are required to address any errors or other disputed items and remove information that is inaccurate or fraudulent.
What credit repair can't remove from your credit reports are legitimate accounts that are demonstrably accurate and for which you are legally accountable. In other words, if you have a legitimate negative item, such as a defaulted account, that the furnisher can prove belongs to you, then the credit bureau is under no obligation to remove it.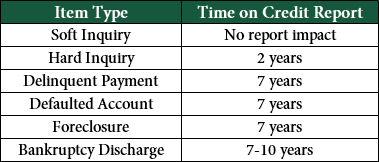 In the case that the items mucking up your credit report are legitimate items that cannot be successfully disputed, the only real way to clean up your credit report is to essentially wait it out. Most negative items and accounts can only stay on your credit report a maximum of seven years (certain bankruptcies are 10 years), after which time they should automatically come off of your reports.
Seven years may feel like an eternity to survive with negative items dragging down your credit score, but you may not have to wait that long to see improvements in your score. As negative items age, they lose some of their impact, and may stop influencing your score entirely before the seven-year limit is reached.
3. Pay Down Debt — On Time
Once the errors, expired information, and other credit debris has been cleared away, you can get to work rebuilding the credit oasis of your lenders' dreams. Start by paying down any existing debt, especially any revolving credit card debt. Reducing your current debt load and improving your utilization rates can have strong positive impacts on your credit report.
Most importantly, however, is to be sure to pay your debts — and every other bill and financial agreement — on time and as agreed. This is the single most important thing you can do to contribute to a healthy credit report, as your payment history counts for a full 35% of your FICO credit score calculation. And the more recent the information, the more weight it is given by the scoring models.
To look at it another way, consider a lush, well-landscaped backyard, with beautiful trees and bushes, a graceful water feature, and luxurious teak furniture — all sitting in mud and patches of dead grass. Hardly a backyard you'd want to relax in, right? Well, no matter what the rest of your credit report looks like, if you have a bunch of recent late payments, that's likely all your lenders will focus on.
Instead, building up a recent positive payment history by avoiding late or missed payments can show that you've rectified your previously irresponsible financial behaviors and are ready — and able — to take on new credit lines. Most creditors want to see at least 12 months free of delinquent payments, while mortgage lenders typically prefer at least 24 months of clean payment history.
A Clean Credit Report Attracts More Lenders
When my erstwhile neighbors returned to sell their now-forested rental property, they were in for a bit of a shock — and so were the prospective buyers who came for the tour. As soon as a wannabe homeowner hit the backyard, he or she immediately turned around, likely striking the house from their mental list as they hurried away. Rather than taking on the enormous task themselves, my neighbors hired a landscaping company to restore the overgrown backyard to its previous glory. The end product was beautiful and it made me put a little time into my own backyard to tidy things up a bit.
Within three weeks, that "For Sale" sign disappeared. The deciding feature for the new homeowners? The beautiful backyard.
Cleaning up your credit reports is more than simply good financial housekeeping — it's the key to attracting the best creditors, rates, and financing deals. A clean credit report is more likely to appeal to potential lenders, encouraging them to not only offer you the financing you need, but to do so with the most favorable terms.
Advertiser Disclosure
BadCredit.org is a free online resource that offers valuable content and comparison services to users. To keep this resource 100% free for users, we receive advertising compensation from the financial products listed on this page. Along with key review factors, this compensation may impact how and where products appear on the page (including, for example, the order in which they appear). BadCredit.org does not include listings for all financial products.
Our Editorial Review Policy
Our site is committed to publishing independent, accurate content guided by strict editorial guidelines. Before articles and reviews are published on our site, they undergo a thorough review process performed by a team of independent editors and subject-matter experts to ensure the content's accuracy, timeliness, and impartiality. Our editorial team is separate and independent of our site's advertisers, and the opinions they express on our site are their own. To read more about our team members and their editorial backgrounds, please visit our site's About page.