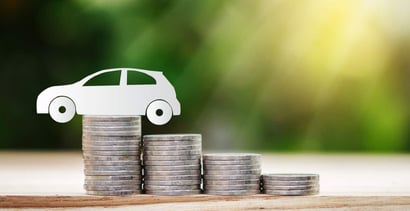 Might we guess that your life has been interesting if you want a high-income bad credit car loan? Well, whatever the twists and turns along the way, you're here now, and we have the information you need to finance your next car purchase. 
We review online car loan sources that will doubtlessly relish working with you. In addition, we answer several frequently asked questions about the nexus of cars, income, and credit. The road ahead may be a little bumpy, but we'll get you where you want to go — the driver's seat of your newest vehicle.
Best Sources For a High-Income Bad Credit Car Loan
Some of these companies are direct lenders, and others are lending networks. All can help you finance a vehicle without letting your bad credit score stand in the way. By operating online, they can structure a car loan for you without needless delay.
With a bit of luck, you'll be driving your new vehicle off the dealer's lot on the same day.
Auto Credit Express works with dealers nationwide to help every borrower with a bad credit score purchase a car. You can start the process by completing a short form on ACE's website.
A local dealer will contact you if you prequalify for an auto loan despite a poor credit profile. The car dealer will arrange an appointment to review your options and the available cars in your price range. The aim is to get you into a new vehicle as quickly as possible, perhaps by the end of the day.
You can receive up to five car loan offers within minutes of submitting a loan request to LendingTree, the same company known for its home loan ads. Each proposal will specify the loan terms you need to know before deciding which one to take. 
If you identify a suitable loan offer, you can complete the paperwork the same day. Many approved applicants purchase their new car in less than 24 hours.
If you can spare a few minutes, Car.Loan.com Auto Loan can prequalify your loan request and distribute it to the largest online US network of auto dealers trained in special finance. They will work with you to finance a car purchase without letting your credit rating hold you back.
Car.Loan.com boasts the fastest car loan network in the country. It claims that most borrowers receive a call from a local car dealer within 24 hours, but you may have to wait only a few minutes after submitting your loan request.
myAutoloan.com can hook you up with lenders that offer a wide array of vehicle financing options — including new and used bad credit auto loans, refinancing loans, and lease buyouts.
You may receive an email with up to four auto loan offers minutes after you submit a short prequalifying form to myAutoLoan.com. Carefully review your offers, as each contains a unique annual interest rate, loan term, and monthly car payment amount.
5. Carvana
Carvana is the modern way to shop for your next vehicle. You can choose your car online instead of trudging around the dealership while dodging annoying salespeople. It's easy to apply for bad credit financing through the website and arrange home delivery of your new vehicle. 

Carvana can finance your purchase through its network or an outside lender. This gives bad credit consumers the most options. Once you receive loan approval, you can complete the entire process in as few as 10 minutes.
6. DriveTime
DriveTime operates in 26 states and uses more than 135 auto dealerships each specializing in bad credit auto loans. You have the option of shopping online or in person. Either way, DriveTime can approve most applicants within minutes, as it has done for more than 4 million car owners since its inception.

The dealer customizes each loan application for the consumer's credit rating and specifies the down payment required for approval. You'll shop confidently, knowing your choices fit within your budget and price range.
7. Capital One Auto Finance
Capital One may provide auto financing from a major bank, yet it still has no minimum credit score requirements for approval. Bad credit borrowers need not worry about a low credit score hurting their chances of receiving a loan offer.

You can use its Auto Navigator tool to see whether you prequalify for financing with no impact on your credit score. You can manage your payments on the Capital One website and is particularly easy to manage if you already have a checking account or credit card with the bank.
Can I Get a Car Loan With Bad Credit But High Income?
Millions of American drivers must contend with bad credit financing and its limitations. Yet a high monthly income goes a long way toward overcoming credit obstacles. Your approval chances are much higher than those of low-income subprime borrowers. 
The purchased vehicle secures a car loan, making approval far easier than obtaining an unsecured personal loan. With the latter, lenders cannot rely on a property lien to cushion the financial loss stemming from defaults. 
Auto lenders can repo the vehicle, auction it off, and recoup their secured loan money, whereas personal loan providers must rely on a collection agency or the courts.
A high income improves your approval prospects for a secured loan, especially if you can make a sizable down payment. The more you reduce the lender's risk, the more forgiving it will be of your past credit problems. 
What Are the Typical Terms of a Bad Credit Auto Loan?
Your credit score influences the loan terms that lenders will offer you. Perhaps the most important loan term is the interest rate. The following chart uses Experian data to demonstrate how your credit score can affect loan terms: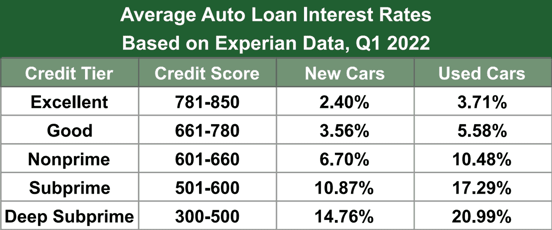 These are average car loan rates, which will vary with current credit conditions, such as changes to the prime rate. Still, they indicate the correlation between a high or low credit score and car loan interest rates. 
Notice how used-car loans charge a higher interest by as much as six percentage points. These numbers include bank and credit union lenders.
Another important loan term is the repayment period, which typically runs from three to seven years. You may opt for a shorter-term loan if you have a high income since it will carry a lower interest rate. 
The loan amount, interest rate, and loan term determine your monthly bill. As mentioned earlier, you can reduce the loan amount and avoid a higher interest rate by increasing your down payment and/or trading in your current vehicle. 
What Is the Lowest Credit Score You Can Get a Car Loan With?
Car loan providers do not always set minimum credit score requirements for loan approval. Instead, they examine your entire financial status and credit history. 
Items such as a recent repo, collection, or bankruptcy can hurt your loan approval chances. It won't help your chances if the IRS or the courts are garnishing your salary. 
But even with a troubled credit history, it's entirely possible that the companies we've reviewed can arrange a car loan for you. 
Much depends on your debt-to-income ratio (DTI), which ideally should be below 36%. A high income is only helpful if large debts don't accompany it.

A significant DTI can ruin your chances for a loan, which means you can help your cause by repaying at least some of the money you owe before applying for a vehicle loan.
How Much Should I Spend on a Car If I Make $100,000?
The rule of thumb is to multiply your annual salary by 36% to figure out the maximum amount you should borrow for a car purchase. On a $100,000 salary, the rule would have a car buyer borrow no more than $36,000 to purchase a vehicle.
Another way to approach the question is to focus on your annual car loan payments. Many experts suggest you keep those payments below 10% of your gross income, or about $10,000 per year on a $100,000 gross income. 
That works out to a monthly payment of $833, which should be enough to finance a $60,000 loan after your down payment and trade-in.
Your money can go further if you lease a vehicle rather than become a car buyer because you only finance the vehicle's depreciation over the lease period, not its manufacturer's suggested retail price. Your down payment on a lease is limited, whereas you can put down as much as you want on a car purchase. 
If you want to keep the vehicle after a lease expires, you can buy it for its preset residual value and finance the purchase. Thus, you could finance the car for up to 10 years — three years as a lease and seven as a purchase. Rolls Royce, anyone?
Can I Get An Auto Loan With No Credit Check?
The top lending networks can arrange no-credit-check auto loans, but they will cost more and impose specific income requirements, such as a DTI below a specified cap. 
Normally, lenders conduct a hard credit inquiry when you apply for a loan. Your credit report lists hard inquiries for two years, but they only impact your score for one year. A no-credit-check loan preserves your current credit score, which presumably is already fragile. 
But the main reason to request a no-credit-check car loan is that your score is so low (or nonexistent) that you are afraid no subprime lender will approve your application. That fear is not necessarily correct. As we discussed earlier, the typical subprime auto lender does not require a minimum credit score.
Therefore, there really isn't any reason to skip the credit check unless your credit history is especially troubled. For example, if you are in the midst of a home foreclosure or bankruptcy proceedings, you may do well to go the no-check route.
Which Credit Score Do Car Dealerships Use For Approval?
You may have more than one credit score attached to your name. Given a choice, car dealerships prefer your FICO Auto Score, which is available in several versions.
Dealers must pay to license access to each FICO score and version. Some dealers prefer to hold onto older versions rather than cough up the money for a new one, which explains why so many different FICO Auto Scores are still in use.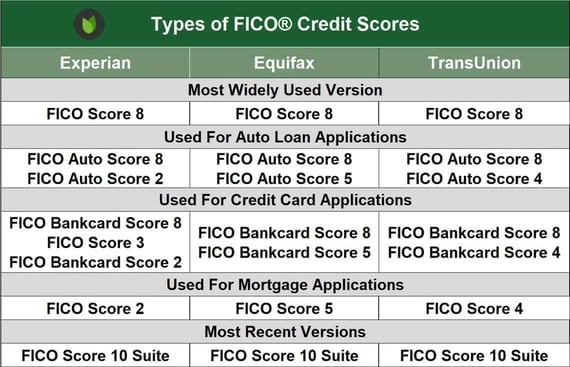 The FICO Auto Score ranges between 250 and 900 instead of the traditional 300 to 850. Experian says the average American has a FICO Auto Score of 701. Knowing which score a dealership uses can help you anticipate how it will interpret your credit history. 
How Do I Improve My Loan Approval Odds?
Your approval odds are already pretty good if you earn a high income. You can do three things to ensure you get a loan with relatively good terms:
Provide a down payment, trade-in, or both: Car lenders love upfront money because they have less to lose if you go belly up on the loan. Moreover, they know you have more skin in the game — you have more to lose by defaulting on your loan. A down payment reduces your loan amount dollar for dollar. Trade-ins also decrease your loan size by an amount you negotiate with the dealer. Combine the two, and you may be able to put down 20% or more, depending on the values of your old vehicle and your new car selection. You can further improve your approval odds by choosing a less expensive new vehicle or perhaps a late-model used one.
Apply with a qualified cosigner: Car dealers are delighted when you can produce a cosigner for your loan. Cosigners qualify by having a good credit score. They are willing to repay the loan if, for some reason, you don't. Lenders know a cosigner's credit score is on the line, as the credit bureaus track the loan payments (or lack thereof) of both you and the cosigner. Therefore, cosigners put their creditworthiness on the line when they affix their signatures to a loan agreement. That's a powerful incentive to ensure the cosigner will step in when necessary rather than risk their credit standing. After all, the last thing a cosigner wants is a demotion to subprime credit due to a repo of someone else's car, which devastates credit scores and remains on your credit report for seven years.
Boost your credit scores: You can increase your subprime credit score by always paying your bills on time. It also helps to pay down your credit card debt so that your credit utilization ratio (i.e., credit spent divided by total credit available) drops below 30%. In addition, you should check your three credit reports (from Experian, Equifax, and TransUnion) for mistakes that are depressing your credit score. You can dispute and remove inaccurate or unverifiable information on your own or with the help of a credit repair company. Many consumers sign up for free services such as Experian Boost, which broadens the types of payments the three credit bureaus collect (e.g., those for utilities, rent, etc.). If you pay those bills on time, you can get an immediate score increase — 75% of consumers with FICO scores of 680 or lower saw their score increase after signing up for Experian Boost. 
Any combination of these three strategies should help you (within reason) get the loan and the car you want.
Find the Best High Income Bad Credit Car Loan Near You
You can contact any of the reviewed loan sources by clicking on the links provided. Unless you carry hefty debts, a high income should overcome any objections to your credit score. 
And if you're willing to allocate $833 of your monthly income to loan payments, you can probably afford a $60,000 loan after your down payment and trade-in. If you can raise your credit score to 680, the same monthly car payment would be sufficient for a $67,000 loan. 
Keep in mind, you can buy a Chevrolet Spark for about $15,000. Just sayin'.
Advertiser Disclosure
BadCredit.org is a free online resource that offers valuable content and comparison services to users. To keep this resource 100% free for users, we receive advertising compensation from the financial products listed on this page. Along with key review factors, this compensation may impact how and where products appear on the page (including, for example, the order in which they appear). BadCredit.org does not include listings for all financial products.
Our Editorial Review Policy
Our site is committed to publishing independent, accurate content guided by strict editorial guidelines. Before articles and reviews are published on our site, they undergo a thorough review process performed by a team of independent editors and subject-matter experts to ensure the content's accuracy, timeliness, and impartiality. Our editorial team is separate and independent of our site's advertisers, and the opinions they express on our site are their own. To read more about our team members and their editorial backgrounds, please visit our site's About page.