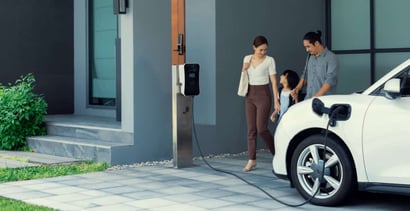 You may have bad financial credit, but owning an electric vehicle earns you social credit for helping protect the environment. It's too bad that EVs typically cost a few thousand dollars more than autos running on gasoline. 
Don't let a poor credit score discourage you from buying an EV. We review a half-dozen lenders that would love to help you finance an environmentally friendly vehicle, regardless of your credit. Any of them could arrange a car loan that will preserve your budget — and the planet.
Best Subprime EV Car Loans
The following companies are a mix of direct and network lenders specializing in bad credit auto loans. They often can arrange same-day bad credit financing so that you can drive your new EV off the lot before the sun sets.
Auto Credit Express works with a nationwide network of local dealers that cater to bad credit borrowers looking for a car loan. You can start the borrowing process by completing a short form on ACE's website.
If you qualify, a nearby dealer will reach out to schedule an appointment to discuss your options and the available EVs in your price range. When approved, you can often drive off on the same day.
PenFed Credit Union can help you get a low-rate car loan. Credit unions offer friendlier terms and lower rates than for-profit lenders. PenFed can provide you with one of the best deals available to subprime borrowers. 
You can quickly prequalify on its website to check whether you're eligible for a bad credit loan offer before you officially apply. Prequalification won't impact your credit score, and although it doesn't guarantee final approval, it reveals whether a loan to the borrower is feasible.
If you already own an EV, RefiJet can refinance your existing loan even if you have poor credit. If your current bad credit car loan has a high interest rate or the monthly payments are too steep, you could potentially lower your rate — and monthly bills — with a refinance loan from RefiJet.
RefiJet claims it can help vehicle owners reduce their monthly loan payments by an average of $150 by refinancing at a lower interest rate. You can also use RefiJet to cash out your equity (i.e., the car's current value minus the loan balance) in your EV. 
You need only a few minutes to prequalify for bad credit financing through Car.Loan.com Auto Loan. The company will distribute your request to the largest network of auto dealers trained in special finance. That means your credit rating need not prevent you from getting a new or used EV.
The network also claims to work faster than any of its competitors. While it promises the typical borrower will hear back from a local dealer within 24 hours, many receive a response within minutes of submitting their loan request.
Qualified applicants can receive up to five offers within minutes of submitting a request for a car loan from LendingTree. Each offer specifies an interest rate, loan amount, down payment requirement, loan term, and monthly car payment.
If you find a bad credit loan that meets your requirements, you can accept the offer and finalize the paperwork the same day. Many approved borrowers complete the entire car-buying process in less than 24 hours.
myAutoloan.com partners with direct lenders that offer consumers a wide array of auto financing options — including purchases, refinancings, and lease buyouts.
You can receive up to four bad credit car loan offers in minutes once you submit a short prequalification form to the network. You can review each proposal to find the loan term, car payment amount, and annual interest rate that best suits your requirements.
What Is a Green Auto Loan?
An auto loan is "green" if it finances an eco-friendly car, such as an EV or hybrid. Here's a chart comparing the features of a loan for a green vehicle to a traditional car loan:
| FEATURE | GREEN AUTO LOAN | TRADITIONAL AUTO LOAN |
| --- | --- | --- |
| Loan Amount | EVs often cost more than conventional cars, so you may need a larger loan or a bigger down payment. | Your loan reflects your ability to negotiate a good deal on a conventional vehicle. |
| Interest Rates | You might get a better deal with lower interest, resembling a discount for being eco-friendly. | Regular interest rates apply, so there are no exceptional discounts here. |
| Government Incentives | The government may give you money back or a tax break for buying a green car.  | Usually no extra money or tax breaks from the government for buying a gas-powered car. |
| Loan Features | Sometimes, these loans provide more flexibility, including taking longer to repay the loan if needed. | Generally, the loan options are standard and don't change much. |
| Eligibility | Your car must be eco-friendly to qualify, i.e., an alternative fuel vehicle or a hybrid. | You can pick almost any car — if you can afford it. |
| Energy Savings | Over time, you'll probably spend less on fuel or electricity, leaving you with extra pocket money. | Gas costs for cars can add up, so there are no extra savings here. |
You may want to consider how much money you'll save in fuel costs over the EV's projected lifetime and compare the figure to the car's premium price. If you plan to keep the car for five to 10 or more years, you may find that the cost savings outweigh the green vehicle's higher price.
How Do I Get an EV Loan With Bad Credit?
Online lending networks do not make loans; they find them. Conversely, credit unions make loans directly. Here's how both alternatives work. 
Online Lending Networks
The first step is to search online for network lenders that offer bad credit auto loans. Read articles (such as this one) and customer comments to get an idea of consumer experiences.
Before you apply, you'll want to know your credit score so you can understand what kind of loan is typical. As you would expect, borrowers with a poor credit history usually must pay a higher interest rate and additional fees to get a car loan.
Once you choose a loan network, complete the online prequalification form on the network's website. The process usually involves answering questions about your financial situation, including income, debt, employment, and housing costs. 
You must be at least 18 years old and a US citizen or permanent resident to apply. Be ready to provide your name, address, Social Security number, driver's license number, insurance vendor, and other identifying information.
You may also need recent pay stubs, tax returns, or bank statements to prove your income and financial stability. Once you've filled out the form, submit it for review.
You'll usually get a response quickly after submitting the prequalification form. Some networks can give you an answer in minutes. If you prequalify, you'll receive information on one or more loan offers, including loan amounts, terms, and interest rates.
You can compare these offers and select the one that best fits your requirements.

Complete the credit application on the direct lender's website, which may require additional information and documentation. After receiving the application, the auto loan lender will perform a hard credit check before finalizing any offer.
Make sure to read and understand the terms and conditions, such as fees and interest rates. You can then make an appointment with the dealer to choose a vehicle and close on the loan.
Credit Unions
Credit unions are direct lenders, so the credit application procedure differs from that for network car loans.
You must first become a member of the credit union if you are not one already. Check your eligibility, which may depend on your employer, location, or other affiliations. PenFed Credit Union is unusual as it has open enrollment. Anyone can join by opening an account and depositing at least $5.
Speak with the credit union's loan officer about the loan terms —  including how long you have to pay back the loan and if it has any special conditions. You can apply by filling out the required paperwork and waiting for a decision, which may take only a few minutes. 
You can sign the agreement after reading the loan terms. The credit union will either provide you with a check to take to the car dealer or send the funds directly to the dealer.
Credit unions are renowned for their community focus and may offer more personalized service compared to other lenders. They can be a good car loan option, especially if you're looking for lower interest rates.
How Do the Costs of Conventional and Electric Vehicles Compare?
Electric vehicles carry higher price tags than their conventional counterparts. For example, the traditional Honda CR-V in range-topping trim costs almost $5,000 less than the hybrid version. But purchase costs are only part of the picture.
The following chart compares the major cost components of conventional versus electric vehicles:
| WHAT YOU PAY FOR | CONVENTIONAL VEHICLES (GAS) | ELECTRIC VEHICLES |
| --- | --- | --- |
| Buying the Car | You don't pay the premium for EV technology. Conventional versions of a vehicle are usually less expensive. | Electric cars usually cost more at first, but you may save money in other ways later on. |
| Insurance | Normal rates apply. | Some electric cars can be more expensive to insure due to higher repair and replacement costs for specialized parts and batteries. |
| Fueling Up | Gas prices fluctuate and may often exceed the cost of electricity. | Gas usually costs more than electricity. So, whenever you recharge an electric car, you're likely saving money. |
| Fixing the Car | Gas-powered cars have more parts that can break, so you might be seeing the mechanic more often than with an electric vehicle. | EVs have fewer parts that need maintenance. You could save on service and repairs in the long run. |
| Insurance | Your premiums depend on several factors related to the driver, the vehicle, your credit history, and the level of coverage. | Some automobile insurance companies offer discounts to EV drivers, which may help lower your premiums. |
| Extra Perks | If EV sales are hot, you may get a discount on a regular vehicle.  | You may get money back from the government for buying an EV. |
| Charging Gear | You don't need charging equipment, but you may want to keep a jump starter onboard in case your battery dies. | You may need to buy a home charger, although retail charging stations are becoming more available. Some cities provide free electricity when you park at a charging meter.  |
| Resale Value | You usually have a good idea of how much you can sell a regular car for in the future. | The amount you can sell the EV for later might differ from that of a gas-powered car. The resale price may fluctuate, and be higher or lower than expected. |
| Overall Cost | It may cost more over time due to high gasoline prices and more frequent repairs. | If you add it all up, an EV could end up being cheaper overall, even if it's more expensive upfront. |
The conclusion is that an EV may be cheaper in the long run. However, there are many variables (such as fuel prices, length of service, miles driven, and upkeep costs) that cloud predictions. Another factor is how much you value driving a car that minimizes pollution, which may be hard to express in monetary terms.
Are EVs Worth Their Higher Prices?
EVs may very well be worth their higher prices, but it depends on multiple factors. Here is an example of a long-term cost comparison that accounts for the significant variables.
Suppose you are trying to decide whether to get a conventional or EV version of the same vehicle. You plan to put down $2,000, repay the loan over five years, and own the car for 10 years.
Assumptions
Assume the following scenario:
Price: There is a $4,000 price difference between the two cars. In this case, the conventional vehicle costs $26,000, and the electric car costs $30,000.
Loan Term: 5 years (60 months)
Interest Rate: 10% APR (typical for consumers with bad credit)
Down Payment: $2,000 for either car
Insurance: The EV costs an extra $200 annually to insure
Given these assumptions, we can perform the financial calculations for each vehicle.
Conventional Vehicle
Let's calculate the 60-month costs for the conventional vehicle, assuming you make all loan payments on time.
Amount Financed: ($26,000 – $2,000) = $24,000
Monthly Payment: $510.94
Total Loan Payments: ($510.94 x 60) = $30,656.40
Fuel Cost (10 years): $14,400
Maintenance (10 years): $5,000
Insurance (10 years): $7,000
Down Payment: $2,000
Total 10-Year Cost: ($30,656.40+ $14,400 + $5,000 + $7,000+ $2,000) = $59,056.40
The 10-year cost assumes routine maintenance. To simplify the analysis, we don't consider the trade-in value after 10 years or changes to insurance costs.
Electric Vehicle
The electric vehicle has a higher purchase price but lower operating and maintenance costs.
Amount Financed: ($30,000 – $2,000) = $28,000
Monthly Payment: $595.44
Total Loan Payments: ($595.44x 60) = $35,726.40
Fuel Cost (10 years): $3,600
Maintenance (10 years): $3,000
Insurance (10 years): $9,000
Down Payment: $2,000
Total 10-Year Cost: ($35,726.40 + $3,600 + $3,000 +$9,000 + $2,000) = $53,326.40
These figures reflect the EV's lower costs for fuel and maintenance.
Break-Even Analysis
In this context, break-even analysis reveals the point in time when both vehicles have the same overall costs:
Cost Difference Over 10 Years: $59,056.40 (Conventional) – $53,326.40 (Electric) = $5,730
Break-Even Time: Initial Price Difference / Annual Savings = ($4,000) / $5,730 / 10) = 7 years
The EV is significantly less expensive over the 10-year period. This chart summarizes the results:
COSTS
CONVENTIONAL VEHICLE
ELECTRIC VEHICLE
DIFFERENCE
(EV – CONVENTIONAL)
Initial Cost
$26,000
$30,000
+$4,000 
Down Payment
$2,000
$2,000
Same
Amount Financed
$24,000
$28,000
+$4,000
APR
10%
10%
Same
Monthly Payment
$510.94
$595.44
+$84.50
Total Loan Payments
$30,656.40
$35,726.40
+$5,070
Fuel Costs (10 Years)
$14,400
$3,600
-$10,800 
Maintenance (10 Years)
$5,000
$3,000
-$2,000
Insurance (10 Years)
$7,000
$9,000
+$2,000
Total 10-Year Cost
$59,056.40
$53,326.40
-$5,730
Annual Savings with EV
N/A
N/A
$573
Break-Even Time
7 Years
In this example, you would need to own the EV for seven years to break even and start realizing cost savings. The annual savings would continue for the remaining three years, making the electric car a less expensive choice for the 10-year ownership period.
We suggest you adapt this example to your real-world situation when deciding between a conventional vehicle and an EV or hybrid. 
The results will depend upon the actual prices, down payment, interest rate, operating costs, and expected ownership period. You'll save money (but not air quality) with the conventional vehicle if you own the car for less than the break-even period.
Can I Get an EV Car Loan With a 525 Credit Score?
A 525 credit score is very poor but not impossible to overcome when looking to purchase an EV. 
The reviewed lenders work with consumers of every credit stripe. They can also suggest ways to qualify for a car loan even if you have inferior credit.
Some things you can do to increase your approval chances include making a larger down payment, recruiting a cosigner, trading in your current car, and purchasing a less expensive vehicle. 
Used cars from quality manufacturers are an excellent alternative because the original owner has already paid for most of the depreciation associated with new inventory.
You Can Go Green Even If Your Credit Is Bad
Bad credit need not stop you from driving a green car. Their price penalty should continue to drop as their popularity increases and technology improves. 
The reviewed lenders are eager to finance your next vehicle — or refinance your current one — regardless of fuel source. Whichever way you decide to go, don't let your low credit score discourage you from finding the right car for your circumstances.
Advertiser Disclosure
BadCredit.org is a free online resource that offers valuable content and comparison services to users. To keep this resource 100% free for users, we receive advertising compensation from the financial products listed on this page. Along with key review factors, this compensation may impact how and where products appear on the page (including, for example, the order in which they appear). BadCredit.org does not include listings for all financial products.
Our Editorial Review Policy
Our site is committed to publishing independent, accurate content guided by strict editorial guidelines. Before articles and reviews are published on our site, they undergo a thorough review process performed by a team of independent editors and subject-matter experts to ensure the content's accuracy, timeliness, and impartiality. Our editorial team is separate and independent of our site's advertisers, and the opinions they express on our site are their own. To read more about our team members and their editorial backgrounds, please visit our site's About page.