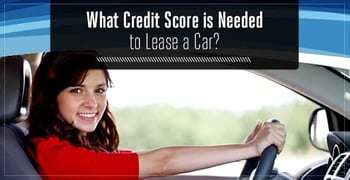 If you're wondering what credit score is needed to lease a car, well, like so many things in the finance world, the answer isn't completely definitive. A lot of different factors are at play, so the minimum score needed for one person may be different than the score needed for another.
The decision to lease a car can be a very practical one for many people — and especially for those with less-than-perfect credit. That's because leasing often has lower credit score requirements than if you were to try purchasing the same vehicle.
If you've decided that leasing a car is right for you, you're probably wondering about the minimum credit score you're going to need to get approved. Again, as with most things related to finances, the answer depends on many variables. Even a bad credit score doesn't automatically disqualify you from getting approved for a car lease; it just means you have to educate yourself on the options available.
Sources Suggest 620 is the Average Minimum Score
Banks and other lending institutions rely on a potential borrower's credit score in deciding whether to approve a lease and under what terms. The better your credit score, the better the leasing terms and the less money you'll typically need to put down on a vehicle.
Leasing industry trade groups generally agree that a FICO score of 620 is the average minimum score for approving a lease application. Of course, that's not to say someone with a lower score can't lease a car; it just means they will have a harder time qualifying, and will likely pay more for the lease.
A Credit Score Below 600 is Considered a Subprime Lease
According to most experts in the field of auto financing and leasing, the best lease terms are reserved for those with credit scores above 700. For those with scores lower than this, leasing options still exist in the subprime financing category.

A subprime borrower will generally have to put more money toward the vehicle in up-front costs, and a security deposit may even be required. The lower a credit score is, the more onerous these terms can become. A score below 600 or so is often referred to as deep subprime or super subprime, and may entail even more restrictions and higher lease payments.
4 Tips for Bad Credit Approval
The good news for folks with bad credit who want to lease a car is that there are ways to get around the subprime leasing trap. Here are some easy tips to follow if you find yourself in this predicament.
Shop dealerships and car brands. Often a particular car dealership or manufacturer will have a need to get vehicles out of their inventory and can be more flexible because of this.
Consider a co-signer. If you have someone with good or excellent credit who can co-sign for a lease, this can help get you approved at much better terms and payment levels.
Review and fix errors on your credit report. This can take a few months to fully affect your credit score, but by removing erroneous entries on your report you can raise your number to a more acceptable level.
Be flexible in your choice of vehicles. You may have your sights set on a top-of-the-line model, but by choosing a less expensive or popular car, you may be more likely to get approved.
Whenever making a big purchase, such as a car, research is key. By utilizing these tips, you'll increase your odds of finding the best deal, regardless of credit score.
Consider a Subprime Auto Loan if Your Score is Below 620
Although leasing is generally considered the better choice for people with low credit scores, this is not always the case. Sometimes it can make more sense to purchase a vehicle rather than leasing it. One reason for this is simply that lenders approve more bad credit auto loans than they do bad credit leasing agreements.
Fully 80% of all new vehicles are financed rather than leased — which means subprime auto loans are more competitive. There is also more flexibility in getting a subprime loan than there is in leasing. Often by putting a little more money down on the vehicle, it can lower the interest rate you pay on the loan. And this can make your car purchase more affordable.
Network of dealer partners has closed $1 billion in bad credit auto loans
Specializes in bad credit, no credit, bankruptcy and repossession
In business since 1999
Easy, 30-second pre-qualification form
Bad credit applicants must have $1500/month income to qualify
| Interest Rate | In Business Since | Application Length | Reputation Score |
| --- | --- | --- | --- |
| 3.99% - 29.99% | 1999 | 3 minutes | 9.5/10 |
Free, no-obligation application
Specializes in auto loans for bankruptcy, bad credit, first-time buyer, and subprime
Affordable payments and no application fees
Same-day approval available
Connects 1000's of car buyers a day with auto financing
| Interest Rate | In Business Since | Application Length | Reputation Score |
| --- | --- | --- | --- |
| Varies | 1994 | 3 minutes | 9.0/10 |
Loans for new, used, and refinancing
Queries a national network of lenders
Bad credit OK
Get up to 4 offers in minutes
Receive online loan certificate or check within 24 hours
| Interest Rate | In Business Since | Application Length | Reputation Score |
| --- | --- | --- | --- |
| Varies | 2003 | 2 minutes | 7.5/10 |
Final Thoughts on Subprime Leasing
Leasing a vehicle can have its advantages, but when your credit score is considered subprime, this can be a challenge. Now that you know all of the requirements and subtleties of subprime leasing, you can decide whether this is the right choice for you. You can also decide whether waiting for your credit score to improve is a better choice. Finally, consider getting a subprime auto loan, and purchasing the vehicle you're interested in. As with most financial decisions, knowing your options puts you in a better position to decide.