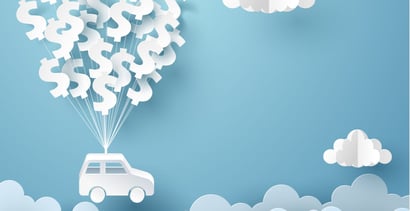 Did you know you can get auto loans with no payments for 90 days even if you have bad credit?
Most people don't have several thousand dollars laying around to get a new car. With the lending networks listed below, you could get approved for a new auto loan within hours of applying.
And, depending on the lender you choose to work with, you may not have to make your first car payment for 90 days. That allows you to get your finances in order, while still having the reliable transportation you need to earn a living.
Best Auto Loans With No Payment For 90 Days
The online auto lending networks we review send your loan request to all of the partner lenders on the network. These lenders make loan decisions in a matter of minutes. Some applicants receive multiple auto loan offers via email shortly after submitting a loan request.
Each loan offer comes with a unique interest rate, required monthly payment, and loan term. Some lenders give a 90-day grace period before your first payment is due. Be sure to study each loan offer carefully and know the exact terms you're agreeing to before accepting any offer.
Network of dealer partners has closed $1 billion in bad credit auto loans
Specializes in bad credit, no credit, bankruptcy and repossession
In business since 1999
Easy, 30-second pre-qualification form
Bad credit applicants must have $1500/month income to qualify
| Interest Rate | In Business Since | Application Length | Reputation Score |
| --- | --- | --- | --- |
| 3.99% - 29.99% | 1999 | 3 minutes | 9.5/10 |
Auto Credit Express works with borrowers who have a bad credit score to connect them to auto financers and new and used car lots that can provide vehicle financing. Each lender has different payment requirements, but many provide a 90-day grace period without payment.
Most lenders require at least $1,500 in monthly pre-tax income, but that number could vary depending on your lender, the car you're purchasing, and your total cash down payment.
Free, no-obligation application
Specializes in auto loans for bankruptcy, bad credit, first-time buyer, and subprime
Affordable payments and no application fees
Connects thousands of car buyers with auto financing daily
| Interest Rate | In Business Since | Application Length | Reputation Score |
| --- | --- | --- | --- |
| Varies | 1994 | 3 minutes | 9.0/10 |
Car.Loan.Com claims that it maintains the largest online network of auto dealers trained in special types of financing. This results in thousands of approved loans every day — many of which go to consumers who have a bad credit score.
This network partners with independent lenders as well as several types of car dealerships (including local buy here, pay here lots). Once you submit your loan request, a local lender or dealer will contact you to go over your options, as well as the available vehicles in your price range.
Loans for new, used, and refinancing
Queries a national network of lenders
Bad credit OK
Get up to 4 offers in minutes
Receive online loan certificate or check within 24 hours
| Interest Rate | In Business Since | Application Length | Reputation Score |
| --- | --- | --- | --- |
| Varies | 2003 | 2 minutes | 7.5/10 |
You will receive an email within a few minutes of submitting a loan request to MyAutoloan.Com. That email could contain up to four loan offers that each lender can complete within a matter of hours.
Once your loan is complete, you can shop online or at a local dealer for the car that fits your needs and budget. Qualified borrowers can receive financing for a new or used vehicle purchase, as well as refinance, private party, and lease buyout loans. After you close your loan, most lenders on the network provide a 90-day grace period before your first payment is due.
Can I Wait 90 Days to Make My First Car Payment?
This depends on the lender you work with. Some lenders will require your first payment within 30 days after your loan closing. Others may give a 60-day (two months) grace period. It's becoming increasingly more common for lenders to provide 90 days before your first payment is due.
Just about every credit union member who qualifies through their financial institution can receive 90 days before their first payment. As a result, many private lenders now provide the same window to qualified borrowers.
This is called a deferred payment. And your lender will set the rules for how the offer works. Several types of deferred payments could be available to you:
Standard Deferred Payment: This could be a 60-, 90-, or even 120-day window in which you do not have to make a payment. While this helps you get your finances in order after purchasing a car, it can make your loan more expensive, since your annual percentage rate of interest still accrues during this window. For example, a 60-month loan of $25,000 with 4% interest will add more than $200 in interest to your loan principal during the 90 days you don't make a payment.
No Interest, No Payments for 90 Days: You may have heard this catchphrase on car dealership commercials. It's a tremendous savings — though most borrowers do not qualify for the deal. With this promotion, your credit approval will earn you a loan with no interest charges as long as you make on-time payments. This means you can enjoy 90 days without payments and have no interest penalties during that time.
Waived Payments: Some dealers will waive your first two or three payments based on creditworthiness and the financial institution you finance through. This means that you essentially get a rebate that will cover your first loan payments. With this promotion, the dealer erases the first two or three payments from your debt. You will still accrue your annual percentage rate of interest during this time, but your payments are covered and lessen the amount you owe on the car.
You can still make payments during any 90-day window in which you do not have a payment due. It's smart to send in something to the lender — even if it is just enough to cover the interest charges for that month.
As stated earlier, you can accrue an extra $200 in interest to an average vehicle loan during that 90-day window. That means you add an extra payment to the end of your loan that you would not have if you covered the interest charges during your promotion.
When is Your First Payment Due After Buying a Car?
Your lender will set your loan term and the date when your first payment is due. Some lenders provide a deferred payment program in which your first payment is not due for either 60 or 90 days. Some lenders will require payment within 30 days.
Lenders may also provide a deferred payment as an incentive for signing up for an automatic payment program, in which the bank deducts your payment automatically each month from a linked checking account.
This program sometimes unlocks other perks as well, including payment protection and more competitive auto loan rates. If you agree to one of these programs, make sure it is listed on your loan application or is added, in writing, to your existing auto loan paperwork before you sign it.
Your eligibility for deferred payment or competitive rates may depend on your credit history, the type of vehicle you purchase, or your down payment amount.
Can You Skip a Car Loan Payment?
You should never skip a car loan payment without first contacting your lender. Some lenders offer a deferred payment program that may allow you to miss a payment for a small fee.
This program allows borrowers who are in good standing to defer payment for one month. This does not mean you totally get to skip the payment or that it removes the payment from your loan balance.  The lender will add the missed payment onto your loan — along with a fee.
For example, a 60-month loan will become a 61-month loan, and you will still accrue interest charges during the month you skipped.
Do not skip your payment without first contacting your lender. Every financial institution reports your monthly payments and remaining balance to at least one of the three major credit bureaus. Your payment will be reported as late once you are past due by 30 days or more. This can shave as many as 100 points from your credit score.
A late payment can also trigger a penalty that will increase your interest rate as well as your monthly payment amount. It may also increase your auto insurance premium. And when the next payment due date rolls around, you'll owe two payments instead of one — including any late payment fees you've accrued.
If you can't make a payment, contact your lender to see which programs or assistance they can offer to help.
Can I Get Approved For a Car Loan Before Going to a Dealership?
Many consumers get preapproved for a new auto loan or motorcycle loan before shopping at a dealership. Preapproval allows you to know exactly how much car you can afford, which helps while you're shopping around.
Your approved credit also makes the process of purchasing your vehicle faster and easier.
When a lender or bank preapproves you for an auto loan, you receive paperwork (and sometimes a check) that you can take to the dealer when you shop. If you agree to purchase a vehicle, the dealer can fill out the check for the amount of the vehicle — including sales tax, dealer fees, and other charges — and get you on your way faster. Just make sure the total cost is within your preapproved budget.
Some preapproved loans also have a better interest rate than what you may find if you apply for a loan after you find the vehicle you want to buy.
Preapproval lessens the stress and gives you more flexibility during negotiations. After all, when a dealer knows that you already have approved credit, his or her motivation to make a sale only increases.
How Do You Pay Your First Car Payment?
Within 10 days after your loan closing, your new lender will send you paperwork that provides all of the details for your loan. Some lenders will also include a payment book that lets you send in your payment each month via check or money order with the corresponding payment number from the book. Mail-in payments typically can not be made in cash.
Each slip from the payment book will tell you the payment's due date and the address that you should send the payment to. If you did not receive a payment book, the lender will likely send you a bill each month detailing how much you owe, when your payment is due, and where you should send your payment.
Most lenders prefer paperless billing — which means they do not incur the cost of printing invoices each month. This allows you to make your payment online through a linked checking account or savings account.
These payments may process automatically and won't require you to send anything through the mail to the lender.
How Many Months Can You Go Without Making a Car Payment?
On-time payments are the only way to ensure that an auto loan will help to improve your credit score. But sometimes you may have to submit a payment late.
A lender will report your payment as late to each credit bureau once it is officially 30 days past due. A 30-day late payment can be harmful to your credit score.
If you miss another month, the lender will report a 60-day late payment. This hurts your credit history even more.
After a third month, the lender will report a 90-day late payment to each bureau. This is the worst type of late payment you can have on your credit report. This is also around the time the lender will begin the paperwork needed to repossess your vehicle.
During this time, the payments you skip will not disappear. They simply accrue onto the amount you need to pay to bring your account up to date. So skipping a payment means that the following month, you will need to make two payments, plus any late fees the lender adds to your total.
Aside from the credit damage you take on with late payments, it also creates a negative entry on your credit report that will affect your credit score for seven years. That can make it very difficult to get a new loan during that time.
Can You Get a Car Financed With No Credit?
There's a big difference between bad credit and no credit, although many consumers and lenders clump them together.
Bad credit means you have financial mistakes in your past. No credit means that you're new to credit and have not established enough history to generate a reliable credit score.
Lenders are often willing to lend to someone who has no credit to help them establish a credit history. Since these loans come with some risk, they will often have a higher interest rate than a loan given to someone who has a good credit history.
Your loan may not be as expensive as a loan for someone who has bad credit, though.
The lending networks listed above all accept applications from consumers who have no credit. The lenders associated with these networks specialize in curating auto loan, recreational vehicle loan, and motorcycle loan packages for applicants who struggle to qualify for a loan from a traditional financial institution.
And the best part about an auto loan is that it improves your credit mix. With on-time payments, you can quickly build your initial credit history with an auto loan from one of the lending networks above.
Can I Get Approved For a Car Loan on Unemployment?
If unemployment is your only source of income, you may have trouble finding a lender that will approve your loan application.
When you apply for a loan, the lender will ask you for your current income details. This can include income from several different sources, such as:
Regular employment
Unemployment
Government benefits
Child support, alimony
Structured settlement
Retirement benefits
Student aid
Social Security income
Investments
Most states limit how long a consumer can collect unemployment benefits — with most capping the program at six months. If unemployment is your only source of income, the lender will want to know how you will make your monthly payment and auto insurance payment if you have not found steady employment by the time your benefit runs out.
If you have other sources of income, such as those listed above, you can improve your chances of loan application approval.
Read the Fine Print Before Accepting Auto Loans With No Payment For 90 Days
You may welcome a 90-day period without payments if buying a new car has your finances in disarray. But just remember that nothing in life is truly free. You will continue to add interest charges to your auto, motorcycle, or recreational vehicle loan balance during that time, which could extend the life of your loan.
That said, auto loans with no payments for 90 days from the lending networks above can make it easier to replace your car when it unexpectedly stops running. After all, your other bills won't wait for you to save up enough for a new ride.
Advertiser Disclosure
BadCredit.org is a free online resource that offers valuable content and comparison services to users. To keep this resource 100% free for users, we receive advertising compensation from the financial products listed on this page. Along with key review factors, this compensation may impact how and where products appear on the page (including, for example, the order in which they appear). BadCredit.org does not include listings for all financial products.
Our Editorial Review Policy
Our site is committed to publishing independent, accurate content guided by strict editorial guidelines. Before articles and reviews are published on our site, they undergo a thorough review process performed by a team of independent editors and subject-matter experts to ensure the content's accuracy, timeliness, and impartiality. Our editorial team is separate and independent of our site's advertisers, and the opinions they express on our site are their own. To read more about our team members and their editorial backgrounds, please visit our site's About page.