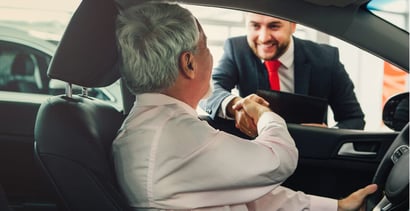 You can rent to own furniture, appliances, and electronics, but did you know that there are rent to own cars for bad credit?
These deals are a bit different from your traditional car lease. Instead of focusing solely on brand new cars, a rent to own car dealer may have a wide variety of vehicles on a lot that you can purchase with no credit check and little money down.
Just as with other rent to own items, your monthly payments will go toward the purchase price of the vehicle. The vehicle is yours to keep, free and clear, once you've made your final payment.
Best Rent to Own Car Lenders For Bad Credit
Only specific auto dealers offer rent to own deals. You can't walk onto any car lot and rent any vehicle you choose.
Instead, you'll create an agreement with these specialty dealers to make minimum rental payments for a specified time. After fulfilling the terms of the service, you will take possession of the vehicle permanently.
Just remember that the car is not yours until you make the final payment. As with any rental, the seller can repossess the car if you're late or if you miss a payment. If that happens, you'll lose any money you put into the vehicle and your rent to own agreement will end.
Network of dealer partners has closed $1 billion in bad credit auto loans
Specializes in bad credit, no credit, bankruptcy and repossession
In business since 1999
Easy, 30-second pre-qualification form
Bad credit applicants must have $1500/month income to qualify
| Interest Rate | In Business Since | Application Length | Reputation Score |
| --- | --- | --- | --- |
| 3.99% - 29.99% | 1999 | 3 minutes | 9.5/10 |
Auto Credit Express works with a nationwide network of dealers that specialize in handling unique credit situations — including rent to own vehicles. Once you submit your single loan request form to the network, it can connect you with a car dealership in your area that may be able to help you get into your next car.
Depending on your creditworthiness, this process can move fast. Many applicants get approved and purchase their vehicle within one day — many leave the lot with a car that same day. ACR maintains one of the largest networks of dealers and lenders on the internet, which makes them a clear top choice for car buyers who need bad credit auto financing.
2. Car Loans of America

The CarLoansOfAmerica.com network can pair you with a rent to own vehicle dealer in your area that won't require a credit check for approval and can help you get your vehicle with little money down and little time wasted.
If you aren't interested in rent to own vehicles, this network can also help you access buy here, pay here dealerships as well as traditional new and pre-owned vehicle lots that each have a finance team that will work to find a credit solution for you.
3. AutoNet Financial

AutoNet Financial claims that its short three-minute loan application can put you in contact with car dealers in your area that specialize in bad credit auto financing. This includes rent to own dealers, buy here, pay here dealers, and more.
You won't pay to use this network. Instead, AutoNet receives a referral fee from any car dealership it connects to an approved borrower.
4. CarsDirect

The CarsDirect.com network of dealers focuses on bad credit financing, including some options for rent to own vehicles with no down payment. These cars will instead require weekly payments until you satisfy the payment agreement.
Not every dealer offers a deal with no down payment. The terms of your offer will depend on the dealer in your area and the car you wish to purchase.
What is a Rent to Own Car Deal?
Rent to own vehicles are also called lease to own cars, but it's not the same as traditional leasing.
With a rent to own vehicle, you take possession of a car and make weekly or bi-monthly payments for a predetermined period of time. Once you make the final payment, the car is yours to keep. If you stop making payments, the lender can repossess the vehicle, and you lose the money you've paid until that point.
Your rent to own contract does not list your name on the vehicle's title until you make the final payment. Until then, the dealer retains all ownership rights, but you're responsible for maintaining insurance coverage and paying for any possible repairs during the rental period.
Many consumers who have a low credit rating take advantage of rent to own vehicles because they rarely require a credit check and will look past a poor credit history. But that doesn't mean that these deals are your best bet for a bad credit car loan.
Since you're technically renting the car until your final payment, a rent to own vehicle does not report your payment history to any credit bureau, which means you won't build credit with timely payments. In many ways, a rent to own vehicle deal is like putting a Band-Aid over your bad credit problem. It may help the situation temporarily, but it won't fix the problem.
Another issue that often arises from rent to own car dealerships is that the vehicle selection is usually limited to older cars with pre-existing issues. These cars do not include warranties of any sort, and you're on the hook for any needed repairs while the vehicle is in your possession.
This may work for some people who simply cannot find affordable auto financing, but there are other subprime auto loan options to consider.
One of these options is a bad credit auto loan for a new or used vehicle with a competitive interest rate and an affordable monthly payment. And since many online auto loan networks partner with dealerships around the country, you can connect with a local car lot that specializes in low credit score financing and start your car-buying process right away.
Is Rent to Own the Same as Lease to Own?
Rent to own car deals are often referred to as lease to own agreements — but there are many differences between the two.
For starters, a traditional vehicle lease typically involves a new car with low mileage and a full warranty. The lessee agrees to a monthly payment plan and has a set number of miles he or she can add to the car.
Once the lease term ends, the lessee can return the vehicle with no strings attached. If he or she wants to keep the car, a purchase agreement can make that happen.
With a rent to own agreement, the purchaser takes possession of the used vehicle as is, with no guarantees or warranty. If anything goes wrong with the car after it leaves the lot, the renter has to pay for all of the repairs.
Instead of a monthly payment, these agreements often require a weekly payment or bi-weekly payment. During the payment period, the car still belongs to the dealer. When you make the final agreed-upon payment, the dealer transfers the car's title into your name and you own it.
If you stop making payments — or simply miss payments — during the rental period, the dealer can repossess the vehicle and you lose any interest you have in the purchase.
And since these car lots often work with no-credit-check purchases and pre-owned vehicle sales, you can expect a sparse selection of older cars to choose from. That's important to consider since you'll also have to take on the responsibility of any repairs.
Does a Rent to Own Car Purchase Require a Credit Check?
Most rent to own vehicle dealers will not require a credit check for approval. That's because you're technically renting the car until you make your last payment. That makes it easier for the dealer to regain possession of the car if you miss a payment.
Instead of a traditional credit check, you'll sign a modified rental agreement that allows you to take over the ownership of the vehicle after you make your final payment. The number of payments and amount you pay for each payment will vary based on the dealer and the cost of the vehicle you're renting to buy.
Your dealer will also determine if you'll need to place a down payment on the day you take possession of the car. Not every dealer will require money down, but some may charge a fee for processing your application and paperwork. This is sometimes referred to as an origination fee.
Avoiding a credit check may seem nice if you seemingly have no finance options — but there may be options you can consider for a subprime auto loan.
Each lender that works with poor credit car financing can curate a loan package to meet your interest rate and monthly payment needs. Even better, you'll have access to a larger selection of vehicles for sale. Most will have warranties and can help you improve your credit report with on-time payments.
Do I Need a Down Payment For a Rent to Own Car?
Each rent to own agreement is unique. Your dealer will determine whether you'll need a down payment to satisfy the rental to own deal. Some dealers may require your first payment upfront, whereas others may require a larger down payment to reserve the car you choose.
In just about every case, a rent to own car deal will require a weekly payment or biweekly payment from the purchaser. These frequent payments often negate the need for an upfront cash deposit when you take possession of the vehicle.
You may also be able to skip a down payment because you're technically not engaging in the purchase of a vehicle at the time of the agreement. In all legal terms, you're renting the vehicle for a set amount of time. Each payment you make is considered a rental payment until the term of your deal ends.
As long as you've made all of your payments, the dealer will finalize the agreement by signing the vehicle over to you. From that point on, you own the vehicle and owe no further payments.
What is the Lowest Credit Score Needed to Buy a Car?
Car dealers do not publicize their credit score requirements for auto loan approval. This is because your credit score and credit history is only one facet of what's considered when you apply for a loan through a car dealership, bank, or credit union.
When preparing to apply for a loan, you should also consider:
Income requirements: A good credit score is nice, but it means very little if you don't have enough money to make your monthly payment. A lender will look at your income compared to your current monthly payment obligations to make sure that you have enough money to cover the cost of your new loan. Most lenders will consider income other than paychecks from regular employment. You can also include government benefits, disability benefits, retirement income, Social Security income, alimony, child support, an annuity, student aid, or other regular income streams on your application.
The value of the car: Lenders try to avoid risk by only lending amounts below the value of the vehicle. That way they can recoup the lost funds if you default on the loan and it has to repossess and sell the vehicle. If the vehicle's value is less than the loan amount, you may struggle to find approval.
Your payment history: Late payments, defaults, or collection accounts on your credit report can sink your credit score. But they especially hurt if they're recent. Older negative items lose their impact on your credit score as long as you replace them with positive items. If you have recent negatives — either from a personal loan, auto loan, mortgage loan, or credit card — you may have trouble finding approval. If your negatives are in your past, you may have more luck with a lender.
An auto loan is a form of a secured loan, meaning that your new vehicle is used as collateral if you stop making payments. This reduces some of the risk associated with lending money to consumers who have bad credit.
As a result, your poor credit score may still qualify for a loan that gets you the car you need at a more affordable price.
How Can I Finance a Car With No Credit?
Having no credit means that you have a limited amount of data on your credit report, which makes it impossible to generate a reliable credit score. While lenders may see this as a risk that's on par with someone who has bad credit, it still won't disqualify you from getting a car loan.
In many ways, having no credit is better than having bad credit. Many auto lenders are willing to give you a chance to prove yourself with a subprime auto loan that has a higher-than-average interest rate to offset the risk involved.
The best part about these loans is that they improve your credit mix, and with timely payments, they can help you quickly generate a good credit score and have you on your way to an excellent credit score.
The best way to find one of these lenders is to apply through an online auto lending network. These networks partner with independent auto lenders and dealers that specialize in financing for applicants with bad or limited credit. Once you submit your single loan request to each network, a lender or dealer that partners with the network will contact you to set up an appointment to go over your vehicle and finance options.
After you receive your options, you can choose to officially apply for a loan with the lender or dealer and continue to shop elsewhere. There's no obligation on your end to agree to a deal once you submit a loan request.
But if you decide to move forward with the loan, you can fill out the necessary loan paperwork at the dealership or online. In most cases, you can complete the purchase of your vehicle that same day.
Is a Rent to Own Car a Good Idea?
A rent to own vehicle deal may be your best option — or potentially your only option — if you have a very bad credit score and no down payment or trade-in vehicle to offer.
But if you can check off any of the boxes above, you may have more luck than you expect when applying to an auto lender that specializes in bad credit auto financing.
But before you decide which option is best for you, consider the pros and cons of a rent to own car deal:
Pros
There's no credit check: Without this hurdle, just about anyone can qualify for a rent to own vehicle.
There's no interest rate: Your weekly or bi-weekly payments cover the rental of the vehicle until you make your final payment. That means you won't have to pay interest since there's no money lending going on.
Cons
There's no warranty: These cars are typically older models with preexisting issues. And when something breaks or stops working, it's up to you to pay to get it fixed.
It won't help build credit: Since you aren't borrowing money, your payments won't reflect on your credit report. That means you can't build your credit with timely payments. On the other hand, a late payment won't hurt your credit score, either.
Not a great vehicle selection: Don't expect new — or even newish — vehicles. Rent to own vehicle lots usually have cars that dealers purchased from auctions that have been in accidents or have previous mechanical issues. While these issues may be fixed before the sale, there's always a chance of future problems down the road. And car problems can get expensive quickly.
Don't pull the trigger on a rent to own car before you research all of your options. You can typically attempt to prequalify for an auto loan without harming your credit score. Trying this option can at least give you an idea of your ability to get a loan despite having bad credit.
It doesn't hurt to try — and you just may surprise yourself with the results.
What Finance Options Do I Have For Buying a Car?
There are many ways to finance the purchase of a vehicle — including a traditional loan from an independent lender, bank, or credit union. You can also visit a buy here, pay here car lot, purchase a rent to own vehicle, or supply a trade-in vehicle to lower the cost of your new ride.
Some of these options don't require a credit check, and those that do may still provide opportunities for borrowers who have bad credit. Just expect any financing option for poor credit borrowers to contain a higher interest rate and financing charges than a traditional loan.
Compare Rent to Own Cars For Bad Credit Online
You may think that a rent to own car for bad credit is one of your best financing options if you have a poor credit history. After all, these dealers don't run a credit check and can get you into a car with minimal money down and little hassle. But that convenience may come at a great cost to you.
These older vehicles often have preexisting mechanical issues that you'll have to pay for. They also typically charge a high interest rate and offer little leniency if you miss a payment. And you shouldn't expect a warranty or any service deals on these vehicles.
And since you're renting the car for the duration of the deal, you can't rebuild your credit with on-time payments. Perhaps consider instead prequalifying for a subprime loan through an online auto lending network.
These networks partner with dealers and independent lenders from around the country. In little time, you could qualify for a loan that gives you a broad selection of vehicles to choose from that may come with a warranty, and your payments can help you transform your poor credit score into good credit over time.
Advertiser Disclosure
BadCredit.org is a free online resource that offers valuable content and comparison services to users. To keep this resource 100% free for users, we receive advertising compensation from the financial products listed on this page. Along with key review factors, this compensation may impact how and where products appear on the page (including, for example, the order in which they appear). BadCredit.org does not include listings for all financial products.
Our Editorial Review Policy
Our site is committed to publishing independent, accurate content guided by strict editorial guidelines. Before articles and reviews are published on our site, they undergo a thorough review process performed by a team of independent editors and subject-matter experts to ensure the content's accuracy, timeliness, and impartiality. Our editorial team is separate and independent of our site's advertisers, and the opinions they express on our site are their own. To read more about our team members and their editorial backgrounds, please visit our site's About page.