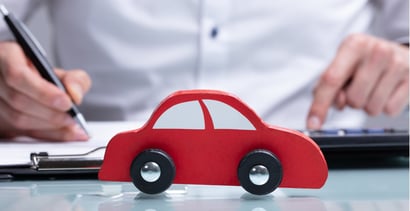 We've researched providers of 600 credit score car loans and have identified three that we recommend as our top picks. The availability of auto financing for consumers with a score as low as 600 is vital because many need cars for commuting to work, transporting the family, and dozens of other activities.
In addition, a car can serve as collateral for a title loan or cash-out refinancing that can be a source of quick cash when you need it. As with any financial transaction, be sure to understand all the details before signing on the dotted line.
Loan Networks | Approval Tips | FAQs
Best Auto Loans for 600+ Credit Scores
These three car loan networks can connect you to a local dealer that is willing to work with bad-credit consumers. Each network has an extensive reach throughout the country for most automobile brands, both new and used.
Many of these dealers offer in-house auto financing that may not require a credit check. Best of all, the service is free and you're under no obligation to accept a bad credit auto loan offer.
Network of dealer partners has closed $1 billion in bad credit auto loans
Specializes in bad credit, no credit, bankruptcy and repossession
In business since 1999
Easy, 30-second pre-qualification form
Bad credit applicants must have $1500/month income to qualify
| Interest Rate | In Business Since | Application Length | Reputation Score |
| --- | --- | --- | --- |
| 3.99% - 29.99% | 1999 | 3 minutes | 9.5/10 |
It takes less than a minute to prequalify for a car loan from Auto Credit Express. Simply complete the convenient loan request form by entering your average credit score, pre-tax monthly income, housing costs, minimum monthly debt repayments, and any garnishments on your earnings.
If you're at least 18 years old and meet the income requirement, Auto Credit Express will forward you to the lender best suited to your needs. From there, you can complete the application process, receive a quick decision, and receive your loan in as little as one business day.
Michigan-based Auto Credit Express is a member of the Internet Brands Auto Group. Its website uses your loan request to calculate an estimated approval amount before asking you to complete the loan application. An Auto Credit Express Auto Loan Specialist can help you figure out how much you can afford to borrow to purchase or refinance a car.
Free, no-obligation application
Specializes in auto loans for bankruptcy, bad credit, first-time buyer, and subprime
Affordable payments and no application fees
Connects thousands of car buyers with auto financing daily
| Interest Rate | In Business Since | Application Length | Reputation Score |
| --- | --- | --- | --- |
| Varies | 1994 | 3 minutes | 9.0/10 |
A bad credit score of 600 won't stop Car.Loan.com from working with you to find a direct lender in your neighborhood. It takes only three minutes to fill out the short loan request form.
Car.Loan.com then shares your loan request with its network of dealers that are comfortable lending to folks with subprime credit. Normally, you'll get an immediate response from a dealer or lending partner matched to your needs.
Car.Loan.com was founded in 1994 as a member of the Internet Brands Auto Group and is based in El Segundo, California. Its website offers a loan estimator, payment calculator, and informative articles about bad-credit borrowing. The company emphasizes how quickly it can arrange a loan and you may receive a follow-up phone call within minutes of submitting your application.
Loans for new, used, and refinancing
Queries a national network of lenders
Bad credit OK
Get up to 4 offers in minutes
Receive online loan certificate or check within 24 hours
| Interest Rate | In Business Since | Application Length | Reputation Score |
| --- | --- | --- | --- |
| Varies | 2003 | 2 minutes | 7.5/10 |
The myAutoLoan.com lending service operates a little differently than its competitors in that it can provide you with multiple links to lenders in your area. To prequalify for a loan, you must be a U.S. resident, at least 18 years old, with an annual income of at least $18,000 and a need to borrow at least $5,000. A car you wish to refinance can be up to 10 years old and have up to 125,000 miles on the odometer.
Horizon Digital Finance owns and operates myAutoLoan.com, which is headquartered in Irving, Texas. Its website is a rich source of information and tools related to automobile financing.
If you are a qualified subprime borrower in the market to refinance your car, myAutoLoan.com may be able to arrange a loan credit account with no payments for 90 days from select lenders.
Approval Tips and Ways to Improve Your Poor Credit Score
While the loan sources reviewed here will be happy to work with you regardless of your poor credit score, consider the following tips before and during the application process to improve your chances for approval.
Recruit a Cosigner
You can substantially increase your chances for approval by recruiting a cosigner for a loan or credit account. Both you and the cosigner will be responsible for timely payments. At first blush, it sounds like a great idea. However, keep these factors in mind:
Appropriate choices: If you want to enlist a cosigner, you must find someone who is both willing and eligible. That cosigner will need to be at least 18 years old, with a solid payment history and a good to excellent credit score. It's one thing to identify an eligible cosigner and another to get that person's signature on your loan. Carefully consider who you ask lest you create bad feelings if you're turned down. Stick to people you trust and who trust you.
Relationship risk: Cosigners with excellent credit want to avoid damage to their payment history, making them more likely to repay the loan even if you don't. However, consider what that would do to your relationship with your friend or family member who cosigned your loan. You owe it to yourself and the cosigner to take this approach only if you are committed and able to make your payments without your cosigner's intervention.
Formality helps: You may be close to your cosigner, but by committing a formal plan to paper, you may be more likely to remain close. The plan should include a realistic budget showing how you can afford to repay the loan. If you prepare your plan in advance, you will appear mature and serious about not taking your cosigner for granted. Ask politely, without histrionics or a guilt trip, and if refused, accept it gracefully. If you coerce someone to become a cosigner and then default on your responsibilities, the ill will may be hard to ever overcome.
Plan B: If you simply cannot make your payments, you should be ready to return the car rather than leave your cosigner on the hook. Your cosigner may be willing to make the payments so your car isn't repossessed, but don't presume that that's the case. You can commit to returning the car if you can't make the payments by pledging to do so in your written plan.
An honest relationship with your cosigner is your best preparation if problems should arise.
Use More Equity
The difference between the value of a car and the loan balance is your equity in the vehicle. Equity shows up in several contexts:
Purchasing a car: You create equity in the new or used car you want to purchase by making a down payment. Some lenders may not require a down payment, but typically, you'll be asked to put down at least 10%. However, the more you can put down, the better your chances of having your loan approved. Not only does a large down payment signal your commitment to the deal, but it will also reduce your monthly payments and/or the loan term. Ask the lender what down payment it requires and offer at least 5 to 10 percentage points more.
Refinancing your car: If you are currently paying off a loan on your car, you're building equity over time as the loan balance declines. The excess of your equity above the required down payment is the amount available for a cash-out refinance loan. This is a way to get a cash loan secured by your car and is often easier to obtain than a purchase loan. You can shop around for the best refinance deal — you're not obligated to refinance with the original lender. You increase your chances of successfully refinancing your car by making all your payments on time. You can apply to multiple lenders, but if you do so, do it within a 30-day period. This is considered loan shopping and will limit the damage to your credit score by treating multiple hard inquiries on your credit report as a single one.
Title loan: You can get a title loan if your car has no loan balance (i.e., you have 100% equity in your vehicle). The good thing about a car title loan is that most lenders don't check your credit because your loan is secured by your vehicle. Thus, even if your score is 600 (or less), you can still get a title loan. However, unless you're sure you can make your payments on time, we recommend you find an alternative to a title loan. The reason is that your car can be repossessed if you miss a payment.
Title loans usually carry an above-average interest rate, and 20% of title loans result in repossession. You've been warned!
Boost Your Credit Scores
If you can wait a few months before applying for an auto loan, you may be able to raise your credit score first. You can accomplish this by fixing up your credit reports — the ones issued by the big three credit bureaus — Experian, TransUnion, and Equifax.
Your credit reports may contain mistakes and missing information that needlessly lower your credit score. You can dispute the bad information and, if successful, have it removed. That can result in a significant score increase.
You start by ordering your three reports from AnnualCreditReport.com, the only federally authorized free credit report source. When they arrive, review them for unfamiliar charges or unauthorized accounts.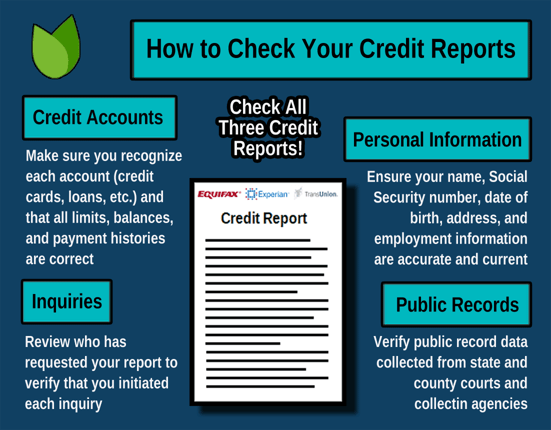 If you find anything that seems inaccurate, file a dispute online with the appropriate credit bureau website. You should get a decision within 30 days, and you can appeal unfavorable decisions.
Or you can hire a professional credit repair company to do the heavy lifting for you. They are experts at eliminating questionable items from your credit report. You'll pay between $79 and $150 per month, and most clients subscribe for six months.
If you can't wait for your loan, you can still give your score a quick pop by signing up for Experian Boost. This is a free service that broadens the universe of payments for which you get credit when paid on time. Results will be immediate, albeit modest.
Adopt Creditworthy Behavior
You can permanently increase your low credit score if you adopt creditworthy behavior. The principles are easy to understand, even if they are difficult to implement in the real world. Nevertheless, if you can make progress on these issues, you're likely to see your credit score improve.
After you've fixed up your credit history, the most beneficial behavior is to consistently pay your bills on time, every time. Late payments can show up on your credit reports and drive your scores down.
Conversely, if you show several months of timely payments, you should start seeing your scores rise. Consider setting up automatic payments so you don't have to depend on your memory.
Another important goal is to reduce your debt, as measured by your credit utilization ratio (CUR). This is the ratio of credit used divided by credit available. You want to get the ratio below 30%, and ideally 20% or lower.
Don't close credit accounts even when fully repaid because your score suffers when you increase your credit utilization ratio. In fact, it's helpful to occasionally use your old cards. Another advantageous move is to decrease your interest rates by refinancing above-average interest rate loans.
Lastly, refrain from unnecessarily applying for new credit. Asking to open new accounts can hurt your score, especially when you apply for several accounts within a short period. This damages your credit rating because it gives the appearance of financial distress.
However, if you are rate shopping for a bad credit auto loan, you can avoid significant damage to your credit rating if you complete your research within 30 to 45 days. When rate shopping, the credit bureaus treat multiple inquiries during a short period as a single one.
Can I Get an Auto Loan with a 600 Credit Score?
If you've ever dealt with car salespersons, you know that they will do just about anything to get you into a vehicle. While a 600-credit score is not in any sense helpful, it's also not an automatic deal killer either.
That's especially true of in-house car financing, Buy Here Pay Here auto dealers. These dealers use their own money to finance car loans, giving them the flexibility that the manufacturers' finance operations cannot match.
The three networks reviewed here all feature internal car financing (or "tote the note") dealerships. They have figured out the costs of having to repo a car versus the profit from a sale and have designed their lending strategies accordingly. For many dealerships, that strategy allows them to lend to borrowers regardless of their credit scores.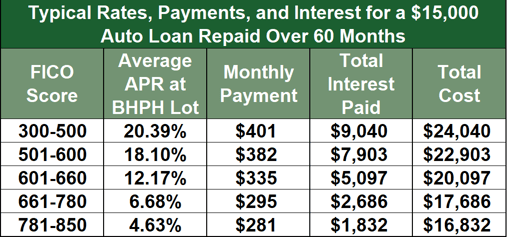 Self-financing dealerships make it easier to buy a car by focusing on your income rather than your credit score. In addition, they are often willing to accept older trade-ins that aren't in pristine condition. Naturally, the selection of cars available to you will be circumscribed by your financial condition, but that's true for most car buyers.
As you balance these advantages, understand that you'll pay a higher interest rate (see below) and down payment at these dealerships You also may have to make each car payment in person, sometimes on a weekly basis, and the car may be equipped with a vehicle tracking device.
Given the limitations you must endure because you have a credit score of 600, the lenders' terms for a bad credit car loan seem reasonable. The three lending networks do a high volume of loan-matching referrals for bad-credit consumers, so evidently the buying public agrees that owning a car is worth paying the higher financing costs.
Cash-out refinancing a car may be easier to arrange than a purchase loan, especially if you've kept current on your payments. It's unlikely that the lender will impose conditions that aren't already in place for the existing loan. Title loans can be even easier since you've demonstrated that you can pay off the debt (if any) you owed on the car.
The last factor facilitating car loans for low-score consumers is that the loans are secured, collateralized by your down payment, and the value of the financed vehicle. In the worst-case scenario, a tow truck will show up to repossess your car. This makes it easier to obtain a bad credit car loan than it is to get an unsecured personal loan.
What Kind of Auto Interest Rate Can I Get with a 600 Credit Score?
As previously discussed, getting a car loan with a 600 credit score is a balancing act. Part of that act is having to pay an interest rate that's likely to be two to four times higher than it would be for a traditional auto loan for a prime borrower from a bank or credit union.
That translates to around 12% for new cars and just under 17% for used cars on average in the current environment. While high, the loan's APR is lower than the interest rates on an unsecured credit card available to consumers with subprime credit (but not necessary on a secured credit card). Also, a card's credit limit will likely be too small.


The rate for consumers with scores below 500 is likely to hover around 14% for new cars and 20% for used cars financed at independent dealers. Dealers may be willing to grant a loan term of up to 84 months to help keep the payments affordable, but long terms will inflate the total amount of interest you'll pay. Most loans have no prepayment penalties, so you can repay your loan at any time to avoid further interest charges.
The size of your down payment, if any, may affect the loan interest rate. By making a down payment of 20% or more, you agree to put more skin in the game, and that may earn you a slightly better rate. Similarly, your disposable income after housing and debt service payments may impact your APR.
The higher interest rate you'll pay clearly demonstrates the importance of doing what you can to improve your credit score. If you raise your score from 600 to 700, you'd be eligible for a car loan at a significantly lower rate with a good credit score — about 5% on a new car and 6.3% on a used one. A credit score above 780 will earn you a rate between 4% and 5%.
How Much Car Loan Can I Qualify For with a 600 Credit Score?
The available size of your car loan will probably be smaller than that of an auto loan for a prime borrower at a bank or credit union. The loan amount depends on several factors, including your credit score, monthly income, rent/mortgage payments, minimum debt payments, and garnishments.
A handy loan amount calculator, like the one at Car.Loan.com, can translate these inputs into an approximate maximum loan amount.
For example, if your credit score is 575, your pre-tax monthly income is $2,500, and your rent is $700 per month, the loan calculator estimates you'd be eligible for a $20,000 loan. This assumes you have no other debts or garnishments.
If your score were instead 625, your maximum loan amount would rise to $22,500. On the other hand, if you applied for a no-credit-check car loan, the loan amount would fall to $15,000.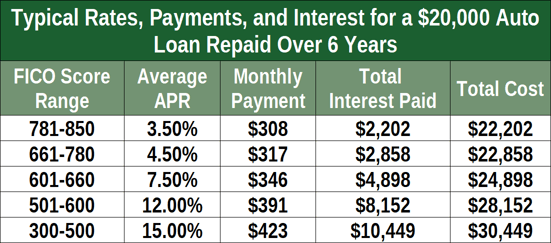 These are merely illustrations — your actual loan amount may depend on additional factors, such as your down payment, trade-in, and desired vehicle. Also, different calculators will be programmed with diverse assumptions that will yield varying results.
The important point is to nail down all the details with your auto lender before you agree to accept an auto loan.
Which Credit Score Do Auto Lenders Use?
The dominant credit score used throughout the United States is FICO, initially launched in 1989 by the Fair Isaac Corporation. FICO scores have evolved over the years, and the principal one used today is FICO Score 8.
Interestingly, there is a specialized version of this score known as FICO Auto Score 8, which is the preferred version for auto lending loans reported to the three major credit bureaus.
Older versions are also supported by the credit bureaus as follows:
Experian: FICO Auto Score 2
Equifax: FICO Auto Score 5
TransUnion: FICO Auto Score 4
FICO Score 8, with a credit score range of 300 to 850, serves as the starting point for the FICO Auto Score 8. FICO tweaks the calculation to reflect the risk behavior that is specific to the car loan industry.
The resulting Auto Score helps lenders predict whether you're likely to make every car payment on time. In the process, the credit score range for FICO Auto Score 8 became 250 to 900.
A "good" FICO Auto Score 8 is usually considered to be 700 and above. However, there is no universal minimum score needed for auto loans — the decision rests with the auto lender.
As scores descend below 700, credit approval becomes scarcer and the loan rate rises. But as the three reviewed lending services demonstrate, you can overcome a low credit score if your income and expenses fall within the lender's standards.
What Will My Monthly Payment Be?
Your monthly payment is calculated using the loan amount, the loan rate, and the number of months until the loan expires. The monthly payment is an auto loan's most important metric because it indicates whether the subprime borrower can afford the loan — that is, can repay the full amount each month, on time.
When considering the repayment terms of an auto loan, it's a good idea to play around with a payment calculator. You first enter the car's price, your down payment, the amount of the loan, and loan term. Then, you can put in various APRs to calculate how much you'll pay each month.
This is a good way to match your loan terms to your budget. If you find that the monthly payment breaks your budget, consider making a change:
Increase the number of months.
Decrease the loan amount.
Shop for a lower interest rate.
Save up a larger down payment.
Improve your bad credit score to become eligible for better terms.
Select a cheaper car.
Buy used rather than new.
Use a payment calculator to model different scenarios until you find one that fits your budget. Note that the loan is due in equal installments, making it less flexible than an unsecured or secured credit card, where you only need to make the minimum payment each month and the credit limit is relatively small.
Research and Compare 600 Credit Score Car Loans Online
When it comes to 600 credit score car loans, you have options. You may want to negotiate directly with dealerships, but it's much more efficient to rely on the three loan matching services in this review. Each can link you to at least one direct lender based on the information you provide.
Why wander from lot to lot when you can make your arrangements online in just a few minutes? Given that 2020 is the year of the pandemic, getting an auto loan online can be good for your health and the health of your finances.
Range of credit scores covered in this article: 600, 601, 602, 603, 604, 605, 606, 607, 608, 609, 610, 611, 612, 613, 614, 615, 616, 617, 618, 619, 620, 621, 622, 623, 624, 625, 626, 627, 628, 629, 630, 631, 632, 633, 634, 635, 636, 637, 638, 639, 640, 641, 642, 643, 644, 645, 646, 647, 648, 649, and 650 credit score.
Advertiser Disclosure
BadCredit.org is a free online resource that offers valuable content and comparison services to users. To keep this resource 100% free for users, we receive advertising compensation from the financial products listed on this page. Along with key review factors, this compensation may impact how and where products appear on the page (including, for example, the order in which they appear). BadCredit.org does not include listings for all financial products.
Our Editorial Review Policy
Our site is committed to publishing independent, accurate content guided by strict editorial guidelines. Before articles and reviews are published on our site, they undergo a thorough review process performed by a team of independent editors and subject-matter experts to ensure the content's accuracy, timeliness, and impartiality. Our editorial team is separate and independent of our site's advertisers, and the opinions they express on our site are their own. To read more about our team members and their editorial backgrounds, please visit our site's About page.