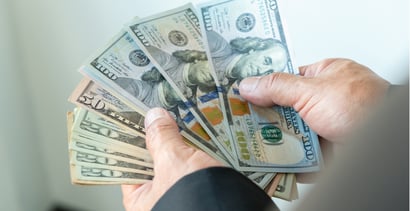 If your credit score is sad and forlorn, you just may be keenly interested in cash advance loans with no credit check required. While certainly in the minority, several companies may be able to get you a cash loan without submitting you to a hard credit check with a credit bureau.
The cash advances and installment loans reviewed below can provide emergency loan relief to keep your finances afloat for short periods of time. You usually need to repay a small loan quickly, with cash advances explicitly tied to your next paycheck, while installment loans give you at least three months to repay.
Cash Advance Services That Use Soft Credit Pulls
These nine companies prequalify you for a short-term loan without requiring a hard pull of your credit file from a credit bureau. They are all lender-connection services that rely on networks of direct cash loan providers willing to lend money to borrowers with bad or thin credit.
The companies can prequalify you via a soft credit check of your credit that won't impact your credit score. Importantly, they can help you quickly if you need an emergency loan, even if it's just a small loan. None of these companies charge you an origination fee for their services — the direct lenders on the networks pay the network for referrals and closed loans.
Short-term loans up to $5,000
Online marketplace of lenders
Funds available in as few as 24 hours
Simple online form takes less than 5 minutes
Trusted by more than 2 million customers
| Loan Amount | Interest Rate | Loan Term | Loan Example |
| --- | --- | --- | --- |
| Up to $5,000 | Varies | Varies | See representative example |
Based in Las Vegas, online lender matcher MoneyMutual has been arranging loans since its founding in 2010. It can arrange a cash advance with a single repayment date or if you prefer, a cash advance personal loan. You must be at least 18 years old and have a reliable income of $800 or more per month.
Another Las Vegas-based company, CashUSA specializes in arranging installment cash advances for consumers with bad credit. Applicants must permanently reside in the United States, be 18+ years old, and have a monthly after-tax income of at least $1,000. You'll also need a valid email address, a checking account in your own name, and a working phone number.
BillsHappen can help get you a short-term personal loan via its direct online lender network. To qualify, you must be a U.S. citizen or permanent resident, 18 years of age or older, with a monthly income from any dependable source. If your loan is approved, the proceeds will be transferred electronically to your financial institution in as little as one business day.
Nowhere on its website does CreditLoan specify its prequalification requirements, although we're sure they basically match those of the other lender networks. You can prequalify by completing the short loan request form and, if successful, finishing the loan application process with the lender of your choosing. You can repay your loan in as few as three months, although longer repayment periods are available.
To prequalify for a loan, Bad Credit Loans requires you to be at least 18, have proof of citizenship or residency, an active checking account, a regular monthly income, and a valid phone number and email address. The company resides in Tacoma, Washington, and has been in business since 1998, working with a network of state-licensed and Tribal loan providers. There is no fee for its service, and it can also help you obtain a line of credit if you prefer.
PersonalLoans.com in Roosevelt, Utah, can arrange fast cash loans in all 50 states. Applicants must be 18 or older, legally reside in the United States, and have a verifiable monthly income of $500 or more. Some of the direct personal loan providers on the PersonalLoans network may demand a credit score of 600 or higher, but most do not exclude borrowers because of low credit ratings or a troubled credit history.
24/7 Lending Group is similar to PersonalLoans.com above in that it offers the same range of loan amounts and caters to both good credit and bad. These advances can be repaid in two months or longer.
SmartAdvances.com can help you land a loan without a hard credit check — just submit your information online to be matched with offers tailored to your financial circumstances. Most payday lenders do not require a hard credit pull for approval as long as you can prove your income and link your bank account.
CashAdvance.com specializes in payday loans, which aren't legal in every state. This means you may not qualify for a loan from CashAdvance.com, depending on where you live. When you submit a loan request on CashAdvance.com, its lending partners may obtain consumer reporting and other related information about you.
What is a Cash Advance Loan?
A cash advance loan is a short-term loan, typically used to help meet pressing urgent cash needs. A payday advance loan charges extremely high interest and repayment is timed to coincide with your next paycheck. In fact, the lender may withdraw the lump-sum repayment directly from your bank account on the due date.
A cash advance installment loan has a lower interest rate and allows you to repay the loan over several months. While these are meant to address short-term cash needs, you may be able to stretch the installment loan repayment period up to 72 months.
Can I Get a Cash Advance Without a Credit Check?
All the reviewed lender network services offer to prequalify you for one or more cash advance options without conducting a hard credit check.
However, the direct lenders the services recommend may perform a hard credit check. If you read the fine print on the lenders' loan applications (and you should!), you'll see that submitting an application authorizes the lender to perform a hard pull of your credit.
Usually, a hard credit check is not necessary for a payday cash advance, as long as you can demonstrate the required income. This is one of the upsides of a payday advance loan, and it helps to explain why a payday lender can charge astronomical APRs, as these loans may be the only way some consumers can borrow money.

In some cases, you may be able to specify that you want a no-credit-check cash advance installment loan. Doing so will usually result in the loan, if approved, with the highest interest rate charged by the loan provider.
Some lenders that advertise no-credit-check loans are usually referring to hard pulls from a major credit bureau, although they may use a secondary credit reporting agency, such as Teletrack. CoreLogic's Teletrack provides borrower risk assessments to interested third parties.
A relatively new way of getting a payday cash advance is through payday lender mobile apps designed for this purpose, described later in this article.
How Can I Borrow Money Without a Credit Check?
There are several no-credit-check alternatives to the network-based lenders reviewed in this article, including:
Credit card instant cash advance: This is money you borrow from your credit card, up to the limit set by the card issuer. There is usually a fee, and possibly a higher APR, charged for credit card cash advances. These instant cash advance loans are meant to be very short-term since interest is charged daily starting from the transaction date. You don't need to receive approval for this type of cash advance; just visit a cash machine or branch of the issuing bank or credit union. This approval bypass is possible because the issuer performed a hard credit check when it approved your unsecured card and set its limits. If you have a secured credit card, you probably escaped any credit checks since your security deposit collateralizes your card balances. You can usually take a cash advance from a secured credit card, which is essentially borrowing from your secured account, at a lower APR than that charged by a similar unsecured credit card. Many credit cards set their cash advance limits well below the overall spending limit. Your monthly statement should show you your limits, along with balances and APRs.
Pawn loan: Pawn shops will pay you cash for items you bring into the shop. These are technically loans (with high fees and APRs) since you can get your property back by redeeming your pawn ticket for the amount owed. If you haven't repaid the loan by a set date, the pawnshop is free to sell the item to third-party buyers. While a pawn loan doesn't require a credit check, it is expensive and may result in the loss of the item pawned.
Cash-out refinancing: If you own a home or car, you may be able to refinance it for more than your current balance, based on your equity in the property (i.e., the difference between the sale value of the property and the loan balance) rather than your creditworthiness. Homeowners may also be able to get a revolving home equity line of credit (HELOC) without refinancing their current mortgage. If you own a car free and clear, you may consider taking out a title loan on the vehicle. A title loan is a secured loan that doesn't need a credit check because, unlike an unsecured loan, a secured loan is collateralized — in this case, by your car. Be careful to make your payments on time and avoid visits from the repo agent. Generally, when you are in the market for a bad credit loan, an unsecured loan is more difficult to obtain because of the lender's greater loss risk — without collateral, the lender may have to sue to recover a bad credit loan.
Borrow from family or friends: This may be the easiest way to borrow money, as it almost certainly will avoid credit checks and may charge low or no interest. While this may seem ideal, you are potentially jeopardizing a personal relationship should you fail to repay the loan.
These alternatives (except the family/friends loan option) charge relatively high interest rates and fees. Unfortunately, that's often the cost of borrowing money with no credit check — sometimes you end up in the hands of predatory lenders. Our policy at BadCredit.org is not to support predatory lenders.
Which Apps Let You Borrow Money From Your Paycheck?
Several apps provide a fairly new alternative to the conventional payday cash advance. You can usually borrow up to $500 at an affordable APR to be repaid with your next paycheck.
The following is a partial list of instant payday loan apps:
These instant payday loan apps work by linking to your existing bank account, where you receive regular direct paycheck deposits. The apps may or may not perform a hard credit check, depending on how they are designed. For example, an app may approve a modest loan based on your direct deposit history.
What is the Easiest Loan to Get With Bad Credit?
A collateralized loan is usually the easiest to get. These are online loan offerings backed by your property or by your next paycheck. The collateral, not your credit history, does the talking.
APRs can range from reasonable to ridiculous, with online and in-store paycheck loan interest rates usually in the three- or four-digit percentage range.
The online cash advance services reviewed above make it easy to find a lender. They will connect you to one or more direct lenders without first performing a hard credit check (although the direct lender may do so). It's even more likely that a cash advance app will avoid credit checks, but the amount they will advance is usually quite limited.
If you are a business owner, you may suddenly need a small business loan or a merchant cash advance. However, you may be able to get a personal loan instead of a small business loan if your business hasn't established a credit history.
Compare Cash Advance Loans Online
Our review of cash advance loans with no credit check shows that a bad credit history need not prevent you from borrowing money. You can find out more about the reviewed cash advance services and apply for an online loan by clicking on the START NOW link in each summary box.
Remember to read all the disclosures before accepting a loan from any source — sometimes, what you don't know can hurt you, or at least hurt your wallet.
Advertiser Disclosure
BadCredit.org is a free online resource that offers valuable content and comparison services to users. To keep this resource 100% free for users, we receive advertising compensation from the financial products listed on this page. Along with key review factors, this compensation may impact how and where products appear on the page (including, for example, the order in which they appear). BadCredit.org does not include listings for all financial products.
Our Editorial Review Policy
Our site is committed to publishing independent, accurate content guided by strict editorial guidelines. Before articles and reviews are published on our site, they undergo a thorough review process performed by a team of independent editors and subject-matter experts to ensure the content's accuracy, timeliness, and impartiality. Our editorial team is separate and independent of our site's advertisers, and the opinions they express on our site are their own. To read more about our team members and their editorial backgrounds, please visit our site's About page.