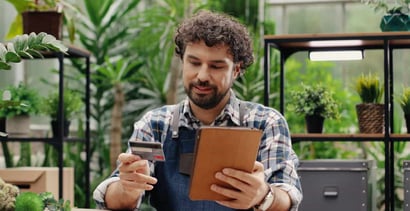 It's hard enough running your own business without poor credit souring your access to low-interest financing. Your 80-hour workweeks could be just a little easier if you had a credit card with a limit high enough to finance some much-needed purchases. 
Fair enough — here are 11 candidate cards that can shore up your business's financial clout. They are a mix of business and personal credit cards, with a few prepaid debit cards thrown in for good measure. They're all available to companies with anemic credit but want more flexibility in managing working capital. 
Business Cards For Poor Credit
Few business cards welcome applicants with subprime credit. Here are three that do just that.
1. Business Advantage Unlimited Cash Rewards Secured credit card
The Business Advantage Unlimited Cash Rewards Secured credit card from Bank of America can help you build credit through consistent, timely payments. You'll also earn cash back rewards.

Unlimited 1.5% cash back on all eligible purchases
$1,000 minimum security deposit
$0 annual fee
The card's benefits include cash flow management tools, online and mobile access, travel and emergency services, and free access to your business credit score. It is the best credit card among those for small businesses with unestablished credit.
2. Brex Card
The Brex Card helps you earn top rewards and establish a credit history by drawing payments from your balance daily, similar to a debit card. This business card is available without a minimum balance to startups and poor-credit companies of any size.

Earn up to 8x reward points on card purchases
Card limit is up to 100% of your Brex cash account's available balance
$0 annual fee
The card does not require the owner's personal guarantee and offers a signup bonus. Brex also offers a corporate credit card for established companies, which may be among the best business credit card options for large companies.
3. First National Bank of Omaha Business Edition® Secured Mastercard® Credit Card
The First National Bank of Omaha Business Edition® Secured Mastercard® Credit Card lets you request a credit limit of between $2,000 and $100,000 with a security deposit equal to 110% of your credit line.

Security deposit earns interest
Provides discounts on QuickBooks and TurboTax
$39 annual fee
The card provides free management reports, Mastercard Easy Savings, and flexible cash flow management, among other business benefits.  
Personal Cards For Subprime Business Owners
A personal credit card is a good choice for any business owner with subprime credit. Most are available without a security deposit, and some support balance transfer transactions.
Up to $1,000 credit limit doubles up to $2,000! (Simply make your first 6 monthly minimum payments on time)
All credit types welcome to apply!
Free access to your Vantage 3.0 score From Experian* (When you sign up for e-statements)
Initial Credit Limit of $300 – $1,000* (subject to available credit)
Monthly reporting to the three major credit bureaus
See if you're Pre-Qualified without impacting your credit score
Fast and easy application process; results in seconds
Free online account access 24/7
Checking Account Required
| Application Length | Interest Rate | Reports Monthly | Reputation Score |
| --- | --- | --- | --- |
| 9 minutes | 29.99% APR (Variable) | Yes | 8.5/10 |
The Surge® Platinum Mastercard®, sponsored by Continental Finance, offers a few standard features and helps cardholders rebuild credit through a positive payment history. This unsecured credit card provides Mastercard zero liability protection, and merchants worldwide will accept it. 
While the card has a steep annual fee and doesn't offer any rewards, it does defer monthly maintenance fees until Year Two. You can choose a standard card design or order a premium card for a small fee. 
No credit check to apply and find out instantly if you are approved
OpenSky gives everyone an opportunity to improve their credit with an 85% average approval rate for the past 5 years
Get considered for a credit line increase after 6 months, with no additional deposit required
You could be eligible for the OpenSky Gold Unsecured Card after as few as 6 months
Reports to all 3 major credit bureaus monthly, unlike a prepaid or debit card
View your FICO® Score through your OpenSky account, an easy way to stay on top of your credit
Nearly half of OpenSky cardholders who make on-time payments improve their FICO score 30+ points in the first 3 months
Your refundable* deposit, as low as $200, becomes your OpenSky Visa credit limit
Easy application, apply in less than 5 minutes right from your mobile device
Offer flexible payment due dates which allow you to choose any available due date that fits your payment schedule
*View the cardholder agreement
| Application Length | Interest Rate | Reports Monthly | Reputation Score |
| --- | --- | --- | --- |
| 9 minutes | 22.14% (variable) | Yes | 7.0/10 |
The OpenSky® Secured Visa® Credit Card is available without a hard credit check, so applying for it will not impact your credit. Unencumbered by expensive rewards and premium perks, this secured card requires a minimum security deposit of $200.
The credit card issuer, Capital Bank, doesn't require you to have a bank account to get the card. The annual fee is reasonable, and this secured Visa credit card doesn't charge signup or maintenance fees.
Earn 3% Cash Back Rewards* on Gas, Groceries and Utility Bill Payments
Earn 1% Cash Back Rewards* on all other eligible purchases
Good anywhere Mastercard® is accepted
$0 fraud liability**
Free access to your VantageScore 4.0 credit score from TransUnion®†
*See Program Terms for important information about the cash back rewards program.
**Fraud liability subject to Mastercard® rules.
† Your credit score will be available in your online account starting 60 days after your account is opened. (Registration required.) The free VantageScore 4.0 credit score provided by TransUnion® is for educational purposes only. This score may not be used by The Bank of Missouri (the issuer of this card) or other creditors to make credit decisions.
| Application Length | Interest Rate | Reports Monthly | Reputation Score |
| --- | --- | --- | --- |
| 7 minutes | 29.99% or 36% Fixed | Yes | 8.0/10 |
The Community First Credit Union Provides Accessible Products and Impactful Programs to Its Members bases its APR and some of its fees on your initial credit limit. The charges increase with your credit line, but a couple of the fees decline after the first year.
You can prequalify for this unsecured credit card without affecting your credit. Fortiva provides transaction alerts, free credit scores, and $0 fraud liability.
Earn 3% Cash Back Rewards* on Gas, Groceries and Utility Bill Payments
Earn 1% Cash Back Rewards* on all other eligible purchases
Up to $1,000 credit limit subject to credit approval
Prequalify** without affecting your credit score
No security deposit
Free access to your VantageScore 4.0 score from TransUnion®†
*See Program Terms for important information about the cash back rewards program.
** Prequalify means that you authorize us to make a soft inquiry (that will not affect your credit) to create an offer. If you accept an offer a hard inquiry will be made. Final approval is not guaranteed if you do not meet all applicable criteria (including adequate proof of ability to repay). Income verification through access to your bank account information may be required.
† Your credit score will be available in your online account starting 60 days after your account is opened. (Registration required.) The free VantageScore 4.0 credit score provided by TransUnion® is for educational purposes only. This score may not be used by The Bank of Missouri (the issuer of this card) or other creditors to make credit decisions.
| Application Length | Interest Rate | Reports Monthly | Reputation Score |
| --- | --- | --- | --- |
| 7 minutes | 29.99% or 36% Fixed | Yes | 8.0/10 |
Rarely do preapproved credit cards for poor credit include rewards programs. The Aspire® Cash Back Reward Card offers rewards on eligible purchases and fast prequalification for all credit types.
This unsecured card gives you free access to your Equifax score to help track progress while rebuilding credit. Watch out for steep fees and a wide APR range.
8. Merrick Bank Double Your Line® Mastercard®
This offer is currently not available.
| Application Length | Interest Rate | Reports Monthly | Reputation Score |
| --- | --- | --- | --- |
| N/A | N/A | N/A | N/A |
Cardholders regularly bestow positive ratings on the Merrick Bank Double Your Line® Mastercard®. This unsecured card doubles your credit line in a short time frame when you consistently make on-time payments. 
FDIC-insured Merrick Bank is among the top 20 credit card issuers in the United States. This card may waive its potentially expensive annual, setup, and additional card fees based on your credit history.
Prepaid Debit Cards For Business Owners
Prepaid debit cards offer convenient shopping access without the need for a credit score. They are a solid option for startup companies with no credit history.
9. Brink's Business Expense Card
The Brink's Business Expense Card saves you time on reconciliation, petty cash, paper receipts, and manual expense reporting for business expenses. You decide exactly when, where, and how to spend your money.

Free to use for the first 60 days
Controlled spending on each employee card
Few fees
Monthly program fees on this prepaid card range from $0 to $149, depending on the number of employee cards.
10. Bento for Business Visa® Debit Card
The Bento for Business Visa® Debit Card offers straightforward pricing, no setup fees, and a free two-month introductory period for up to 50 cards. You get easy integration with your accounting system, and receipt capture eliminates paperwork hassles.

No monthly maintenance or purchase transaction fees
4 monthly plans for variously sized companies, ranging from $0 to $149
$10 signup fee
You can create physical and virtual debit cards. Both count toward your maximum number of cards.
11. PEX Prepaid Visa
The PEX Prepaid Visa is part of a software platform that helps businesses allocate funds, manage spending, and collect data. The card serves small to medium-sized companies and requires no credit check.

$49.95 setup fee for the core plan
20 cards per account, $4 per additional card
$75 monthly subscription
The core plan is the least expensive of the three options from PEX. You can reload the card only via ACH or wire transfer, and you don't get ATM access.
What Is Poor Credit?
Consumers and businesses with poor credit are less likely to repay borrowed money. The FICO scoring system has a range of 300 (worst credit) to 850 (best), with scores below 580 representing very poor credit.
The consequences of poor credit include:
Limited business loan and credit card access
High interest rates
Low credit limits
Credit may require security deposits
Poor credit restricts a company's growth by making a small business loan expensive and hard to get. By boosting your personal and business credit scores, you can qualify for better lending terms and credit cards from issuers such as Chase, Capital One, and Citi.
What Is a Business Credit Card?
There are two types of business credit cards. One is a corporate card that employees use for job-related spending. The second type is for small business owners, and it too can facilitate employee spending. Business credit cards usually have particular features that may include:
Management reporting
Interface with accounting systems
Employees are authorized users
Business-related perks
Business perks may include rewards for spending on travel, entertainment, supplies and equipment, internet, and other business expenses. Compare offers carefully to find the best business credit card for your needs.
How Does a Business Credit Card Work?
You can sign up for a business credit card the same way you would for a consumer card, except that you must include information about your company. The card will display the names of the cardmember and the company. You can use the card to charge purchases, pay bills, and access cash advances. 
You can choose from dozens of feature-laden business cards if you have good credit. The best cards have low APRs, generous rewards, and high credit limits. Businesses with below-average credit scores have access to a smaller selection of business cards with fewer features.
Can I Get a Business Credit Card With Bad Personal Credit?
Getting a business credit card when your credit is bad is difficult because many of these cards require you to pledge to make timely payments personally. Corporate cards primarily focus on the business' credit rather than that of individuals.
But if you own a small business, your individual credit may play a significant role in your ability to get a business or personal credit card. 
A personal guarantee on a business credit card makes you, the business owner, personally responsible for any unpaid balances. In other words, if your business goes bankrupt with an outstanding credit card balance, you must repay that balance yourself.
A personal guarantee means you are a cosigner for your company's credit card account. During the application process, the card issuer will require your Social Security number and permission for a personal credit check.

The personal guarantee means that a business credit card's activity will appear in the owner's credit history. Many small business owners with bad credit opt for personal credit cards instead. 
In either case, getting a secured credit card is much easier, as the security deposit collateralizes the card's credit line. If you fail to pay at least the monthly minimum amount, the issuer will tap the funds in the security account and reduce your credit limit accordingly. You must replenish the deposit to regain your full credit limit.
Can I Get a Credit Card With My Business EIN?
You can get a corporate credit card with an employer identification number (EIN). Unlike small-business credit cards for owners, you needn't provide a personal guarantee or a Social Security Number (SSN).
An EIN resembles an SSN in that both are nine-digit numbers. You apply online to the IRS for an EIN when you establish a business and use it to file payroll taxes and business tax returns. There are various resources available online to help you navigate the payroll tax filing process, including EIN calculators and guides to filing business taxes.
The reasons a small business credit card requires an SSN are:
To establish your identity
To verify a personal guarantee
To link the card to your individual credit file
To check your personal credit score
Typically, your small-business credit card activity posts to commercial credit report providers (from Dun & Bradstreet, Equifax Small Business, and Experian Commercial) instead of the consumer bureau reports. But some issuers, such as Discover, report to each type of credit bureau.
If you have a new or small business, you will not be able to get a corporate business card. You may need to apply for a secured small business credit card before building credit for your business. 
How Can I Build Business Credit Fast?
The Small Business Administration recommends a five-step program for rebuilding credit rapidly:
Choose a business structure: You will want to establish your business as a separate legal entity, something other than a sole proprietorship or partnership. Typical structures include corporations, limited liability corporations, and limited liability partnerships. You must register the new entity with your state.
Get an EIN: The IRS has an online tool to request a free EIN. You'll need some of the information you provided for state registration.
Obtain a business bank account: Armed with your EIN, you can open a business bank account to separate your business and personal banking. Creditors check this account when you apply for a business loan or credit card.
Create credit accounts with vendors and suppliers: Make sure these accounts report your activity to each business credit bureau. Establishing net terms for orders helps when you are building credit. These terms provide payment deadlines and possible discounts for early payment. The credit relationships you create this way can serve as trade references for new credit applications.
Check each business credit report: Make sure your reports are complete, accurate, and fair. Keep an eye out for changes that impact your credit score, including possible identity theft.
For a business to build credit, it must pay bills on time and keep debt levels below certain benchmarked thresholds. You can dispute any errors on your report online. Credit bureaus have a month to investigate disputes and fix any verified mistakes.
Is a Business Prepaid Debit Card a Good Alternative to a Business Credit Card?
Prepaid debit cards have some excellent features, but they don't report activity to the credit bureaus and, therefore, cannot help you build credit. Businesses require bank accounts even if they rely on a prepaid card. 
Businesses use prepaid cards primarily to manage and restrain employee spending. You can specify what each employee card can spend and when and where employees can use it. This control helps your business remain on budget and limits the amount of money subject to theft or embezzlement. 
You Can Get a Business Card Despite Poor Credit
Business credit cards for poor credit are valuable resources that help your company better manage its working capital. They can provide funding for credit purchases so you can conserve cash.
These credit cards also allow you to build credit, thereby lowering your financing costs and increasing your borrowing power when you need a small business loan. Prepaid debit cards can help you manage your spending but are not substitutes for business credit cards.
Advertiser Disclosure
BadCredit.org is a free online resource that offers valuable content and comparison services to users. To keep this resource 100% free for users, we receive advertising compensation from the financial products listed on this page. Along with key review factors, this compensation may impact how and where products appear on the page (including, for example, the order in which they appear). BadCredit.org does not include listings for all financial products.
Our Editorial Review Policy
Our site is committed to publishing independent, accurate content guided by strict editorial guidelines. Before articles and reviews are published on our site, they undergo a thorough review process performed by a team of independent editors and subject-matter experts to ensure the content's accuracy, timeliness, and impartiality. Our editorial team is separate and independent of our site's advertisers, and the opinions they express on our site are their own. To read more about our team members and their editorial backgrounds, please visit our site's About page.