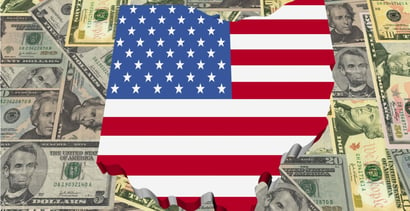 Bad credit loans in Ohio don't have to be funded by a bank. From the comfort of your home in the Buckeye State, you can find an online lender that can help you get a personal loan over the internet, whether you have bad credit or not.
A bad credit score can make it hard to get a loan. Lenders that specialize in bad credit financing can help. Residents in Ohio and every other state in the U.S. may be able to get loans through an online lender that focuses on helping people with bad credit.
Cash loans, payday loans, personal loans, and auto and home loans are available from the lending networks below. Instead of lending money, these companies help people from Ohio and elsewhere get loan offers after completing a simple online loan application.
Cash Loans | Personal Loans | Auto Loans | Home Loans | FAQs
Bad Credit Cash Loans in Ohio
Cash loans are a type of short-term loan that is repaid quickly. They're often made in smaller loan amounts, from $100 to about $1,000, and serve as an emergency loan. They can help pay unexpected expenses, such as an auto repair, or for basic things like groceries until your next paycheck arrives.
Some loan offers are for a cash advance with a month to repay. Other loan offers will be for an installment loan with up to two years to repay.
Short-term loans up to $5,000
Online marketplace of lenders
Funds available in as few as 24 hours
Simple online form takes less than 5 minutes
Trusted by more than 2 million customers
| Loan Amount | Interest Rate | Loan Term | Loan Example |
| --- | --- | --- | --- |
| Up to $5,000 | Varies | Varies | See representative example |
MoneyMutual is our top-ranked company for arranging personal loans for many reasons. It works with a large group of lenders that aim to help people with bad credit. A borrower will need to earn only $800 per month to qualify for a loan. Repayment terms vary by lender.
SmartAdvances.com works with a network of public and private lenders to provide personal loans of up to $20,000. If your loan is approved, the money can be transferred to your bank account as quickly as the next business day.
CreditLoan.com has a large lender network that provides many types of short and long-term loans, including emergency loans in Ohio. The company's website has many online tools, including a loan calculator, to help shoppers decide whether a loan is right for them.
Bad Credit Personal Loans in Ohio
A bad credit personal loan is often bigger than a cash loan. A personal loan is usually for a larger amount of money and has a longer loan term.
A personal loan is an unsecured loan where collateral isn't required. Without collateral, a lender may require a higher credit score or charge a higher interest rate to make up for the additional risk of not having a car or other possession it can seize if the loan isn't repaid.
24/7 Lending Group helps consumers get loans of up to $35,0000. That's the largest amount for a personal loan among the lending networks we recommend. With such a large loan, a borrower may choose a longer repayment term of up to six years to help make payments affordable.
CashUSA.com, like other lending networks, has simple terms to prequalify for a loan. These include being a U.S. citizen or permanent resident, being at least 18 years old, and having an after-tax income of at least $1,000 per month. A valid email address, phone number, and active checking account registered in your name at a bank or credit union are also required.
BadCreditLoans.com is a loan matching service that helps borrowers with poor credit. If a direct lender or private lender on its network approves your loan application, you can expect to see the funds transferred to your bank account within one to two business days.
Bad Credit Auto Loans in Ohio
A subprime auto loan can allow you to get to work in the morning. Without a car, it can be difficult to keep a job. But having a poor credit history can make it hard to get an auto loan.
The following lending networks can help by connecting borrowers with a private lender or local car dealer to help them get an affordable car and auto loan.
Network of dealer partners has closed $1 billion in bad credit auto loans
Specializes in bad credit, no credit, bankruptcy and repossession
In business since 1999
Easy, 30-second pre-qualification form
Bad credit applicants must have $1500/month income to qualify
| Interest Rate | In Business Since | Application Length | Reputation Score |
| --- | --- | --- | --- |
| 3.99% - 29.99% | 1999 | 3 minutes | 9.5/10 |
Auto Credit Express works fast — its online loan application for a subprime auto loan takes only 30 seconds to fill out. You'll then be introduced to car dealers in your area so you can get a bad credit auto loan. You can often buy a car on the same day your bad credit car loan is approved.
Car.Loan.com has a network of dealers that also help arrange auto financing for bad credit consumers. Its online form can be completed in a minute or two. If it gives you preapproval for a loan, you'll be matched with the best loan offers from its nationwide online lender network.
MyAutoloan.com allows up to four car loan offers to be made to applicants from its network of dealerships. A new or used car can be purchased or your existing auto loan can be refinanced. You may also qualify for a lease buyout loan.
Bad Credit Home Loans in Ohio
A home loan is a secured loan. A home is much more expensive than a car, making it probably the biggest loan you'll ever need in your life. A home loan can be difficult to get if you have bad credit, but some lenders have programs tailored to such borrowers.
Another way to make a home affordable if you have bad credit or can't afford much of a down payment is to get an FHA loan. This federal program requires only a 3.5% down payment.
Whatever type of home loan you get, you should be aware that an origination fee may be charged. This is a fee the mortgage lender may charge to cover some of its expenses, but it can also just be a way to make an easy profit on a home loan.
America's largest mortgage lender
The entire process is completed online
Options for new mortgages and refinancing existing mortgages
Award-winning customer service and cutting-edge digital platforms
More than 90% of clients would recommend us
| Interest Rate | In Business Since | Application Length | Reputation Score |
| --- | --- | --- | --- |
| Varies | 1985 | 5 minutes | 9.5/10 |
The Rocket Mortgage is America's largest mortgage lender, and it operates completely online. It's easy to get prequalified on its website so you can start shopping for homes in Ohio (or elsewhere) that fall within your budget.
Wells Fargo Home Mortgage is a direct lender — it's not a lending network, as are the services reviewed above. Wells Fargo Home Mortgage works with borrowers with poor credit scores, so don't let the name of a big financial institution deter you from seeking a home loan from it.
A Bank of America Mortgage is another big financial institution that offers home mortgages and home refinancing loans for people with bad credit. It can also help applicants get an FHA loan, which can help make buying a home more affordable because the down payment is often much less than what other lenders require.
What is a Bad Credit Loan?
A bad credit loan serves applicants with a low credit score who have probably made some blunders throughout their credit history. Paying bills late, using more than 30% of the available credit limit on a credit card, and defaulting on debts — all behaviors that lower your credit score.
A bad credit loan is usually for a small amount that is often used as an emergency loan. But these loans can also be for larger amounts and used for non-emergency expenses, such as renovating your home or debt consolidation, and can take years to repay.

A bad credit loan is a loan issued to someone who has a low credit score. Different loan types have different definitions of what a low score is, but FICO defines a bad credit score as anything below 580.A bad credit loan will have a higher interest rate than will a loan for someone with good credit. An origination fee and other fees may also be charged in a bad credit loan to make up for some of the risk of the loan for the lender.
Some of these loans allow you to use a cosigner. This can make it easier to get a loan and make up for a low credit score or a high loan amount. A cosigner is responsible for the loan if you don't pay it.
How Do I Apply For a Loan With Bad Credit?
Loan requirements differ by lender, so don't expect each lender to offer the same loan terms or have the same procedures for applying for a loan. Loan networks may also have their own application requirements.
In general, here's how applying for a loan with bad credit works, depending on the type of loan you want.
For a personal or cash loan, filling out a prequalification form on a lending network's website is free and usually only takes a few minutes. It will likely start by asking for basic information, and maybe even some detailed information, such as:
State of residence
Name
Email address
Phone number
Your main source of income
Whether you rent or own
If you're active military or a dependent of one
If you own your car and want title loan options
Monthly income
Bank account information to deposit your loan amount
How often you're paid
Employer contact information
If you're paid by direct deposit or paper check
Credit score range
Driver's license or state ID number
Social Security number and date of birth
The lending network may then run a soft credit check with the credit bureaus. This won't hurt your credit score.
You should then get a quick response, usually within minutes —  if not seconds — indicating whether you're preapproved for a loan. This isn't a guarantee that your loan application will be approved, but it should help increase the chance that you'll get multiple loan offers from lenders.
The lending network will give your information to the lenders it works with, who will then contact you with loan offers or at least a chance to see if you qualify under their more strict loan requirements. You may have to fill out another loan application with more detailed information.
A hard credit check will also likely be made by the lender, which may drop your credit score a little for a while. If your loan is approved, you should see the loan funds deposited into your bank account within one business day.
The lenders we recommended for auto loans work similarly. Some add the service of helping borrowers find cars through dealers they work with. Same-day approval is possible so you can drive away in a car on the same day you applied for a loan.
For a home loan, the services we recommend each have online applications that can be filled out in six minutes or less. They also have home loan options for people who need help making a down payment, and they each regularly work with first-time homebuyers.
What Interest Rate Will I Pay For a Loan?
Interest rates on a bad credit loan vary based on several factors, but you should expect to pay near the highest rate of interest offered.
Of the personal loans we reviewed, expect general interest rates to start at 6% for people with the best credit, and as high as 36% with bad credit. Other factors, such as not having a history of late loan payments, can lower your rate. A personal loan repayment term can last from three months to six years.
Your credit score will generally determine the rate you pay. If you forgo the credit check, you can expect higher interest rates.

For an auto loan, expect interest rates from 4% to 30%. Longer loans will usually have lower rates than short-term car loans. A car loan term can be repaid over as many as seven years.
Home loans can be repaid over 30 years. Interest rates vary, based on your credit score and other factors.
Your Best Options for Bad Credit Loans in Ohio
Options for bad credit loans in Ohio are plentiful. The options we've reviewed include small cash loans and large personal loans for thousands of dollars. These loans can be repaid in a week or over the course of six years. Bad credit loans, specifically for buying homes and cars, are also available to people who have bad credit.
Lending networks work with many types of lenders eager to serve people with bad credit. You can prequalify for a loan online within minutes after meeting some basic requirements. Your personal loan can be funded within one business day, giving you the money you need to make your life a lot easier.
An emergency expense, paid-off debt, or a new car or home could be in your hands a lot sooner than you may think it could.
This guide to bad credit loans in Ohio serves the following cities and their surrounding areas: Cleveland, OH; Cincinnati, OH; Columbus, OH; Akron, OH; Toledo, OH; Canton, OH; Lorain, OH; Parma, OH; Youngstown, OH
MoneyMutual & Other Resources
We hope you've found our guide "12 Bad Credit Loans in Ohio (Sep. 2023)" to be helpful in meeting your financial needs. To learn more about MoneyMutual, our top recommendation in this guide, be sure to visit the MoneyMutual website for full details about the offer.
Our experts rate MoneyMutual as one of the best options in personal loans for those with bad credit, giving it a 4.8/5.0 rating overall. Among its features:
Short-term loans up to $5,000
Online marketplace of lenders
Funds available in as few as 24 hours
Simple online form takes less than 5 minutes
Trusted by more than 2 million customers
For more resources similar to this "12 Bad Credit Loans in Ohio (Sep. 2023)" guide, see our other popular picks for those with bad credit:
Whether you choose MoneyMutual or any other option in our personal loans category, be sure to read and understand the terms before signing up. You'll find that taking the time to fully understand personal loans is one of the smartest financial decisions you can make.
Advertiser Disclosure
BadCredit.org is a free online resource that offers valuable content and comparison services to users. To keep this resource 100% free for users, we receive advertising compensation from the financial products listed on this page. Along with key review factors, this compensation may impact how and where products appear on the page (including, for example, the order in which they appear). BadCredit.org does not include listings for all financial products.
Our Editorial Review Policy
Our site is committed to publishing independent, accurate content guided by strict editorial guidelines. Before articles and reviews are published on our site, they undergo a thorough review process performed by a team of independent editors and subject-matter experts to ensure the content's accuracy, timeliness, and impartiality. Our editorial team is separate and independent of our site's advertisers, and the opinions they express on our site are their own. To read more about our team members and their editorial backgrounds, please visit our site's About page.