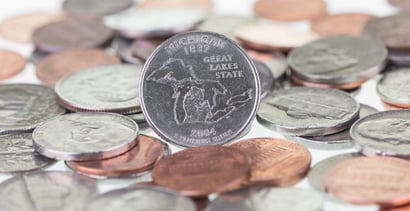 The best bad credit loans in Michigan allow those with credit scores below 580 to obtain quick access to funds that can be used for everything from unpaid medical to past-due utility bills. Several types of bad credit loans are available, including but not limited to payday, auto title, and pawnshop loans.
Great Lakes state residents who apply for bad credit loans through one of our recommended lending networks can enjoy many benefits, including a lower interest rate, longer repayment terms, and no origination fees or prepayment penalties that can quickly break your monthly budget.
Best Short-Term Cash Loans in Michigan
Commonly called payday or cash advance loans, a cash short-term loan is an unsecured loan that ranges from $100 to upward of a couple thousand dollars and must be repaid within weeks or by the borrower's next payday.
Unlike traditional loans from banks and credit unions, short-term cash loans offer much lower borrowing amounts, shorter repayment terms, and higher-than-average interest rates.
Here are several highly recommended lending networks operating in Michigan:
Short-term cash loans are meant to address unexpected and often urgent expenses. They are not meant for debt consolidation, tuition payments, or any other longer-term debt. 
To be eligible for a short-term cash loan, all you need to do is meet the minimum eligibility criteria (e.g., 18 years or older with a government-issued photo ID and minimum monthly income).
Best Bad-Credit Installment Loans in Michigan
Unlike short-term cash loans, installment loans in Michigan offer several benefits, including access to higher borrowing limits, flexible repayment schedules, lower interest rates, and improved borrower protections from predatory lending practices.
A personal loan is paid in equal, fixed monthly installments, with monthly payments consisting of principal, interest, and finance charges. Depending on the lender, origination or prepayment penalties may or may not be charged with or without a credit check. 
As long as you meet all eligibility requirements, it should be easy for you to take out a personal loan from one of our recommended lending networks below:
Lastly, most installment loan companies report payment activity to one of the major credit bureaus — Equifax, Experian, and/or TransUnion — which can help you build credit with consistent on-time payments.
Best Bad-Credit Auto Loans in Michigan
Not to be mistaken with an auto title loan or car title loan, the best auto loans in Michigan allow individuals to purchase new or used vehicles. The loan terms typically consist of structured repayment plans with fixed monthly payments, including interest and applicable finance charges.
There are a wide range of auto lenders to choose from, even if you have bad credit. Lean on one of our recommended lending networks that feature hundreds of participating private lenders and local car dealers that can help you explore all of your options. 
To qualify for a Michigan auto loan, you must be 18 or older with a government-issued photo ID, proof of income (e.g., pay stubs or electronic time sheets), a healthy debt-to-income ratio, a home address, and part-time or full-time employment. 
To improve your chances of loan approval with favorable terms, we highly recommend making a large down payment or enlisting the help of a cosigner.
Best Bad-Credit Home Loans in Michigan
Also called subprime mortgages, bad credit home loans allow Michigan residents to purchase or refinance a home with repayment terms of 15, 20, or 30 years. Generally, the shorter the repayment period, the lower the interest rates, as a shorter window reduces a lender's exposure to risk.
Here are our top recommended home loan lenders and networks:
To offset the risk of lending money to Michigan residents with bad credit, lenders may require a larger down payment and have stricter eligibility criteria, such as a debt-to-income ratio below 40% and full-time employment for a set number of years.
What Is a Bad Credit Loan?
A bad credit loan may be for you if you have limited or no credit history and would otherwise need help qualifying for traditional loans from banks and credit unions.
Five types of bad credit loans include payday, auto title, pawnshop, equity, and personal installment loans. These are a good mix of unsecured and secured loans that may require collateral such as a vehicle, jewelry, or house, depending on the type of loan.
We recommend personal installment loans with interest rates capped at 35.99% (some exceptions apply), versus the 300% and 400% APRs offered by payday, auto title, and pawnshop loans. 

Characteristics of bad credit loans include shorter repayment terms, and one-time payments repaid with a borrower's next paycheck (payday loans) or fixed monthly installments over a repayment term as long as 60 months. Some exceptions apply.
When shopping around for bad credit loans, we encourage you to apply a magnifying glass to all of your lenders' fine print. Look for the interest rates, repayment period, and potential charges such as origination, application, or prepayment penalties.
What Can Bad Credit Loans Be Used For?
Bad credit loans typically address emergency expenses, from automotive repairs to past-due medical bills.
Other common uses include debt consolidation, home improvement projects, education expenses, small business funding, weddings, and vacations. But we do not advise using bad credit loans to cover the cost of discretionary expenses, as it can further increase your debt-to-income ratio and put you in a debt spiral if repayment is not managed responsibly.
In short, bad credit loans can provide temporary financial relief in many situations, albeit with much less favorable loan terms than traditional loans. Ensure you fully assess your ability to repay the loan and consider alternative lending sources.
What Are the Requirements to Get a Bad Credit Loan?
To get a bad credit loan, you must typically meet the following criteria:
Age/Legal Residency: You must be 18 or older.
Proof of Income: Lenders will ask that you meet a minimum monthly income. Acceptable proof of income may include pay stubs, bank statements, or electronic time sheets. Depending on the lender, you may need to show proof of steady employment with a minimum number of consecutive months employed.
Proof of Address: Some lenders require evidence of address using a rental agreement, utility bill, or similar paperwork.
Bank Account Information: You must have an active checking or savings account for lenders to disburse and withdraw loan funds.
Collateral or Cosigner: One way to take advantage of slightly lower interest rates or better loan terms is by enlisting the help of a cosigner with good credit. They are responsible for repaying the loan in case you default.
Which Loans Can I Get with Really Bad Credit?
If you have bad credit, four popular loan options include bad credit personal loans, payday, pawnshop, and secured car title loans.
We advise against payday, auto title, and pawnshop loans. The first is unsecured, and the latter two are secured debt traps requiring collateral, such as a vehicle or personal property.
With auto title loans, expect high repossession rates. According to the Consumer Financial Protection Bureau (CFPB), 1 in 5 auto title borrowers have their vehicles repossessed by their lender for failure to repay.
Instead of paying the 300% and 400% APRs offered by traditional payday, auto title, and pawn shop loans, all of our recommended lending networks offer legit bad credit loans with much more favorable terms. Those include higher borrowing limits and a longer loan term with nearly non-existent fees apart from interest, late, and insufficient funds fees.
What Is the Easiest Loan to Get Approved For?
The easiest loans to get approved for are payday loans. Payday loans have minimal eligibility requirements, typically only requiring a minimum monthly income and the ability to repay the loan by your next paycheck. 
Although approval is easy, all three offer more trouble than they are worth, with sky-high interest rates, exorbitant rollover fees, and lower loan amounts, which may not be enough for emergency situations. 
For perspective, installment loans generally carry an interest rate between 6% and 35.99% with minimum repayment terms from three months up to 72 months. Payday loans have 400%+ APRs and must be repaid within seven to 30 days.
An extension or rollover will include additional fees. The ability to extend a payday loan depends on the state; not all states allow it.

We highly recommend secured personal installment loans that require some form of collateral but offer lower interest rates. Lenders can offer slightly lower interest rates the more collateral is pledged which means the borrower is assuming more risk in repaying the loan.
Can I Get a Payday Loan in Michigan?
Yes, it is possible to get a payday loan in Michigan. But strict regulations govern the maximum loan amounts, repayment terms, and finance charges payday lenders offer.
According to Michigan's Deferred Presentment Service Transactions Act (DPSTA), maximum borrowing limits are restricted to $600 per loan with a minimum 31-day repayment term and fees no greater than 15% on the first $100 borrowed with slightly lower percentages for the second and third $100 borrowed. 
At most, lenders can charge $15 for every $100 borrowed, so a $500 loan can only charge up to $75 in fees.
And payday lenders in Michigan cannot offer extensions or rollovers. All borrowers must repay a loan in full with a minimum one-business-day cooling off period before taking out another loan. This is to protect borrowers.
Lastly, Michigan payday lenders must ensure that borrowers do not have open payday loans due with other lenders, information that is accessible via a statewide database.
For the latest in Michigan payday lending laws, please consult with the Michigan Department of Insurance and Financial Services or a trusted direct lender.
Can I Cash Out My 401k for a Quick Loan?
Instead of applying for a bad credit loan, you may be thinking of cashing out your 401K. But we highly advise against doing so, no matter how tempting quick emergency cash can be.

You'll be subject to tax consequences (the withdrawn amount is subject to income tax), with 10% early withdrawal penalties kicking in if you're younger than 59½, though some exceptions apply.
Additionally, cashing out your 401K will lead to lost retirement savings, reduced financial security, and forfeiture of matching employer contributions. Unless you're in a dire situation, taking out bad credit loans over cashing out your 401K is strongly preferred.
What Do I Do When I Need Money but Can't Get a Loan?
For some reason or another, you may not qualify for a bad credit loan. If that's the case, two popular ways to obtain emergency cash without a loan include credit cards and borrowing from friends and family. 
When used responsibly, credit cards can help you pay for expenses such as unpaid medical bills and automotive repairs.
If you plan to borrow from family and friends, we recommend putting any agreement in writing, including any interest and repayment terms. Written agreements may not be necessary, depending on the amount you borrow and your relationship with the lender.
To avoid entering a debt cycle, familiarize yourself with your loan's terms and conditions, including rates, repayment terms, and any applicable finance charges so you can properly budget your repayments.
Can I Get a Loan with a 500 Credit Score?
Yes, getting a loan with a 500 credit score in Michigan is possible. One of our preferred sources is through lending networks such as 24/7 Lending Group, CashUSA.com, and BadCreditLoans.com. These networks base loan and eligibility on your ability to repay by using your income and debt-to-income ratio.

Other options worth exploring include secured personal loans, cosigner loans, and credit union loans with personalized lending options. We recommend examining all of your options before applying for a bad credit loan. 
Many options — including debt consolidation, Buy Now, Pay Later (BNPL) services, or cash advance apps like EarnIn — offer lower interest rates, albeit with more restrictive loan purposes and repayment terms.
We recommend boosting your credit score if you have time before applying for a loan. Some ways to improve your credit include making on-time payments, disputing credit reporting errors, and requesting credit limit increases, which can effectively lower your credit utilization ratio if your spending remains the same.
Even a modest 40-point increase can shave percentage points off your APR. With a $10,000 loan repaid over two or three years, you can easily save hundreds of dollars in interest charges.
What Credit Score Do I Need for a $5,000 Loan?
For a $5,000 loan, you generally need a minimum credit score of 600. Obtaining a $5,000 loan from one of our recommended lending networks is possible because eligibility is based on your ability to repay the loan rather than on your credit score.
MoneyMutual, SmartAdvances.com, and CreditLoan.com are three of our preferred bad credit lending networks for short-term cash loans of up to $5,000.
What Is the Lowest Credit Score?
According to the FICO credit scoring model, the lowest credit score is 300 (out of a possible range of 300 to 850).
For perspective, here are FICO's credit score ranges:
Excellent: 800 – 850
Very Good: 740 – 799
Good: 670 – 739
Fair: 580 – 669
Poor: 300 – 579
The second most popular credit scoring model in the US, VantageScore 4.0, also has a minimum score of 300 and a maximum score of 850, but the ranges are a bit different: 
Excellent: 781 – 850
Good: 661 – 780
Fair: 601 – 660
Poor: 500 – 600
Very Poor: 300 – 499
Which Apps Will Let Me Borrow $20 Instantly?
The minimum borrowing amounts at our recommended lending networks typically start at $100, which means that a bad credit loan may not be your best option if you only need a few bucks. Instead, you can turn to paycheck advance apps like EarnIn, Brigit, and Dave, which let you borrow a small amount that's automatically withdrawn from your next paycheck.
These highly recommended cash advance apps can offer up to $100 per day or $750 per pay period, depending on the app. Processing times are usually one to three days, with same-day processing available for a small fee. All three services operate on a voluntary tip (EarnIn) or monthly membership basis (Brigit, Dave).
To qualify for a cash advance, you must be 18 or older with a government-issued photo ID and be currently employed with regular direct deposits to an active checking account.
In-Person Options for Bad Credit Loans in Michigan
If you want to apply for a Michigan bad credit loan, we encourage you to consider an in-person option. A face-to-face conversation with a loan officer can be more efficient than an online application, and it's possible to receive same-day service and walk away with cash in your hand.
Here are some in-person options for bad credit loans in Michigan:
University Lending Group
2015 Washtenaw Ave
Ann Arbor, MI 48104
Advance America
5096 Schaefer Rd
Dearborn, MI 48126
Rocket Loans
1274 Library St
Detroit, MI 48226
Advance America
22018 Farmington Rd
Farmington, MI 48336
Check 'n Go
3538 Miller Rd
Flint, MI 48507
Advance America
353 Fuller Ave NE
Grand Rapids, MI 49503
OneMain Financial
438 E Edgewood Blvd Ste B108
Lansing, MI 48911
Advance America
31188 Five Mile Rd
Livonia, MI 48154
Check Into Cash
305 S Saginaw Rd
Midland, MI 48640
Advance American Funding
27333 Meadowbrook Rd
Novi, MI 48377
ChoiceOne Loan Office
12900 Hall Rd Ste 402
Sterling Heights, MI 48313
Advance America
1065 W South Airport Rd
Traverse City, MI 49686
Get Loans USA
1000 John R Rd Suite 214
Troy, MI 48083
Advance America
29140 Ryan Rd
Warren, MI 48092
Advance America
34518 Warren Rd
Westland, MI 48185
Advertiser Disclosure
BadCredit.org is a free online resource that offers valuable content and comparison services to users. To keep this resource 100% free for users, we receive advertising compensation from the financial products listed on this page. Along with key review factors, this compensation may impact how and where products appear on the page (including, for example, the order in which they appear). BadCredit.org does not include listings for all financial products.
Our Editorial Review Policy
Our site is committed to publishing independent, accurate content guided by strict editorial guidelines. Before articles and reviews are published on our site, they undergo a thorough review process performed by a team of independent editors and subject-matter experts to ensure the content's accuracy, timeliness, and impartiality. Our editorial team is separate and independent of our site's advertisers, and the opinions they express on our site are their own. To read more about our team members and their editorial backgrounds, please visit our site's About page.