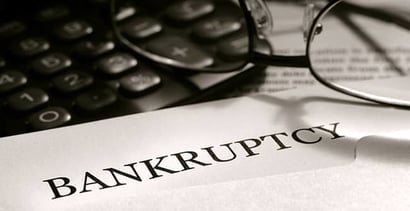 From big names to up-and-comers, BadCredit.org experts share their picks for the top resources in the personal finance industry.
When repayments and bills become too much for you to handle, bankruptcy offers a fresh start. But that doesn't mean the decision is easy. There are plenty of ramifications to consider as well.
With all of the pros and cons, the process can seem overwhelming as the debt itself.
That's why there are experts out there who offer their insight and experience to help you make informed decisions. These 10 blogs cover bankruptcy in a way that's straightforward and engaging. They teach you what you need to know, making this once-daunting subject a bit more manageable.
Thinking about filing for bankruptcy yourself? Contact a bankruptcy firm to take the next steps.
American Bankruptcy Institute


Founded in 1982, ABI is the largest multidisciplinary organization whose purpose is to research and educate on matters of bankruptcy. Their expertise carries through to their site, where they provide access to their publications, multiple online resources and bankruptcy statistics.
Social Clout: 2,710+ Twitter followers; 1,615+ Facebook likes
Twitter Handle: @abiworld
URL: abiworld.org


Nolo is a go-to source for debtors and lawyers that breaks down bankruptcy law into something everyone can understand. They keep you updated on foreclosures, alert you to the latest scams and answer debt-related questions from real people. When you follow their insight, you've got nothing to fear from bankruptcy.
Social Clout: 11,315+ Facebook likes; 4,160+ Twitter followers
Twitter Handle: @NoloLaw
URL: blog.nolo.com/bankruptcy


Even though it's published by Weil's Business Finance and Restructuring Department, partners and associates from across the firm contribute to this blog. Since Weil is highly regarded as having the world's best restructuring practice, their thoughts are invaluable — their market leading chapter 11 bankruptcy practice can teach you so much.
Social Clout: 4,850+ Twitter followers; 335+ Facebook likes
Twitter Handle: @WeilGotshal
URL: business-finance-restructuring.weil.com


When a business files bankruptcy, the impact on everyone involved can be a major disruption. Bob Eisenbach, of Cooley LLP, launched the blog as a way for business leaders to stay updated on important business bankruptcy issues and developments. With the latest court cases and decisions, this blog will make sure you're in the know.
Social Clout: 445+ Twitter followers
Twitter Handle: @BobEisenbach
URL: bankruptcy.cooley.com


In response to 2005's Bankruptcy Abuse Prevention and Consumer Protection Act, Start Fresh Today was born. Their team of technology professionals and bankruptcy attorneys use their site to create a site that works for attorneys, agencies and consumers. They provide you with solid information and the choices you need to make a fresh start.
Social Clout: 470+ Twitter followers; 170+ Facebook likes
Twitter Handle: @startfreshtoday
URL: blog.startfreshtoday.com

At Allman Law, they dedicate themselves to helping people through debt crises. They want to teach you how to take control of your finances and your future. That's why their blog is rife with tips for handling bankruptcy — before, during and after the fact. They're with you every step of the way.
Social Clout: 3,875+ Facebook likes; 520+ Twitter followers
Twitter Handle: @AllmandLaw
URL: allmandlaw.com/bankruptcy-blog


This blog, run by Foster Swift Collins and Smith, offers updates from the bankruptcy courts in Michigan. These decisions can have a major impact on debtors, creditors and trustees, especially because the case law is always evolving. They use the blog as a forum to discuss new cases and the benefits they might bring for those involved with bankruptcy.
Social Clout: 375+ Twitter followers; 265+ Facebook likes
Twitter Handle: @Foster_Swift
URL: michbankruptcyblog.com
The Finance and Bankruptcy Law Blog


Shepard Mullin presents The Finance and Bankruptcy Law Blog, created to provide advice for financial institutions on the current issues that matter most. They also offer insight into the best practices to tackle the many multidisciplinary problems that often accompany bankruptcy.
Social Clout: 2,075+ Twitter followers; 380+ Facebook likes
Twitter Handle: @SheppardMullin
URL: bankruptcylawblog.com


Credit Slips is a blog that covers all things related to bankruptcy, credit, consumers and financial institutions. It is run by more than a dozen academics with advanced knowledge of these fields. They use this space to discuss and debate relevant issues and policies, ensuring you know even more than everything you need to know.
Social Clout: 870+ Twitter followers; 115+ Facebook likes
Twitter Handle: @CreditSlips
URL: creditslips.org
A Texas Bankruptcy Lawyer's Blog


Steve Sather is a bankruptcy lawyer from Texas who loves to discuss current bankruptcy cases and issues. Whether they're legally significant or simply make for a good story, you can bet he'll write about them. He strives to keep you updated on bankruptcy issues in Texas and beyond, providing thoughtful commentary.
Social Clout: 15+ Twitter followers
Twitter Handle: @SatherBkr
URL: stevesathersbankruptcynews.blogspot.com
Photo sources: facebook.com, bankruptcy.cooley.com, twitter.com, stevesathersbankruptcynews.blogspot.com, djazlaw.com