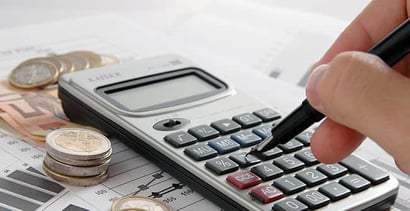 From big names to up-and-comers, BadCredit.org experts share their picks for the top resources in the personal finance industry.
If you want to stay out of debt and keep your finances in order, you'll want to make a budget. Who better to help you with that than our 10 Best Budgeting Blogs?
You Need a Budget
youneedabudget.com


Bragging Rights: you haven't budgeted like this

You Need a Budget is a no-nonsense site about curtailing runaway spending. Getting a handle on those everyday purchases is crucial. "Financial Advice I'd Give 18-Year-Old Me" looks at maturity and spending, while "5 Anxiety-Inducing Weak Spots In My Budget" deals with easing those money tensions.
Social Clout: 22,894+ likes
URL: http://www.youneedabudget.com/
The Budget Babe
thebudgetbabe.com


Bragging Rights: fab without a fortune

Dianna Baros is the brainchild behind The Budget Babe. She wants to help readers find ways to wear lavish fashion without breaking the bank. Posts like "The Accessory Steal of the Week" and "The Look for Less" offer true value, alongside traditional tips for improving your bottom line.
Social Clout: 14,833+ likes, 13,627+ followers
URL: http://www.thebudgetbabe.com/
Living Richly On a Budget
livingrichlyonabudget.com


Bragging Rights: live well on less

Living Richly On a Budget comes from a nutrition author who takes an equally healthy approach to finances. Offering a budget planner and other cool tools to get you started, she stresses the importance of setting goals and making sacrifices.
Social Clout: 8,706+ followers, 3,919+ likes
URL: http://www.livingrichlyonabudget.com/
Blonde On a Budget
blondeonabudget.ca


Bragging Rights: this blonde knows budgets

Cait's personal finance blog began as she struggled to get out of nearly $30,000 in debt, largely from credit cards. She launched the site just two years ago as she gathered resources for her effort. With advice on weekly and monthly budgets, she helps people recognize the need for an improved spending plan.
Social Clout: 2,499+ followers, 273+ likes
URL: http://blondeonabudget.ca/
Budget Blonde
budgetblonde.com


Bragging Rights: spend less. live more

Budget Blonde is always looking to control her expenses while having a full life. Cat shares her financial path, including some misadventures. Her savings goals are tracked, along with college loan advice and revenue opportunities. Topics consist of "Save for Goals In a High Yield Account" and "Three Tips to Have a Fabulous Stay-Cation."
Social Clout: 2,339+ followers, 1,606+ likes
URL: http://www.budgetblonde.com/
Budget and the Beach
budgetandthebeach.com


Bragging Rights: a beach girl's dream of financial freedom

Tonya is an Los Angeles-based video editor who was living her dream, except on the balance sheet. That's when she buckled down and developed a clear strategy for budgeting. She follows other great financial voices to find the clearest advice and latest tips for her readers, including better holiday planning.
Social Clout: 1,382+ followers, 158+ likes
URL: http://budgetandthebeach.com/
The Budgeting Babe
thebudgetingbabe.com


Bragging Rights: for girls with big dreams and small wallets
The Budgeting Babe blog comes from Nicole Mladic, who launched the site in 2004. Shifting from power-spender to power-saver, she coaches readers on reigning in their spending while still enjoying a good life. Articles include " One Wish List Item Bought" and "Gazing Into the Retirement Crystal Ball."
Social Clout: 1,376+ followers
URL: http://thebudgetingbabe.com/
Our Freaking Budget
ourfreakingbudget.com


Bragging Rights: sharing a love/hate relationship with budgets

From Joanna and Johnny comes this friendly and focused site with clear guidance on balancing your budget and tracking your net worth. Our Freaking Budget is loaded with tools and tips for beginners and advice for controlling cash flow and unneeded spending.
Social Clout: 762+ followers, 359+ likes
URL: http://www.ourfreakingbudget.com/
Pear Budget
pearbudget.com


Bragging Rights: beautiful, simple budgeting

Extremely easy-to-follow budgeting is highlighted at Pear. Through their experiences, husband and wife duo Charlie and Sarah Park designed a web-based app readers can access from the site. The "Budgeting With Love" series looks at understanding the difference between want and need.
Social Clout: 743+ followers, 583+ likes
URL: http://blog.pearbudget.com/
The Budget Fashionista
thebudgetfashionista.com


Bragging Rights: fashion on a budget

The Budget Fashionista is Kathryn Finney's answer to balacing style with savings. She launched the site in 2003 as she struggled with credit card debt. As seen in InStyle and CNN, she's built a strong following through her clever wit and honest postings. She offers insight into purchasing decisions large and small, as every penny counts.
URL: http://www.thebudgetfashionista.com/
Photo source: scu.edu.