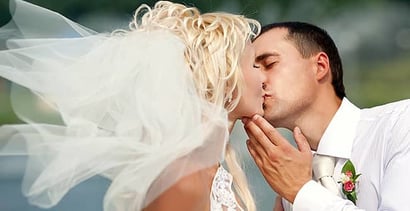 From big names to up-and-comers, BadCredit.org experts share their picks for the top resources in the personal finance industry.
That special day shouldn't mean going into debt for years to come. Our 10 Best Blogs for Budgeting Brides were selected for the strength of their original content and unique tips they offer spouses-to-be.
The Broke-Ass Bride
thebrokeassbride.com


Bragging Rights: creativity is their currency
The Broke-Ass Bride aims to help brides overcome a small budget by using creativity. Dana LaRue started the quickly-growing blog from her home in Los Angeles, adding four contributors of differing skills along the way. It's a fun and exciting destination for brides of all ages, with active community input.
Social Clout: 30,300+ followers 11,349+ likes

URL: http://www.thebrokeassbride.com/


Bragging Rights: amazing weddings one project at a time
DIY Bride is centered around creating fabulous and magical weddings by jumping one hurdle at a time. By focusing on homemade solutions to the high costs of an event, they explore great ideas on flowers, menu options, decoration and the dress. Real wedding photos and stories will inspire your mind and warm your heart.
Social Clout: 14,700+ followers, 5,148+ likes

URL: http://www.diybride.com/
Every Last Detail
theeverylastdetail.com


Bragging Rights: insight for brides
From finding great vendors, to locating your own inspiration, Every Last Detail is brimming with ideas and tips. Amazing photography is shared to display the latest trends and ideas for creating a truly unique ceremony and reception. The content helps with finding the right dress and coming up with a delectable menu.
Social Clout: 13,300+ followers, 8,984+ likes

URL: http://theeverylastdetail.com/
The Budget Savvy Bride
thebudgetsavvybride.com


Bragging Rights: weddings without breaking the bank
Creating beauty without going broke is the goal at The Budget Savvy Bride, where weddings are sculpted for the very frugal-minded. A DIY-solution is offered for everything from flowers to invites, along with a simplified means of registering for gifts. Photos and video help ideas come to life in their vast Real Weddings section.
Social Clout: 11,800+ followers, 4,960+ likes
URL: http://thebudgetsavvybride.com/
A Bride on a Budget
abrideonabudget.com


Bragging Rights: your big day shouldn't cost big bucks
Because your big day shouldn't put you in the hole, A Bride on a Budget tackles each expenditure by looking for savings and value. Advice is clear and detailed, such as finding a bargain on tuxedo rentals and even buying a grocery store cake. The articles are aimed at ceremonies both large and small and ways to protect your budget along the way.
Social Clout: 8,395+ likes

URL: http://www.abrideonabudget.com/
My Online Wedding Help
myonlineweddinghelp.com


Bragging Rights: a dream wedding on a limited budget
My Online Wedding Help has extensive social media interaction, including a busy YouTube channel full of wedding how-to guides, that points to how comprehensive their coverage is. Making the most of your budget is their goal, where topics go deep to explain tricky issues like buying pre-owned dresses. Money-saving secrets are the house special.
Social Clout: 2,599+ likes, 504+ followers

URL: http://www.myonlineweddinghelp.com/
Budget Fairy Tale
budgetfairytale.com


Bragging Rights: princess lifestyle on a pauper's budget
Mindy started Budget Fairy Tale to assist other brides-to-be. On her blog, Disney weddings are given top honors with photo galleries and fun ways to utilize fresh themes in the invites and the reception. Free printables are shared and exciting honeymoon destinations run the gamut.
Social Clout: 1,280+ followers, 565+ likes

URL: http://www.budgetfairytale.com/
Kiss My Tulle
kissmytulle.com


Bragging Rights: the weddings are big, the budgets are small
There are loads of ideas at Kiss My Tulle, where a unique spin is offered on standard wedding traditions. Content like "Adorable Pet Options for Your Wedding" and DIY catering explore ways to savvy up your event without taking out a second mortgage. Special attention also is paid to creative food and drink options.
Social Clout: 1,208+ followers, 568+ likes

URL: http://www.kissmytulle.com/
Weddings Tied with Lace
weddingstiedwithlace.com


Bragging Rights: certified by The Wedding Planners Institute
Meagan loves weddings and has been in the industry since she was 15. Even if it was just to serve the guests dinner, she loved being part of a couple's special day. This guru learned photography, baking and hair and makeup skills. She shares it all at a comprehensive site loaded with tools and ideas.
Social Clout: 567+ followers, 654+ likes

URL: http://weddingstiedwithlace.com/
Bride on a Budget
brideonbudget.blogspot.com

Bragging Rights: saving money on your wedding
Ashley began Bride on a Budget after planning her own wedding with just a few thousand dollars to work with. Her mission now is to help brides realize their own dream wedding without cutting corners. From frugal fashion to DIY made easy, she looks at just about every expense a couple-to-be might encounter.
URL: http://brideonbudget.blogspot.com/
Photo: bargainlifestyle.com