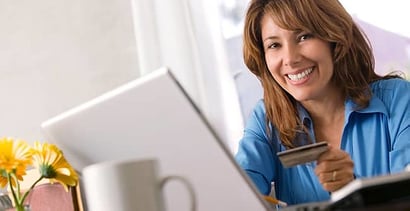 From big names to up-and-comers, BadCredit.org experts share their picks for the top resources in the personal finance industry.
These great sites offer insight on money matters, from a decidedly feminine approach. Women spend and save differently from men, often with a wider grasp of the big picture. The blogs that follow each excel at addressing the woman's approach to the wallet and how to fatten it up.
She Makes Cents
shemakescents.com


Bragging Rights: save money while creating a fab lifestyle

The advice from this blog is drawn around an understanding that women have standards. Luckily, founder, Danielle Boler knows how to stretch those dollars in style. The section Financial Cents looks at debt management, higher education options and how to balance money with relationships, while Fashion Cents finds the best deals.

Social Clout: 1,905+ likes, 609+ followers
URL: http://shemakescents.com/
Barbara Friedberg Personal Finance


Bragging Rights: save, invest, build wealth

The personal finance blog from Barbara Friedman comes from a portfolio manager and former professor who understand how to teach people about spending, saving and investing. Building wealth and security is the goal, with a series of Action Step columns aimed at structuring a solid plan.
Social Clout: 2,892+ followers, 405+ likes
URL: http://barbarafriedbergpersonalfinance.com/
Beth Kobliner
bethkobliner.com


Bragging Rights: featured on "Good Morning America"

Author Beth Kopliner is one of the nation's most trusted money advisers. Her blog is a lively entry with style and substance. Sections like Work, Work, Work and Paying For College offer guidance on developing long-term plans for saving and investing. Make sure to check out "The 4 Biggest Money Mistakes Parents Make."
Social Clout: 4,595+ followers, 523+ likes
URL: http://www.bethkobliner.com/
Ask Liz Weston
asklizweston.com


Bragging Rights: a personal finance columnist

Liz Weston is a trusted name in personal finance, and author of "Your Credit Score." Her advice is widely sought, and her latest book  "The 10 Commandments of Money" got a love letter review from The New York Times. She focuses on understanding your credit score, managing debt and credit and structuring a retirement plan.
Social Clout: 27,563+ likes, 9,621+ followers
URL: http://asklizweston.com/
A Dime and Her Nickels
dimeandhernickels.com


Bragging Rights: make a change by stacking change
This blog from a former childhood penny-pincher "turned teenage shop-a-holic, hoping to become a middle-aged millionaire" offers clear advice and sage wisdom. It offers a light-hearted approach, but deals with some very intense money issues. As the host says, accountability is truly the first step.
URL: http://www.dimeandhernickels.com/
Diva in Debt
divaindebt.com


Bragging Rights: one single girl's financial journey
This single gal tracks her financial journey and goals. She applies a direct personal finance strategy that is easy to follow since the blog's 2010 inception. Thoughtful content deals with issues of debt control, understanding buying patterns better, and learning to improve your instincts on controlled spending.
Social Clout: 252+ followers
URL: http://www.divaindebt.com/
Fabulously Broke in the City
fabulouslybroke.com

Bragging Rights: balancing shopping and saving

No longer broke, this blog's host now shares her secrets for eliminating debt and curbing personal spending. Her content deals largely with understanding your budget better in posts like "5 lies you tell yourself to keep spending" and "What is your debt really costing you?" The advice is clear and simple to follow with much personality.
Social Clout: 4,105+ followers
URL: http://www.fabulouslybroke.com/
The Family CEO Blog
thefamilyceoblog.com


Bragging Rights: the business of life

Julie started The Family CEO after hiring herself to make the most of her family's finances. She wanted to document her efforts and share what she'd learned, and a site was born. Applying a business approach to household budgeting, she finds big savings in rebates and refunds that often go overlooked.
Social Clout: 1,765+ likes, 1,084+ followers
URL: http://thefamilyceoblog.com/
Femme Frugality
femmefrugality.com


Bragging Rights: money saving tips for all

Femme Frugality understands how to communicate with women, by being straight forward and staying on-topic. The blog deals with direct ways women can trim their budget while expanding their lifestyle. From shopping tips to investment advice, the refreshing content deals with financial decisions large and small.
Social Clout: 1,461+ followers
URL: http://femmefrugality.com/
Financially Wise Women
financiallywisewomen.com


Bragging Rights: as seen on CBS News and in The Wall Street Journal

Living your best life is the goal of host Brittney Castro, a bright young upstart who clearly has a good head on her shoulders for finance. Much of her content is in video diary form, with plenty of tools and strategies to help get the savings started. Financially Wise Women is friendly and responsive.
Social Clout: 3,627+ likes, 3,593+ followers
URL: http://www.financiallywisewomen.com/blog/
Photo source: www.myuniverse.co.in