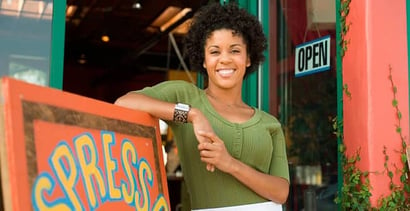 From big names to up-and-comers, BadCredit.org experts share their picks for the top resources in the personal finance industry.
Being an entrepreneur is an admirable career. It's a lot of hard work that often goes unnoticed, but we're here to change that!
Our 10 Best Blogs for Entrepreneurs are the best of the best. Just take a look and see for yourself.
Entrepreneur
entrepreneur.com


Bragging Rights: the entrepreneur of all entrepreneurs
Entrepreneur.com's blog serves up a healthy diet of useful information from a large and professional staff. Understanding marketing and growth are driving forces in their content, along with sections on franchising, startups, money management and technology. Bonus: Expert feedback is offered in the Answers section.
Social Clout: 423,515+ followers, 400,000+ likes
URL: http://www.entrepreneur.com/
Both Sides of the Table
bothsidesofthetable.com


Bragging Rights: entrepreneur turned VC

Mark Suster is the creator of Both Sides of the Table, a site that examines the DNA of an entrepreneurial spirit. He offers readers insights into better public relations management and ways to improve your negotiating skills. A section just for startups is aimed at those just breaking ground, while much of Suster's focus is on the changing world of small business in the information age.
Social Clout: 127,224+ followers, 16,150+ likes
URL: http://www.bothsidesofthetable.com/
Small Biz Trends
smallbiztrends.com

Bragging Rights: not just for small business owners

Small Biz Trends utilizes more than 400 experts in various fields to help their editorial staff gather the most useful resources for business owners. The site has won multiple awards for design and content, including the Small Business Influencer Awards. Look for valuable coverage like "3 Things You Need to Know When Making Green Claims" and "The Toughest Franchise Business In The World."
Social Clout: 111,143+ followers, 21,746+ likes
URL: http://smallbiztrends.com/
PandoDaily
pandodaily.com


Bragging Rights: the site-of-record for the startup root-system

Sarah Lacy's site is loaded with information and tips for business starters, with a clear focus on tech issues and Silicon Valley. News and analysis is offered on the changing world of entrepreneurs, including tips for navigating social media and building better networking skills. Our favorite part is the video section, which features interviews with powerful experts on the businesses they built.
Social Clout: 53,078+ followers, 18,097+ likes
URL: http://pandodaily.com/
For Entrepreneurs
forentrepreneurs.com


Bragging Rights: wisdom for startups and entrepreneurs

From David Skok, a self-described serial entrepreneur, comes a thoughtful and witty guide for building a business. Posts like "Startup Killer: The Cost of Customer Acquisition" and "The Science Behind Viral Marketing" give clear milestones for charting and encouraging success. Want to get started? First take a look at the section on getting funded.
Social Clout: 26,316+ followers
URL: http://www.forentrepreneurs.com/


Bragging Rights: your small business advantage

Tips for successfully beginning a business are at the heart of this comprehensive blog, which covers the big basics of staffing, financing, networking and growing. Recognized by Forbes and The Wall Street Journal, All Business' content includes "Franchise Outlook: A Better Year In Store" and "4 Things Small Businesses Can Learn From a Big Bank," all of which offer valuable insight.
Social Clout: 6,203+ likes, 5,665+ followers
Small Biz Survival
smallbizsurvival.com


Bragging Rights: the rural and small town business resource

Small Biz Survival offers clear guidance on starting small while preparing for growth. The site explores your shop options, from operating hours and payroll, to merchandising and inventory management. Launched in 2006, four main voices fuel the site with level-headed advice for those starting out.
Social Clout: 3,201+ followers, 712+likes
URL: http://smallbizsurvival.com/
Careful Cents
carefulcents.com


Bragging Rights: for go-getters, entrepreneurs and freelancers

At Careful Cents, recovering workaholics and driven solopreneurs can learn to better control their finances with the help of Carrie Smith, the self-described Method and Means Maven. Her team of four covers all the basics of savings, retirement planning and debt control – all shaped specifically at entrepreneurs. The site is both lighthearted and no-nonsense, helping to create a good balance.
Social Clout: 2,816+ followers, 1,119+ likes
URL: http://www.carefulcents.com/
Dr. Jeff Cornwall
drjeffcornwall.com


Bragging Rights: the entrepreneurial mind

From Dr. Jeff Cornwall comes this major resource tool largely built around video content. With interviews from business leaders, Cornwall creates an essential how-to for building a business. Content is uplifting and inspiring with posts like "How to Quit Your Day Job" and "Three Paradoxes of the Entrepreneurial Generation."
Social Clout: 1,027+ followers, 671+ likes
URL: http://www.drjeffcornwall.com/
Small Business Brief
smallbusinessbrief.com


Bragging Rights: fetching the best small business news

Launched in early 2004, the Small Business Brief blog connects entrepreneurs with the tools and resources needed to start a secure business. Their goal is to provide actionable information that makes a difference. Content like "Short-Term Thinking Can Harm Your Business" and "Do You Know Your Time-is-Money Rate" look at real-world applications for making your goals happen.
URL: http://www.smallbusinessbrief.com/
Photo source: watchdogmi.com.