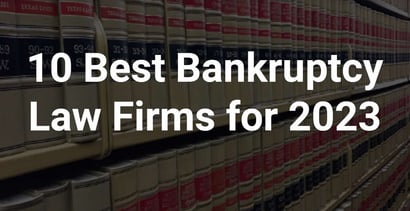 BadCredit.org publishes personal finance studies on the latest trends in the subprime marketplace. Our articles follow strict
editorial guidelines
.

For consumers who may live from paycheck to paycheck or job to job and struggle with pitfalls such as heavy debt, a tax burden, or home foreclosure, there may come a time to consider bankruptcy. Bankruptcy is a legal process to discard or make a plan to repay debts. Bankruptcy attorneys specialize in advising clients and representing them honorably in court.
You must appear in court to start your bankruptcy case. Consultation with a local bankruptcy attorney can provide a fresh start so consumers can rebuild better than they were before. We've compiled a list of the 10 best bankruptcy law firms to help.
Vanden Bos & Chapman
#1 Firm for Same-Day Appointments

In Oregon, financially struggling families and businesses have turned to Vanden Bos & Chapman for empathetic and supportive bankruptcy services since 1981.
The firm recognizes that filing challenges can be stressful, and requires familiarity with local laws and processes to provide expert guidance.
Why We Recommend Vanden Bos & Chapman
We appreciate that Vanden Bos & Chapman provides individualized, thorough representation regarding all bankruptcy matters, from consumer to business affairs.
Because the urgency of many bankruptcy situations demands sensitivity and responsiveness, we also appreciate that the team offers same-day appointments to get the ball rolling immediately.
Key Stats
Chivis Law Firm
#1 Firm for Spanish Speakers

Texans live in a surprisingly diverse state with nearly 8 million Spanish-speaking residents. Those folks can count on the team at Chivis Law Firm to provide the bankruptcy services they need and deserve.
Chivis understands that economic buffeting sometimes leads to untenable situations. With offices in four large cities, it stands ready to help all Texans confront and overcome financial challenges.
Why We Recommend Chivis Law Firm
The Chivis team provides excellent customer service and helps clients deal with anxiety and stress when most would rather be somewhere else.
That's especially important for Spanish speakers, who need even more context and explanation than English speakers because legal language in the US doesn't accommodate them.
Key Stats
Law Office of D.L. Drain
#1 Firm for Video Resources

Arizona residents choose the Law Office of D.L. Drain because attorney Diane Drain is committed to lifelong learning, teaching, and helping clients in need.
Support, compassion, and clear communication go a long way toward helping clients feel well-served and accepted when facing the unknowns of a financial crisis.
Why We Recommend the Law Office of D.L. Drain
Because the legal profession is very text-heavy, we appreciate Diane's collection of video resources to help prospective clients understand the complexities of the law.
These videos are also a great way to know the team in advance so you know what you're getting into and feel comfortable.
Key Stats
Law Office of Mark J. Markus
#1 Firm for Remote Consultations

Mark J. Markus has practiced bankruptcy law since 1991 in Southern California, particularly the Los Angeles area. His firm specializes in bankruptcy and has worked for both the creditor and debtor sides.
That combination of long experience and versatility means clients can count on the team to find the best solutions to problems that sometimes seem intractable.
Why We Recommend the Law Office of Mark J. Markus
Although Mark's firm has offices in Burbank and downtown Los Angeles, he uses modern technology to work from wherever he happens to be.
Prospective clients can call Mark and count on him to respond promptly with a plan for moving forward.
Key Stats
Van Horn Law Group
#1 Firm for Fee Transparency

Across Florida, financially struggling businesses, families, and students turn to the Van Horn Law Group to help them navigate the complexities of bankruptcy in the least stressful way possible.
They take a personal approach beyond the basics to provide everything clients need for a positive experience.
Why We Recommend the Van Horn Law Group
Customer service is paramount at the Van Horn Law Group, including affordable and easy-to-understand fees, free case evaluations, and zero-down-payment options.
The firm also provides credit counseling and a free credit rebuilding program to help clients improve their finances.
Key Stats
Michael H. Schwartz
#1 Firm for Foreclosure Cases

New Yorkers have relied on Michael H. Schwartz since 1986 to help them understand where they are financially and how to return to a place where they can restart.
The firm handles consumer and commercial bankruptcies and provides foreclosure defenses for families falling behind on payments.
Why We Recommend Michael H. Schwartz
Michael H. Schwartz has never lost a client's home or other real estate to foreclosure. If the firm takes your case, you can be confident in the result.
The website includes copious educational resources to help prospective clients understand the details of the law and the steps they need to take to negotiate successfully.
Key Stats
Ivey McClellan
#1 Firm for Personalized Planning

In North Carolina, businesses, individuals, and couples rely on Ivey McClellan to carefully analyze their financial situation and create a step-by-step plan for dealing with it.
That can mean lots of things, but it always means a personal approach to problem-solving where the client doesn't feel part of a cookie-cutter approach.
Why We Recommend Ivey McClellan
We appreciate that although Ivey McClellan is a relatively large bankruptcy firm, it operates like a small firm where every client matters.
It uses a "whole firm" approach, which means that one lawyer leads each case, but that professional has the expertise of the other attorneys at their disposal to ensure the best possible outcome.
Key Stats
Kerrick Bachert
#1 Firm for Non-Bankruptcy Options

Kentuckians count on the team at Kerrick Bachert to support various legal challenges, including consumer bankruptcy.
A group of attorneys draws on one another's experience to provide high-level insights and support to handle complex situations gracefully.
Why We Recommend Kerrick Bachert
The firm always starts by considering non-bankruptcy options, such as negotiating debt settlements or selling excess property to pay debts.
But when those options are unavailable, the team explains the bankruptcy options that best fit the situation.
Key Stats
Debra Booher & Associates
#1 Firm for Direct Attorney Contact

Ohio residents frequently contact Debra Booher & Associates because it handles more consumer bankruptcy cases than any other law firm in northeastern Ohio.
They count on Debra Booher to meet their needs while providing the highest-quality legal services.
Why We Recommend Debra Booher & Associates
Debra Booher is a relatively large bankruptcy firm with offices in six Ohio cities. We appreciate that an attorney, not a receptionist, always picks up the phone when you call for help.
That tells us all we need to know about the level of empathy and commitment at Debra Booher.
Key Stats
Pagano & Marks
#1 Firm for Affordability

In Virginia, Pagano & Marks is known for providing a distinct brand of bankruptcy consultation where affordability is a top priority.
The firm sets out to provide a community-focused service. They live and work in the community and tailor their approach to meet community needs.
Why We Recommend Pagano & Marks
Lots of companies claim to be disruptors, but Pagano & Marks walks the walk because it goes out of its way to explain the practice's affordability approach.
We appreciate their efforts to identify with the challenges of ordinary community members and find ways to walk without breaking the bank.
Key Stats
---
Declaring bankruptcy is a serious matter that can impact financial flexibility for years. It's best to put the law's complexities in the hands of experienced professionals working for the client's best interests. We hope this list has provided you with the assistance you need if you decide through consultation that bankruptcy is your best option.