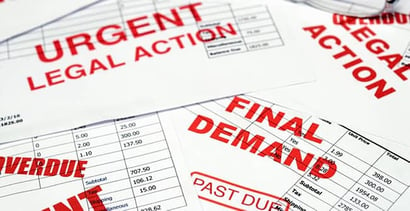 Back in November 2014, The New York Times shed light on a disturbing trend among some of the nation's biggest lenders: Banks like JPMorgan Chase, Citigroup and Bank of America routinely ignore customers' declarations of bankruptcy and pressure them to repay debts already discharged by courts.
To make matters worse, many of the contracts consumers hold with these banks often include language severely limiting the consumers' legal options when it comes to disputing the banks' dubious behavior.
The matter has drawn the attention of the Consumer Financial Protection Bureau, which recently published an in-depth study that could effectively lay the groundwork for new regulations to halt these banks' illegal behavior.
I spoke with University of Toledo College of Law Professor Kara Bruce to find out how the banks' fine print is leaving millions of consumers high and dry.
Lending institutions and "zombie" debt
Lawyers from the United States Trustee Program began an investigation into the practices of big banks after their customers began complaining about having to still pay debts that were discharged in court. According to reports, banks refused to remove negative marks from consumers' credit reports even after bankruptcy.
This leaders to two problems: 1) The bankrupt debtor's credit score, already reeling from bankruptcy, is even lower since these debts continue to appear on their credit reports as well, and 2) Many consumers continue to pay the debts, even though they have no legal obligation to do so.
"If true, this activity not only violates federal law and bankruptcy court orders … but also undermines a fundamental goal of consumer bankruptcy: providing debtors a fresh financial start."
Having difficulty fixing errors on your credit report? A credit repair firm may be able to help.
In some cases, banks reportedly told consumers they would still have to pay off the debts in order to receive a clean credit report, effectively holding hostage both their credit profile and their future (since credit affects things such as employment and housing screenings, as well as lending and insurance rates).
"If true, this activity not only violates federal law and bankruptcy court orders," Bruce writes, "but also undermines a fundamental goal of consumer bankruptcy: providing debtors a fresh financial start."
What can consumers do?
If a consumer recently filed for bankruptcy, chances are they don't have the discretionary income to take to court a massive bank like JPMorgan Chase or Bank of America.
This is where class actions, which allow multiple consumers to collectively pool their complaints into a single lawsuit, become a viable option for consumers who want to take legal action that might not be cost-effective on an individual basis.
"These actions not only compensate individuals for harm suffered, [but] they also force defendants to internalize some of the costs of their misconduct," Bruce writes. "Class actions offer additional benefits to the legal system, such as increasing transparency, preserving judicial resources, and encouraging uniformity and consistency in the application of law."
Seventh Circuit U.S. Court of Appeals Judge Richard Posner once said, "The realistic alternative to a class action is not 17 million individual suits, but zero individual suits, as only a lunatic or a fanatic sues for $30."
However, the issue here is many contracts banks have customers sign, especially when it comes to credit cards, contain what's known as class action waivers and forced arbitration clauses.
When a consumer signs one of those contracts with a class action waiver, he or she agrees to not pursue legal action in the event of a dispute. In addition, the forced arbitration clause means consumers must settle the disputes with the bank outside of the legal system entirely.
"Arbitration clauses are prevalent and most consumers just have no idea that they're in the contracts they sign or what they mean," Bruce said. "Consumers are not looking at, not considering, binding arbitration clauses when they're shopping for credit cards … The lender will basically seek to move the claim into arbitration as a means of  killing the [class action suit]."
Why do credit card contracts contain class action waivers and forced arbitration?
Back in 1925, the President Calvin Coolidge passed the Federal Arbitration Act which, legal jargon aside, basically codifies peoples' rights to settle contractual disputes outside of the courtroom and still have the resolution be legally binding. Ideally, arbitration allows conflicting parties to avoid the slow, laborious court system altogether.
"Some scholars believe the avoidance of aggregate proceedings is a primary reason companies include arbitration provisions in consumer contracts," Bruce writes. "If the right to aggregate claims in a class-wide procedure is unavailable, small-value claimants may not have the resources to challenge wrongful conduct."
Even without these clauses, class actions and bankruptcy cases typically don't mix, Bruce said.
"It strikes anybody who's in the bankruptcy world as completely bizarre," she said. "They wonder, 'How would we allow debtors to bring their claims together against a common lender?'"
So what does the CFPB have to say about arbitration clauses and class action waivers?
The CFPB's 700+ page study explores, among other things, the average consumer's understanding of this legalese, how often they try to sue companies in small claims courts and the value of class action settlements in general.
A few of their findings:
Arbitration clauses inhibit consumers' ability to pursue class actions;
Upwards of 80 million consumers use credit cards with arbitration clauses in the contracts;
At least 34 million consumers were eligible to receive a portion of $1.1 billion in class action settlements over a five-year period;
There is "no evidence of arbitration clauses leading to lower prices for consumers";
Three in four consumers polled didn't know if they were subject to an arbitration clause.
"Tens of millions of consumers are covered by arbitration clauses, but few know about them or understand their impact," said CFPB Director Richard Cordray. "Our study found that these arbitration clauses restrict consumer relief in disputes with financial companies by limiting class actions that provide millions of dollars in redress each year. Now that our study has been completed, we will consider what next steps are appropriate."
The problem, Bruce said, is that courts have been protecting arbitration agreements when challenged in reference to consumers' rights to class actions.
"You see courts really holding arbitration clauses as these things that are immune from attack," she said "The court has said over and over that no, you lose, arbitration is an important federal policy… well guess what? So is bankruptcy."
What will happen next?
Although many consumers still face difficulty filing class actions over questionable overreaching bankruptcy practices, lawmakers and courts have been taking small steps to remedy the forced arbitration issue.
For example, the 2007 Military Lending Act forbids forced arbitration in loan contracts made to service-members and the 2010 Dodd-Frank Act limited arbitration clauses in most home mortgages.
"I think the best thing that we can hope for is that the CFPB will impose more limitations on these arbitration clauses as they've done in the past," Bruce said. "But in the meantime, at least in the bankruptcy context, I think that lawyers representing debtors who see that their client's rights have been violated should not shy away from class actions even though there's such a trend away from them in broader civil litigation. They should start bringing this cases."
Are you unsure of your rights as a consumer when it comes to bankruptcy? You may want to consult bankruptcy law experts.
Photo credits: martinfirmllc.com, npr.org, Kara Bruce
Advertiser Disclosure
BadCredit.org is a free online resource that offers valuable content and comparison services to users. To keep this resource 100% free for users, we receive advertising compensation from the financial products listed on this page. Along with key review factors, this compensation may impact how and where products appear on the page (including, for example, the order in which they appear). BadCredit.org does not include listings for all financial products.
Our Editorial Review Policy
Our site is committed to publishing independent, accurate content guided by strict editorial guidelines. Before articles and reviews are published on our site, they undergo a thorough review process performed by a team of independent editors and subject-matter experts to ensure the content's accuracy, timeliness, and impartiality. Our editorial team is separate and independent of our site's advertisers, and the opinions they express on our site are their own. To read more about our team members and their editorial backgrounds, please visit our site's About page.