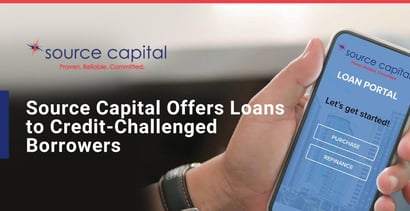 In a Nutshell: Hard money loans help people with low credit scores pledge their property as collateral to access funds. Source Capital specializes in assisting clients with hard money loans and provides fast, convenient service. It offers a secure online portal and is committed to achieving mutually beneficial outcomes for the borrower and lender. Source Capital also aims to ensure borrowers have a viable exit strategy since hard money loans often have higher rates than traditional products.
When borrowers need money quickly, traditional loans often don't measure up. Someone may need funds immediately, but a bank can take a month or more to process an application and approve a loan. A borrower may not even have the necessary credit score to qualify for a loan from a financial institution.
Instead of relying on finances and a stellar credit score to secure a loan, consumers can leverage property they own to get the money they need fast. Source Capital offers hard money loans that get borrowers money fast, and without a credit check.
Source Capital serves borrowers in California, Arizona, Minnesota, and Texas. It provides hard money loans and the educational resources borrowers need to understand its products and how to use them to their benefit.

"What the public thinks about hard money may be different than what the reality is," said Sacha Ferrandi, Founding Partner of Source Capital. "They think, 'If I go to a hard money lender, I'm going to get raked over the coals. If I don't pay the guy back, he gets my property.' And that's not the case. There are laws that we have to abide by just like Wells Fargo or Chase Bank. It's just a different type of financing that doesn't focus on a borrower's credit or financials."
Hard money loans can be an excellent resource for borrowers in the right situations, even though they come with risks. Not repaying standard loans can damage a credit score, but hard money loans aren't based on credit scores; they are loans against property.
That means failure to repay can result in loss of collateral. But hard money loans can provide the cash responsible borrowers need to meet short-term, pressing needs. And Source Capital aims to put its clients in the best situations and provide the knowledge and educational resources they need to be successful.
Hard Money Loans Based on Equity, Not Credit
Consumers use tangible assets as collateral to secure hard money loans. That asset is primary; the borrowers and their credit and financials are secondary. That offers more opportunities for subprime borrowers.
"Hard money is a very misunderstood term. It's just equity-based. It's all based on the asset," Ferrandi said. "One of the reasons I started the company was to try to help people who couldn't get traditional financing because they lost their job or had poor credit. But many did have an asset as security for the loan."
Source Capital focuses on business-purpose loans, which — as the name suggests — provide funds for businesses. More specifically, this firm deals primarily in residential hard money loans.
Watch on
"There are some people who have inherited a property," Ferrandi said. "Maybe their parents have passed away, or a grandparent, and they're sitting on this asset where they need to pull cash out of it."
The biggest benefit of a hard money loan against real property is its speed and flexibility. There is no minimum credit score required to qualify. The deal can be closed, and the funds disbursed much more quickly than a standard loan through a bank. That makes it easier for borrowers to use the money to meet pressing needs.
"They can't wait 30, 45, or 60 days," Ferrandi said. "I have a lot of clients who have excellent credit but can't wait for banks because they needed the money yesterday. One of the main reasons people will choose to pay a higher rate and higher fees for hard money is for the speed and flexibility that a good lender can provide."
Expertise and Resources Help Borrowers Meet Needs
Source Capital is a top-rated hard money lender on Google, and with good reason. It is one of the most experienced hard lenders in the industry and has been in business for more than 15 years.
"We have 220 positive reviews and counting, and I'm very proud of that because I am trying to change the name of the game," Ferrandi said. "We haven't missed a beat, even during the pandemic, even when the market crashed back in 2007 and 2008 when many hard money lenders went by the wayside. Maybe they lent too much money. We're a conservative hard money lender. We want to be around in 30 years."
To ensure ongoing quality service to its clients, Source Capital exclusively uses an online portal. Documents can be securely uploaded and downloaded through it, and it also serves as the primary means of communication between lenders and borrowers.
According to Ferrandi, the online portal helps make the process faster and more transparent.
"Nobody calls a hard money lender being proactive. It's always that they need the money now, or 'My other lender left me at the altar,' or 'I have an emergency,'" Ferrandi said. "The speed and flexibility come into play, but not having to email back and forth or go to Kinkos to fax something in, where you can do everything in the confines of your own home is a big deal for us. That really sets us apart."
Another differentiator is Source Capital's attitude toward borrowers. The firm treats them as partners, not clients, because both pursue a mutually beneficial outcome.
"I look at my borrowers as teammates," Ferrandi said. "If something goes wrong, they're going to be covered because they have a ton of equity in their property. If you can't pay it back, you're not going to just give me the property with all the equity. You're going to sell it, pay me back, and pocket the rest of the money, and move on."
Loans Designed to Offer Short-Term Financial Solutions
Due to the nature of hard money loans, their terms and conditions differ from those of more traditional loans. For example, with Source Capital, the borrower must front a minimum of 35% of the purchase price.
"I want my borrowers to have something at stake because I'm not looking at their credit, I'm not looking at their job, so I have to fall back on something," Ferrandi said. "The only way I can feel comfortable with lending is if you have something significant at stake as well."
The term of a hard money loan is shorter than a standard loan, typically only a few years. That's because hard money loans are not meant to be long term, nor should they be.
Ferrandi said he always tells borrowers that if they take on a hard money loan, or any loan, they should have an exit strategy.
The healthiest approach is to take the money to pay for immediate costs, then, before it comes due, work on raising their credit score or fixing whatever issues prevented them from getting a traditional loan in the first place. Then, they can refinance with a traditional lender and get a better long-term deal.
Because a hard money loan isn't based on a credit score, the loan-to-value ratio and its length determine the rates and fees.
"The lower the loan-to-value, the better the rate the client's going to get," Ferrandi said. "A goal for a hard money lender is to turn over the money. They want to lend it to the individual and then get paid back and lend it to somebody else. That's one of the reasons most hard money lenders, including us, don't do 10-year loans."
Source Capital Helps Borrowers Achieve Long-Term Success
The purpose of a hard money loan is to serve as a financial bridge or, as Ferrandi calls it, a band-aid. The rates and fees are often higher than traditional loans, and they aren't intended to be a long-term solution. Instead, hard money loans bridge a gap and allow the borrower to prepare another financial arrangement more suitable for the future.
However, just because hard money loans are fast doesn't mean the borrower should rush into an agreement. Choosing the right hard money lender is an important step.
First, the lender must be licensed just like any other professional or institution, whether a plumber, real estate agent, or banker. As with any major decision, consumers should shop around and ensure the lender is offering what they need.
Source Capital can help with residential, commercial, or industrial loan requests. And regardless of the asset type, it is important to make sure you're dealing with a licensed lender who has a proven track record, Ferrandi said.
"Like any industry, some companies are better than others so you need to do your homework, especially in this industry," he said. "Because you are using a real estate asset as collateral for the loan, you need to ensure the lender you choose is providing you all the information you need in order to make an informed decision. Remember, once the loan is funded, that lender will have a lien (loan) on your property."
And even before consumers seek out a hard money loan, they should know their goal and how they're going to reach it.
"Unfortunately, a lot of people that call know they need capital, but they haven't planned it out," Ferrandi said. "Whether they're doing hard money or any loan, they should make sure they have an exit strategy and know exactly how much they need."
Advertiser Disclosure
BadCredit.org is a free online resource that offers valuable content and comparison services to users. To keep this resource 100% free for users, we receive advertising compensation from the financial products listed on this page. Along with key review factors, this compensation may impact how and where products appear on the page (including, for example, the order in which they appear). BadCredit.org does not include listings for all financial products.
Our Editorial Review Policy
Our site is committed to publishing independent, accurate content guided by strict editorial guidelines. Before articles and reviews are published on our site, they undergo a thorough review process performed by a team of independent editors and subject-matter experts to ensure the content's accuracy, timeliness, and impartiality. Our editorial team is separate and independent of our site's advertisers, and the opinions they express on our site are their own. To read more about our team members and their editorial backgrounds, please visit our site's About page.