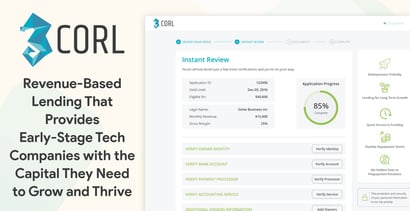 Experts share their tips and advice on BadCredit.org, with the goal of helping subprime consumers. Our articles follow strict
editorial guidelines
.
In a Nutshell: Securing venture capital typically means surrendering some control, and the decision timeline can make it impractical for fast-paced tech startups. That's why Corl leverages data analytics to make funding decisions and deliver funds in a matter of days. And its revenue-sharing payment plans allow borrowers to pay back the loan flexibly — not with equity — according to their business cash flow. The Corl Marketplace also connects many other types of businesses with alternative funding sources, enabling them to access the capital they need to thrive.
A normal heart rate variability (NHRV) monitor is a piece of hardware that measures individual heart rates. One company decided to take the tech further by leveraging data analytics to provide more in-depth, personalized insights into user health. To accomplish that mission, though, the company needed access to funding.
But the company didn't want to raise venture capital, surrender partial control of its board, or try to appeal to institutional investors. So the innovative company got the money it needed to implement its new tech and expand its business from Corl.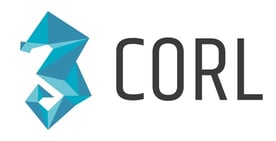 "We created Corl in 2016 because we are a bunch of former founders ourselves, and we were just sick of how the VC space works," said Ben Ames, Director of Growth at Corl.
Corl's revenue-sharing payment plans — uncommon in the funding industry —are available to businesses in the United States and Canada. While most other funding companies focus on later-stage businesses, Corl is dedicated to helping early-stage ventures get the funding they need to grow and thrive.
Companies that work with Corl don't need to surrender ownership or control, as they may with traditional VC investments. They also won't have to wait around for a decision or jump through the hoops of traditional financiers.
"I think it's a viable option for these early-stage technology companies," Ames said. "It's tough to find options for these types of companies. These accelerators, incubators, and other partners recognize the need for it and help spread the word about Corl. We've been fortunate in that we have a pretty good brand and a good product, so a lot of companies come to us."
Providing Necessary Capital Without Eroding Ownership
Traditional financing doesn't work well for fast-moving technology companies, especially those that are part of the digital economy, according to Ames.
"Companies in this space tend to generate the majority of their revenue online and don't have the assets that traditional bank instruments cater to," Ames said. "There was nothing for this growing market, so we designed a product that is tailored to these early-stage technology companies, giving them a chance to get non-dilutive capital before they go to a bigger debt player."
Non-dilutive capital is funding for early-stage growth that does not require companies to surrender a share of ownership. That allows borrowers to get the capital they need to operate and expand their businesses without giving up control, as they would with venture capital. That is, if they can even access venture capital in the first place.
Watch on
"It's a pretty tough space," Ames said. "The VC space is kind of like an old boy's club. If you're in and you know people, then it helps. Otherwise, you're basically left out."
Getting venture capital is an extended process. From the first pitch to funding delivery, it can take from three to nine months, a time frame that doesn't often work with the fast pace of digital ventures.
"As a startup, or an early-stage technology company, that's a lifetime," Ames said. "The business has probably gone through some major changes in that time frame. When you need cash as a company like that, you need it a little bit quicker."
Startup Tech Companies Benefit from an Analytical Approach to Lending
Corl delivers decisions and funding within 48 hours, providing the capital when it's needed. The lender also offers a flexible payment plan that works with the growth patterns of startup businesses.
Acquiring funding through Corl isn't about who the owner knows or their personal credit score; it's about measurable business performance. Corl evaluates this performance by analyzing revenue, spending, and other recorded data. That approach enables turnaround times better suited to the fast-paced world of tech businesses.
"We are relying entirely on the data, and it's showing a lot of success in more underrepresented founders, be it minority founders or female-led businesses. Those entrepreneurs are often excluded from that equity club," Ames said.
Clients pay back loans through a revenue-sharing payment plan. Corl takes 1% to 10% of a company's gross revenue every month, allowing enterprises to work with their cash flow and not adhere to a rigid repayment plan that doesn't account for the fluctuations of business. Companies can take as much time as they need to pay off the loan, or they can pay it off quickly if the money is readily available.
"We end the percentage of revenue we collect upon payment of a buyout amount," Ames said. "That buyout amount can be executed at any time, which is great for these kinds of companies — especially the ones that can potentially grow quite quickly. They can pay it all off whenever they want."
A Marketplace that Expands Funding Options for SMBs
Corl focuses on funding emerging tech companies, and that market fits well with the data-based decision-making approach. However, other companies may not have access to the data Corl needs to provide funding. But just because Corl can't directly provide capital doesn't mean it can't help other types of businesses connect with financiers who can help. That's the philosophy behind the ever-expanding Corl Marketplace.
"We use our technology to provide access to more than 120 funding sources in North America," Ames said. "We've had a lot of companies reach out, a lot of companies that maybe aren't an exact fit for our niche product, but now we can help a practically unlimited amount of companies across any industry through our marketplace component."
The marketplace allows businesses to assess their capital options and compare their cost of capital across many different lenders. They can even accept offers directly through the platform.
"It's a much quicker, easier process for a wide variety of businesses," said Ames.
Products available in the marketplace include credit cards, term loans, equipment and inventory financing, and cash advances, among many others. And borrowers can find the best deal on funding through a single, simplified online application process.
That fast process enables businesses to get the capital they need, when they need it, and keep growing their operations.
"A big part of our position in the market is educating founders on the value of their equity and the different options out there, and assessing them from a cost-of-capital standpoint," said Ames.
Corl: Helping Entrepreneurs Think Past Venture Capital
Corl democratizes access to capital for tech companies in an industry dominated by venture capital. And in so doing, it seeks to change the way entrepreneurs think about funding.
"The traditional mindset for a lot of entrepreneurs is that VC funding is the holy grail. Once you get VC funding, it's something to be celebrated and announced," Ames said. "That's great, but you haven't executed on the business just yet. For successful companies, if you take a look at the cost of capital, they're giving up ownership in their company. It's very expensive."
Corl's revenue-sharing payment plans offer capital at a lower cost, and it's widely accessible since lending is based on business performance rather than the personal finance histories of founders and owners.
And its Marketplace expands access to a variety of worthy startups, including NHRV tech, so they can pursue their vision and bring needful products to the market.
"The toughest part of providing funding is saying, 'No' to some great companies. Now we have options for everybody. That's a new and exciting part for us," Ames said. "What keeps us going is that we have a completely unbiased product, we do our due diligence, and our application process is entirely data-driven, which provides a lot more options for founders who are outside the VC club."