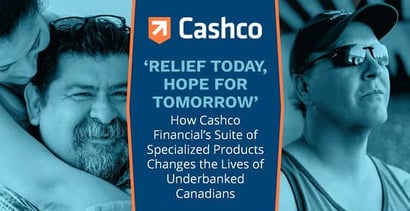 In a Nutshell: With millions of Canadians underserved by banks and living paycheck to paycheck, it's important that institutions offer alternative financial products that meet this demographic's needs. Cashco Financial has addressed this challenge head-on with a range of products like its Flex Loans, Jumpstart Savings Accounts, and Mom's Match Savings Accounts, and other specialized offerings. These help customers build savings and credit, find respite from financial hardship, and develop positive habits that help them work toward financial well-being. To Cascho Financial, people are more than account numbers or lines in the ledger. The company is dedicated to putting a human face on finance and helping its customers achieve a better future for themselves and their families.
While financial products from Canada's Big Five banks meet the needs of many, 5 million Canadians are classified as unbanked or underbanked, and 30% of the nation's population is living paycheck to paycheck.
These are people who have difficulty providing their families with basic necessities — clothing, food, and quality of life — and who are unable to access the financial products that could improve their financial and personal well-being.
And that's why Cashco Financial developed an innovative arrangement with ATB Financial to provide a suite of products designed to help Alberta's underserved communities take control of their finances and their futures. Cashco serves its 140,000 customers with due dignity and respect and offers them important loans and accounts that can help them change their lives.


We recently spoke with Courtney Johnston-Naumann, Head of Marketing with Cashco Financial, who told us about the company's efforts to improve the financial lives of their customers.
"Our purpose — and what we rally around in every regard — is having the ability to provide relief today and hope for tomorrow," she said.
Offering Financial Products for Underserved Canadians
In 2017, Alberta's provincial government passed An Act to End Predatory Lending. The measure protects unbanked and underbanked Albertans from being caught in cycles of debt and repayment caused by unfair lending practices. Alongside this safeguard, the government called on financial institutions to offer underserved citizens accessible short-term loans with reasonable terms.
"That pushed our CEO Tim Latimer to really analyze what are we trying to do, who we are, and what we stand for," Johnston-Naumann said. "Tim reached out to quite a number of different banks and credit unions, and none of them initially stood up and said they wanted to come along with us.
"Then he reached out to ATB Financial — which is a provincially run institution in Alberta — and challenged them because their mission and their mandate was to serve all Albertans."
ATB rose to Latimer's challenge and began working with Cashco. The arrangment has yielded a host of financial products that help Albertans build their credit, save money, and add some stability to their financial futures.
Let's take a look at a few examples of products that are doing just that.
Flex Loans Let Consumers Reclaim Their Financial Well-Being
Cashco's Flex Loans enable customers to borrow anywhere from $500 to $7,000. The repayment terms for Flex Loans range from six months up to 60 months, with customers incurring no penalties for early repayment. Through these loans, Albertans can consolidate their debt, gain relief from long-term financial shortfalls, and establish or rebuild their credit.
"I think you are going to reach so many people. I have seen people that have banked for years — applied for a loan, and the major banks don't even contact them to notify them of the outcome. I would suggest they up the service, but you have beat them to it." — Gratitude call from a Cashco client
Cashco relies on 400 data points to evaluate each applicant's risk level of each applicant applying for a Flex Loan.
"We set their payment cycles to what they're comfortable with; typically, they're a biweekly cycle. And we'll manage their payments with them so they can continue to afford it, and they can continue to have access to credit that keeps them moving along as things get tight," Johnston-Naumann said. "Our biggest concern is we don't get our clients into an unaffordable situation."
Everyday Benefits from Everyday Use
The Everyday Use Account is a transaction bank account. Even better, it's essentially free money.
Customers who use direct deposit incur no fees on the account, otherwise the monthly fee is $9.95. They also earn 25 cents each time they use their debit cards — which can be used at any ATB Financial ATM — up to a cap of $60 per year. Account holders pay no monthly fees for direct deposits, and the account provides access to up to $500 worth of overdraft protection.
With no financial burden on the account holder, the Everyday Use Account is an easy way to earn money just by using direct deposit and a debit card. And, just by signing up, Cashco customers also qualify for another account that can help them build their savings.
Jump-Starting Savings Through Customer Care
The Jumpstart Savings Account is available to every Cashco customer.
"When they open up their Everyday Use Account, we also offer them a Jumpstart Savings Account," Johnston-Naumann said. "When they open it, we put $10 in the account for them."
Customers pay no monthly fees on this account and enjoy unlimited monthly deposits and free withdrawals. These benefits are one more example of the importance Cashco puts on its relationships with customers.
"Our associates will talk to them about what they might potentially be saving for and help them get them on the path to saving," Johnston-Naumann said. Such hands-on support helps underserved Albertans better prioritize and meet their families' needs.
Helping Moms Make the Most of Tight Budgets
"We have a lot of moms and single moms who work with us, and by the end of the month, they're in situations where their finances are very, very tight," Johnston-Naumann said. "They go to buy groceries for their family, only to find out they have no more available funds."
That is why Cashco developed its Mom Match Savings Account, which gives mothers access to additional funds to provide for their children and families. "We center a lot around our female client base, and our moms are the ones who are the CEOs of the household," Johnston-Naumann said. "That's why we built a savings program for them."
The Mom Match Savings Account charges no monthly fees and allows unlimited deposits. A deposit of at least $10 each month to the account will be matched by Cashco with another $10 payable at the end of three months. By the end of the year, account holders who have deposited $120 will have a total of up to $240 with Cashco matches.
"The concept here is that if we can get them into a saving habit or a saving cycle, they'll be able to translate that and teach their kids how to save, which is going impact that whole generation and move them into that saving mindset," Johnston-Naumann said.
Breathing Room When Bills Come Due
Many Cashco customers encounter the problem of non-sufficient funds (NSF) and non-payment charges. Through the Buy Some Time program, they can avoid those black marks and build a positive financial history.
"Instead of just skipping that payment, they can work with us, and we can help manage those payments so they aren't negatively impacting their credit," Johnston-Naumann said.
Buy Some Time can be included on new loans or added to existing ones, providing customers with an NSF fee-laddering feature.
"If you have an NSF, your first one's free," Johnston-Naumann said. "We get it. You're going to need it at some point or another. I think most of us have all been there. For the second one, there is a $10 cost. And then the third one, there's a $45 cost, which is a traditional bank fee on an NSF."
Helping lendees establish positive financial habits and behaviors provides greater benefits than simple forgiveness. The purpose of Buy Some Time is to give customers that hand up rather than a convenient handout. However, the Buy Some Time does carry the opportunity to have your loan paid off in full.
Building and Rebuilding Credit and Savings
In an effort to find new ways to serve Albertans, Cashco is preparing to launch another specialized product called Build Me Up.
"It's for the clients who don't have access to traditional credit, and who want to rebuild or enhance their credit and rebuild savings," Johnston-Naumann said.
Customers make contributions on a guaranteed investment certificate (GIC) that is reported to the credit bureau. When the GIC's term is up, customers receive their full investment along with interest earned. Although the returns are low, so is the risk, and this investment helps them move up the credit continuum and qualify for more mainstream financial products.
Build Me Up is still in the pilot phase and not yet available to all Cashco customers. "We haven't formally launched it to the masses," Johnston-Naumann said. Soon, however, Albertans will also have access to this credit and savings-building tool.
Putting a Friendly Face on Financial Services
One thing all of Cashco's financial products have in common is that they are built to meet customer needs.
"Our clients tell us when we do good, and they tell us when we do bad," Johnston-Naumann said.
In addition to traditional feedback channels, Cashco maintains a Gratitude Department that contacts customers regarding their services and satisfaction and also conducts exit interviews for those who have decided to move on. This kind of feedback helps guide Cashco's service and new offerings, ensuring that its products are well-designed for real people.
Watch on
Feedback also helps to provide material for Cashco's Real World Stories initiative, a narrative approach to financial testimony.
"We're trying to find ways to make our story live through the voices of our clients," Johnston-Naumann said. "Our brand — and the essence of our brand — really comes to life through those stories."
In the process, Cashco is able to present the full impact that fair and adequate financial products can have on the lives of unbanked and underbanked Albertans.
Advertiser Disclosure
BadCredit.org is a free online resource that offers valuable content and comparison services to users. To keep this resource 100% free for users, we receive advertising compensation from the financial products listed on this page. Along with key review factors, this compensation may impact how and where products appear on the page (including, for example, the order in which they appear). BadCredit.org does not include listings for all financial products.
Our Editorial Review Policy
Our site is committed to publishing independent, accurate content guided by strict editorial guidelines. Before articles and reviews are published on our site, they undergo a thorough review process performed by a team of independent editors and subject-matter experts to ensure the content's accuracy, timeliness, and impartiality. Our editorial team is separate and independent of our site's advertisers, and the opinions they express on our site are their own. To read more about our team members and their editorial backgrounds, please visit our site's About page.