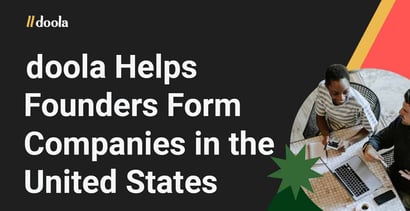 Experts share their tips and advice on BadCredit.org, with the goal of helping subprime consumers. Our articles follow strict
editorial guidelines
.
In a Nutshell: doola is a business formation service that helps entrepreneurs quickly turn their ideas into legitimate operations. The company files all of the paperwork to form an LLC and allows individuals worldwide to open a US bank account. Entrepreneurs only need to pay a small fee to form a business and acquire a financial account, and doola offers a wide variety of other options available as a business grows.
Creating a product and bringing it to market is often an exciting process for entrepreneurs. Knowing that the product they developed and crafted will be available to consumers can be an exhilarating experience.
But just having a worthy product or idea isn't enough. Entrepreneurs have to navigate a variety of hurdles just to market their product in the US.
doola helps potential US business owners fulfill those dreams by helping them form corporations with less hassle. Entrepreneurs can quickly get a business up and running through the LLC and bank account services doola provides.


It can be difficult for entrepreneurs to navigate compliance all on their own. doola CEO and Co-Founder Arjun Mahadevan said many entrepreneurs look at what they need to do to sell in the US and decide not to pursue it because of the difficult path.
But having an LLC of their own opens doors for business owners and their products. One doola client said he did not get any respect when he tried to market his product on his own and hit a dead end. But as soon as he registered as an LLC, potential business partners finally started taking his calls.
"It's funny, because, at the end of the day, it's the same person, all he did was form his company," Mahadevan said. "Having that LLC was a sign of approval, a sign of social trust, and a sign of authority which enabled him to grow his business essentially overnight."
Navigating the Barriers to Launching a Company
Before bringing a product to market, entrepreneurs need to navigate barriers. doola said many of the processes that go into getting a company off the ground don't involve building a product or growing a company.
A critical process involves registering the company to do business in the U.S. doola helps companies become compliant and acquire the tools necessary to grow a business.
"These are irreversible decisions and potentially mistakes you can make, which dictate the long term trajectory of the company," Mahadevan said. "Getting a bank account, setting up a tax number, staying compliant year over year, let alone month over month, and getting small business insurance are a lot of processes small businesses need to think about early on."
Getting a company off the ground is a pain point doola itself encountered as it grew its international team. Since then, the company has made it its mission to help entrepreneurs who saw the compliance nightmare that awaited them and decided they shouldn't start a company.
"Our mission is to enable anyone to take their dream idea, turn it into their dream business and democratize access to that specifically in the U.S. for founders who are outside the U.S.," Mahadevan said.
doola has customers in 200 countries on every continent except Antarctica. The company fundamentally believes that talent is everywhere, but opportunity is not.
Watch on
Entrepreneurs in every corner of the globe are looking to form a U.S. company. doola said having a U.S. company is considered the global standard, and international companies want to sell in the U.S. market because it's one of the most lucrative and attractive consumer markets in the world.
"In today's day and age, you can sell anything online with a payment link from a tweet or a Tiktok post," Mahadevan said. "Having a U.S. bank account with a U.S. payment link enables anyone to make money doing what they love selling something globally."
Lawyers typically charge hundreds of dollars per hour to go through the process of forming a business for a client. doola can do it for only a few hundred dollars, while bundling more services from doola's site will save fledgling entrepreneurs more money.
doola gets everything up and running very quickly. Business owners can spend more time focusing on growth instead of worrying about compliance.
"As a founder, your time is the most valuable time in the company," Mahadevan said. "It's the most high leverage time. Anytime you're not spending on growth or building a product is time you're not moving the company forward."
Offering Reliable Service With Proven Results
doola has successfully worked with thousands of founders across the globe. The company has experience working with international business people with an established company and entrepreneurs who want to start a business from scratch.
The company said many new entrepreneurs didn't know the service doola provides is even possible. Many times founders come to doola to form their business, and end up purchasing add-ons after seeing everything doola can do.
To open a bank account, founders need an LLC and an employer identification number (EIN) for tax purposes. Founders also need a valid U.S. passport or valid government-issued ID.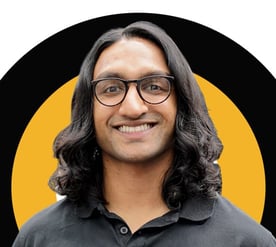 doola said the services entrepreneurs are most thankful for are the IRS tax filings and bank account set up. Applying for a tax number, filing taxes, and setting up a bank account in the U.S. are all complicated processes depending on where the entrepreneur is located.
A recent change in U.S. government regulations now allows entrepreneurs outside of the country to open a bank account remotely, making it a lot easier to register a business in the U.S.
"This really opens the doors for founders globally," Mahadevan said. "Founders can open companies faster and more seamlessly, which allows them to make more money faster."
doola's services are specifically useful for international companies with customers in the U.S. Those businesses normally can't accept payments from U.S. customers unless they are registered, but doola takes care of all of the headaches so international companies can offer products to the U.S.
doola's newest feature is its doola Banking service. The service is an all-in-one bundle that helps international business ventures by automatically forming their company, getting them a tax number, and applying for a bank account all at once.
Educating Entrepreneurs on the Essentials
doola said many entrepreneurs just starting out don't know what goes into starting their own business. The company wants to help all entrepreneurs, even if they don't sign up for doola's services.
doola has a section on its website dedicated to educating companies on what they need to know. The company collected the best information to create road maps companies should follow.
The website's articles help companies find solutions to their problems. If doola does not have a solution, the company can refer the founder to one of its company partners in its growing network.
doola said it is heavily investing in media content such as videos and FAQs that educate customers on making the right choices when starting a business.
"We know that a lot of founders want to do the research and be prepared," Mahadevan said. "It's our job to essentially give that communication to them in the medium they find preferable, whether that's video, whether it's plain text, or whether that's both."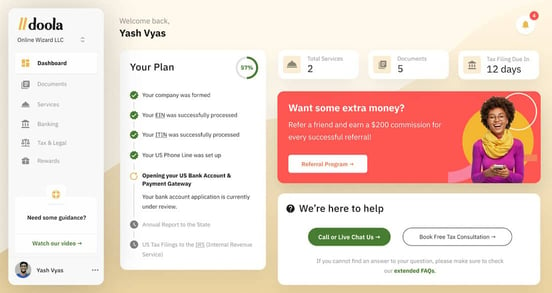 doola is currently working on bringing international wire and crypto features to its services for decentralized autonomous organizations. The company said the feature most often requested by entrepreneurs is learning how to raise capital.
The platform wants to meet entrepreneurs' goals and help them achieve their dreams. The company actively looks to its customers for ideas on how it can improve.
doola provides advice to people who have a great idea but are afraid of following their passion. The company wants to eliminate the misconception that entrepreneurs need a lot of money, time, and expertise to get a company off the ground. 
According to doola, entrepreneurs can't just rely on reading books or watching videos to start. They also don't have to leave a job to start a business. 
doola recommends starting the business and getting it off the ground. The best teacher is experience.
"Perfection is the enemy of progress," Mahadevan said. "In this case, just get started and then you'll learn a lot more. You will make mistakes, but you'll learn along the way.