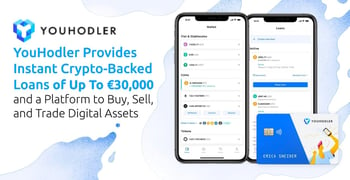 Experts share their tips and advice on BadCredit.org, with the goal of helping subprime consumers. Our articles follow strict
editorial guidelines
.
In a Nutshell: After its 2009 introduction, crypto users quickly established a use case for digital currencies beyond their original use as a form of digital payment: holding (or hodling, as crypto traders refer to it). YouHodler allows crypto investors to hold their investments while tapping into their value through its fast crypto-backed loans. Some traders use the loans to cover expenses or make purchases, while others invest their borrowed funds into more crypto. YouHodler recently launched a private beta version of its crypto credit card, crypto-fiat wallet, and mobile app to deliver the platform's features to users on the go and to those in developing countries who primarily use mobile devices to manage funds.
Bitcoin laid the foundation for the decentralized financial marketplace a decade ago by delivering a truly digital form of payment that did not rely on the world of traditional finance.
While the first major digital currency succeeded on that front, as Bitcoin and other cryptocurrencies began gaining value, another use quickly became evident.
Holding. Or hodling, as it swiftly became known among cryptocurrency enthusiasts, who adopted the humorous typo and spread it across digital currency forums.
The holding strategy is fairly straightforward. Cryptocurrency investors purchase digital coins and, rather than using them to make purchases, hold them in portfolios and wait for them to increase in value, like long-term stock investments.

Yet, plenty of instances still exist where cryptocurrency is the preferred payment method, which initially presented a dilemma for hodlers. If they needed to make a cryptocurrency transaction, they were faced with having to sell what was intended to be a long-term investment.
Now, with YouHodler, investors can have their crypto and spend it too, thanks to the company's crypto-backed loan offerings. Because the loans are based on users' cryptocurrencies as collateral, there are no credit checks.
"We started back in November last year so we are still a young company, but we've seen from 30% to 50% monthly growth rate," said YouHodler CEO and Co-Founder, Ilya Volkov. "But before that, we spent around two years working with different blockchain projects and technologies. We have a really strong IT development team."
The fintech platform's main focuses include crypto-backed lending with fiat and stablecoin loans, crypto/fiat, and crypto/crypto conversions.
Volkov said about 80% of the Cyprus-based company's customer base is located in the European Union, with the other 20% residing all over the world except the U.S., China, and Russia. YouHodler has not established a presence in those markets at this time.
Crypto Loans Allow Borrowers to Tap Into the Value of Digital Assets Without Selling Them
"As spending crypto assets today prevents cryptocurrency holders from gaining from any future growth in asset value, investors who buy low need to hold onto their assets in order to benefit from selling high," according to the company. "It's a market where everyone is conditioned to HODL."
YouHodler allows users to borrow cash with the highest loan-to-value ratio on the market, according to the company website. "Currently, we offer up to 85%," Volkov said. "Last month, it was up to 90%."
He said the LTV ratio varies based on certain parameters, including a low price limit which is the point where YouHodler would have to liquidate positions. When crypto prices are on the rise, customers can take advantage of higher LTV ratios.
The platform currently supports an array of cryptocurrencies, including Bitcoin, Bitcoin Cash, Ethereum, Litecoin, Ripple, and Dash, and according to the website, adds one new blockchain each month based on community feedback.
YouHodler maintains its own fiat fund, so borrowers do not have to find a lender as they do in P2P lending platforms. And with its automated know-your-customer (KYC) process, crypto loan approval only takes seconds and funds can be released almost immediately.
"YouHodler crypto-backed loans work like a pawnshop," according to the company website. "You sell crypto which YouHodler purchases. Following a pre-defined period of time, you re-purchase the cryptocurrency from YouHodler."
Once loans are approved, borrowers can make fiat withdrawals via SEPA and SWIFT bank wires or Mastercard and Visa credit cards.
And borrowers can pay back their loans at any time to get their cryptocurrencies back with no penalties or additional fees.
Traders Can Leverage Crypto Assets to Increase Profits
Volkov said YouHodler's original use case for loans was to allow borrowers to unlock the value of their crypto assets without selling them, so they could make purchases. But another use quickly arose.
"We noticed that we have an active group of traders inside the platform," he said. "These are people trying to hold their cryptocurrencies and leverage their portfolio."
He said these borrowers use their crypto as collateral to get additional funds, then use the cash to buy more cryptocurrency.
This strategy has been a common strategy on Wall Street for years in the form of margin loans and more recently with securities-based loans.
"Across Wall Street, securities-based lending is red hot," according to a 2017 Motley Fool article. "Nearly nine years into a bull market, banks are encouraging customers to borrow against their stock and bond portfolios to paper over budget gaps and cash needs, rather than sell their investments."
Volkov said some borrowers may use this approach for risk management purposes, or to sample different cryptocurrencies and blockchains. He said there are other subcategories of uses, including short-term holding which some users did during the recent Litecoin halving.
"But, basically, we have two types of uses on the top level — hodling and trading," he said.
While there are distinct advantages for leveraging crypto holdings to the investor's advantage, the YouHodler website does encourage traders to educate themselves to make smart decisions.
"Taking crypto-backed loans can be risky if users trade cryptocurrency on the rising market to pay back their loan or when they utilize margin trading techniques," according to the company. "As with any financially motivated decision, all users should do their own research and be prepared for all consequences."
YouHodler's Mobile App and Credit Card Let Users Move Seamlessly Between Crypto and Fiat
YouHodler recently launched a private beta version of its crypto credit card, crypto-fiat wallet, and mobile app.
"Be the first to keep crypto and fiat inside a single mobile app and have instant access to cash without selling your assets," according to the website. "Deposit crypto and get cash using your personal credit line. Your crypto credit card limit is based on the market value of your assets."
Users can also receive instant crypto-backed loans and hold, or instantly withdraw euros, U.S. dollars, or stable coins, and get cash quickly.
The company describes the app as a compact version of the YouHodler platform, which includes the crypto-fiat wallet with all coin, fiat, and stablecoin options the company offers, and deposit and withdrawal capabilities.
"Designed with user experience in mind, YouHodler's new app includes a clean interface with a multitude of services," according to a press release.
Volkov addressed YouHodler's security practices it implements for the crypto-fiat wallet.
"We do not store any significant amounts of crypto in hot wallets. We have developed a system of cold wallets, both online and offline," he said. "Of course we have two-factor authentication for all stages, and we push our customers to use two-factor authentication for their accounts."
The app also lets users control their loans, view their activity history, and manage their account profiles from their mobile devices. These features were previously only available through the YouHodler website.
"However, the new mobile app opens up the opportunity for those in developing nations who do all their crypto activities exclusively on mobile devices," according to YouHodler. "The app was mindfully designed for crypto novices to understand while simultaneously offering enough advanced features for trading professionals."
The company also just launched its new USDT Savings option. "With 12% annual interest, it's a one-of-a-kind tool for hodlers, giving them the chance to grow their crypto while hodling," according to the company.
Volkov said YouHodler is constantly working on refining the platform and exploring new features to deliver to its customers, and they have some more exciting developments on the horizon. In the meantime, crypto investors can continue to hodl.