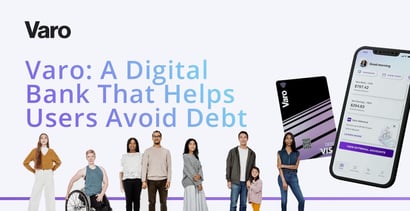 In a Nutshell: Millions of people across the U.S. are underbanked or simply don't have access to modern financial services at all. This is a major challenge for consumers because without access to quality banking services, falling into debt becomes a real threat. And debt is a trap that can be difficult to get out of. Varo understands this, and its mission is to provide affordable banking services for everybody. The company stands behind its mission with products and services that keep the consumer as the core focus. Its Varo Advance feature allows users to access up to $100 from their next paycheck to make ends meet without the high interest and hefty fees of payday loans.
Despite there being more options than ever when it comes to banking services, millions of U.S. residents remain unbanked or underbanked. Without access to mainstream financial services, households are essentially unable to build a solid financial foundation.
Falling into debt becomes much more likely as people are forced to turn to high-interest, short-term loans to make ends meet. And lack of access to banking services also impedes economic mobility and creates huge barriers when it comes to saving and growing money.

Varo is a digital banking platform that believes in democratizing access to quality financial services — banking for all.
"We believe banks should be a force for good. And they should help people live better lives," according to Varo. "We believe everyone deserves to be treated with respect. And that net worth does not equal self-worth."
We recently spoke with Eric Taylor, Varo's Director of UX Research and Strategy, who elaborated on Varo's mission, discussed the bank's products and services, and laid out how the company helps users avoid debt.
"It's important to note that the American middle class has been under siege for the last several decades, and has seen its share of aggregate household income steadily decline," Taylor said. "These folks face significant headwinds: skyrocketing education and healthcare costs, reduced upward mobility, slowing wage growth, and higher cost of living. The last thing they need is for their bank to ding them with unfair fees. These are the people we aim to serve."
A Bank Created to Fight Systemic Financial Inequality
"Varo was designed to be a better, fairer bank for everyday Americans," Taylor said. "We've been successful because we've broken barriers from the very beginning; for example, Varo was the first mobile bank to offer fee-free banking and a no-fee overdraft."
In August of 2020, Varo officially received our bank charter, he said. This made Varo the first consumer fintech in U.S. history to become a national bank.
"We don't have to rely on another bank for our infrastructure, so we can be even more competitive with the fees and services we can offer," Taylor said. "We plan to expand to additional types of services including credit cards, loans, and additional savings products."
Taylor highlighted a few of its features that make it stand out from other banks and that have been particularly resonant with users, including one of its newest offerings — Varo Believe.
Varo Believe helps users build credit in a safe way via a credit card linked to their account.
"With each use, Varo Believe sets aside money from your Varo Bank Account into a secure Vault Account, to be used to pay on-time, and in full every month," according to the company. "No runaway debt."
"Our No-Fee Overdraft benefit has been one feature that our customers like the most," he said. "Overdraft fees are particularly harmful to the financial health of the consumer. The average amount an account is overdrawn is only $20 for three days, yet the average overdraft fee is $35."
What's more, banks may also charge multiple overdraft fees per day, leading to compound fees that can add up to hundreds of dollars, Taylor said.
"These fees are a huge money maker. In 2020, U.S. banks raked in roughly $30 billion from overdraft fees. Furthermore, overdraft fees disproportionately impact lower-income folks. 80% of overdraft-related fees are borne by only 9% of accounts  —  the most needy customers, who on average carry a balance of $350," he explained.
Varo takes a different approach. Taylor said the company's banking offerings are wholly centered on improving customers' financial health, including paying meaningful interest on savings accounts and auto-savings tools that make it easy to build financial resilience.
"We also offer every customer early direct deposit — up to 2 days early — including on government stimulus payments," he said. "With the December stimulus checks, Varo started processing direct deposit stimulus payments for its customers earlier than traditional banks — as early as Monday, December 28."
Varo processed 99% of the December direct deposit stimulus payments before the big banks processed any payments, according to the company.
"Most big banks started processing on Jan. 1 — which was a holiday followed by a weekend — meaning most of their customers would start to get a payment on Jan. 4."
Varo Advance Gives Users Early Access to Funds from Their Paycheck Without Hefty Fees
Another key feature that Varo offers is its Varo Advance service, which helps users avoid debt by providing them advance funds without the burden of high interest or excessive fees.
"Many (unbanked or underbanked) are forced to turn to predatory alternative financial services, which have sky-high interest rates, exorbitant fees, and also engage in other abusive practices," Taylor said. "Many folks can fall into a vicious cycle, where they're charged an endless series of punitive fees, from which it's very difficult to escape."
Taylor said that Varo Advance is a feature the company began working on after multiple customers asked if it was possible to access cash on demand to help stretch a paycheck or meet an unexpected need.
"An advance has the advantage of being proactive and more flexible versus our No Fee Overdraft, which required getting to a zero balance first," he said. "Varo Advance can act as a short-term bridge to help customers proactively manage their finances between paychecks, allowing Varo customers to instantly access up to $100 in cash via the app."
Varo customers don't have to wait for approval for Varo Advance — access to funds is instant and they can use it right away.
"Plus there are no hidden fees — customers can get up to $20 for free, with a maximum charge of $5 for a $100 advance and have a 30-day window to repay the loan," Taylor explained. "Through the end of March 2021, we are not charging fees to use Varo Advance."
Collecting Feedback to Enhance the User Experience
Taylor said collecting feedback is an important way to build relationships with Varo customers. It does this through three main avenues — social media, user research, and quality customer service.
"We use our social media presence to create an ongoing conversation with our customers, to celebrate them, listen to them, and exchange information with them," he said. "We also aren't afraid to take a stand for things we believe in. A case in point would be in the aftermath of the killing of George Floyd, when we used social media to take a strong stand against institutionalized racism."
Most of Varo's customers didn't expect their bank to behave this way, Taylor said. But nearly all of the feedback was really positive.
"Varo is a diverse company serving a diverse cross section of America, and we felt that it was important to walk our talk," he explained.
The company also maintains a talented in-house video team that works hard to create relevant content for its customers.
Watch on
"They recently finished a series of videos that tell the story of how different Varo customers used their emergency funds when they were in a tight spot," Taylor said. "Folks are really interested in financial improvement, and we aim to serve them up compelling content that honors that."
Taylor said that user research is also extremely important to building relationships with customers.
"Pre-COVID we'd send our research team into people's homes all across the country, to understand how they live, the nuances of their financial lives, and their concerns, goals, and dreams," he said. "Now, these conversations all happen remotely, but it's an ongoing, never-ending process. User research informs everything from our product road map to our marketing campaigns."
Taylor said Varo also has a super responsive customer service team based out of Utah that is available 7 days a week.
"This is one of Varo's key differentiators versus our competitors," he said. "If our customers have an issue they can call us up and speak with a real person who will help them. Excellent customer service is highly valued at Varo and always top-of-mind."
The company also recently launched Varo For Tomorrow, a $100,000 emergency fund giveaway.
"Maintaining an emergency fund is one of the most fundamental steps towards long-term financial resilience, yet nearly 70% of Americans have less than $1,000 saved for an emergency," Taylor said. "An internal study of Varo's customer base shows that 77% of customers have dipped into their emergency savings in the past five months to cover a surprise expense or to manage through the ongoing fallout from COVID crisis."
Varo for Tomorrow is designed to help Americans start their savings journey or replenish a spent emergency fund, paving the way toward greater financial security.
"In the first three days after launching, we reached over 1.3 million people and received over 3,000 entries," Taylor said.
A Consumer-Focused Campaign to Raise Awareness of Varo's Pioneering Strategy
With Varo's customer base growing, the company is working to spread the word about its equitable approach to financial services to continue to attract users who can benefit.
"We launched our new brand along with a groundbreaking new campaign — 'A Bank for All of Us' — as part of our first multimillion-dollar, integrated brand campaign across TV, radio, and out of home," Taylor said. "The launch phase of the 'A Bank for All of Us' campaign reimagines money and puts modern American consumers at the very core."
The campaign highlights the diversity inherent in American communities and features a range of American faces — front and center — on a reimagined $20 bill along with a powerful statement. "Money shouldn't just work for some of us. It should work for all of us," he said.
"The campaign will manifest across TV, out of home, and radio and it signals a new visual identity for Varo in its digital ad campaigns," according to Taylor.
Advertiser Disclosure
BadCredit.org is a free online resource that offers valuable content and comparison services to users. To keep this resource 100% free for users, we receive advertising compensation from the financial products listed on this page. Along with key review factors, this compensation may impact how and where products appear on the page (including, for example, the order in which they appear). BadCredit.org does not include listings for all financial products.
Our Editorial Review Policy
Our site is committed to publishing independent, accurate content guided by strict editorial guidelines. Before articles and reviews are published on our site, they undergo a thorough review process performed by a team of independent editors and subject-matter experts to ensure the content's accuracy, timeliness, and impartiality. Our editorial team is separate and independent of our site's advertisers, and the opinions they express on our site are their own. To read more about our team members and their editorial backgrounds, please visit our site's About page.