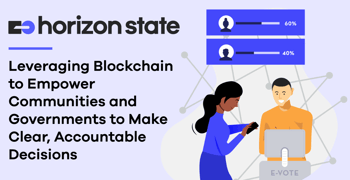 Experts share their tips and advice on BadCredit.org, with the goal of helping subprime consumers. Our articles follow strict
editorial guidelines
.
In a Nutshell: Blockchain was originally established to facilitate peer-to-peer digital currency transactions, but innovative companies continue to find new uses for the technology. Horizon State is using blockchain technology to reshape how collective decisions, from small business proposal to national elections, are made. The New Zealand-based company is leveraging its blockchain distributed ledger system to record votes or opinions on a permanent, publicly available record. It seeks to drive greater community engagement and bring transparency and accountability to elections at various levels. The platform has successfully been implemented in Australia and New Zealand. Horizon State has also proven itself on an international scale with the World Economic Forum announcing the company as a Technology Pioneer.
The foundation of democracy rests upon the notion that a society's decisions, policies, and laws are based on the preferences held by a majority of citizens. And this idea runs through every level of our society today — from casting a ballot in national government elections to using Twitter to vote for the best-dressed celebrity at a movie premier.
For more than 2,000 years, democracy has more often than not served civilization well. People feel like their voices are heard and leaders can feel assured they are acting in the interest of the majority.

But certain stumbling blocks — namely human nature — have often prevented a true democracy or even a representative democracy from being executed.
The act of voting requires voters to rely on the integrity of the entity counting the ballots to believe their voice has been heard. And in a representative democracy such as the United States, citizens must put their faith in the notion that their elected representatives will operate in their best interest.
This means leaving important issues — such as policies that can impact a household's personal finances — to leaders who may not always have their best interests at heart.
Even on social media, who's to say a PR company isn't paying to have its client lauded as the winner of informal polls no matter what the true vote count is?
Horizon State — a New Zealand startup — has harnessed blockchain technology to create a system in which any group-based decision is made in a transparent and truly democratic manner.
"With Horizon State's platform, organizations can achieve higher levels of community engagement, business or political campaigns can operate more efficiently, and voting can take place in a secure and transparent manner," said Nimo Naamani, Horizon State CEO.
Distributed Ledger Technology Brings Transparency to Elections and Other Collective Determinations
"There's quite a large buzz around blockchain," Naamani said. "Some argue that it has been around for 10 years, and nobody has come up with a good use for blockchain technology. And in some ways, it really is a technological solution looking for a problem."
But for Horizon State, blockchain technology's distributed ledger system provides just what the company needs to carry out its mission.
"Distributed ledger technology gives us the ability to put transactions — in our case, votes or opinions — on the immutable blockchain," Naamani said. "It can't be changed. It creates a level of trust in the democratic process."
Naamani acknowledges that just because Horizon State offers a system that facilitates a more transparent voting process it doesn't mean governments are going to be immediately jumping to use it.
"To be honest, I don't think trust in vote counting — at least in the Western world — is such a big issue," he said. "And I don't think corrupt institutions or governments are going to want to use something which puts everything out there in such an open manner."
Naamani said this notion helped shape the company's focus on more practical use cases in the near term, which is why Horizon State is currently most interested in the community engagement and collaborative decision-making part of the system.
"We're more interested in the end result than the blockchain itself," he said. "The blockchain can provide proof that your vote was registered, registered correctly, and can be verified by literally anybody in the world. That's the good part about blockchain for us."
Early Adopters Illustrate Democracy in Action via Horizon State and Blockchain Technology
One of Horizon State's first use cases played out as The Opportunity Party — a political party in New Zealand — used the company to conduct an internal leadership election last December.
Members of the party used preferential voting via smartphones to indicate their preferences from first to last. It was the first instance of blockchain-based voting in the country.
"TOP has made a brave choice – to run a fully transparent and inclusive process. This act has the potential to set a new standard in the NZ political arena, and is the kind of forward and inclusive thinking that I believe appeals to many in our country. The potential to tap into the wider audience when deliberating and designing policies is what pure democracy is about." — Naamani, in a company announcement
And Horizon State recently saw its largest use case to date when the government of South Australia — one of Australia's six states — conducted an election using the company's technology.
Members of the public elected five people to the inaugural Minister's Recreational Fishing Advisory Council. The referendum was the first election open to the general public to use Horizon State's technology.
Leading up to the vote, Naamani said the election could potentially see tens of thousands of voters.
He said it was exciting to see the Australian government use the company's technology for the first time and it helps to validate the use of blockchain in these types of situations. "The South Australian government is very forward-thinking and we are honored they chose us to provide the technology," he said.
Horizon State has also signed a memorandum of understanding with a religious organization in Indonesia.
Joining Other Tech Leaders as a World Economic Forum Technology Pioneer
Last year, the World Economic Forum identified Horizon State as one of its 2018 Technology Pioneers, placing the organization in the company of past winners, including Airbnb, Google, Kickstarter, Mozilla, Spotify, and Twitter.
"It was a huge honor to be recognized by the World Economic Forum," Naamani said. "It helps to validate the potential of our technology. I think we are the youngest company to achieve this accomplishment. At the time, we were less than a year old."
He said the vetting leading up to the honor involved a stringent process in which the World Economic Forum tested the veracity of Horizon State's technology in a number of ways.
"We went through a vigorous investigation and fact-finding process," he said. "We had to provide a lot of information for them to verify. We had to show the real-world applications of the technology and prove that we're working with real customers and solving real problems."
The company was selected from among hundreds of candidates by a committee of more than 60 academics, venture capitalists, executives, and entrepreneurs.
"Horizon State and its fellow pioneers are front and center in shaping the ongoing Fourth Industrial Revolution, and we believe they will be transforming society and industry in a positive way in the years to come," said Fulvia Montresor, Head of Technology Pioneers at the World Economic Forum.
Naamani said being named a Technology Pioneer shined a spotlight on Horizon State, and the company has become much more visible as a result of it, though he said it hasn't impacted its day-to-day operations.
Horizon State is still focused on intently bringing its innovative approach to decision-making processes all over the world. Naamani said he believes national governments are not quite ready to dive into the relatively new world of blockchain, but each successful implementation of technology on a smaller scale helps to prove its worth.
"Each instance helps to illustrate that the technology is working and that it is a dependable, solid platform so when the time comes for a national election, we'll be ready," he said. "In our minds, the grand dream is trying to create change in the ways communities govern themselves from the national level to town counsels."