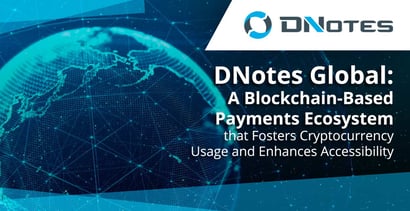 In a Nutshell: Studies show that women are being left behind in the world of cryptocurrency. But without them, crypto cannot become a widely accepted medium of exchange. That's why DNotes Global plans to reshape the crypto landscape to change that. It starts with a vertical ecosystem that incorporates all facets of financial services. And its HERo initiative will help women gain greater access to — and representation within — the crypto market, tech and financial fields, and entrepreneurial opportunities. DNotes Global believes that change is imminent, and it stands ready to offer a more inclusive financial future.
When people think of cryptocurrency, two industries likely spring to mind: technology and finance. And if someone invests in cryptocurrency, there's nearly a 25% chance that they work one of those industries.
According to Bitcoin.com, a little more than 15% of crypto holders work in the tech field and 8% work in finance. Cryptocurrency Hub reports that 39% of crypto users and holders are millennials. That number isn't surprising since the demographic has grown up with hands-on digital technology.
But of all the crypto users in the world, a disproportionately low number are women. Bitcoin.com put the number of female crypto users at a little over 8% in May 2018, and Cryptocurrency Hub reported the figure at 13% as of September 2018 — up from 6% at the start of that year.
Both sources cited the lack of female participation in the crypto-related fields of tech and finance as a contributing factor in the disparity between male and female crypto users. But regardless of the numbers and reasons, cryptocurrencies will need to reach all categories of consumers to compete with, support, or surpass fiat as the dominant medium of exchange.
"What most of the people in our industry need to remember is that, when it comes to currency, whether it's fiat or digital, we're talking about the entire population. You cannot exclude certain groups because how could you get mass adoption if you are not inclusive?" said Alan Yong, CEO of DNotes Global, a cryptocurrency and payments platform that aims to foster inclusion.
DNotes cryptocurrency launched in February 2014 and has maintained a focus on becoming a global digital currency that brings equality into the space.
To that end, DNotes Global developed an ecosystem designed to bridge the gap between the current financial and commercial paradigms and emerging decentralized digital currencies. And its HERo initiative will likewise bridge the existing gender gap in crypto along with those in tech, financial services, and entrepreneurship.
An Ecosystem that Offers Greater Efficiency than Fiat and Competing Cryptocurrencies
Blockchain-based cryptocurrencies offer many benefits over the current financial system. Faster transactions and transfers, security against fraud, constant availability, and the systems are cheaper to execute since the network entirely cuts out the middlemen.
But for all of these positive features, there are still some drawbacks to using blockchain tech. Digital currencies are still competing against entrenched fiat currencies with established — if inefficient — exchange and transaction infrastructures. And unlike fiat, cryptocurrency value is based entirely on supply and demand rather than any intrinsic worth. That means they have no price floor to limit drops in value, whereas fiat currencies are regulated to prevent such declines.
And cryptocurrencies cannot currently match the ease of use, storage, and access that fiat can provide consumers. The many benefits of crypto can't outweigh that ability to spend and store value.
DNotes Global's solution to that situation is the vertical integration of financial services into one single ecosystem. It will include a decentralized crypto exchange and marketplace, fiat exchange, bank, global payment network, and cards to enable the transfer of any digital currency into another — or to fiat. All of this will be built on a proprietary blockchain network and cryptocurrency — the DNote.
"Within a year, I would say we would have significant numbers of people using DNotes and accepting DNotes as a medium of exchange. I know that Bitcoin has been doing it for years, but part of the issue there is that they don't have a deliberate effort to do it — targeting groups, targeting regions, and countries," Yong said. "I think the time is right to start using digital currency in actual projects and actual transactions, on a very focused basis."
HERo Fosters Inclusion and Opportunity for Women in Finance, Tech, and Entrepreneurship
The success of cryptocurrencies in the mainstream market also depends heavily on their adoption by women — which is currently lagging. DNotes Global recognized that issue early on, and within two months of releasing the DNote, it launched the Cryptomoms initiative to bring more female users into the fold. The initiative set out to make DNotes more accessible, inclusive, and beneficial to women.
"From the very beginning, we realized that it's important for the female population to be included, encouraged, and maybe even given a helping hand," Yong said. "After doing a lot of observation, adjustment, and seeing how we can move forward and make DNotes even more inclusive rather than not, we created HERo."


HERo grew out of five years worth of experience in the cryptocurrency space. It expands upon the Cryptomoms mission of inclusiveness by drawing a more extensive range of women into all of the areas encompassed by DNotes Global's offerings.
"We want women to feel that they can play catch-up and not be left behind," Yong said. "We specifically picked the areas of finance, technology, and entrepreneurship."
The HERo membership platform recently launched to assist women in starting new businesses, expanding existing operations, and participating in emerging technologies.
Through these efforts, DNotes Global plans to create a culture in which change and opportunity can begin with individual initiative and end with the realization of cryptocurrency's real potential for financial equality and empowerment.
Dedicated to Innovating Relevant, High-Quality Products
In the preface to the DNotes Global white paper, Yong quotes American businessman Arnold H. Glasow: "Success is simple. Do what's right, the right way, at the right time."
Yong said that has been one of the guiding principles in the development of DNotes. And with more than 40 years of experience in business, Yong understands timing quite well.
Yong cites the DTR-1 — one of the first tablet PCs, preceding even the Apple Newton — as an example. The DTR-1 was released in 1993 by Dauphin, which Yong founded in 1988. At its debut, the DTR-1 retailed at $2,495 — the equivalent of $4,430 in 2019. But the revolutionary technology didn't find a market at the time.
A significant factor was that the technology of the day — particularly the touch screen — simply couldn't accommodate Dauphin's ambition for the product's capabilities.
The moral of that story is that a revolutionary idea may have to wait for other conditions to catch up. Now, 25 years later, more capable tablets can be purchased at a fraction of the DTR-1's adjusted cost. Likewise, cryptocurrencies may need to wait for conditions to ripen before they can have the desired financial impact.
Yong said the success of cryptocurrencies depends on a variety of factors ranging from technological capability to consumer interest to the regulatory environment.
"When it comes to regulatory consent, we're not quite there yet. I think there's a clear road map, from the regulators' standpoint, of what would be acceptable, even though many countries are still struggling with it," Yong said. "You have to wait until all those different ideas evolve and then, eventually, settle."
DNotes: New Offerings and Partnerships Aim to Expand Reach and Circulation
Yong said he believes the time is right for DNotes Global's ambitious project of making cryptocurrency more widely accessible. But surpassing the power of fiat currency and making crypto the primary means of exchange in the market is an entirely different matter.
"If you are talking about mass adoption of digital currency, I think it's going to be many years away," Yong said. "I think we're a lot closer today than last year and absolutely five years ago. That's why we finally feel that it's important to have a revenue-generating company."
DNotes Global is planning a membership forum for HERo, next-gen consulting, and a venture capital fund that will focus on women and provide value for other entrepreneurs as well. And DNotes Global's partnerships will play a significant role in those upcoming ventures. And Yong gives careful consideration to potential partners. He said that he grants more weight to professionalism, consistency, and results.
"Being trustworthy, being professional, being consistent, and delivering on what you promise is very important, and it doesn't happen overnight," Yong said. "You have to repeat that commitment, that promise, and deliver consistently, again and again, over time. That's how you build trust."
And Yong said he is focused on building trust with DNotes users. He said that the platform has a few thousand women supporters already and expects that number to grow to more than 10,000 with HERo's launch. That will help move DNotes Global closer to its goal of becoming a commonly accepted currency.
"There is zero question in my mind that digital currency can be superior to fiat currency in many ways, but it will take years. DNotes is going to take a rather different approach — very focused," Yong said. "That will also allow us to do something that's of value. The main objective is for DNotes Global to bring value to as many people as possible."
Advertiser Disclosure
BadCredit.org is a free online resource that offers valuable content and comparison services to users. To keep this resource 100% free for users, we receive advertising compensation from the financial products listed on this page. Along with key review factors, this compensation may impact how and where products appear on the page (including, for example, the order in which they appear). BadCredit.org does not include listings for all financial products.
Our Editorial Review Policy
Our site is committed to publishing independent, accurate content guided by strict editorial guidelines. Before articles and reviews are published on our site, they undergo a thorough review process performed by a team of independent editors and subject-matter experts to ensure the content's accuracy, timeliness, and impartiality. Our editorial team is separate and independent of our site's advertisers, and the opinions they express on our site are their own. To read more about our team members and their editorial backgrounds, please visit our site's About page.