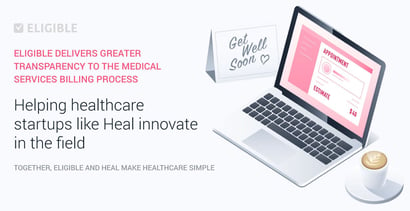 In a Nutshell: Medical patients and providers often suffer from the inefficiencies and out-of-date methods that make up our current health care service and billing structures. Companies like Eligible and Heal are working to innovate their fields through progressive ideas and technology. With Eligible, patients can know exactly how much they will be paying up front for medical services. The company employs automation and machine learning to deliver an efficient service that results in a better experience for patients and less lost revenue for providers. And Eligible comes together with companies like Heal to deliver even more innovation. Heal offers convenient at-home medical care with upfront pricing, including flat rates for patients without insurance.
My wife and I took our toddler to the emergency room a couple of years ago when he caught a stomach bug. I won't bore you with all the details of our ER experience except to say that it was pretty miserable.
The process took forever and nobody could ever give us an estimate of how much longer we would be waiting. And there was no discussion about the cost or services my insurance at the time would cover versus what we would have to pay out of pocket. (So, maybe I will bore you with a couple of details.)
In the end, we signed some paperwork and headed home in the wee hours of the morning. Our son was back to his usual energetic ways within a couple of days.
And several weeks later, we received a bill for a portion of the services that my insurance did not cover. It wasn't a huge balance, but it was still disheartening to be hit with an unexpected bill that we had no idea was coming.
Thankfully, companies like Eligible and Heal are coming together to disrupt the traditional medical services and billing models to make a much more pleasant and transparent experience.
Dr. Renee Dua had an experience, not unlike ours, in the ER with her own son, which led her to analyze the process. Dua combined what she identified as the health care system's shortcomings during the visit with her own medical knowledge and developed Heal.
Heal offers a whole new — yet old-fashioned — approach to providing medical services. Qualified medical doctors provide timely and convenient care in the privacy of patients' homes.
That's right — house calls.
But it also incorporates technology to make the whole experience as transparent and painless as possible.
"We reboot old-fashioned relationship-based primary care using innovative technologies that let doctors be doctors," according to Heal. "We do so at fair, affordable prices — often covered by insurance — so quality healthcare is almost never out of reach."
And, that's where Eligible comes in.
"Eligible is the nation's leading healthcare billing infrastructure company," said Eligible CEO Katelyn Gleason. "We're the go-to for the top health-tech platforms and apps, clinics, hospitals, and individual practices taking conscious measures to ensure the healthcare payment process is completely transparent and accurate for everyone involved."
Customers Know How Much They are Paying for Medical Care Up Front
Gleason said that pricing transparency in the medical industry is a huge issue, and according to the "NORC AmeriSpeak Omnibus Survey: Surprise Medical Bills," 61% of people received a bill after medical services and 57% were surprised to find out they had to pay out of pocket for something they thought was covered by insurance.
"Eligible was developed because of this issue and because we saw a need in the market for both patients and providers, Gleason said. "On average, 50% of provider revenue is not collected properly up front at the time of service. Right now, a provider's go-to standard operating procedure when this happens is to send collection notices to the patient."
By doing this, it creates a horrible experience for the patient, and providers still only get around 60% or 70% of the overall revenue collections due to them, she said. Providers tend to wind up with massive bad debt and write-offs.
"This is money out the window for them," Gleason said. "To address this, Eligible enables providers to deliver a better patient experience and also enables them to get closer to that 90% to 95% collection rate that they deserve because it's money that they're owed."
She said doctors work hard and deserve every penny of revenue for what they do.
Eligible is ultimately good for consumers and service providers, Gleason said. Eligible provides patients a level of transparency they've never before experienced. And it allows providers to be fully paid and removes the headaches of chasing lost revenue.
"They want to do right by the patient," she said. "They don't want to go to the hassle of having to hire a collection agency to harass the patient for payment. It is extremely high stress for them to have to deal with any of this."
Additionally, these scenarios are entirely avoidable because they are completely due to out-of-date software that they're all stuck and bound into using because it's the way billing has traditionally been done, Gleason said.
Eligible is Revolutionizing How Medical Providers Handle Billing Through Machine Learning and Automation
"Traditional billing doesn't support needs from a patient transparency perspective," Gleason said. "The Eligible API comes in and takes all of that pain away, both for the provider and patient, so each has a great experience."
Eligible's reliable technology makes billing for healthcare services as easy as accepting a credit card, she said, which saves patients from surprise bills that can come weeks or even months after they have received a medical service.
"By adding trust to the healthcare payments process, each year we've helped healthcare providers add millions to their bottom lines in otherwise lost revenue to free them to do what they do best: administer great care to patients in need," Gleason said.
Eligible automates this entire process through an API so doctors can tell patients exactly how much they owe in terms of copays, deductibles, and coinsurance, often before they even set foot in the doctor's office, so they don't get a bill later.
Eligible's continuously evolving feature set is inspired by the power of machine learning, business intelligence, automation, and technology, in general, according to the company website.
The company even recently developed its own bot, named Ellie.
"She helps with various internal applications, with the goal of making our lives easier," according to the company. "With her, we can do things smarter, faster, and be more productive."
Ellie's presence within the company provides further evidence of Eligible's commitment to developing and implementing technology to solve problems.
The company is always considering whether it can accomplish something faster, easier, or more effectively, according to the website. It also explores whether it can be doing more or even something completely new.
"Over time, we have changed from saying 'Can we automate this?' to 'Can Ellie do this?' according to the website. "This is an encouraging sign, as we want our team to know Ellie as a helpful assistant who can make our lives easier, one small task at a time."
How Eligible's Efficient Systems Help Partners Like Heal Disrupt the Healthcare Industry
Eligible's customers range from small start-ups with a handful of employees to large public companies with billions of dollars in revenue.
"We play a huge role in driving success for our partners like Heal," Gleason said. "Eligible is the reason that Heal can guarantee upfront pricing for their doctor house calls, and that the patient will never receive a bill afterward."
These guarantees are key components of Heal's mission to offer timely and convenient medical care to patients in their homes.
"We are their cash register in a sense, enabling Heal to receive payment for services rendered," Gleason said. "We are why Heal receives transfers into their bank account. Eligible technology runs from patients to insurance companies to providers on all sides of the spectrum to ensure transparency and accurate payments are received."
Transparency is an extremely important aspect of Heal's business model, and Eligible is an integral part of this process.
"Together with Eligible, we offer upfront price transparency to our patients," said Heal CEO Nick Desai. "In 2019, it is an abomination that the only thing Americans buy without knowing the price up front beforehand is healthcare. Heal and Eligible are fixing that, one doctor house call at a time."
Heal's proposition is not only appealing for patients; doctors are getting on board with Heal as well because of how it combines old-school patient care approaches with modern technology.
"I joined Heal because I wanted to be a part of the future of primary care," Family Medicine Specialist Dr. Anthony Chu writes on the Heal website. "By seamlessly utilizing technology and medicine, I am able to deliver comprehensive medical care in the comfort of my patient's own home."
Eligible also understands that committing to new partners and new approaches can be daunting, according to the company website. But the Eligible team is prepared to help new clients understand and navigate their way through new processes to reach the goal of better experiences for all parties involved.
Focusing on Massive Adoption in the Coming Decade
"Our focus over the next decade is going to be purely on the patient and consumer side," Gleason said. "We want to enable providers to come to a place where they are able to interact with patients in a more clear, transparent way so they can create an awesome experience for the patient."
She said any tools that Eligible can create to further reduce the risk of surprise medical bills are currently on the company's radar.
"And, as it stands now, there are just not enough providers transacting electronically in a way that's efficient and automated. One of our biggest competitors currently is pen and paper," Gleason said. "Our focus for the future is to really enable massive adoption by providers and start to make this a ubiquitous, everyday thing."
While plenty of medical care providers need to catch up to the innovative ideas and technologies behind companies like Eligible and Heal, it's still heartening to know that there is a better way. And it's coming soon.
Advertiser Disclosure
BadCredit.org is a free online resource that offers valuable content and comparison services to users. To keep this resource 100% free for users, we receive advertising compensation from the financial products listed on this page. Along with key review factors, this compensation may impact how and where products appear on the page (including, for example, the order in which they appear). BadCredit.org does not include listings for all financial products.
Our Editorial Review Policy
Our site is committed to publishing independent, accurate content guided by strict editorial guidelines. Before articles and reviews are published on our site, they undergo a thorough review process performed by a team of independent editors and subject-matter experts to ensure the content's accuracy, timeliness, and impartiality. Our editorial team is separate and independent of our site's advertisers, and the opinions they express on our site are their own. To read more about our team members and their editorial backgrounds, please visit our site's About page.