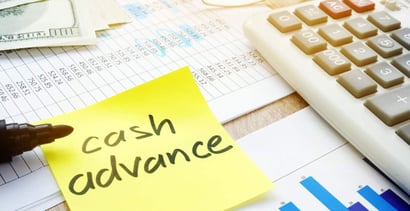 Thousands of consumers turn to the internet each day to get approved for a loan. But for some, finding the money they need is difficult because of low credit scores and bad credit histories. And when you need money right away, the options dwindle even further.
Yet dozens, if not hundreds, of lenders can help you obtain an instant cash advance without a credit check. Most operate online, but you can also visit a local payday loan storefront to get cash the same day with no credit check. We'll cover your online options and what you'll need to get approved.
Online Cash Advances With Instant Approval
The following companies are lending networks. They partner with direct lenders of subprime loans you can get approved for the same day you apply. 
There's no hard credit check involved, just a prequalifying form to see which lenders match your requirements. The form takes minutes to complete, and you can choose an offer from there and finish the loan application on the lender's website. There's no obligation to accept any loan offer you receive, and it's fast and free to compare your options.
MoneyMutual has been around for a long time. You may remember its commercials with Montel Williams in the 2010s. This service can match you with quick loan options in minutes, including cash advances you repay according to the lender's terms. Your loan can be deposited the same day you apply, but it may take 24 hours to clear with your bank.
The 24/7 Lending Group caters to consumers of all credit types, including bad credit. It provides installment loans that give you more time than a traditional cash advance loan to repay. You can receive approval and a deposit of your loan the same day you apply, but it may take up to 24 hours before it's in your checking account and available to spend.
CashUSA is another lender network that can match you with an online loan in minutes. To qualify for a loan, you must be at least 18 years old, a US citizen or permanent resident, employed for at least 90 days, have a checking account in your name, and provide work and home phone numbers.
The SmartAdvances.com lending network can prequalify your loan request within two minutes of submission, without a hard credit check or damage to your credit score. You must earn at least $1,000 per month as well as meet other basic qualifying criteria to qualify for a loan, but some lenders can fund your loan without a credit check as long they can confirm your income.
Bad Credit Loans will try to find you a subprime loan or line of credit. And if it can't, it will show you ads for other lenders and services tailored to your situation. To qualify for a loan, you must be at least 18, provide proof of citizenship, and have a regular income and checking account in your name.
CreditLoan doesn't require a credit check to prequalify you for a loan, but the lender you're matched with may. According to the CreditLoan website, "If you submit your information today, you will receive an immediate response. If approved, your funds could be in your account in as little as 24 hours. Money transfer times may vary between lenders and may depend on your individual financial institution."
Billshappen partners with a nationwide network of direct lenders of cash advance loans. You'll need a valid driver's license, Social Security number, a checking or savings account, and an income from employment or benefits to qualify for a loan offer. Funds can be used for any purpose and can be in your bank account as soon as tomorrow.
PersonalLoans.com can match you with payday loans, short-term loans, and personal installment loans you repay over longer periods. Some of its lenders deposit the money directly into your account within hours, and you can use the money however you choose. Note that emergency loans tend to have higher rates and fees than traditional loans.
Cash Advance Apps & Other Alternatives
Another option for obtaining money instantly is to use a cash advance app. These apps can front you a small amount of money that you repay with your next bank deposit, which means you must have a bank account with regular direct deposits to qualify. 
One of these apps may be right for you if you're a few days shy of payday and could use a quick loan to carry you through. Here are a few popular choices:
Dave
Dave provides ExtraCash™ advances of up to $500 through its mobile app. You can link your bank account to the app to determine whether you qualify for a cash advance. There's no credit check involved. 

The app primarily looks to see whether you have regular recurring deposits from which it can automatically withdraw repayment. The biggest benefit is it charges no interest or late fees, but transferring the money from the Dave app to your bank account could take up to three business days. The only way to spend the money instantly is to open a Dave Spending account with an accompanying debit card.
Brigit
Brigit offers same-day loans of up to $250. It costs $9.99/month to access the Instant Cash feature. You can opt for Express Delivery to get your cash in minutes for an additional small fee. To get a loan, download the Brigit app, connect your primary checking account, request an advance, and set a repayment date (typically your next payday).

To qualify for a loan, your bank account must be open for at least 60 days, have a balance above $0, and have at least three recurring deposits from the same source. There's no interest or tips, and you can extend your repayment term without fees.
EarnIn
EarnIn lets you borrow up to $100 per day – up to $750 per pay period – without a credit check. As with the other cash advance apps here, you must link your bank and employment info to the app to determine your eligibility. If approved, you can transfer the funds to your bank account from the app.

EarnIn requires you to be on a consistent pay schedule, i.e., weekly, biweekly, monthly, etc., and be at least 18 years old. You must also provide a fixed work location, employer email address, or an electronic or printed time sheet. Income from unemployment, Social Security, and other government benefits do not qualify.
Drawbacks of Cash Advance Apps
Each app works differently, yet they all share many of the same features, including no interest or credit checks. But they're not all free — see Brigit's $9.99/month fee, for example — and have some drawbacks you must first consider.
Bank account with recurring deposits required: All cash advance apps require you to have a bank account in your name with recurring deposits set up, some of which only accept employer paychecks. The app will look at how long your account's been open, how much money you make, and whether you regularly overdraft the account. 
First-time setup and transfer delays: You must undergo a verification process before you are eligible to use a cash advance app. Once verified and approved, it could take up to three business days to receive the transfer into your linked bank account, though some offer expedited deposits for a fee.
Low loan amounts: The highest loan amount available to app users is $500 from Dave, which may be enough to cover an unexpected expense, or it may not be. If you need $1,200 to pay for auto repairs or to prevent your electricity from being turned off, these apps won't cut it. 
The lending networks reviewed above provide larger loan amounts with longer repayment periods. 
3 Ways to Get Money Today
Maybe you've reviewed the lending networks and apps above and decided none will work because you need money now. Here are some in-person options that may be able to help you as soon as you can get to one.
Storefront Payday Lender: Though an online payday loan may be convenient, a storefront payday loan is ideal when you need cash now. Payday lenders generally don't perform credit checks. Instead they rely on your income and pay schedule to determine loan approval. You can walk in, fill out some paperwork, and walk out with cash in less than an hour. Note that these loans are expensive, and some have predatory terms that can make your situation much worse if you can't repay the loan as agreed.
Credit Union Payday Alternative Loan (PAL): Your local credit union may be the place to go when you need a quick loan. PALs were created to help people with poor credit avoid expensive payday loans. But they have a few conditions, including requiring you to become a member of the credit union, and not all credit unions offer them. But if you live near one that does, PALs can't be beaten in terms of the interest rates and repayment terms they offer.
Pawnshop Loan: A pawnshop loan is a quick way to hock something you own in exchange for cash. You bring the item to the pawnbroker, who will determine its value and give you cash equal to a low percentage of what it's worth. Once you repay the loan, you get your item back. If you don't repay, the pawnshop will sell it and recoup what it lent and more. 
Of course, you could always ask a friend or family member for the money, too. This depends on your existing relationships and whether they have money to lend, but it's a good idea to explore if the opportunity is there. Just be sure to pay up to avoid damaging your relationship.
You could also opt for an auto title loan, a secured loan that uses your vehicle title as collateral, but we don't recommend these because 1 in 5 borrowers loses their vehicle to title loans. It's not worth losing reliable transportation and putting yourself in an even worse position.
What is a Cash Advance?
A cash advance — also known as a payday loan, emergency loan, or no credit check loan — is a type of personal loan that is based on your income rather than your credit history. You can get a cash advance online or from local payday lenders. 
Another option is a credit card cash advance, which is a cash withdrawal from your available credit limit that can be completed at an ATM or bank branch. 
Most cash advances are required to be repaid the next time you get paid, unlike an installment loan that gives you months or years to repay the debt. Your credit score isn't a factor in getting a cash advance, but lenders take your credit score into account when determining approval and costs for an installment loan.

Cash advance loans charge hefty interest rates unless you get one from a cash advance app that doesn't charge interest or penalties. The interest rates of traditional payday loans generally range from 200% to 700%, but the interest accrual period is limited due to their short repayment window. The interest rate on a bad credit loan may be worth paying in dire situations. 
How Do I Get a Cash Advance?
The easiest way to get a cash advance is online. You can do so through a direct lender network, where you're matched to loan offers you qualify for instead of having to find a reputable lender that accepts bad credit.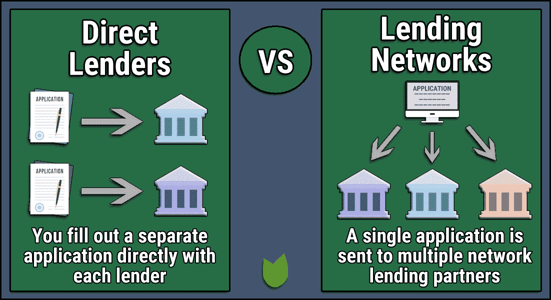 You can also use a cash advance app by linking your bank account to the app. And finally, you can visit a local payday lender to fill out the loan paperwork and walk out with cash in hand. 
Is a Cash Advance a Good Idea?
A cash advance may be a good idea if you're positive you can repay the loan as agreed and don't have any less expensive options to rely on. The interest rates can be high, but the short duration of these loans limits the interest fees you pay. 
But if you can't repay as agreed, you will find yourself on a slippery slope, where rollover fees and interest continue to accrue and compound the amount you owe, making it harder to get out of debt. 
If you qualify to use a cash advance app, it can also be a good way to bridge the gap between paydays, thanks to the interest-free lending model most cash advance apps use. But relying on regular cash advances to get you by – even if you're not paying interest – isn't a good idea. It means you're overextended and will need to find ways to cut costs or increase your income to avoid spending more than you earn.
Instant Cash Advances Are Available Without Credit Checks
To recap, instant cash advances: 
are readily available online, and good credit isn't required.
can be obtained without a credit check as long as you have the income to repay it.
may charge high interest rates and fees for the privilege of getting a loan without a credit check and the increased risk of borrower default.
can be used to cover an unexpected expense or for any other purpose.
can lead to mounting debt when not repaid on time.
Lending networks provide the opportunity to source a reputable lender with little effort. It only takes a few minutes to see what you qualify for, you're not obligated to accept an offer, and you can initiate a deposit into your account the same day you're approved.
Advertiser Disclosure
BadCredit.org is a free online resource that offers valuable content and comparison services to users. To keep this resource 100% free for users, we receive advertising compensation from the financial products listed on this page. Along with key review factors, this compensation may impact how and where products appear on the page (including, for example, the order in which they appear). BadCredit.org does not include listings for all financial products.
Our Editorial Review Policy
Our site is committed to publishing independent, accurate content guided by strict editorial guidelines. Before articles and reviews are published on our site, they undergo a thorough review process performed by a team of independent editors and subject-matter experts to ensure the content's accuracy, timeliness, and impartiality. Our editorial team is separate and independent of our site's advertisers, and the opinions they express on our site are their own. To read more about our team members and their editorial backgrounds, please visit our site's About page.