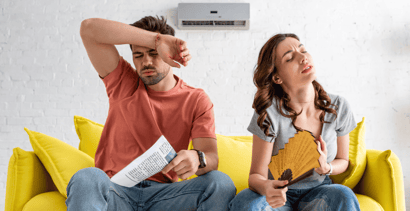 The physical impact of a broken heating, ventilating, and air conditioning (HVAC) unit can range from discomfort to life-threatening. Financially, a malfunctioning HVAC unit no longer under warranty can blow a giant hole in your budget.
HomeGuide.com reports the cost to replace a ducted HVAC unit can reach $18,500. At those prices, it's easy to feel overwhelmed, especially If you have bad credit.
Relax! We'll show you several ways to finance the repair or replacement of your HVAC unit regardless of your credit history. We suggest you bookmark this article for quick access should your HVAC go on the fritz. Hope for the best, plan for the worst.
Personal Loans For HVAC Financing
Personal loans provide a way to quickly borrow large sums. The following lender-matching websites can help you borrow $20,000 or more in as little as one business day. They serve consumers with bad credit by finding direct lenders specializing in subprime loans. 
The 24/7 Lending Group is an around-the-clock lender-matching network for loans of up to $35,000. Several of its lenders accommodate consumers with poor credit, and none charge prepayment penalties if you pay your loan off early.
You can use 24/7 Lending Group without cost or obligation. Its online form is easy to complete and can connect you to several funding options in minutes. The website protects your information with advanced data encryption technology so you can request an online loan with peace of mind from the ease of your home.
If you suddenly need to fix or replace an HVAC unit, you can look for a sizable loan through PersonalLoans.com. To prequalify, you must be a US citizen or resident, age 18 or older, with a reliable monthly income, bank account, email address, phone number, and Social Security number.
PersonalLoans.com works with a network of lenders, including many that specialize in subprime installment loans. They can arrange loans with APRs no higher than 36% and repayment periods of three to 72 months. The loan proceeds may arrive in your bank account as soon as the next business day.
SmartAdvances.com is a lender-matching service with a network of personal loan providers, including tribal lenders. It's a free service, and checking whether you prequalify for a loan won't harm your credit score. You don't need to post collateral to get one of these unsecured loans.
It takes only a few minutes to submit a loan request to SmartAdvances.com. You'll need to answer a series of questions, including your name, address, phone number, email address, and other data items. You should receive an immediate prequalification decision that may lead to next-day funding.
Home Equity Loans For HVAC Financing
You can tap into your home's equity when you need a large loan. Home equity loans and home equity lines of credit (HELOCs) let you take advantage of the equity (your home's current value minus your mortgage balance) you've accumulated in your home through price appreciation, renovations, and a lower mortgage principal.
Although Rocket Mortgage does not offer HELOCs, you can apply online for a home equity loan. The equity in your home collateralizes the loan, which means your bad credit history is not the primary factor for loan approval. The typical loan term ranges from 10 to 20 years, although you can pay off the loan early without penalty.
Quicken Loans is the largest lender in the US in terms of loan originations. Its home loans are processed through Rocket Mortgage, where you can arrange a home equity loan with a repayment term of up to 20 years. Equity loans are also called second mortgages.
eMortgage is a loan-matching service that lines up quotes from its network of online lenders. You can request multiple HELOC offers by submitting a single form to eMortgage. The data you must provide includes the loan amount, property value, state, mortgage balance, and credit rating. eMortgage uses 256-bit encryption to help ensure your privacy and security.
Government Programs For HVAC Financing
You may be eligible for a government loan to help pay for HVAC repair or replacement. The federal government guarantees these loans or distributes program money to the states.
7. Federal Housing Administration (FHA) Title 1 Loan
You can get a Federal Housing Administration (FHA) Title 1 Loan even if you don't qualify for a traditional home equity loan. This FHA program guarantees home improvement loans from approved lenders. 
It's pretty easy to get a Title 1 loan. You must reside in your home for at least 90 days to qualify for this government loan guarantee. You must also show reliable income, a debt-to-income (DTI) ratio no greater than 45%, and no delinquent or defaulted federally backed loans. You can use the proceeds to repair or replace your HVAC system.
8. Low Income Home Energy Assistance Program (LIHEAP)
The Low Income Home Energy Assistance Program (LIHEAP) is a federal program that helps low-income households pay their energy bills. LIHEAP funds state programs, some of which may help you pay for the repair of your broken heating system. 
You can check your local LIHEAP office or your state's Department of Health and Human Services to see whether you are eligible for HVAC repair assistance in your state.
9. Weatherization Assistance Program (WAP)
If you have a low income and need help paying your energy bills, you may benefit from WAP. This federal government doles out funding on a state-by-state basis, and each state controls its own program. Your state may use WAP funds to help eligible residents repair broken heating systems.
What Are HVAC Loans?
You can use this type of loan when you need to fix your unit or get a new one. You can also use various personal, home equity, and government loans for HVAC projects. An HVAC manufacturer may offer to help you finance the purchase of one or more of its products. 
The repayment periods for these installment loans vary. Personal loans may give you up to seven years to repay, whereas financing from HVAC makers may extend for several years. Consider applying for a home equity or federal loan if you want a term of 20 years or more.
How Much Does It Cost to Repair or Replace an HVAC Unit?
The cost of repairing an HVAC system is modest compared to the price of a new or replacement system.
HVAC Replacement
HVAC replacement prices depend on several variables, including:
House size
Ductwork length
HVAC system size
HVAC system type
HVAC system brand
It costs about $5,000 to $11,000 to replace an HVAC system, including a new furnace and AC system. If you add ductwork, the price climbs into the $7,000 to $16,000 range.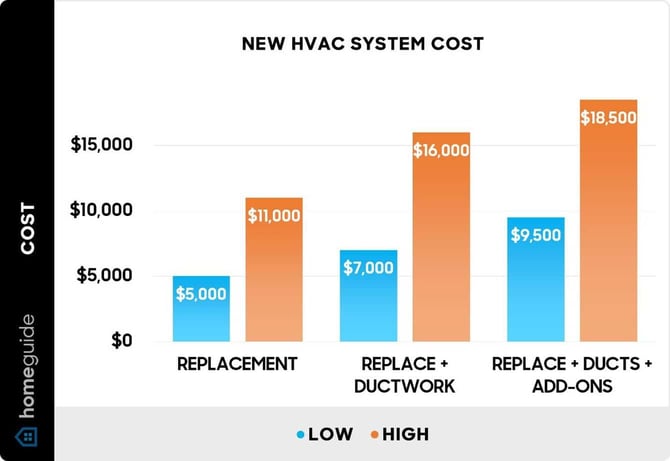 The three standard types of HVAC installation packages are:
HVAC change-out: It costs $5,000 to $11,000 to replace the main HVAC components. The price doesn't include installing new ductwork. The installation usually takes about a day to complete. You can choose this option if your ductwork is in excellent condition.

HVAC installation with ductwork: The price for a new system plus ductwork ranges from  $7,000 to $16,000. The project may require three to five days. Ductwork has a useful lifetime of 10 to 20 years and typically needs repairs or replacing when you upgrade your HVAC system.

HVAC installation with add-ons: If you want extra bells and whistles, the HVAC installation will cost $9,500 to $18,500 and take four to seven days. Optional add-ons include a whole-house humidifier, a zoning system, and a UV light filter.
Manufacturers specify the output of the AC unit within a residential HVAC system in sizes ranging from 1.5 to 5 tons. The cost of an installed AC system can vary from $2,000 to $8,000, depending on tonnage.
HVAC Repair
HVAC repairs cost between $100 and $2,000 as of 2023. The price varies because certain parts are more expensive to replace than others. Your local cost of living affects how much a repair person will charge for a house visit.
These are representative repair costs for different HVAC repairs:
Air conditioner repairs: Typical AC repair costs range from $450 to $1,000. But a broken compressor could set you back as much as $2,000.

Furnace repairs: You'll pay between $130 and $500 for a furnace repair. Boilers cost a little more to repair (i.e., up to $600) because of mineral buildup, faulty fuel connections, and clogged valves.

Heat pump repairs: Several things can go wrong with a heat pump, including broken fan motors and dirty coils. Expect to cough up between $175 and $600 for repairs.

Labor: About half the price of an HVAC service call stems from labor costs. A technician's initial assessment may run between $100 and $250. That's the same rate you'll pay for each hour of repair time (in addition to the cost of parts).
The following chart provides representative HVAC labor costs for selected states: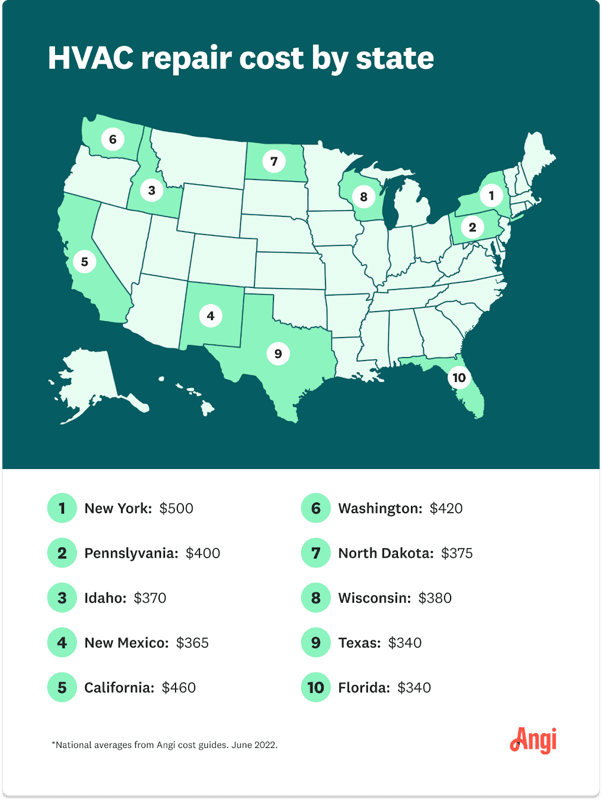 It costs the most to repair your HVAC system in New York, whereas repairs made in Florida typically cost the least.
Controlling Costs
A sudden HVAC bill can knock your budget for a loop. Here are a few tips to control HVAC repair costs:
Buy an HVAC maintenance service contract. For a fixed annual price, the agreement covers the cost of labor and most replacement parts.

Change your filters regularly. Dirty filters strain an HVAC unit, forcing it to work harder. This situation increases wear and tear and can hasten part failures.

Remove clutter from the area around your HVAC. Debris can restrict air flow and damage the unit over time.

Replace unrepairable parts before they fail. Certain parts will eventually fail even when properly maintained. You can save money by replacing those parts at the end of their useful lives.
Some folks think of their homes as money pits. A little upfront money for preventive maintenance can help you avoid costly surprises stemming from a broken HVAC system. It also is a good idea to insulate your house and patch any air leaks. 
Consider asking your local utility to perform an audit to identify any energy-related problems. Many utilities offer home energy audits for free or at a nominal charge.
What Should I Consider Before Choosing an HVAC Loan?
Paying for HVAC repair and replacement can require a pretty substantial loan. Rather than rush into a decision, take some time to consider the following factors:
Loan type: You can get an HVAC loan from several sources, each with advantages and disadvantages. Apply for the kind of loan that fits your needs best.

Interest rate: All things being equal, you should choose to pay the lowest interest rate available. But it's best to consider interest rates within the context of the entire project. Avoid falling for low-ball interest rate quotes from lenders who charge high fees.

Down payment: Some loans require significant down payments. Consider whether you'd prefer a payment option that requires a small down payment (or none at all).

Loan term: Convenient monthly payments hinge on your loan term. A longer repayment period creates more affordable and convenient monthly payments but increases the loan's overall cost.
Fees and penalties: Scour the loan agreement for inconspicuous conditions, such as prepayment penalties, origination fees, late fees, and penalty APRs.
Your credit score: Be realistic about the impact of your credit score on the loan's cost. If you can plan an HVAC replacement a year in advance, you can use the time to improve your credit score by paying your bills on time and keeping your debt levels low.
Choosing a contractor: Your HVAC contractor may offer to finance a major project. That may be a good deal, but you should always investigate the contractor first. Look for a company or individual with a solid reputation for reliability. You can ask for references, look at online reviews, and check with the Better Business Bureau.
Rebates and tax credits: State, federal, and/or manufacturer credits may be available when you improve the energy efficiency of your house. Check for rebates and tax credits since they reduce the project's cost.
A financial advisor may be able to offer you loan advice that will save you money in the long run.
Should I Finance Through an HVAC Company?
Although they are convenient loan sources, HVAC companies may not be your best bet for financing an HVAC repair or replacement. Here is a rundown of the pros and cons.
Pros
The advantages of financing through an HVAC company include the following:
Convenience: Only an HVAC company can single-handedly help you select the system, install it, and finance the payments.

Promotions: An HVAC company may offer you special financing, such as a reduced interest rate or a partial rebate.

Credit: HVAC companies may be more willing to finance subprime consumers.

Expertise: An honest HVAC installer may be able to get you special financing not available to everyone. In addition, a trustworthy technician will size your HVAC unit properly so you don't overspend for capacity you do not need.
You should get at least three bids from competing HVAC companies to help prevent overcharging.
Cons
These disadvantages may sour your view on financing from HVAC companies:
Higher interest rates: Without the benefit of a special promotion, you may find that an HVAC company charges a less competitive interest rate than do other lenders

Limited options: Financing through an HVAC company locks you into its products. You may want the freedom to choose your HVAC equipment without financing strings attached.

Conflicts of interest: Some HVAC companies may bulk up their profits by inducing you to buy overpriced or unnecessary HVAC equipment.

Pressure tactics: Beware of HVAC companies that use high-pressure tactics to close a deal quickly or upsell you on unnecessary items.
Given these tradeoffs, investigating personal and home equity loans seems prudent.
Can I Benefit Financially By Installing a New HVAC?
Installing a new HVAC system isn't all financial doom and gloom. Here are some ways a new system can benefit you:
Lower utility bills: A modern HVAC system may increase your home's energy efficiency. You'll save money by using less fuel to warm your home and less air conditioning to cool it.

Potential tax credits and rebates: Check for federal, state, and local tax credits and rebates for installing an energy-efficient HVAC system.

Lower repair costs: A new system comes with a warranty. Moreover, it should need fewer repairs in the early years.

Home appreciation: A new HVAC system may cause the value of your house to go up. This added value can mean a higher selling price or eligibility for a larger home equity loan.

Breathing easier: You may experience cleaner air when you install a modern HVAC unit. Better quality air is especially important for homeowners with asthma, allergies, and other respiratory problems.
Lower insurance premiums: Your insurance company may reduce your premiums when you install a new, safer HVAC system.
It is an ill wind that blows no good. A new HVAC may blow good by paying for itself in the long run.
Let a New or Repaired HVAC Add Comfort to Your Life
Sweating in the summer, shivering in the winter, inhaling polluted air — who needs it? A new or repaired HVAC can immeasurably add to your quality of life. Now that you know how to pay for it, go out and get yourself a new HVAC or fix the one you already own. 
24/7 Lending Group & Other Resources
We hope you've found our guide "9 HVAC Financing Loans For Bad Credit (Sep. 2023)" to be helpful in meeting your financial needs. To learn more about 24/7 Lending Group, our top recommendation in this guide, be sure to visit the 24/7 Lending Group website for full details about the offer.
Our experts rate 24/7 Lending Group as one of the best options in personal loans for those with bad credit, giving it a 4.7/5.0 rating overall. Among its features:
Personal loans from $500 to $35,000
All credit types are considered and welcome
Simple, no credit impact form
Helping consumers since 2001
4.7 out of 5 Trustpilot rating with 2,000+ reviews!
For more resources similar to this "9 HVAC Financing Loans For Bad Credit (Sep. 2023)" guide, see our other popular picks for those with bad credit:
Whether you choose 24/7 Lending Group or any other option in our personal loans category, be sure to read and understand the terms before signing up. You'll find that taking the time to fully understand personal loans is one of the smartest financial decisions you can make.
Advertiser Disclosure
BadCredit.org is a free online resource that offers valuable content and comparison services to users. To keep this resource 100% free for users, we receive advertising compensation from the financial products listed on this page. Along with key review factors, this compensation may impact how and where products appear on the page (including, for example, the order in which they appear). BadCredit.org does not include listings for all financial products.
Our Editorial Review Policy
Our site is committed to publishing independent, accurate content guided by strict editorial guidelines. Before articles and reviews are published on our site, they undergo a thorough review process performed by a team of independent editors and subject-matter experts to ensure the content's accuracy, timeliness, and impartiality. Our editorial team is separate and independent of our site's advertisers, and the opinions they express on our site are their own. To read more about our team members and their editorial backgrounds, please visit our site's About page.