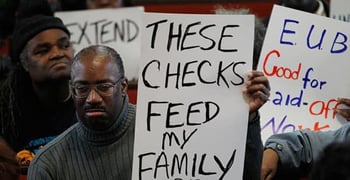 BadCredit.org publishes personal finance studies on the latest trends in the subprime marketplace. Our articles follow strict
editorial guidelines
.
Unemployment costs Americans more than their weekly paycheck. According to a recent study out of the Pew Charitable Trusts, it also badly damages their long-term wealth.
The study found families that experienced unemployment were 1.3 times more likely to suffer a loss of wealth than families that didn't.
This held true even when controlling for factors like different levels of income, education, race and family status. It was also true whether the American economy was strong or weak.
For this study, Pew looked at the wealth statistics of families that were unemployed at some point between 1999 and 2009. They looked at families from different races, income brackets, and educational backgrounds.
This study also covered years when unemployment was low and when unemployment was high.
"Families experiencing unemployment were

1.3 times more likely to suffer a loss of wealth."
It seemed when a family faced unemployment, they had to take serious measures to make ends meet. Respondents said they had to spend down their savings and take money out of accounts meant for retirement or college savings.
They were also more likely to use high interest, short-term loans which are expensive and can lead to a worse credit score.
It seems a period of unemployment can hurt any family's wealth potential. Pew recommends the government consider this issue and provide more programs to help Americans deal with short-term unemployment.
Americans are already struggling to meet long-term financial goals, so getting hit with this setback makes things even worse.
This study shows it is very important to be financially responsible when you are working. Make sure to build an emergency fund and keep your debts under control.
You need to build as much of a cushion as possible to avoid the wealth loss from unemployment.
Source: Pew Charitable Trusts. Photo source: americanprogress.org.