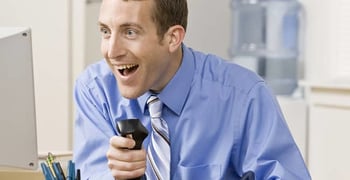 BadCredit.org publishes personal finance studies on the latest trends in the subprime marketplace. Our articles follow strict
editorial guidelines
.
With more and more companies using credit reports as a part of the hiring process, this can dramatically impact an applicant's ability to land the job.
Companies claim using credit history is a valid way of determining the likelihood someone will behave in ways that may harm the company, but a recent study suggests that's not the case.
According to Louisiana State University professor Jeremy Bernerth, "The idea is that if you have a bad credit score, you'll engage in deviant acts. We found no relationship there."
In the study, Bernerth's research team found there are certain traits people with high credit scores have that can positively impact a business, but the reverse is not true. In other words, credit data doesn't tell the whole story.
"Employers seem to treat credit scores as a

personality assessment, which is a false premise."
The study goes on to say employers seem to treat a job applicant's credit profile as a personality assessment, which is a false premise.
"If you look at what goes into a credit score, only 35 percent of it is repayment history," Bernerth said. "The other 65 percent of the score reflects things like length of credit history and total credit available. None of these things are indicators of a candidate's job performance."
Given the difficult economic and employment conditions Americans have recently experienced, it's now more important than ever for companies to give job applicants a break.
It doesn't take too many months of being unemployed before a decent credit score can drop into the tank. It's far more important to rely on an applicant's past work history and potential future contributions than to judge them for their financial hardships.
It should be noted, however, that employers do not check your credit score itself, but rather a special credit report offered to employers when screening potential new hires.