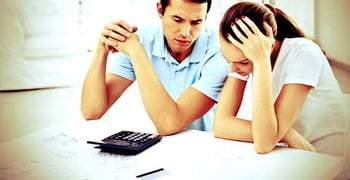 BadCredit.org publishes personal finance studies on the latest trends in the subprime marketplace. Our articles follow strict
editorial guidelines
.
A study released recently by the Corporation for Enterprise Development shows nearly half of households in California have little to no savings and are in chronic financial stress.
The study used a variety of ways to measure the overall financial well-being of families and found low- and middle-income people are especially at risk.
The study goes on to show California ranks far above the national average in unemployment, credit card debt and personal bankruptcies.
Even those with above-average income were found to be near the edge of their means and could be only one crisis away from financial disaster.
After improving for the three years following the mortgage meltdown crisis, the most recent 12-month period has shown finances have worsened in the state.
 "California ranks above the national

average in credit card debt."
According to the CFED study, Californians carry an average of $12,693 in credit card debt – higher than all but four other states.
Andrea Levere, the president of CFED, said, "Without strong policies that address the challenges facing low- and moderate-income families, wealth and income inequality will continue to grow and our nation's economy will continue to struggle."
The percentage of California residents that are termed "liquid asset poor" has risen from 44 percent last year to a current level of 45.9 percent.
In addition, the study found nearly one in four middle-class families had less than three months of emergency savings.
Source: latimes.com. Photo source: mouthsofmums.com.au